Millennium's Comfortmax Turkey Hunting Seats
Russ Chastain 01.27.21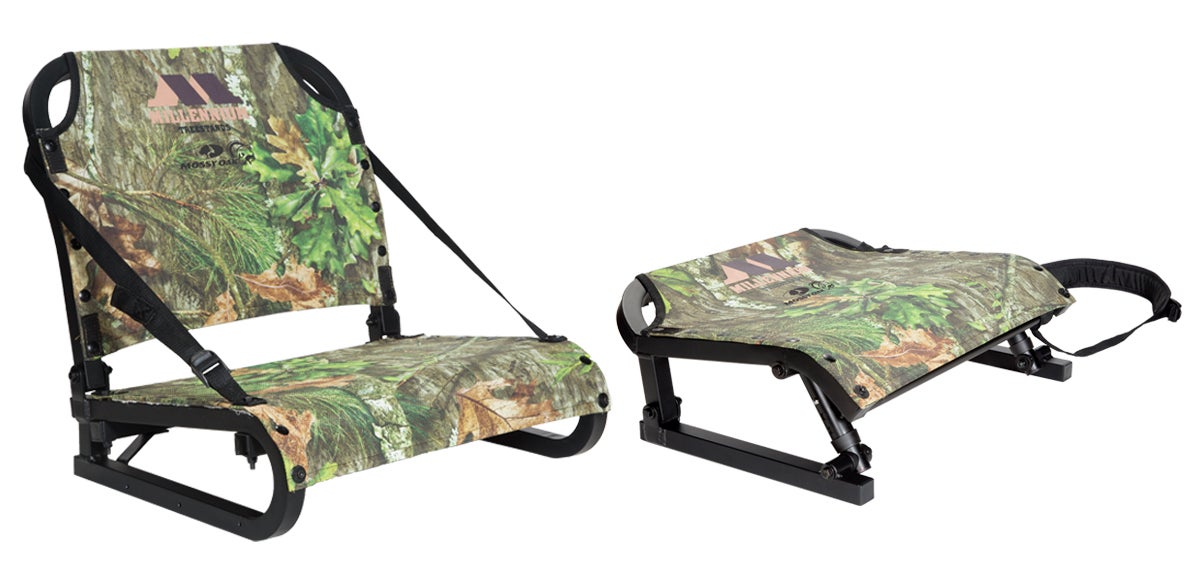 Millennium TU01 and TU02 turkey hunting seats (Image © Millennium Treestands)
In case you missed it, Millennium Treestands offers a couple of interesting portable turkey hunting seats. Millennium tree stands have nice comfortable seats, and people like them so much that Millennium has started selling seats for other uses, such as fishing boats and hunting blinds. When I think of springtime I don't think about fishing, I think about turkey hunting… and I'm really hoping to try these seats this turkey season.
They have two models; one with a back rest and one without… and the smaller one has a really nice feature which allows you to adjust the angle of the base. Any turkey hunter who's been around much knows that ground slopes, especially when you set up against a tree — and having an adjustable seat can be a real plus. I also like that the seat won't sink down into the dirt, because instead of the usual 4 feet it has a couple skids to support your weight.
The folding back rest makes the TU01 really flexible, because it allows a hunter to sit comfortably when there aren't any handy trees to set up against, and it shares the skid "no sink" feature. Both of these seats feature Millennium's Comfortmax seat fabric in Mossy Oak Obsession Camo.
Here's some more info on these turkey hunting seats:
TU01 Millennium Field Pro Turkey Hunting Seat
The TU01 Millennium Field Pro looks like the one I'd use most often, because I love the flexibility of not having to hunt for a tree to lean on.
TU01 Millennium Field Pro turkey hunting seat. (Image © Millennium Treestands)
Specs/Features:
Mossy Oak Obsession Camo, the official camo of the NWTF
Millennium Comfortmax seat fabric "providing ultimate comfort"
Lightweight full seat design at just 6.4 pounds
Adjustable padded shoulder carry strap
Seat folds for easy carry
Skids prevent sinking into soft ground
Seat frame is made of durable powder coated aluminum
Product Dimensions: 20"W X 17"D X 21"H
MSRP $89.99
TU02 Millennium Run N' Gun Turkey Hunting Seat
The TU02 Millennium Run N' Gun looks nice for areas with plenty of trees, and the adjustable angle is a great touch — and a weight savings of 2.2 pounds as compared to the Field Pro is not to be ignored. This will probably be a great seat for those days when you have to cover a lot of ground.
TU02 Millennium Run N' Gun turkey hunting seat. (Image © Millennium Treestands)
Specs/Features:
Mossy Oak Obsession Camo, the official camo of the NWTF
Adjustable height for uneven ground
Millennium Comfortmax seat fabric "providing ultimate comfort"
Lightweight seat design for the Run N' Gun hunter at just 4.2 pounds
Adjustable padded shoulder carry strap
Adjustable legs for stability
Skids prevent sinking into soft ground
Seat frame is made of durable powder coated aluminum
Product Dimensions: 20"W X 17"D X 6"H
MSRP $79.99
What do you think of these turkey hunting seats? Which looks best to you? In a perfect world, I think I'd have both of these in my flivver, so I could just grab one and run when that ol' gobbler starts to holler. A man can dream…