The Ruger 57 5.7x28mm – A Feature Perfect Pistol
Dr. John Woods 02.02.21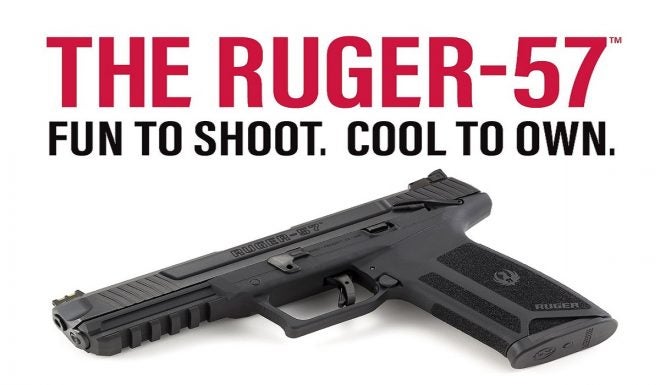 Seldom when you buy any product does it have all the features that can maximize the utility of the item. This seems particularly true in the case of firearms. I guess that is what makes the accessories aftermarket such a lucrative part of customizing firearms. Just think of the case in point with all the add-on items you can buy and install yourself on AR-15 platform rifles. However, there are bound to be some exceptions to this common situation and the Ruger 57 chambered for the 5.7x28mm round is one of them. This pistol is packed with user friendly features that goes well beyond the usual for a base factory gun. Just begin by surveying the obvious external features and then delve into them in a thorough inspection.
First, the user will notice the Ruger 57 is a polymer (high performance glass filled nylon) framed, striker-fired handgun. Dah! Standard fare there, for sure. Once you take a grip on it though, it becomes obvious this pistol is something different. The grip angle is roughly like the classic 1911 Colt or copies. The grip itself has fine grained gripping panel sections making a grasp of this handgun very firm, but highly comfortable and secure. This pistol has a pronounced feel of balance in the hand.
The Ruger 57 turns out to be lighter than it looks like it might be. Its official weight is 24.5 ounces. The overall length of 8.65 inches is what contributes to the balance of the pistol. It is not muzzle heavy, but pitches just right when aiming. The sights include a green insert front sight and an adjustable rear. The front sight fixture certainly appears high on the slide and I wonder if it might snag or even get bent or broken with heavy use. Time will tell on that aspect.
The barrel is just slightly shy of five inches long. A pleasant design feature of the Ruger 57 is that the magazine will hold 20 rounds (plus one in the chamber) of the 5.7x28mm ammunition. This should be plenty of firepower to get you well into trouble or hopefully out of it. The factory package includes two magazines, too. The trigger includes a blade insert safety device. The pistol comes in a nicely designed and well-made plastic gun case.
Other cool features include a 1913 Picatinny rail on the front end of the frame under the slide. There is ample room there to install a light or aiming laser. There is an enlarged slide release on the left frame side, an ambidextrous manual safety that is elongated for easy manipulation, and a reversible magazine release. Slide grooves allow for easy cocking. So, what about the 5.7x28mm cartridge? Interesting one, that round. It will be covered in another installment coming soon. If you want something different, but unique then look into the Ruger 57.