Sniper Mindset – You Can't Shoot What You Can't See
Dr. John Woods 02.02.21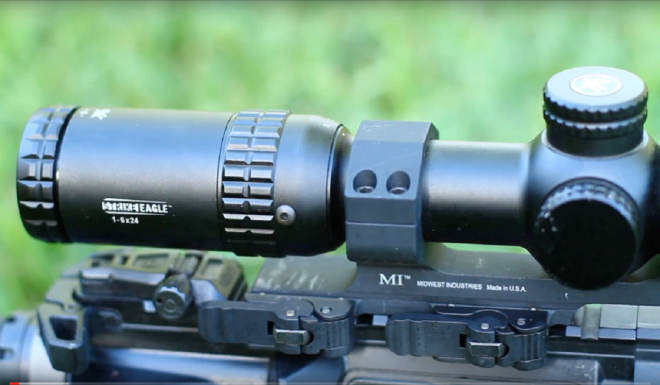 The title is a line from the movie American Sniper. While it could have referred to a number of things including target acquisition, in the realm of the hunter, it often means to shoot your target and use the most appropriate glass on your hunting rifle. Sometimes that can result in a number of difficult choices. Probably the most popular hunting rifle scope on the market is a very basic 3-9x40mm model. These variable scopes seem to get most hunting jobs done out to reasonable ranges with eyesight that is still pretty sharp. As you get older though, many hunters' eyes start to weaken resulting in blurred vision. Sometimes this can be improved with glasses or contacts. Sometimes not.
There has been for several years now a movement among hunters to get bigger and bigger scopes with objective lens sizes up to 56mm. Variable powers have grown, too, up into the 12x or even 16x ranges. In terms of hunting glass though, larger is not always better. Once you get into ultra-large scope glass, other issues arrive. Heat waves can cause a loss of target clarity especially at longer ranges, which is another trend hunters are moving toward. Being able to hold a scope reticle on a target with big glass can be an issue. It's more difficult to hold the rifle still. A scope that waves around during the sighting process makes it more challenging to get a steady sight picture on the target. Just consider those issues when you consider buying and mounting a new scope.
The most modern, cutting-edge hunting scopes today may also have highly technical reticles. Some of them model the military-type, tactical scopes. Though they might look cool, they are complicated and can be difficult to set up and sight in. Know this ahead of buying one. Other considerations include scope tube size as well. Most traditional scopes have a one-inch tube. Today, more popular than ever, are 30mm tubes. The larger tubes naturally collect and transmit more light, but at a price. The larger tubes make for larger and heavier scopes. Of course, they require 30mm rings too, which are heavier and more expensive.
For most hunting applications, a standard scope of 3-9 or 4-12 variable power is all that is needed with an objective lens of 40mm or 50mm. Such a scope will allow you to spot and target your game. All those bells and whistles are fine, but not always needed to get the job done.