Warne Helps Father Gift His Son the Ultimate Hunting Rifle
Luke Cuenco 02.04.21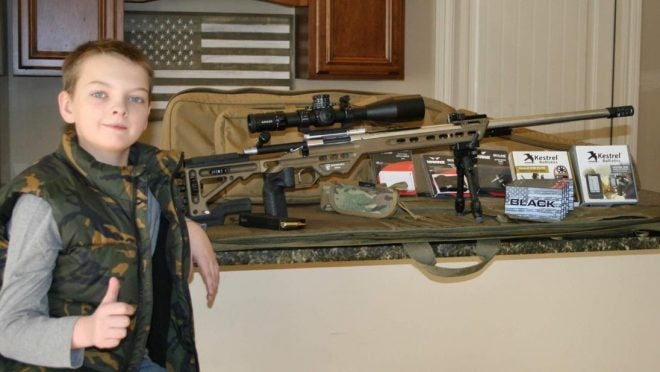 Most fathers want the best for their children and Paxton Spencer's Dad is no different. Paxton Spencer is a young boy who has had a rough start to life having been born with Hypoplastic Left Heart Syndrome. This condition basically means that he was born without 100% of his heart and lungs working and many children born with the condition do not survive beyond a few hours after birth.
Since Paxton loves to shoot and wants to hunt Paxton's father contacted his friend at Warne to help him gift his son a new hunting rifle and from there Ken Flood who is the VP of Sales for Warne Scope Mounts got together with some industry giants and together they built Paxton a top of the line hunting rifle for him to use from the comfort of his own home.
Warne Helps Father Gift His Son the Ultimate Hunting Rifle
"Paxton has endured 17 surgeries and has a very compromised immune system, making it impossible to leave his house during the winter when viruses are more common. Covid-19 brought a whole new set of challenges for Paxton, further limiting his ability to leave their property since the fall of 2019.

Paxton's dad, Freddy, is a close friend of Ken Flood, Vice President of Sales for Warne Scope Mounts and asked Ken for some advice.

Ken Flood recalls, 'Paxton is stuck at home and fortunately, the family lives in the country allowing Paxton to be able shoot on their property. When Freddy asked me about what type of rifle Paxton could use to shoot long range and also hunt whitetails, I had an idea. I believed that we could get our industry partners together to provide not only a rifle, but all of the accessories needed for Paxton to be successful shooting long range. The response was amazing.'"
The gift rifle built was put together using donations from the following companies:
Masterpiece Arms: PMR Pro Rifle in 6mm Creedmoor
Swarovski: Kahles K624i scope
Warne: Skyline Mount, accessories and Skyline bipod
Kestrel: 5700 Elite Ballistic Computer with HUD
Midway USA: a combo rifle case
Armageddon Gear: shooting bags and rifle case
Hornady: 2 cases of match ammo
MK Machine: steel targets and a scope lever.
"When we surprised Paxton with these items he was blown away. I can't thank the shooting industry enough for this amazing gift for my son. He will enjoy this rifle and gear for many years to come," said Paxton's father, Freddy Spencer.
I know this is a small departure from our normal daily news but I felt that it was worth mentioning especially considering the harsh financial times many companies are facing. With as much tension that is in the air, it warms my heart that the gun community can still come together to provide a gift to a deserving child who shares the same passion that all of us do. Congrats to Warne and the donating companies for doing something truly special for Paxton.