The Path Less Traveled #002 – Massdrop X Fizan Compact 3 Trekking Poles Gear Review
Andrew D 02.08.21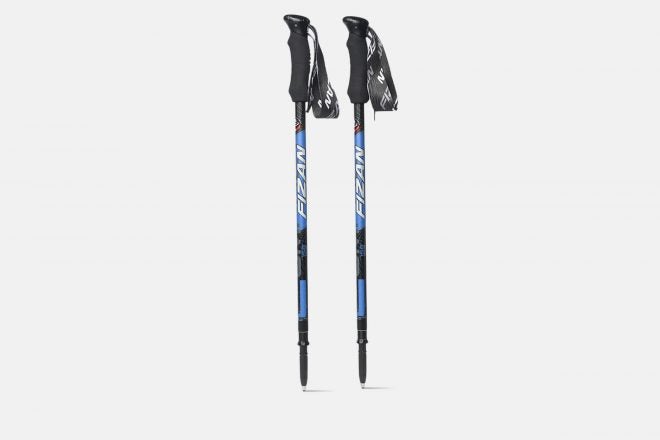 Massdrop X Fizan Compact 3 Trekking Poles Gear Review
---
Welcome to our recurring series of "The Path Less Traveled." In this series, we want to take you along for our exploits out in the wilderness while hiking, camping, exploring, and general adventuring. This will include our small daily victories, foibles, tips, tricks, and reviews of gear we authentically appreciate and frequently utilize. While a well-worn trail can often be the pathway to a leisurely day, the paths less traveled can often spur on some of the greatest memories, misadventures, and fun we could imagine. Join us in the Comments as we share our travels and hopefully we can all come together for a greater appreciation of the outdoors.
---
Weight, Cost, Durability – Go Ahead, Pick Three
I remember a hike an ex of mine and I did in 2013 where we covered nearly 14 miles in three and a half hours. Two or so miles before reaching the car, fatigue was setting in and I rolled my ankle three or four times when traversing down the steeper sections of the rocks.
The terrain was not difficult, nor was it unforgiving. My ability to keep my ankles strong enough to manage all terrain had given up about thirty minutes before completion. Looking back at this and other times where my blood sugar had nothing to do with minor injuries and accidents on longer hikes, I'm sure a set of trekking poles would have assisted me in doing more than surviving the entire duration without hurting myself.
Many years later, I had one of those sleepless nights where I end up reading about stuff I thought I'd never want or need. You know those nights where you're looking for the best PVW (Price Value Weight) ratio products on some site Jack Ma made because you're either too broke or cheap to get ALL the name brand Gucci Gear you want?
Well, around December 2019 I had one of those nights and stumbled upon a set of Fizan Compact 3 trekking poles that were cheap enough to cause me to double take at the $60 (shipped!) price and lightweight enough not to notice after "watering the flowers" while out on the trail.
My mind went back to how my ankles felt after that unforgettable hike six years before; never hearing of Fizan and seeing these for the first time, I did a bit more homework and nervously bit the bullet and purchased them to prevent something like that ever happening again.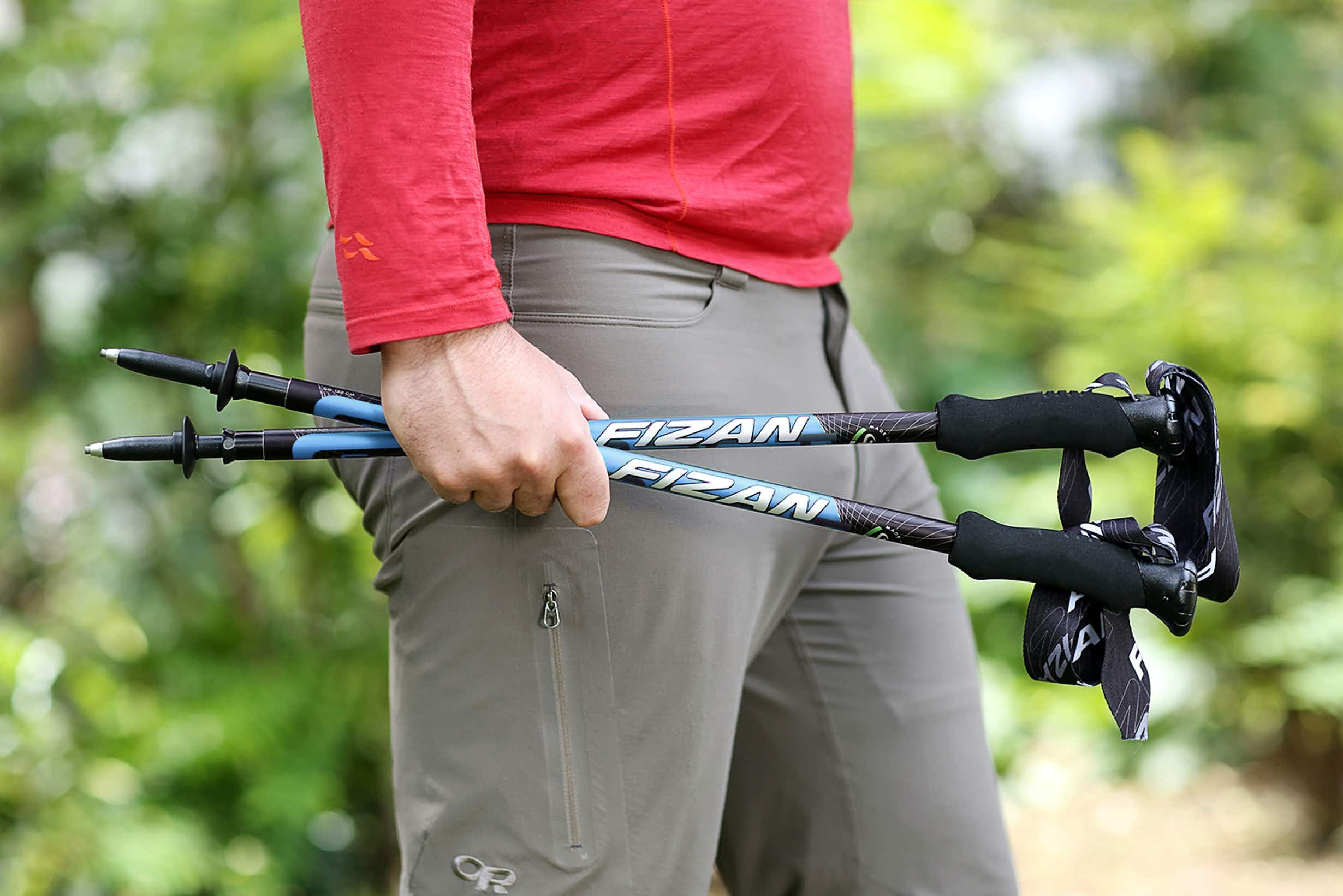 Company Info
Fizan is a ski and trekking pole manufacturer in Vicenza, Italy, and has been making aluminum poles since 1947. Fizan began with aluminum poles and was one of the first companies to begin making telescoping trekking poles in the 1990s. Fizan's breadth of products has grown from ski poles and trekking poles to multi-scarves, crampons, and Nordic walking poles in the past decade. In 2017, Drop (formerly Massdrop) collaborated with Fizan to release a lightweight trekking pole focused on the light and ultralight backpacking and hiking market.
Drop is a "members only" web store that buys a limited supply of goodies from various companies, and often collaborates with those companies on a more-refined version of an already existing product. They do electronics, "EDC" (everyday carry), outdoor goods and other various areas of interest to anyone wanting premium products for a cheaper price. I have noticed there's never a broad selection of items to choose from in many of the sections, and most of the hot products sell out faster than Belle Delphine's bath water.
Product Info
With the steady increase in popularity of getting back into nature and being seen as being an outdoorsy person, higher performance lightweight and more modern materials are being used by more and more companies to allure more affluent demographics. Fizan developed a pole that not only serves the purpose of assisting balance and gait but does so at nearly half the weight of other similarly priced poles. This philosophy appears to eschew the premium price tag, but still puts out the goods.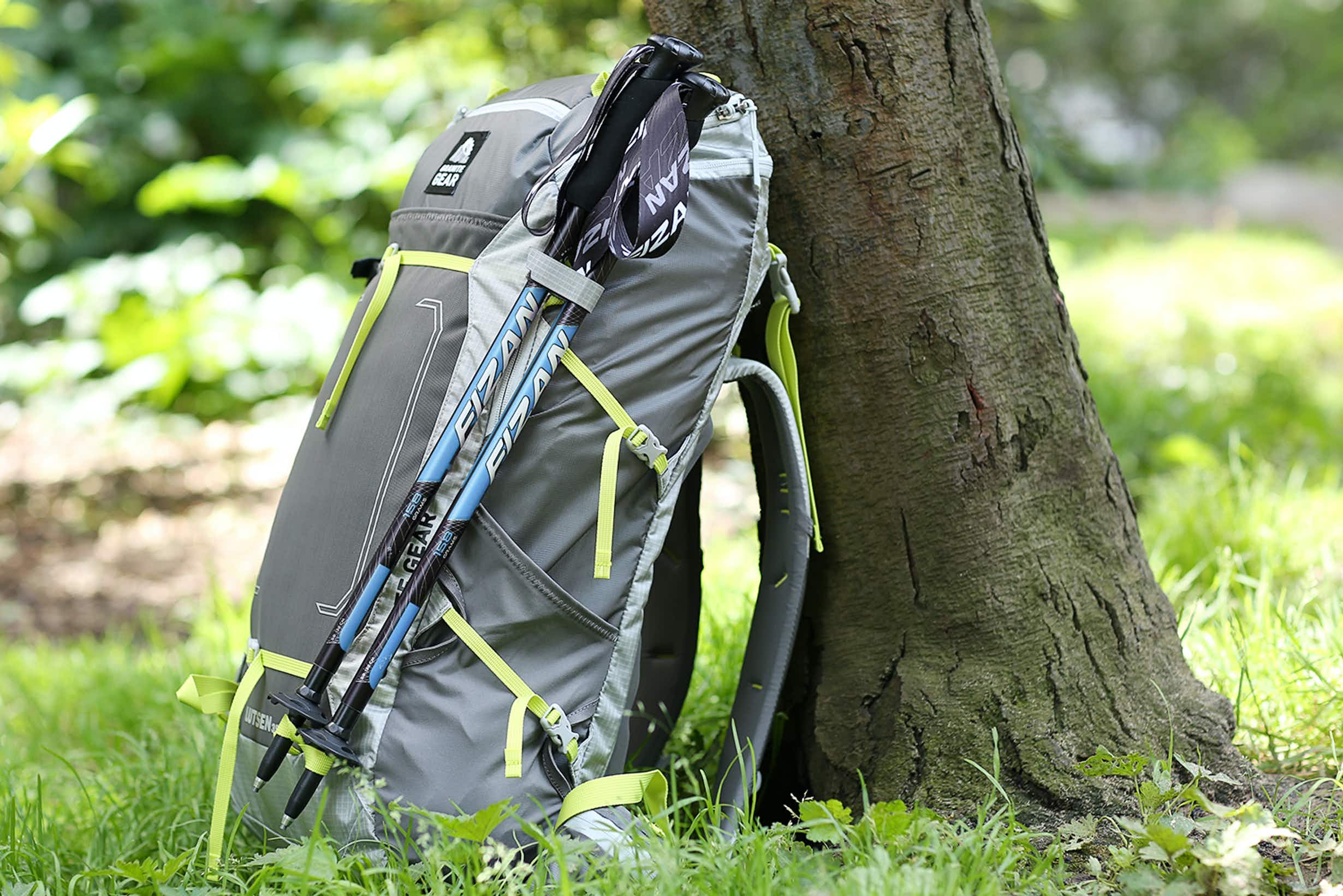 Starting with the weight, the Fizan Compact 3 poles are claimed to be 158g (5.57oz) each, but the pair I received came in at 160g (5.57oz) with straps pre-installed. The handles have plastic top caps with an EVA grip molding around the grip area.
The widest portion of the grip is 26mm with a 30mm depth, not including the top finger groove portion. The polyester wrist strap is 35mm wide (1.35"), held in place with a simple friction method where pulling on the loop prevents slippage and pulling on the single loose end allows adjustment, it is soft on the hand with edges that do not chafe during movement.
The Fizan Compact 3 poles are 1mm thick 7001 Aluminum in 17mm, 16mm and 14mm diameters locking together with an inner locking "FLEXY SYSTEM" mechanism created with an aluminum threaded post and threaded Delrin expander to keep the pole sections in place. Fizan states the FLEXY SYSTEM can withstand 100kg (220lb) of force when in use.
When fully contracted, the Compact 3 poles are 59cm (23.25in) in length and stretch out to 132cm (52in) at the furthest recommended points. Fizan recommends the Compact 3 series to individuals 144cm to 202cm (55.5in – 79.5in) in height.
The feet of the poles have replaceable carbide tips installed and come with rubber feet to optionally cover them, and three optional basket sizes (35mm, 50mm, and 95mm) with the biggest baskets appearing similar in size to those found on ski poles. The baskets are easy to install and remove from the feet with a recessed portion of the foot that the baskets sit and lock into. Removing the baskets is easy with a twist and swift movement toward the bottom of the pole.
Observations
For most of my life I thought of using trekking poles as something nerds or geeky tourists did when they took their first hiking trip. Man, I was completely wrong. When comparing my hiking speeds over a five mile hike with and without the trekking poles, nearly every time I'm out with the poles my average speed is one mile-per-hour faster! These days with the increase in performance and the decrease in minor accidents when tired, I can't not take a set with me.
I have spent close to 300km (186mi) with these poles since purchasing them in December 2019, experiencing no problems with them. They are light and swing effortlessly and seem to increase my pace and ability to manage a few extra pounds on my back. Some research shows that trekking poles used when climbing and descending hills can reduce stresses felt on the legs significantly.
The Fizan Compact 3 hand straps clean well with a quick rinsing and have yet to show any wear or retain any sweaty smells. Lightweight poles do often compromise in the grip area, with Compact 3's not being the exception; while minimal, the straps do hold well and are not prone to slipping.
The strap material is thin and lightweight and I predict it will not be a bother when the weather warms. While the grips are adequate and wick sweat, I do have the desire for a thicker hand grip area despite having a Medium to Large glove-size hand. I often wonder what these poles would feel like with a thicker, squishier grip area, and have yet to investigate whether changing out the foam is possible. This may be a preferential nitpick, or possibly due to how narrow the poles are to reach the claim of lightest aluminum poles.
I have yet to see any dents or damage to the aluminum poles despite whacking brush out of my way frequently and dropping them on several occasions. The expansion and contracting mechanisms have shown no problems, Fizan recommends ensuring the poles are cleaned before contracting; any sediment on the poles may lead to lockup difficulties in the future.
I wipe down my poles with a sock cloth before contracting or storing them as I have had complications with other poles that ended up having grit in their locking mechanisms. I also believe the inner locking mechanisms should not be stored in a tensioned state, but science is out on this. ­­­­
Hiking with the rubber feet over the carbide tips provides a quieter hike when in rocky areas and can also ease hiking on flat surfaces. Although I do prefer the carbide tips for all conditions, I noticed the rubber tips remained seated on the pole tips with no slips or problems during the testing process.
My hikes have not been advantageous for the utilization of baskets so far, although I installed and removed the baskets for the sake of trying with little effort. If any baskets or parts are needing service or replacement, there is only one officially licensed Fizan distributor in America, Vemo Sports in Quechee, Vermont. Spare parts can be found online if needed.
I do not have any tents that use a hiking pole as a structural point, but there are comments on various forums and boards that these poles do the job well, but must be maintained to prevent the FLEXY locking system in the pole segments from locking or seizing up where hand tension alone will not loosen them. To do this, grease the threaded screw on each pole end, and ensure that dirt, dust or muck is cleaned out each time.
Comparison
There are few trekking poles that match the Fizan Compact 3's in terms of price to weight value unless you search for unknown, specious brands online. The Cascade Mountain Tech 3K Carbon Fiber Trekking Poles come in at $59.99 (As of February 06, 2021) on Amazon, and are a claimed 226g (8oz), coming in 68g (2.4oz) heavier than the Fizan Compact 3's.
The MSR DynaLock Trail 2-Section sells for $114.98 (As of February 06, 2021) on Amazon, although at fully compressed length comes in at 80cm (31.4in) and is 295g (10.4oz) each, 137g (4.8oz) heavier. There are poles that are comparable to the Fizan Compact 3 in terms of weight but are often double the cost, such as some of Black Diamond or Leki's higher-end products.
Drop knew what they were doing when they teamed up with Fizan to bring over this lightweight pole for such a reasonable $60.00 shipped price. I will continue to hike with these poles and may bring in a 1000km update if necessary or desired.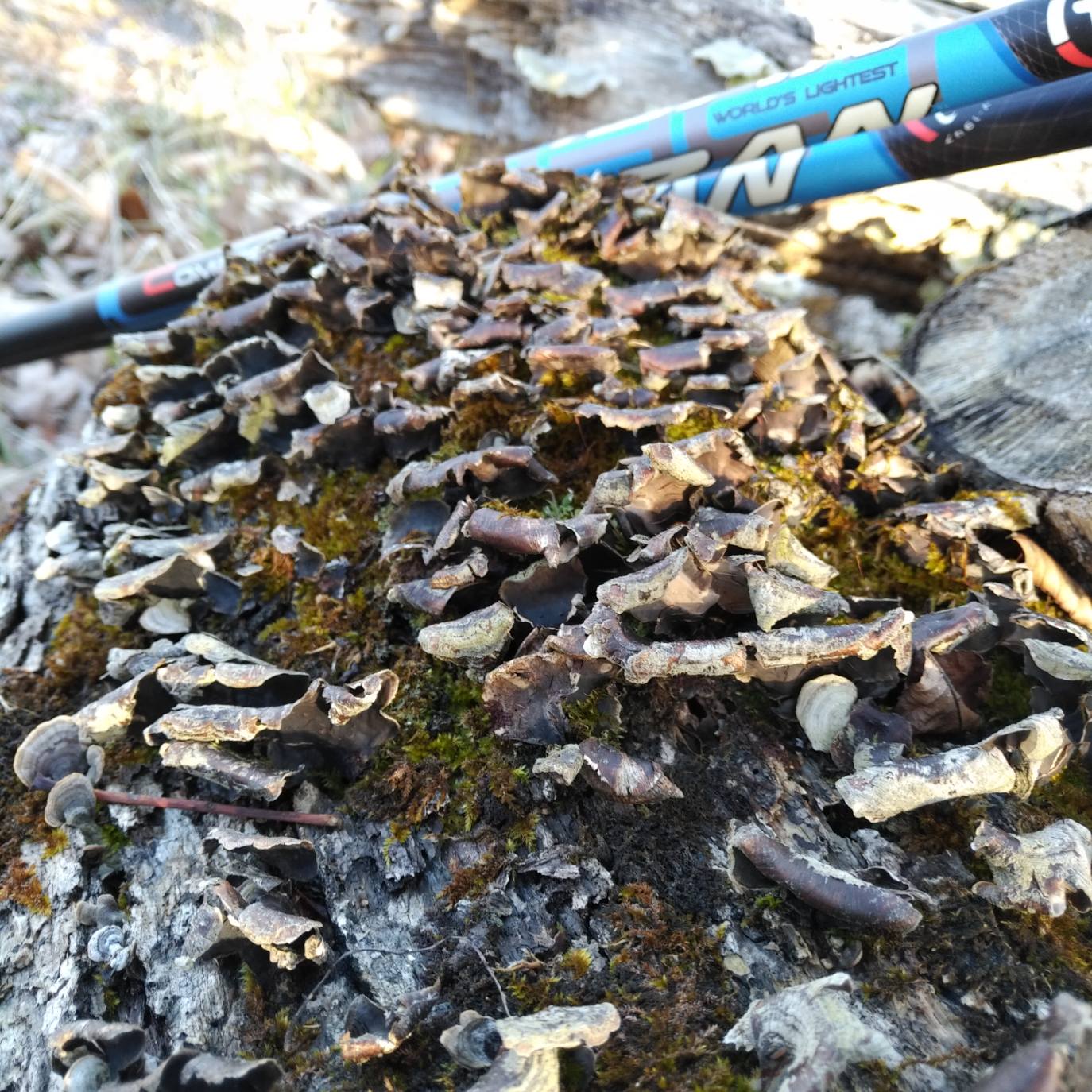 Specs – Massdrop x Fizan Compact 3 Trekking Poles
Sections: 3
Length: 58cm – 132cm (22.8in – 52in)
Weight per pole: 158g advertised [160g as tested, with straps installed] (5.6oz)
Weight per strap: 10g (0.4oz)
Weight per hiking tip: 12g (0.4oz)
Weight per 35mm basket: 2 g (0.07oz)
Weight per 50mm basket: 4 g (0.1oz)
Weight per 95mm basket: 14g (0.5oz)
For more information about these poles, visit Drop.  (NOTE: Requires a free account to view/purchase; often unavailable.) The Compact 3 Trekking Poles are also available on Amazon for $70.00 USD For more information regarding Fizan, visit their official site: https://www.fizan.it/