Concealed Carry Joggers from Arrowhead Tactical – Carry In Comfort
Luke Cuenco 02.10.21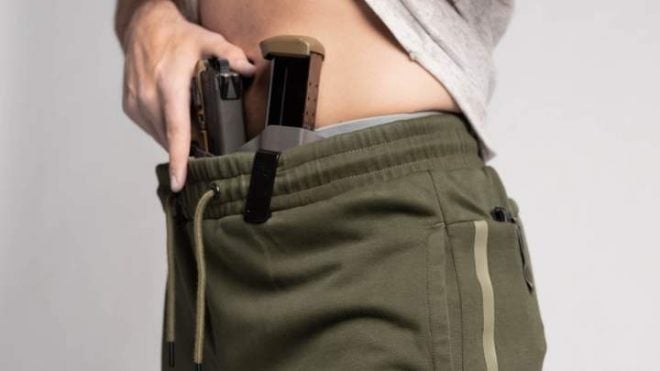 American Tactical has come out with their novel Concealed Carry Joggers. These sweatpants are perfectly suited for concealed carry applications due to their removable retention belt which can bear the weight of both a loaded handgun, holster, and spare magazine without sagging. The pants also include several different pockets for storing keys, spare mags, and even feature a location for patches to be placed should you feel like doing so.
Concaeled Carry Joggers from Arrowhead Tactical – Carry In Comfort
"Experience the best in comfortable self-defense with the Carrier Joggers. Every aspect of the Joggers was designed to optimize your everyday carry, starting with your handgun and extending to everything else you need to feel comfortably prepared."

FEATURES:

Patent-Pending Carrier Retention Waistband 

Zippered Rear Pockets (with internal magazine pouches)
Hip-Mounted Knife/Tool Pockets

Athletic Design with Tapered Fit 

Breathable Cotton / Polyester Blended Fabric

Durable Knee Paneling 

Includes Carrier Jogger pants, removable Carrier Rapid Clasp Retention Belt (REQUIRED for concealed carry). A removable Arrowhead Velcro Morale Patch (2″ x 3″) is included with patch-bearing variants.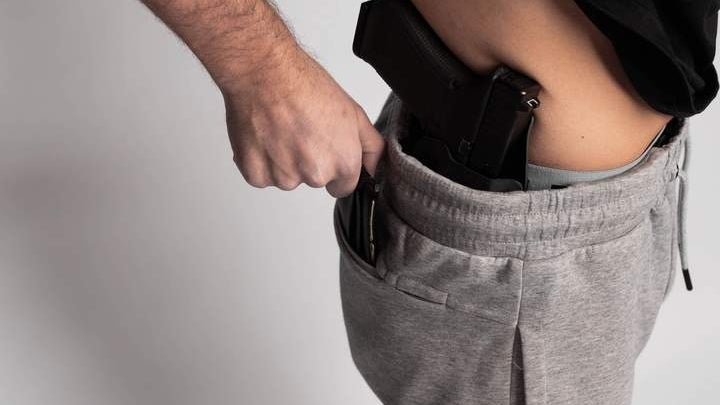 MODEL INFORMATION:

Carbon – Model is 5'10, 170lbs wearing a Medium
Midnight (with patch)- Model is 5'10, 170lbs wearing a Medium
Midnight (no patch) – Model is 5'11, 190lbs wearing a Large
Army Green (with patch) – Model is 5'10, 170lbs wearing a Medium
Army Green (no patch) – Model is 6'0, 180lbs wearing a Large
The Arrowhead Tactical concealed carry Joggers add a functional belt that won't sag when you're carrying concealed in these sweatpants. So, whether you're out getting your morning jog on or just walking down to the bodega for a 6-pack these sweat pants seem to fit the bill for that all-around comfortable pant that you can also carry in.
Each pair of Concealed Carry Joggers goes for $99.99 and considering that these are more than just your regular sweatpants I think the price is justified. What do you guys think? Would this be a piece of clothing that you would buy or are you guys more of the fanny pack crowd or perhaps even off-body carry?