Two New 300 HAM'R Soft Point Loads Featured in 2021 SIG Catalog
Luke Cuenco 02.16.21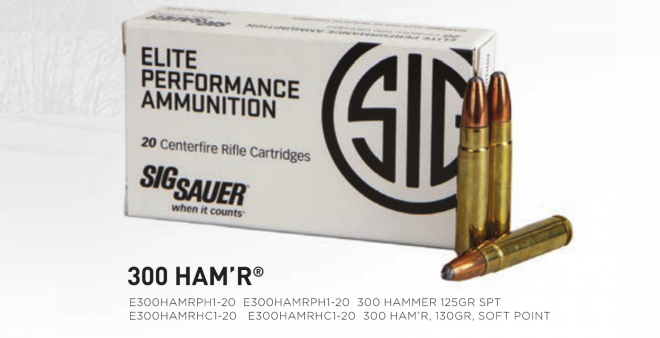 Two new 300 HAM'R Soft Point loads appear to be coming to the market as part of SIG Sauer's Elite Performance Ammunition Line. I spotted the two new loads on Page 83 of SIG's 2021 product catalog, but beyond the featured image above and two lines of text indicating the bullet weights, no further information was supplied. Hopefully, in the coming weeks and months, we will learn more about SIG's new 300 HAM'R loads.
Two New 300 HAM'R Soft Point Loads Featured in 2021 SIG Catalog
The cartridge was first introduced by Wilson Combat back in 2018 and many barrels and ARs have since been developed for the cartridge. SIG Sauer seems to be offering two new soft point loads for the new cartridge, but not much information besides a brief description of each was provided inside of the catalog.
The first listed under the sole image of the 300 HAM'R cartridges is the E300HAMRPH1-20 – 300 HAMMER 125-grain SPT (soft point). I would assume this first cartridge would be having very similar to Wilson Combat's own 125-grain SPT offering. If they are in any way similar we could expect velocities of around 2,540 fps and muzzle energy of around 1791 ft-lbs out of an 18″ barrel. A comparable 300 BLK round with 125-grain soft points only nets you 2,200 fps, and 1,344 ft-lbs and presumably less range.
The second listing which features a slightly heavier 130-grain soft point might be better suited for larger game animals and would also provide the case/cartridge with higher chamber pressures closer to 50,000 psi. Both new cartridges will be offered in 20 round boxes, but I have no idea as of yet how much these rounds will set you back. Again using the current pricing data we have from cartridges on the market I think you can expect to pay close to $1 per round for this elite performance hunting ammunition.
While two options isn't a lot to start out with, I think we might be getting a few more offerings besides 125 and 130-grain projectile weights in SIG's 300 HAM'R. Personally, I would expect SIG to push the cartridge all the way up to 150-grain projectiles where the case pressure starts to near its peak tolerance. What are your thoughts on SIG's new 300 HAM'R offerings?