TrueTimber Turkey Woods Hunting Apparel New for 2021
Luke Cuenco 02.16.21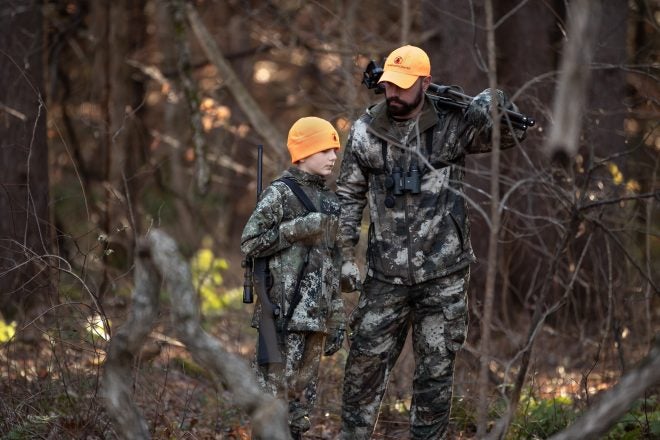 Some new hunting apparel has just been announced by TrueTimber for the Turkey Woods and early hunting seasons. The new True Timber Packable shirt and pants, as well as the Akokeek Shirt and ElkSprings pants, are new editions that boast lightweight breathability as well as waterproof features. Both new sets of clothing will be made available in TrueTimber Strata and Kanati camouflage patterns.
TrueTimber Turkey Woods Hunting Apparel New for 2021
INMAN, S.C. – February 11, 2021 – TrueTimber has announced multiple new hunting apparel options built to perform everywhere from the spring turkey woods to the early season bow stand. New items including the HyTrek Packable Jacket and Pant, Akokeek TrueSuede Shirt and ElkSprings Pant offer exceptional versatility in a lightweight package.

"We love designing hunting apparel that can easily make the transition from season to season and customers will see just that with these new items," said TrueTimber CEO Rusty Sellars. "Our packable items from the past have always been a huge hit and the HyTrek system is a must have for a hunt with wet weather on the forecast. The TrueSuede technology featured on the Akokeek Shirt and ElkSprings Pant gives hunters the ability to stay dry and silent in the woods, which as we all know, can make such a critical difference."

HyTrek Packable Jacket and Pant

The TrueTimber HyTrek Packable Parka and Pant are constructed with quiet face, 100% waterproof fabric that is extremely lightweight and breathable by nature. Super-pack technology allows the parka to stuff into its own zippered chest pocket and zippered side pocket on the pants for easy storage and unmatched mobility. The parka features a 360-degree peripheral hood as well as waterproof zippers on all exterior pockets to seal out all moisture. The HyTrek Parka and Pant are the perfect defense from wet weather at a moment's notice while taking up very little space in your pack. The HyTrek Parka (MSRP $69.99) and Pant (MSRP $59.99) are available in TrueTimber Strata and Kanati camo patterns.

Akokeek Shirt and ElkSprings Pant

The TrueTimber Akokeek Shirt and ElkSprings Pant are constructed with 100% poly TrueSuede fabric that is exceptionally quiet, soft and water repellent for damp mornings that require total silence. A light layer of insulation keeps users warm, making this combination great on its own or easily layered in colder temperatures. Turkey and bow hunters alike can benefit from the superior concealment and ability to move undetected. The Akokeek Shirt (MSRP $39.99) and ElkSprings Pant (MSRP $39.99) are both available in TrueTimber Strata and Kanati camo patterns.

To learn more about the entire TrueTimber product line and see all available patterns, visit

TrueTimber.com. Details about future product launches can be found on TrueTimber's

Facebook, Instagram and Twitter pages.
The weather can be quite unpredictable these days and TrueTimber is offering some of the best widespread coverage with these latest additions to their hunting apparel line up. These new hunting clothes should keep you warm, dry, and comfortable out in the Turkey Woods and long into the early season's showers!