AllOutdoor Review: Flat Out Tire Sealant & Leak Preventer
Russ Chastain 02.26.21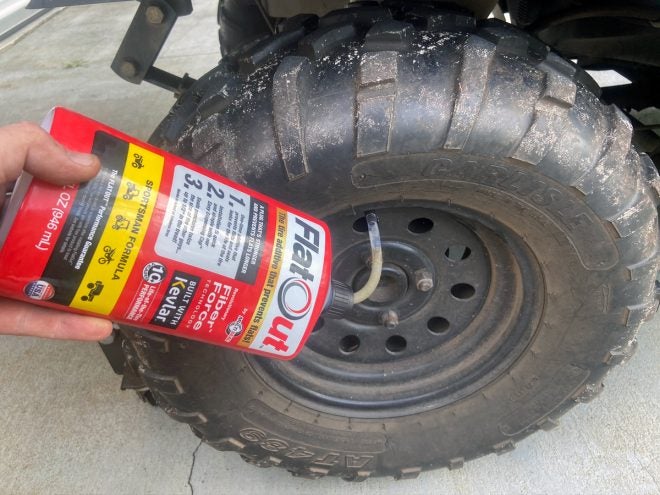 One of the best things about a writer's job is the constant discovery of new and unexpected things such as when I ran across a booth at the 2020 SHOT Show demonstrating a tire sealant leak preventer called Flat Out. Business Development Manager Kelly Crosby was driving a huge spike into a tire which refused to leak afterward because the sealant inside the tire was immediately plugging the holes. Below is a photo of the spikes he was using, and I'll also add a video of him using the same big spike on some tires to show how quickly Flat Out can plug the holes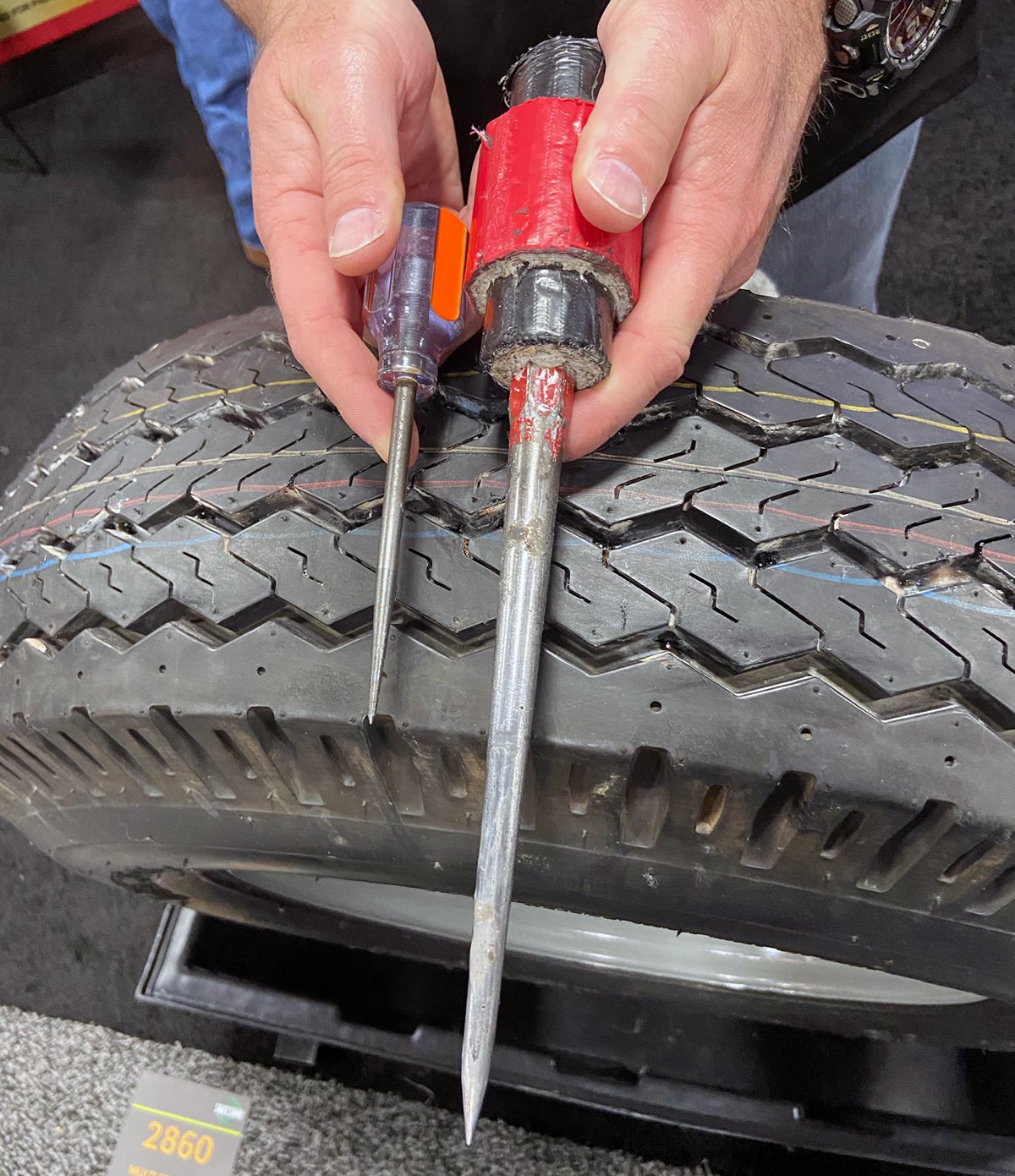 Flat Out is a product of Multi Seal which has been used in military and commercial applications for decades, and they have full confidence in its effectiveness. So much so that if you do have a flat tire caused by a puncture after installing Flat Out, they'll send you free product to treat your new or repaired tire. Oh, and Flat Out is made in the USA.
Right about now most folks are thinking, "Isn't this just like Slime?" Well, it's not. While the other stuff only claims 2 years of effectiveness before it gives up the ghost, Flat Out will work for 10+ years, and Flat Out will seal punctures up to 1/2″ while Slime only seals 1/4″ holes. Flat Out also says it will seal slow leaks around the valve stem or bead, or even through the tire's natural porosity.
Flat Out's formula suspends fibers which they call TangleTek (and which includes KEVLAR) and "DamRight fillers" in a suspension that's water soluble, freeze-resistant, and non-adhesive. Here are some specifications and features according to the Flat Out website:
Prevents Flats & Seals Leaks — Serious puncture protection up to 1/2 inch!
Trusted by military, heavy construction, agriculture, delivery fleets, and other demanding industrial users for more than 35 years
24/7 protection: Seals puncture after puncture for 10+ years.
Prevents up to 95% of flats and virtually eliminates slow leaks
Unique Tire Sealant with super-strong KEVLAR fibers is non-toxic … plus NO latex/adhesives, so it never becomes a sticky mess.
Easy water cleanup
Use one 32-ounce bottle for each tire in most ATV, UTV, golf cart, and off-road-only Jeep applications.
Using Flat Out Tire Sealant
After receiving a 4-pack of 32-ounce bottles of Flat Out, my first chance to use them was on a pneumatic tire on my pressure washer. The innertube had given out and I wanted to try Flat Out, so I put it to the test.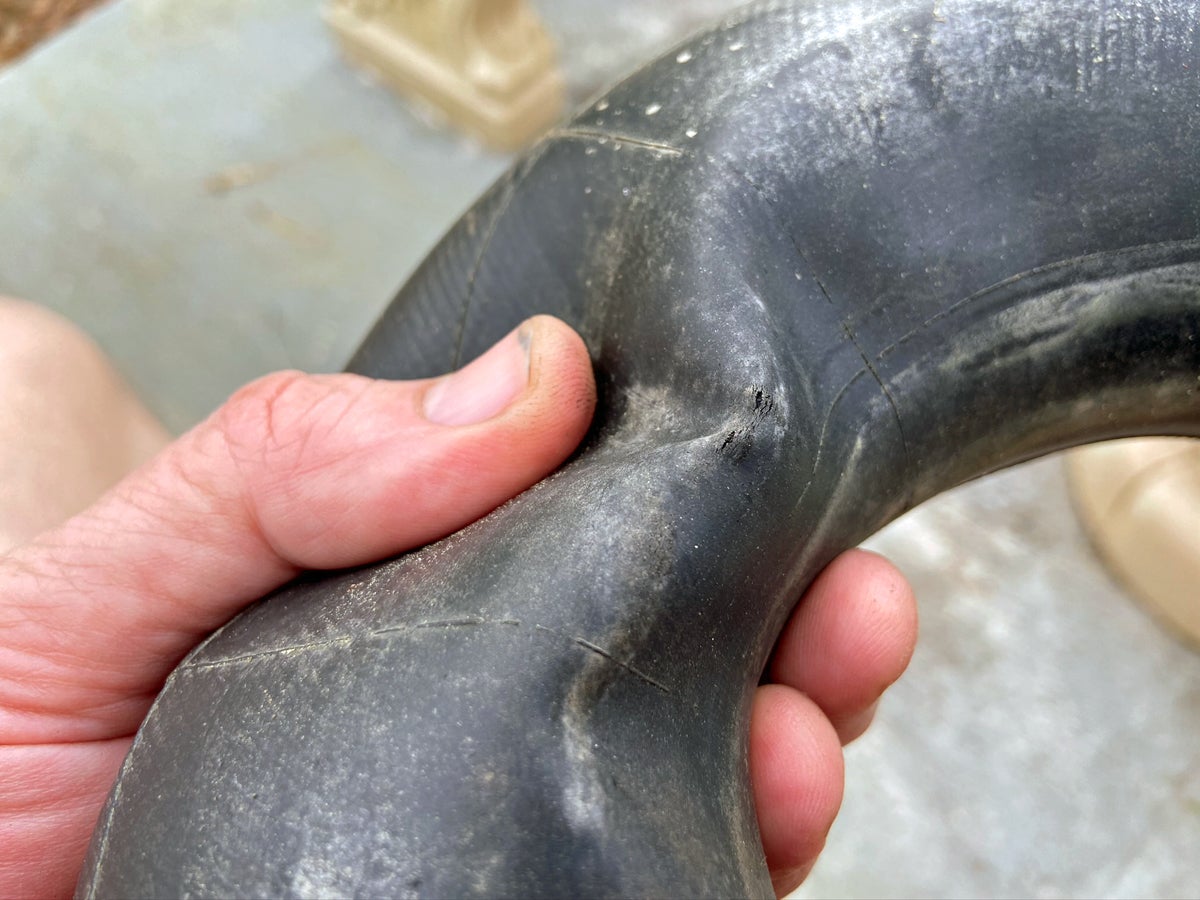 You don't unscrew the cap from a Flat Out bottle; instead, you pull up on the top disk portion, which will come up with a hose attached to it. Pull until the hose is fully extended, then tug the cap off of the hose, and keep the cap; it's a tool.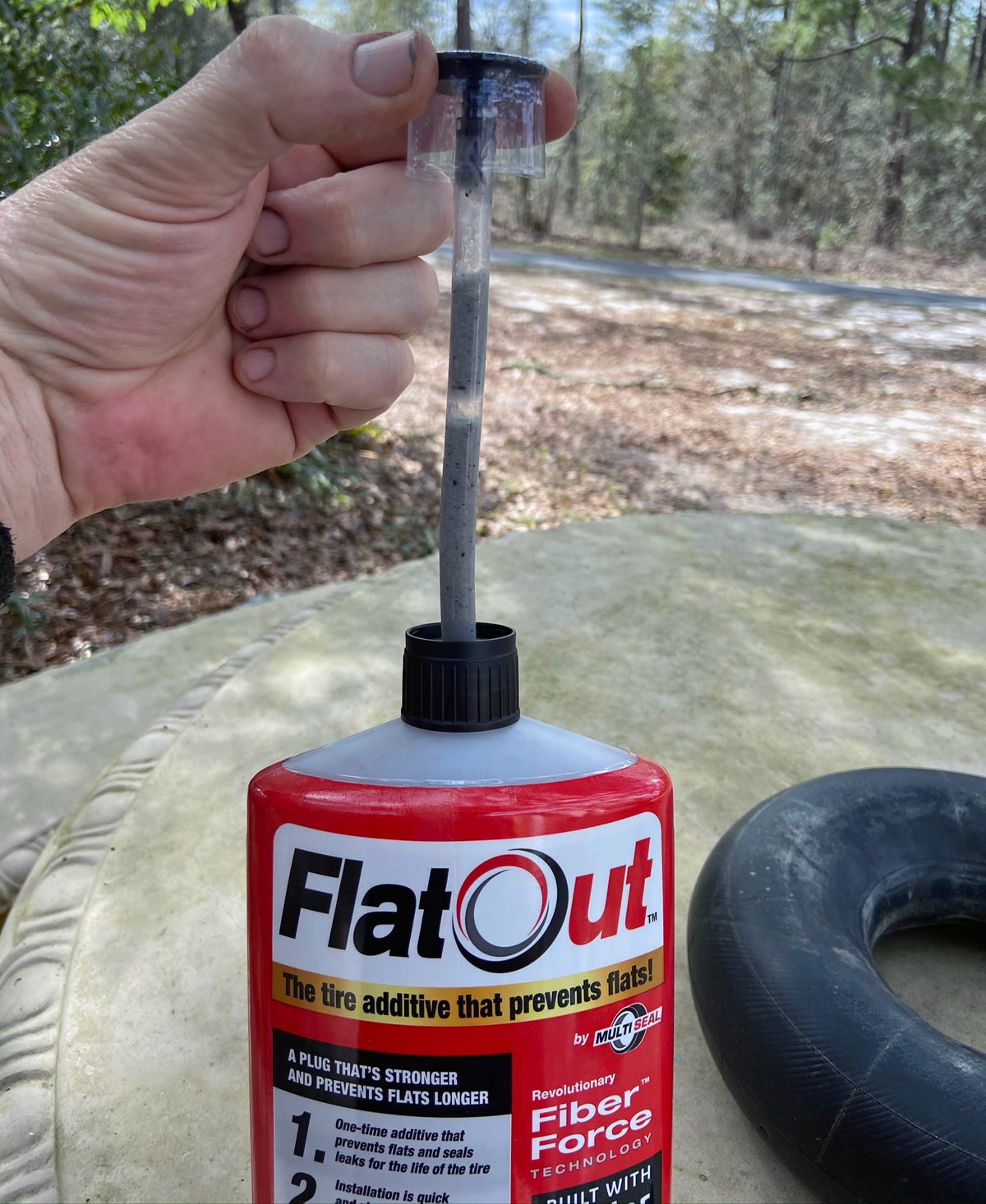 The cap has a built-in tool for removing and reinstalling a valve core. Unlike similar "wrench caps" I have received with other brands, this one actually works and is made of tough material so it will do the job. The large knurled diameter of the cap means you can get a good grip on it when you're screwing the core in or out.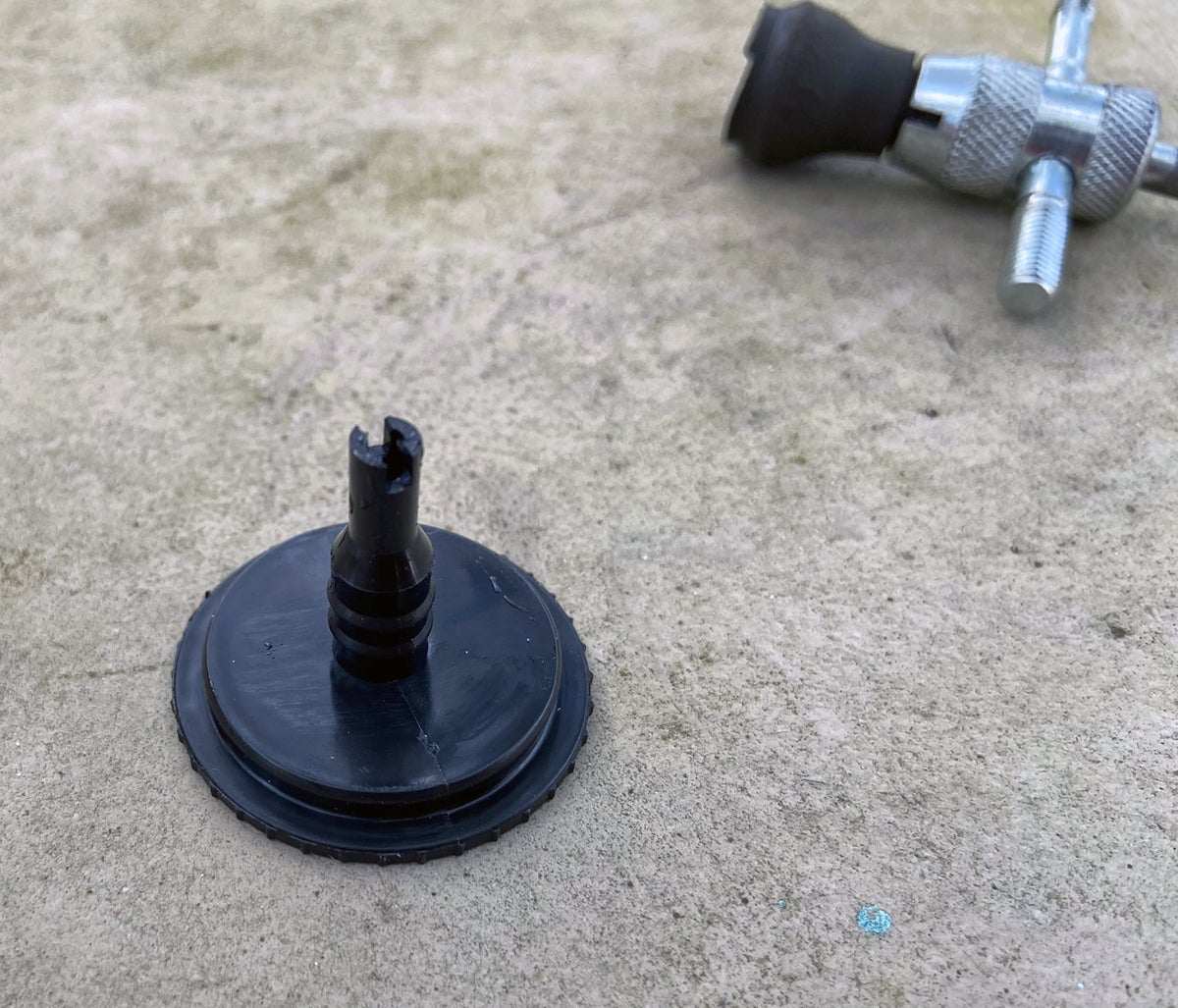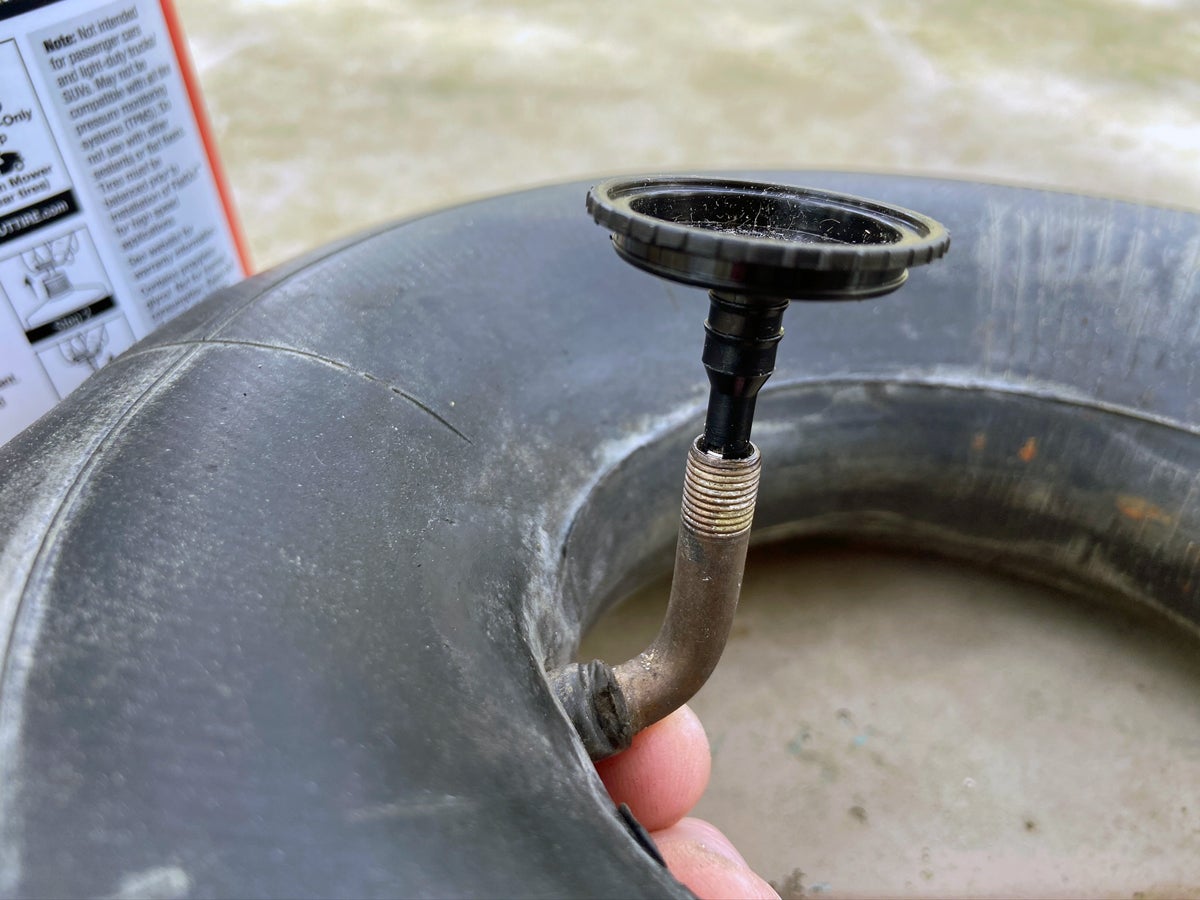 After removing the valve core, allow the tire or tube to deflate. Then slip the Flat Out tube over the valve stem and squeeze in the required amount of Flat Out. I only used 1/4 bottle (8 ounces) in the small pressure washer tire tube which is only about 7-8″ in diameter.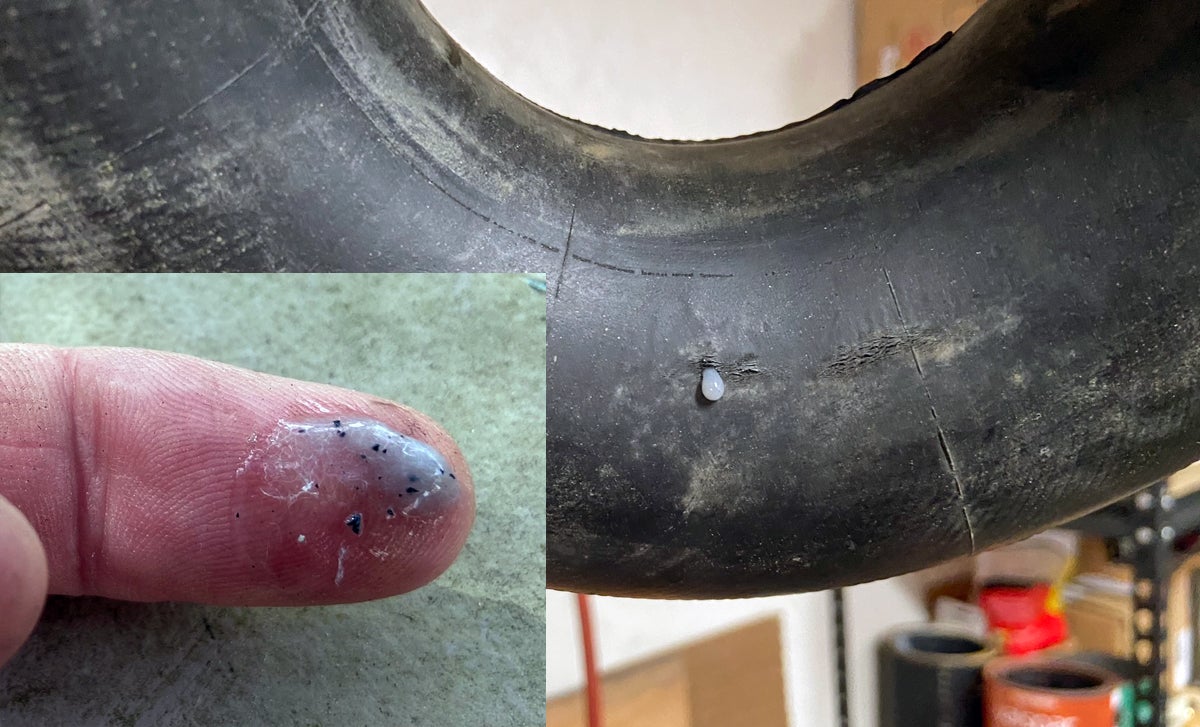 More than one year after sealing the tube with Flat Out, it's still holding air, and that never used to happen. Flat Out saved me from having to replace a tube, and will guard against future leaks as well.
A few months later, my utility vehicle's aged tires became disgruntled when I left it sitting overnight with a huge load of dirt in the bed. The tires all had slow leaks so I treated them with Flat Out. The specs say I should have put a full bottle of Flat Out into each tire, but I didn't have 4 full bottles so I put a full bottle into each rear tire and a half a bottle into each front tire. Seven months later the only tire still leaking slowly is the right front which is just about worn out anyhow and has given me valve core trouble in the past. I took the photo below ten days after installing Flat Out. This heavy load sat in the bed for a day or two and the tires held up fine.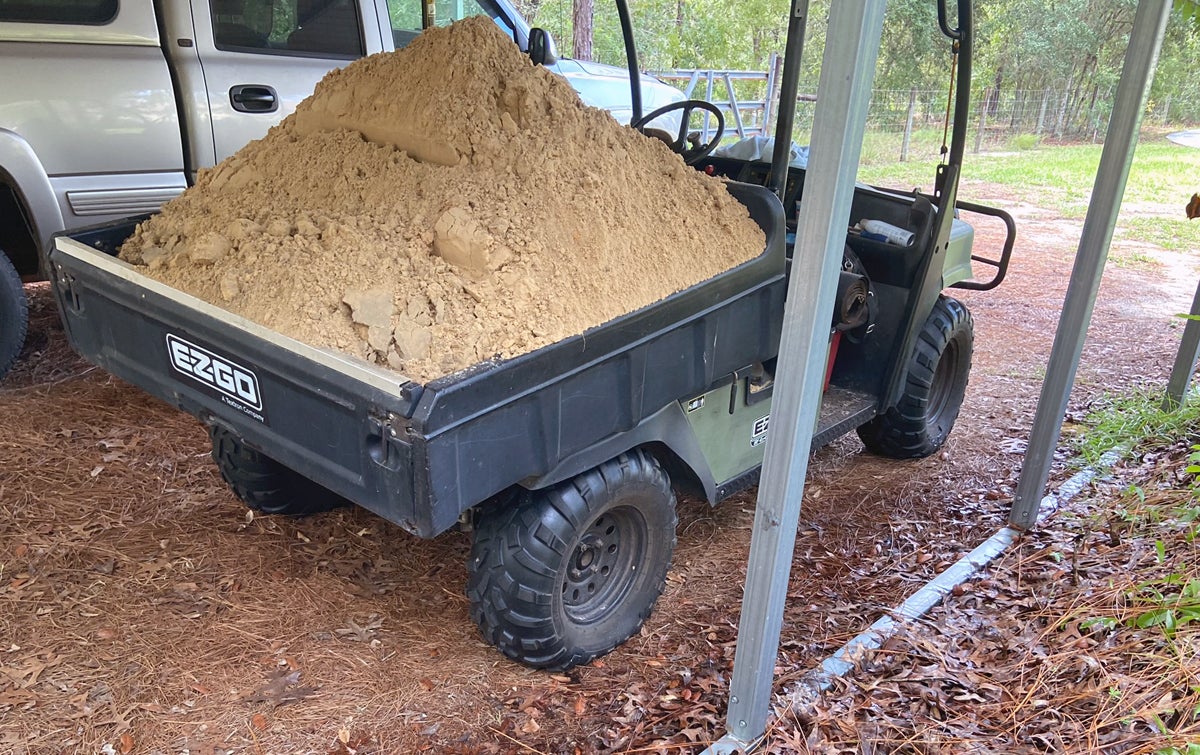 Conclusion – Flat Out Tire Sealant
Flat Out tire sealant is good stuff, and I have full confidence in its effectiveness. At roughly $15 per quart it is most definitely not cheap, but you are getting a made-in-the-USA product that will prevent flats for a decade or more. That's pretty dang good, and on the off chance you get a puncture-caused flat with Flat Out in your tire, they'll send you free product to treat your new or repaired tire! That, my friends, is not bad at all. I can definitely recommend Flat Out tire sealant after trying it out in the real world.