NEW Stache IWB Concealment Holster from Blackhawk
Russ Chastain 02.26.21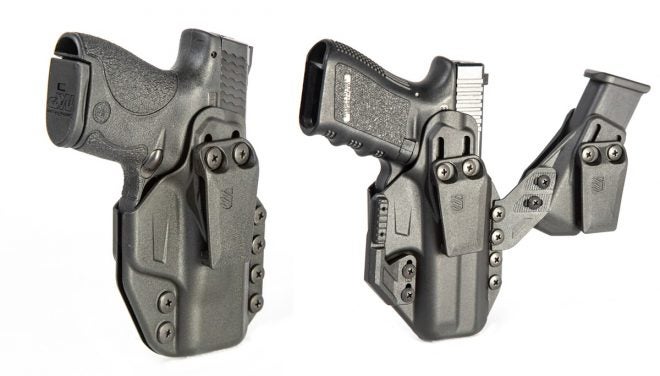 Blackhawk's new Stache IWB concealment holster looks to be a great concealed carry option for folks who like a polymer holster. The Stache system is quite flexible and packs a lot of great features into a compact package that's made in the USA. Here's a list of features per Blackhawk:
Ambidextrous
Impact reinforced polymer
Made in USA
Low profile shirt guard
Low cut for pistol-mounted optics
Adjustable 1.5″ J-style belt clip
Friction adjustable passive retention
Adjustable height and cant (angle)
Compatible with Discreet Carry Concepts Gear Clips (via optional kit)
Height-adjustable appendix platform accessory wing (Premium)
Spare magazine carrier with belt clip (Premium)
Modular concealment claw for reduced printing (Premium)
Two versions of the Stache IWB holster are being offered: The Base Model ($39.95) and the Premium Model ($64.95). Let's start with the Base version, and then explore what the Premium adds to the table. With the Stache IWB Base, you get the following:
1 Split-shell holster body
4 mounting screws
4 short brass Chicago posts
2 long mounting screws
2 long brass Chicago posts
2 rubber spacers
1 Kit Belt Clip w/hardware
Buyers who opt for the Stache IWB Premium get all of that PLUS a "Claw" kit (designed to help reduce "printing" of the pistol and holster, plus a mag carrier with belt clip and attachment hardware. All of those accouterments are listed below:
Kit Claws w/hardware
Kit Claw thumb pads and screws
Mag Carrier hardware
The Base Model can always be upgraded with optional accessories, which is one reason Blackhawk calls the Stache IWB "the most technologically advanced, modular concealed carry holster system that was designed never to be seen." They also say it's better than Kydex holsters:
"Designed by concealed carriers for concealed carriers, the Stache™ IWB holster system is the ultimate solution for everyday carry, out-performing the design and material limitations of Kydex®. Through meticulous engineering, the Stache™ holster delivers the optimal combination of comfort, rigidity, and modularity; a feat not possible with Kydex®. It is designed to be worn inside-the-waistband, is constructed of impact reinforced, injection molded polymer, and is compatible with a variety of Stache™ IWB holster accessories."
This may be the most flexible modular adjustable IWB holster I've ever seen. What do you think of it?