NEW HNT26 Ultra-Light Hunting Chassis from MDT Corp
Russ Chastain 03.01.21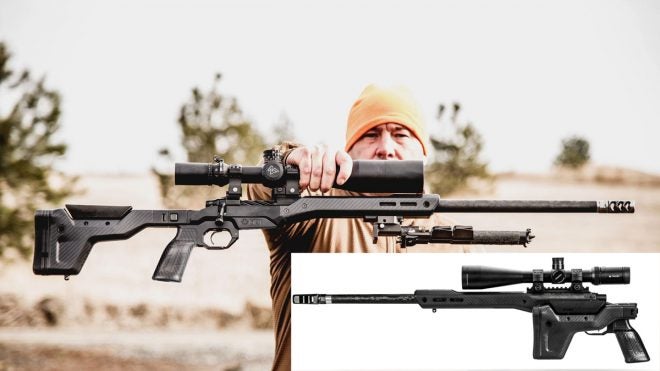 For hunters seeking a bolt-action rifle of a superior nature, assembling a rifle on a chassis rather than a run-of-the-mill stock is a popular option, and the new HNT26 Ultra-Light Hunting Chassis from MDT Corp offers light weight and thoughtful design, as it was made specifically for hunting and the base model weighs in at a mere 26 ounces including the base, butt stock, forearm, and grip.
This hunting chassis is sold as a kit which includes magnesium alloy base, foam-filled carbon fiber buttstock, carbon-fiber-enclosed forend, and a carbon fiber grip. MDT saw many hunters using their tactical and sport rifle chassis for hunting, and decided the time had come to design an all-new rifle chassis system aimed at hunters. Aside from the light weight, the optional side-folding stock might be the handiest feature about this hunting chassis, but it's certainly not the only one. Below is a list of specifications and features from MDT:
HNT26 Ultra-Light Hunting Chassis Specs
Snag-free design to diminish or eliminate unwanted snag points
Foam-filled carbon fiber buttstock is ultra-lightweight while dampening vibrations and felt recoil
Optional ARCA rail can be integrated right into the forend
Designed for use with MDT's new Polymer SA 3 Round Magazine, which fits flush into the magwell
Length of pull and comb adjustment (12.5" minimum length of pull with adjustable spacer system)
Thumb shelf
Chassis body machined from AZ61A magnesium alloy
Fixed and folding version available
Ultralight weight design weighing between 26oz and 31oz depending on configuration chosen (folding version and ARCA version increase weight to the high end of this scale)
Foam-filled carbon fiber buttstock deadens sound, vibrations, and felt recoil
Carbon Fiber components provide warm to touch feel
Designed to diminish snag points and provide superior ergonomics
Low profile mag latch integrates seamlessly into trigger guard
V-Block bedding system with free floating barrel
Will accommodate barrels up to 1.25" diameter
Compatible with AICS style magazines
Front and rear QD
Front and rear sling swivel mounts
Vertically adjustable cheek riser with soft touch foam pad
Accepts most AR Grips but specifically designed with ultra lightweight Carbon fiber grip just over 1oz
Carbon-fiber-enclosed forend with MLOK, QD mount, Sling Swivel Mount
Cerakote finish in either Black Carbon Fiber or Cobalt Green
Titanium action / grip screws
Available Rifle Platforms
Remington 700 Short Action (and clones)
Remington 700 Long Action CIP 3.850 (and clones)
Savage Short Action
Savage Long Action CIP 3.850
Tikka T3 Short Action
Tikka T3 Long Action
Short action non-folding versions are priced at $1,299.95. A folding stock adds $200, integrated ARCA rail adds $50, and long action adds $50 which means a fully tricked-out setup for a long action rifle will run you $1599.95. Don't forget to add a magazine; that's not included. Sorry, southpaws, only right-hand versions of the HNT26 Ultra-Light Hunting Chassis are currently planned. The MDT HNT26 Chassis System is available for pre-order at https://mdttac.com/hnt26-chassis-system.html and shipping is expected to begin summer 2021.