AllOutdoor Review: CatTongue Non-Abrasive Grip Tape
Russ Chastain 03.03.21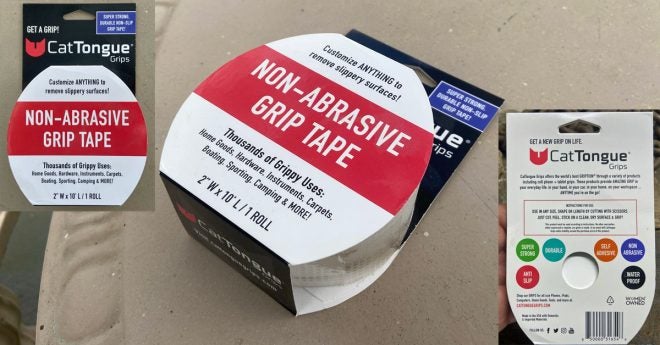 A while back, I wrote to let y'all know about CatTongue Grip Tape. I was able to get my hands on some for testing, and the time has come to review it here on AllOutdoor. CatTongue tape is essentially a transparent rubbery material (HDPE plastic) with a pattern of raised squares on one side and a peel-and-stick adhesive on the other (smooth) side. The idea is to stick CatTongue to just about anything in order to make the object more "grippy." Here are some features/specs according to the manufacturer:
Non-abrasive so it won't scratch furniture etc
Won't ruin your phone or leave behind any sticky goo or residue
Waterproof
Made with HDPE plastic: soft, lightweight, flexible, strong, impact-resistant
HDPE's grip is superior to rubber & latex
Recyclable
Latex-free
Won't interfere with wireless chargers or magnetic mounts
Colors: Clear
CatTongue Non-Abrasive Grip Tape – Sticking to it?
The main feature of this stuff is its ability to stick to whatever you put it on, thereby adding a high-friction surface to increase grip, and that is where my testing hit a snag about midway through. It started and ended pretty well, though.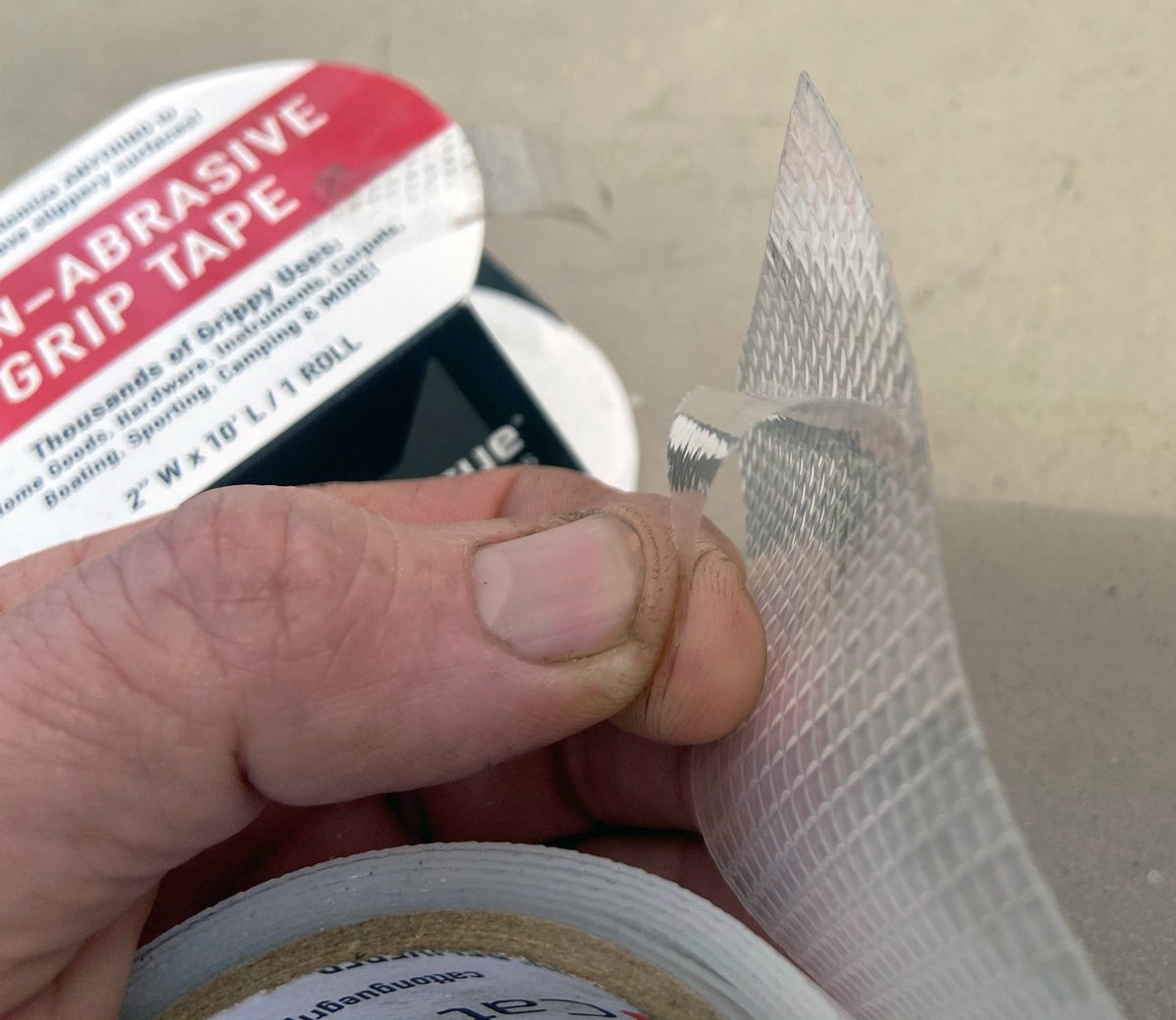 We first tried it on a rebounder (small trampoline) my wife uses for exercise. Her clamp-on phone holder wouldn't grip the metal handle, so she added two strips of CatTongue tape to the handle (there's an identical strip of CatTongue on the other side, not seen in the photo). The tape adhered well and solved her problem; the phone holder stays in place now.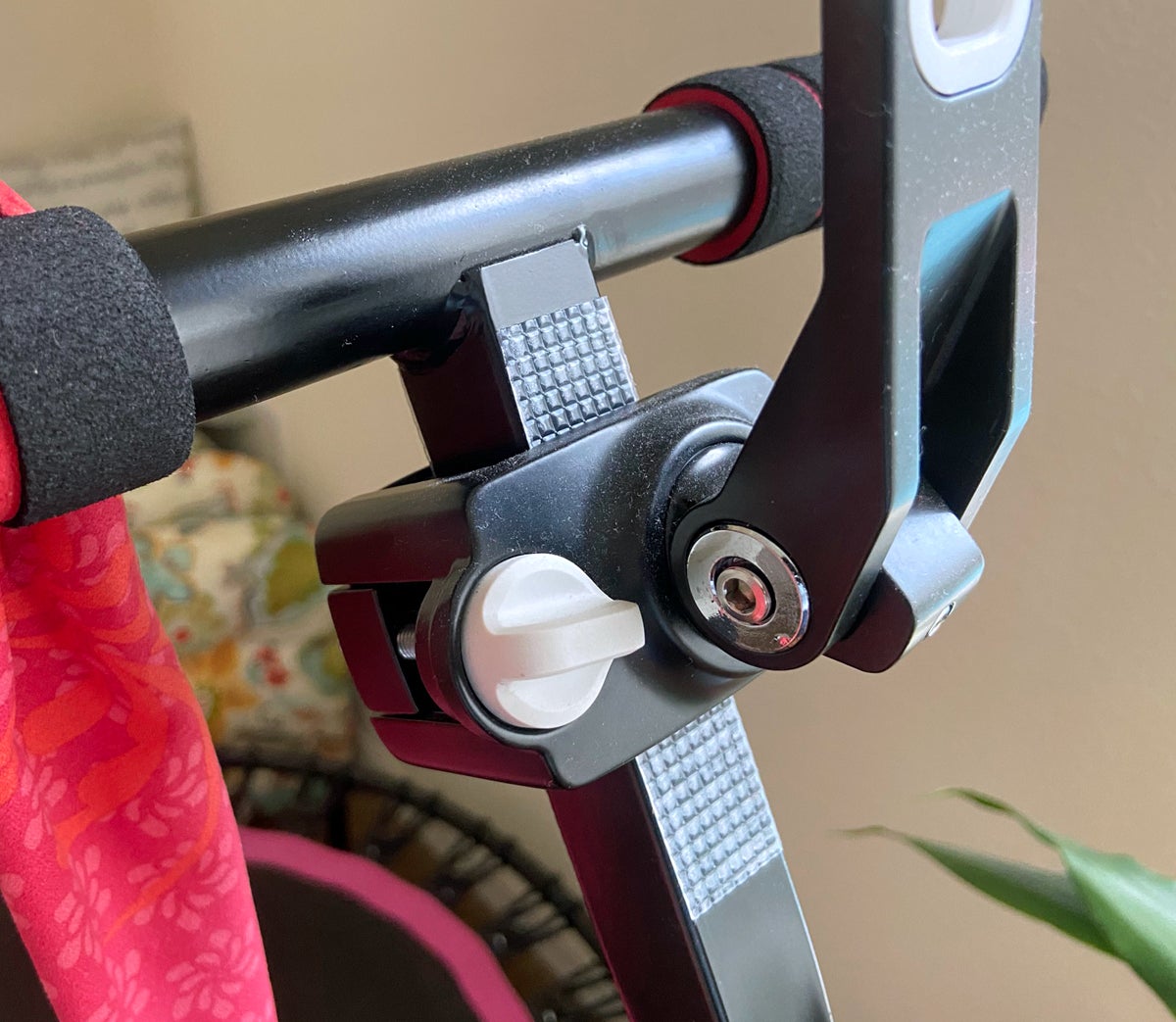 My testing on manly outdoor type things was initially not as promising, however. I first slapped some on the steering wheel of the utility cart I use around my property, and I admittedly didn't do a lot of prep to the surface. I wiped it well with a clean cloth and stuck on the tape. The CatTongue tape didn't fall off during a few days of driving the cart, but as you can see it didn't adhere well and most of the edges lifted immediately.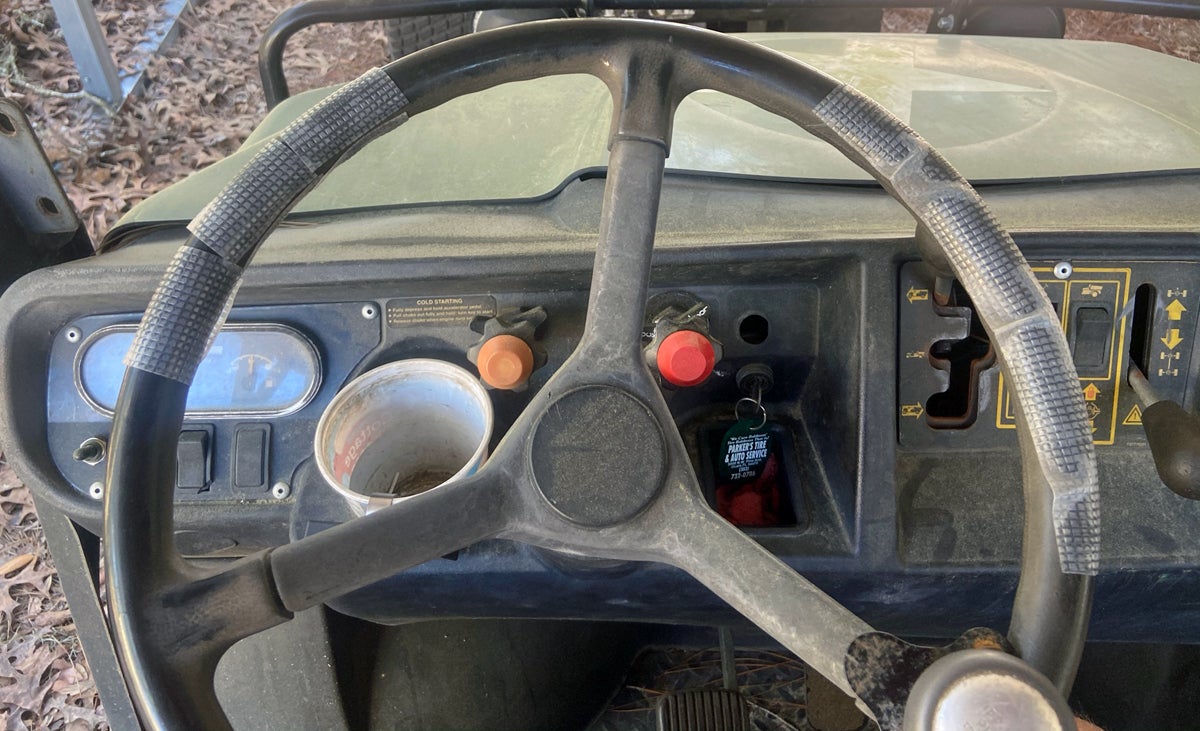 I next tried it on a wooden hammer handle out in my workshop. This time, the tape almost fell off as soon as I tried to install it and was completely unusable because it wouldn't stick at all. I was starting to think that although CatTongue is a pretty good anti-slip material, it might not be so good at sticking to things that see hard use in the great outdoors. Since we are AllOutdoor, that matters, but I knew I needed to give CatTongue another chance.
This time, I applied two strips of CatTongue grip tape to the fiberglass handle of a light camp axe after thoroughly cleaning the handle with acetone. Adhesion to the handle was excellent and the grip is greatly enhanced. Let it be noted that the adhesive side of CatTongue doesn't stick to its "grippy" side at all which is why I trimmed the tape to prevent overlaps. Check out these photos to see what I mean.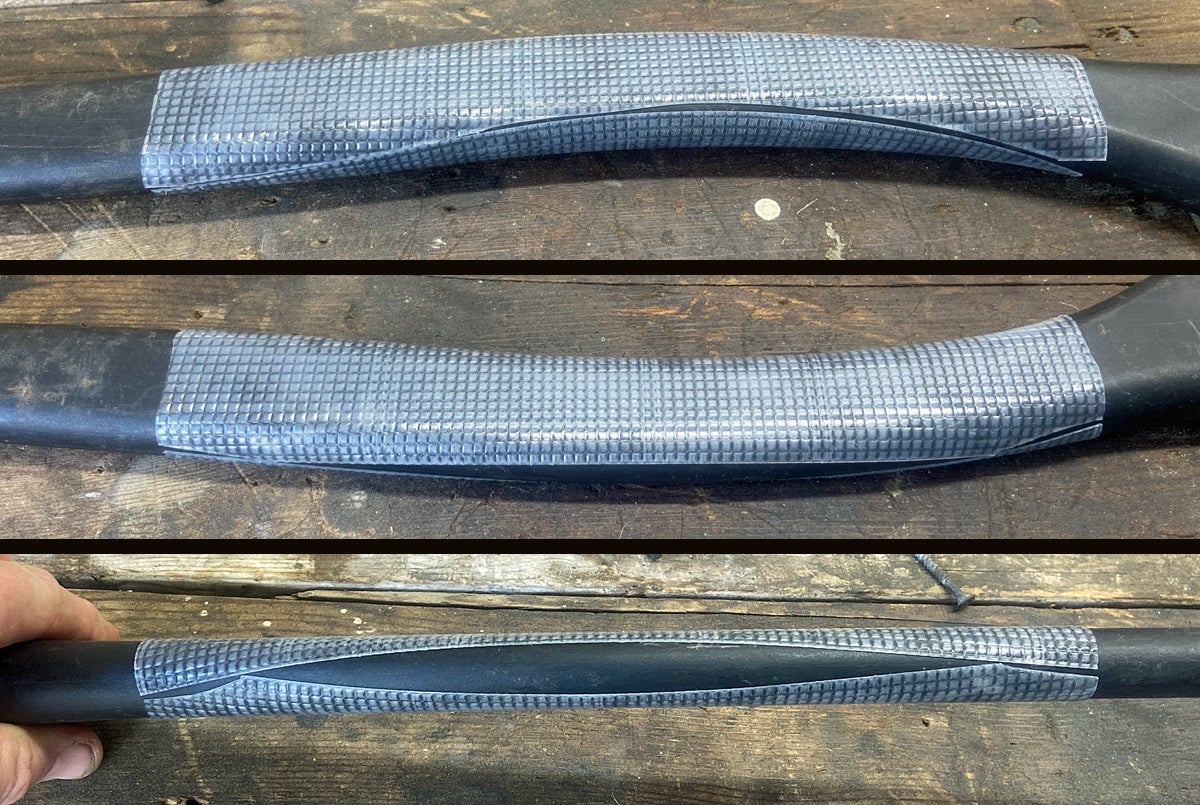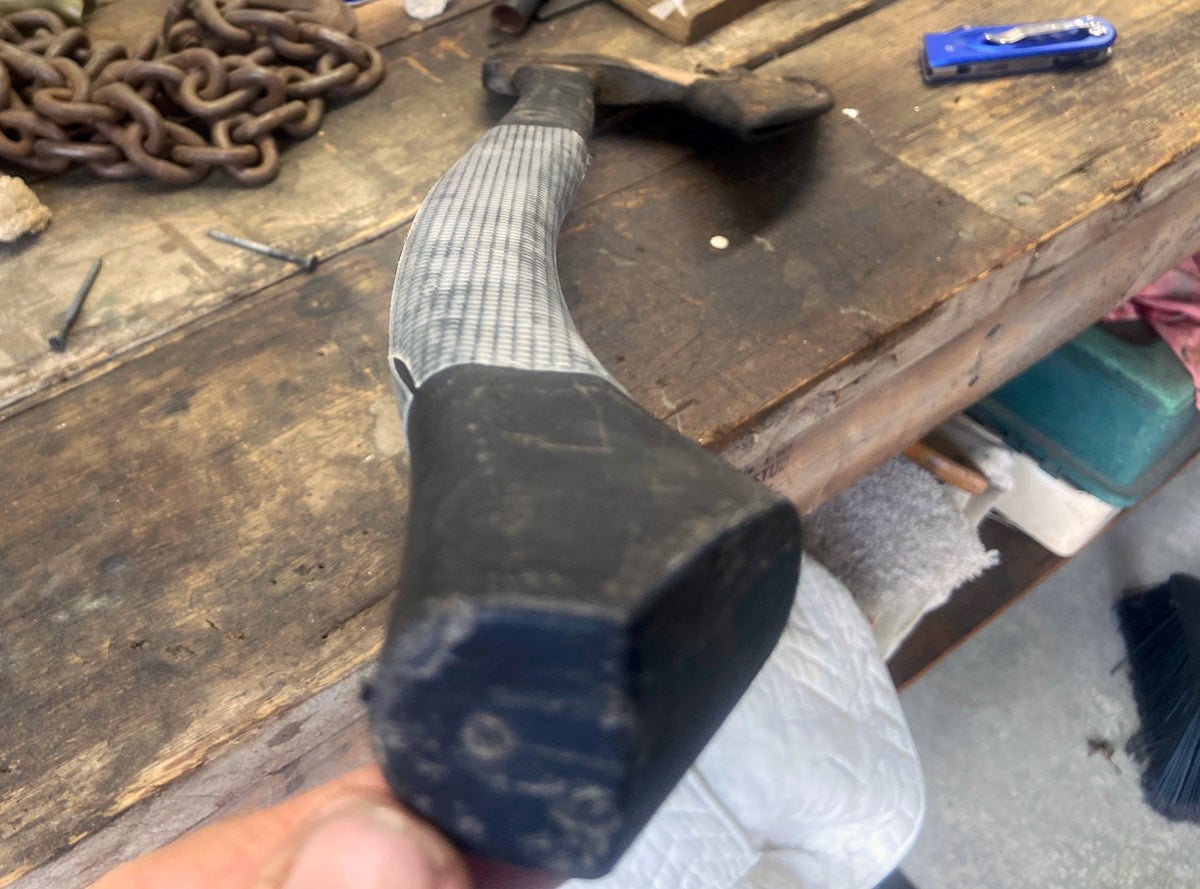 CatTongue Non-Abrasive Grip Tape – Conclusion
CatTongue grip tape is indeed grippy, and will help prevent slipping and sliding. You definitely want to prep your surfaces well to make sure it's going to stick, and some surfaces and shapes aren't really suitable for it. For more civilized things like adding grip to a phone or water bottle, I think this tape will probably do you right. In the great outdoors, be aware that surface prep is everything and as the old saying goes, your mileage may vary. In reading online customer reviews I learned that my experience with poor adhesion is not unique, so bear that in mind. A roll of CatTongue grip tape is 2 inches wide and ten feet long, and will cost you about $20.