Fashionable, Camo Rain Gear? 5 NEW Rain Jackets From Adidas
Doug E 03.05.21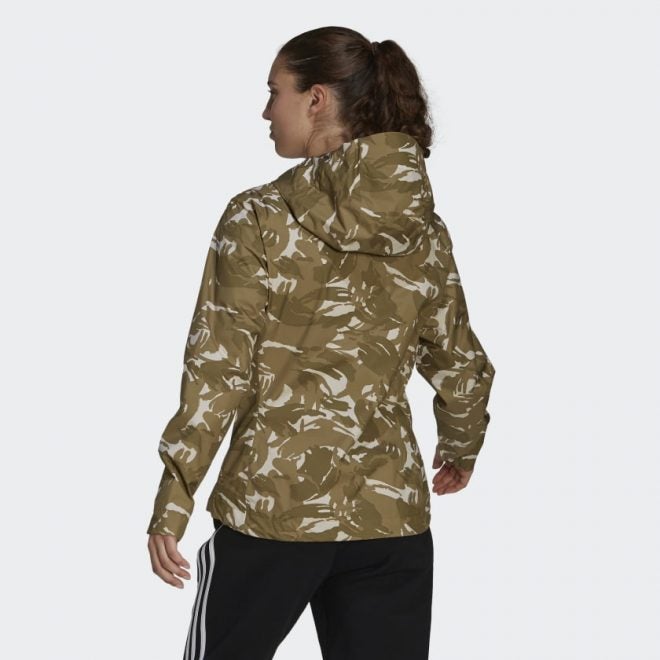 Adidas recently introduced five new rain jackets for men and women with a couple different color options based on price. Even though most hunters and anglers don't always look to Adidas for their outdoor apparel, Adidas has marketed their new rain jackets for trail use, as well as whatever else you'd like to do in the rain. Four of Adidas' new rain jackets are at, or near the $100 mark, while the fifth commands a higher price tag. Let's take a look.
BSC 3-STRIPES RAIN.RDY RAIN JACKETS
Starting off with the lower priced rain jacket, the basic BSC 3-Stripe jackets available in men's and women's models come in black with three white stripes on top of the hood. Adidas states that these are fully waterproof with sealed seams. The BSC 3-Stripe Rain.RDY jackets are listed at $90 for both the men's and women's.
"Showers in the morning, drizzle in the afternoon. Pack this adidas rain jacket for breathable coverage in wet weather. RAIN.RDY seals out wind and rain while keeping you comfortable on the inside, too. Zip up, adjust the hood and hem and keep on hiking on until the showers pass."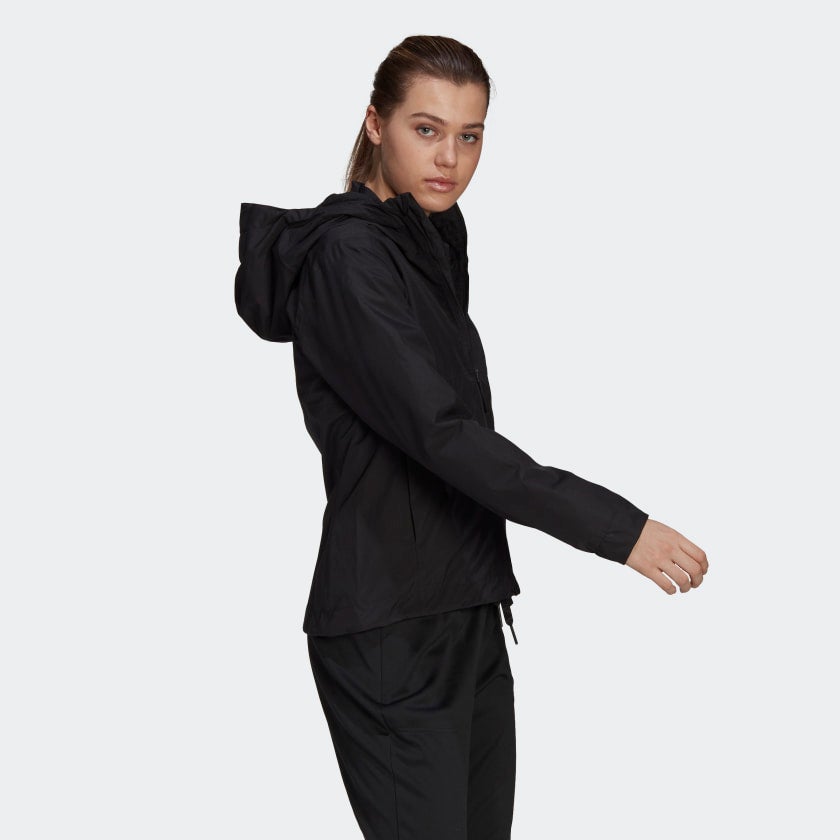 BSC RAIN.RDY CAMO
Next in line for Adidas' new rain jackets are also on the BSC line, which I imagine stands for basic, but these come in camo patterns for men and women. The women's camo pattern reminds me of the British desert camo while the men's is based more on the U.S. tiger stripe pattern, but in black and grey. The camo versions of the BSC Rain.RDY jackets are listed at $100.
"Damp morning on the trail or showers in the forecast, this adidas rain jacket offers breathable coverage for wet weather adventures. RAIN.RDY seals out wind and rain while keeping you comfortable on the inside, too. Zip up, adjust the hood and hem and keep on hiking on until the showers pass."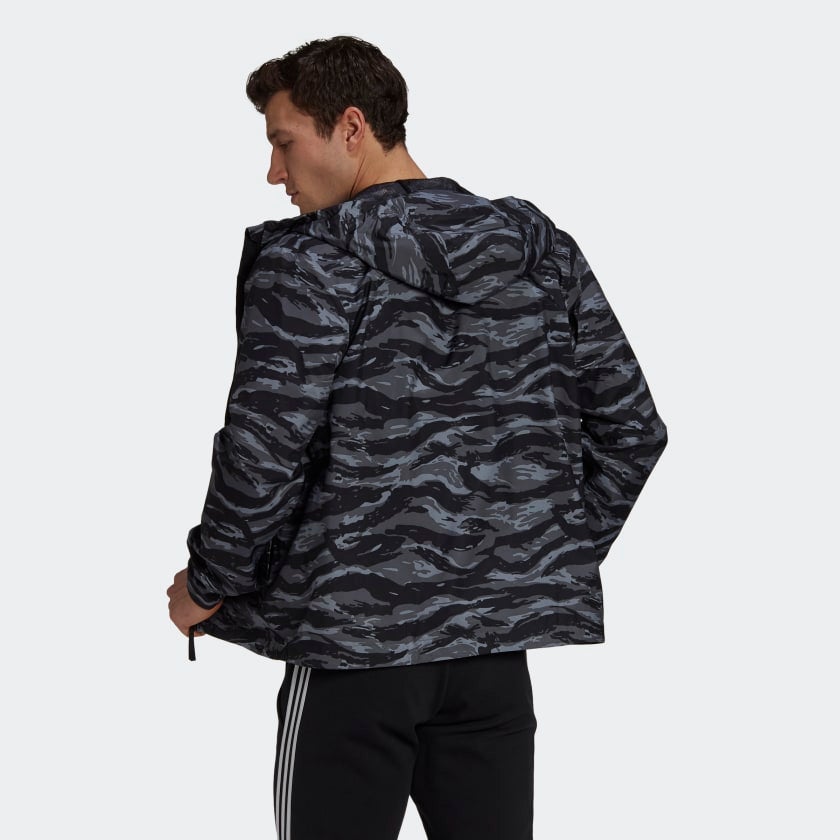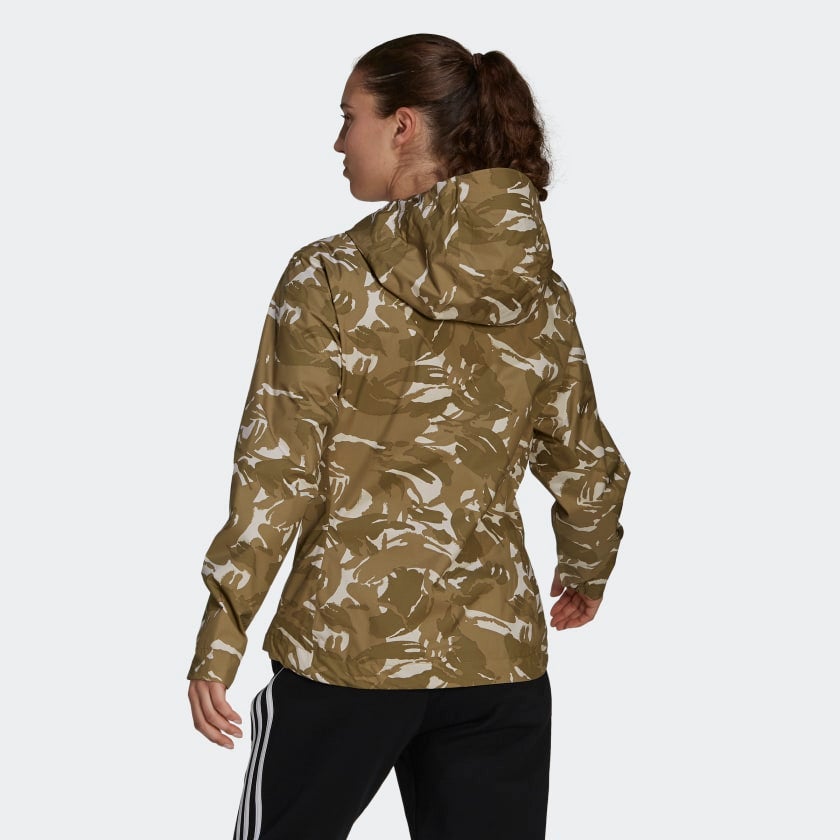 TERREX CAMO RAIN.RDY
Switching over to Adidas' "Terrex" line, the next newest rain jacket is slightly more expensive at $140 and is currently only offered in a men's version. The Terrex Camo Rain.RDY jacket includes a mesh lining for extra breathability, and comes in two camo patterns. The most practical for AllOutdoor.com's purposes is the white, snowy camo pattern as shown below, but they also offer a cloudy looking camo pattern in black and purple.
"Warm and dry equals comfortable and happy. Don't let an uncertain forecast cancel your next hiking adventure. This adidas rain jacket has an adjustable hood with a visor for when the rain starts. Unzip and stay on the move when the clouds part. Regardless, it always feels good to be outside."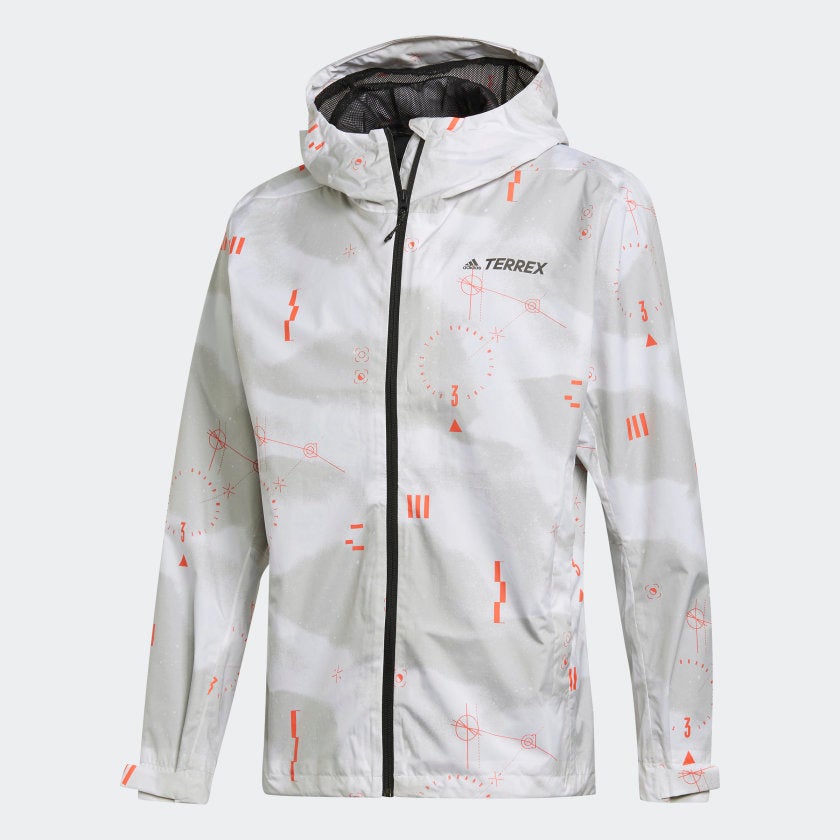 TERREX TRAVEER RAIN.RDY
The Terrex Traveer rain jacket is available in men's sizes in black or navy, and includes a unique feature that Adidas doesn't exactly expand on for outdoorsmen and women. Extending from the front pockets of the Traveer are flaps that create a slight opening at the bottom hem, which to me, could imply that you could open carry a holstered pistol and not have the jacket bunched up around it; however, the details on this feature are slim, so I can't vouch for how adjustable this gap is. The only mention of it in the specs is what they call an "overlapped droptail hem." The Traveer Rain.RDY rain jacket is listed for $130.
"When the rain just won't slow down, pull on the adidas RAIN.RDY Traveer Jacket. RAIN.RDY seals out wet weather, so you can get where you need to go. A mesh lining helps with ventilation and a media pocket secures your phone. Pack away the hood when the rain stops for a clean look."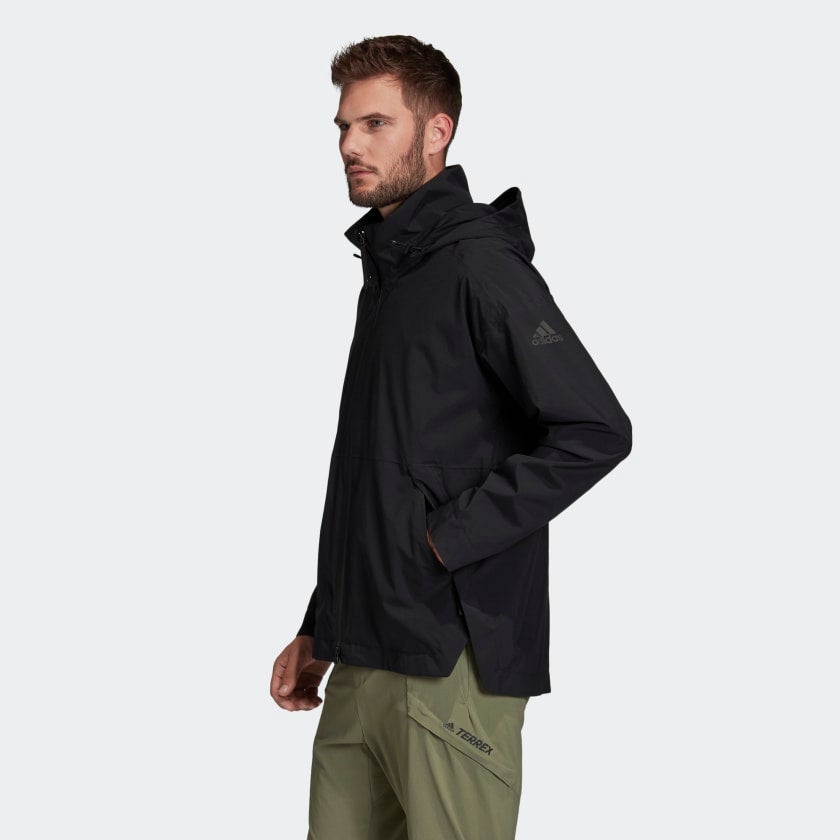 TERREX TECHROCK GORE-TEX PRO
For anyone willing to go all out on their rain jacket, the Terrex Techrock Gore-tex Pro rain jacket is listed at $550. Given that Adidas specifies that this rain jacket is compatable with helmets, one could infer that this rain jacket was intented for some heavy duty use. It's currently available in men's sizes.
"Chasing a trail challenge? Ready for that rush of adrenaline to take you to the summit? The TECHROCK GORE-TEX PRO jacket was designed so you can embrace the toughest parts of the ascent. Standout GORE-TEX PRO technology is waterproof, durable and breathable, offering unparalleled performance and protection, while TERREX brings style to your gear."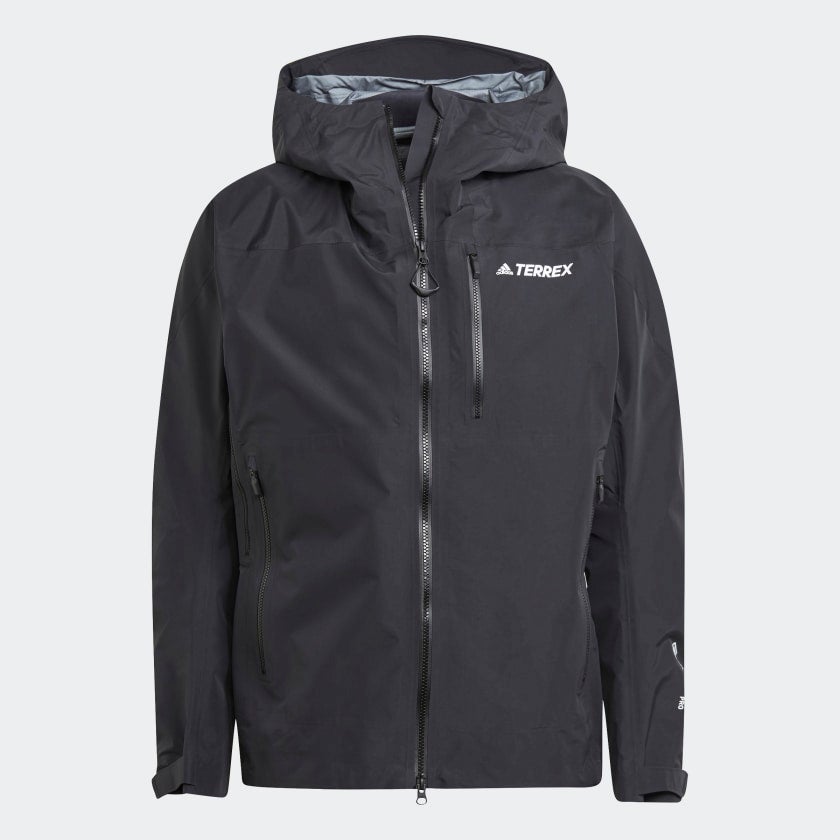 You can check out all of Adidas' current line up for rain jackets HERE. You can also follow Adidas on Facebook and Instagram. Staying dry during a hike, hunt, or paddling trip certainly helps you enjoy your outdoor time to the fullest. What do you think about the new rain jackets from Adidas?  If you've used them in the field, on a hike or on the water, let us know how your experience was.