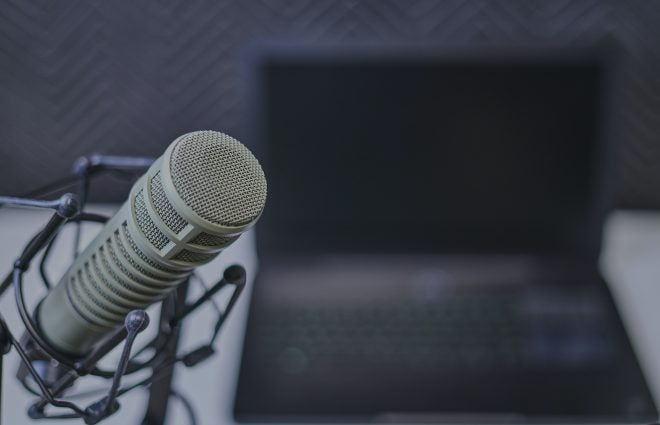 There are a lot of ways to consume outdoor industry media (one being this website!) and podcasts has become a popular option, too. There's many good reasons for this: podcasts are easily accessible, usually free, and can be listened to when it's convenient for the listener. There are lots of podcasts focusing on the outdoor industry right now. The following list features 20 of the best outdoor-focused podcasts led by female hosts and is listed in no particular order.
Fitness coach and podcast host Maurer uses her platform to motivate others to live their healthiest, most adventurous life. She shares workout, healthy living, and travel tips and recommendations.
Scott created the Woman Angler and Adventurer podcasts after being frustrated with the lack of female representation in the angling industry. In the podcast, she interviews women connected to the outdoor fishing industry. New episodes are released weekly.
3. Out There with Willow Belden
Out There podcast was recently listed as the #1 outdoors podcast in iTunes, and our stories have made guest appearances on Outside Magazine's podcast, WHYY's The Pulse, She Explores, and KQED's Q'ed Up. It has received four national awards from PRNDI, a nationwide association of public radio journalists, as well as regional awards from the Society of Professional Journalists.
The podcast features stories of people historically underrepresented in the outdoor space, think people of size, Black, Indigenous, People of Color, queer, trans and non-binary. The podcast includes talk about access, politics and conservation.
Supported by the American Alpine Club, The Sharp End aims to minimize future outdoor accidents by way of storytelling. The podcast features real people sharing real stories.
This podcast highlights women who hunt, train, and compete with bird dogs. Bastian also discusses tips and advice on canine health, breeding, training and nutrition, as well as conservation efforts for public land hunting and gear for women and dogs.
Nelson is a self-taught angler that is passionate about sharing her journey. On the podcast she explores diversity and inclusion within the fly fishing world, and in Nelson's own words, "it can get awkward."
She Explores is a collection of interviews, narrative stories, and listener submissions covering themes such as solo hiking and camping; entrepreneurship; aging; diversity, equity, and inclusion (DEI); conservation; motherhood; chronic illness; and feminism as they intersect with outdoor experiences.
Wild Ideas Worth Living host and adventure journalist Shelby Stanger adventures, entrepreneurs, and other make-it-happen extraordinariness about how they have made their wild ideas realities.
Started in 2014, For the Love of Climbing is about rock climbing, but for Karlo it's also about "choosing vulnerability and how we're all really just shining examples of this messy, human existence."
This high-energy podcast covers people, places, and races of the ultra and trail running community.
12. Juicy Bits with Jen Gurecki and Jillian Raymond
It's fun, sassy, and a little [email protected] Produced by the folks of Coalition Snow, this podcast, according to their website, "takes the conversations that women start on the chair lifts and trails and delivers them to you every two weeks in short, funny, juicy bits."
Traveler, foodie, outdoor lover, and single mom Lauren Gay has been featured in Huffpo Travel, BBC Earth Podcast, and is listed as one of the top black travel bloggers on the planet. Listeners get exciting content such as the latest travel trends, interviews with adventurous travelers, and tips to embrace the outdoors and have a more adventurous life.
14. Occupation Wild with Courtney MacRae Condy
Occupation Wild is a job board for the outdoor, adventure, and travel industry. CEP MacRae Condy shares stories of people doing the work and living the life through the podcast of the same name.
This weekly podcast is produced by the team behind the Basecamp Outdoor Community (with 21,000+ members). Each week they interview a guest from a brand about a particularly covetable position.
16. The Artemis Podcast with Marcia Brownlee, co-hosts Maggie Heumann and Becca Aceto
The Artemis slogan is Bold Sportswomen Creating Fresh Tracks For Conservation, and that's what this podcast delivers. The podcast is presented by Hunt To Eat and Artemis is a program of the National Wildlife Federation.
17. Tough Girl with Sarah Williams
This podcast won the Shextreme Best Adventure Podcast Award in 2019 and the Women's Sports Trust #BeAGameChanger National Award for Media Initiative of the Year in 2018. Williams interviews women who have overcome tremendous challenges and have lived to share the story.
18. Outside by Design with Lisa Slagle and Iris Matulevich
Produced by Wheelie Creative, this one focuses on the business side of the creative outdoor industry. It features interviews with entrepreneurs and outdoor industry innovators sharing their experiences in the outdoor industry.
Levesque is a Certified Personal Trainer and Holistic Nutritionist who works with her clients through a total mind-body approach. In her podcast, she not only shares her tips for health and endurance, but she also brings in women from the outdoors to share their stories.
The mission of Miss Pursuit is to inspire women to pursue an extraordinary outdoor lifestyle by creating an online hub of information and inspiration through useful and inspiring content. Like many podcasters, the podcast is one element of the overall strategy. In the podcast, host Hall shares conversations with other women engaged in the outdoors and what it means to them.