AllOutdoor Review: Mag Pump Magazine Loader for ARs
Russ Chastain 03.09.21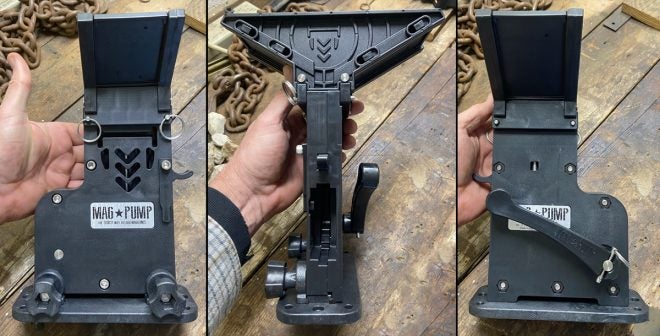 At the last SHOT Show way back in 2020, I witnessed the Mag Pump magazine loader and told y'all about it here on AO. Since then I've had the pleasure of testing a Mag Pump, so let's dive in and find out what it's all about.
Each Mag Pump has a hopper on top into which you place ammunition. You insert a magazine in the proper place, then work the lever back and forth until the magazine is loaded – it's that simple.
The process is simple, but the machinery isn't – so they recommend you DO NOT take the Mag Pump loader apart. They don't expect you to have problems, but if you do they will help you out because the Mag Pump is guaranteed forever.
"NO-QUESTIONS-ASKED LIFETIME TRANSFERABLE WARRANTY
We are gun enthusiasts, just like you, and we stand behind our products no matter what happens. If anything breaks or doesn't work to your satisfaction, let us know.

Contact us and we'll be happy fix the problem — no questions asked."
Mag Pump – Compatible with .223 Rem, 5.56 NATO, and 300 BLK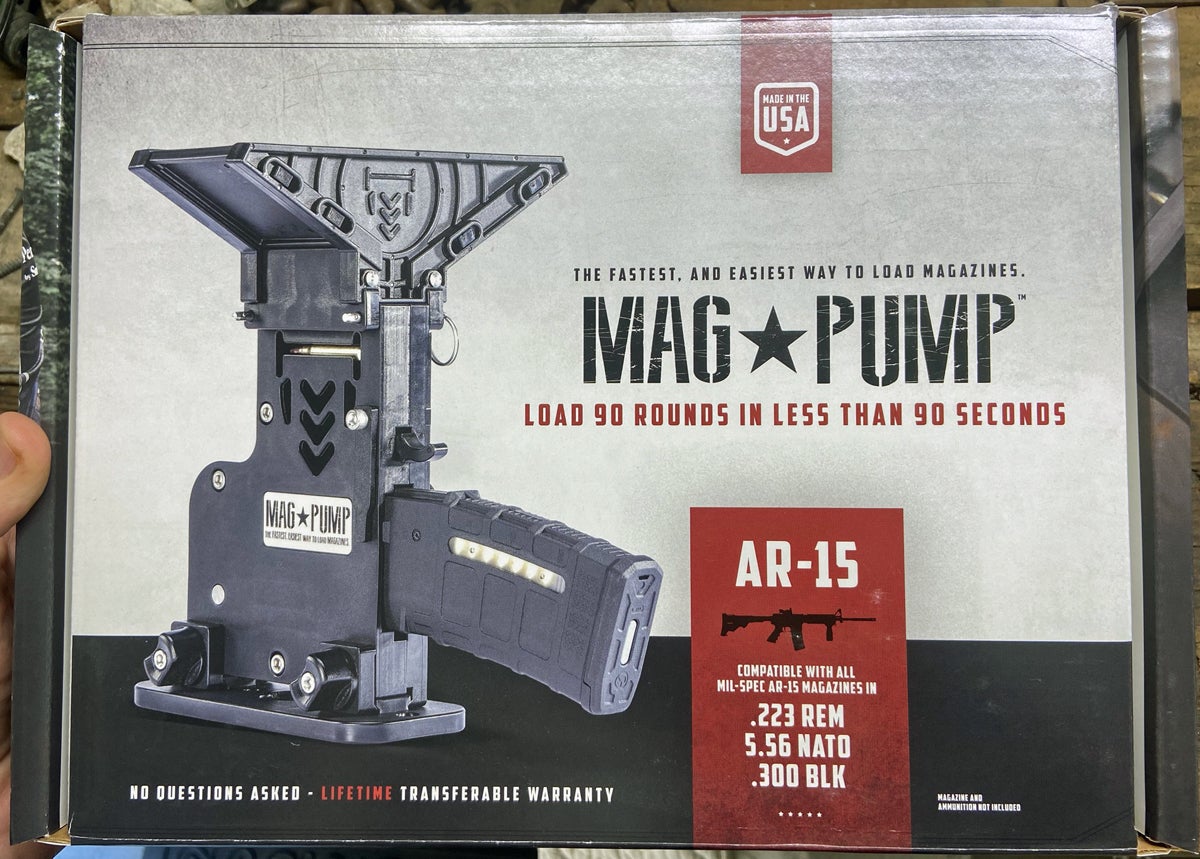 My first Mag Pump experience was with their AR-15 model, which is designed to work with 223 Rem / 5.56 NATO and 300 Blackout. One of the first things you notice about a Mag Pump is the weight and solid feel of the unit. It's built to be sturdy and it most certainly is. This AR model weighs in at 2.1 pounds without mag or ammo in it.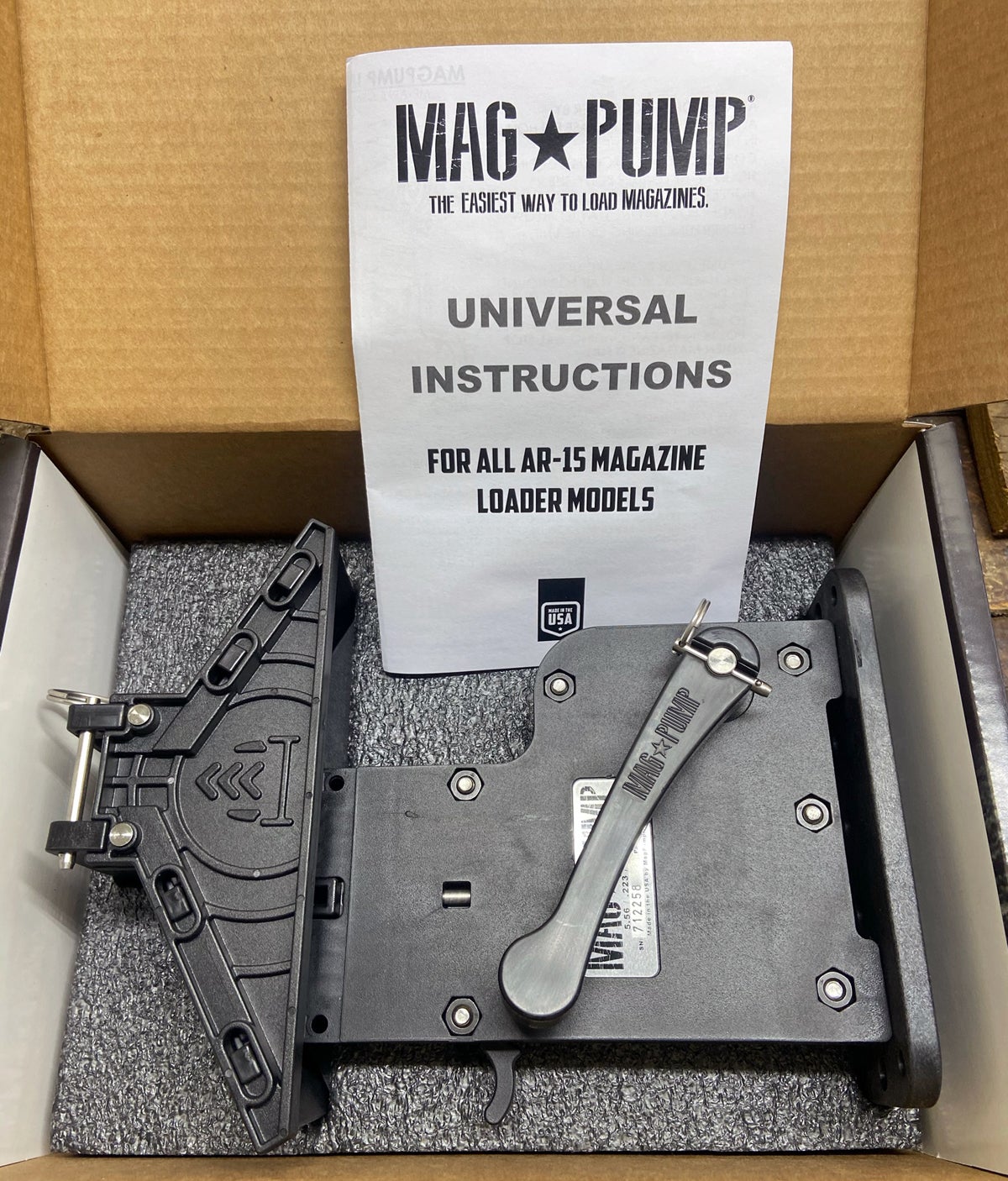 This model has only two assemblies in the box; the hopper and the loader. The loader is assembled to the "display base," which you can remove from the loader, attach to a bench or table top, and then put the loader back on the base. I did not attach the base to anything and the loader worked just fine, and be aware that if you do attach the base, it may be a little awkward turning the screw knobs to reattach the loader. Just something to think about.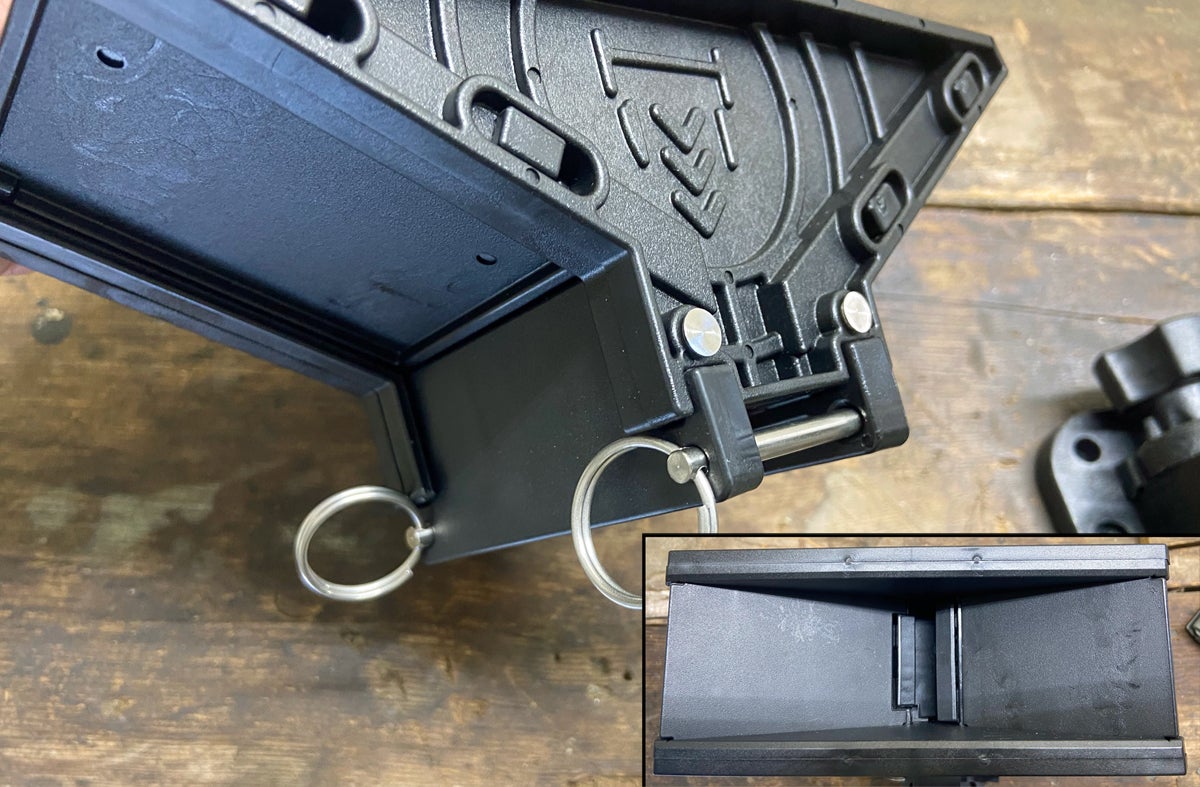 The hopper slips onto the loader, and it only fits one way. Remove the pins, slip the hopper onto the loader, and re-insert the pins. The inset in the hopper photo shows what you should see when you look into the hopper when it's installed on the loader – it only fits one way. This Mag Pump will load 223/5.56 ammo and magazines, or 300 Blackout, and they specify you should only load 300 BLK into magazines which are known to be compatible with 300 BLK.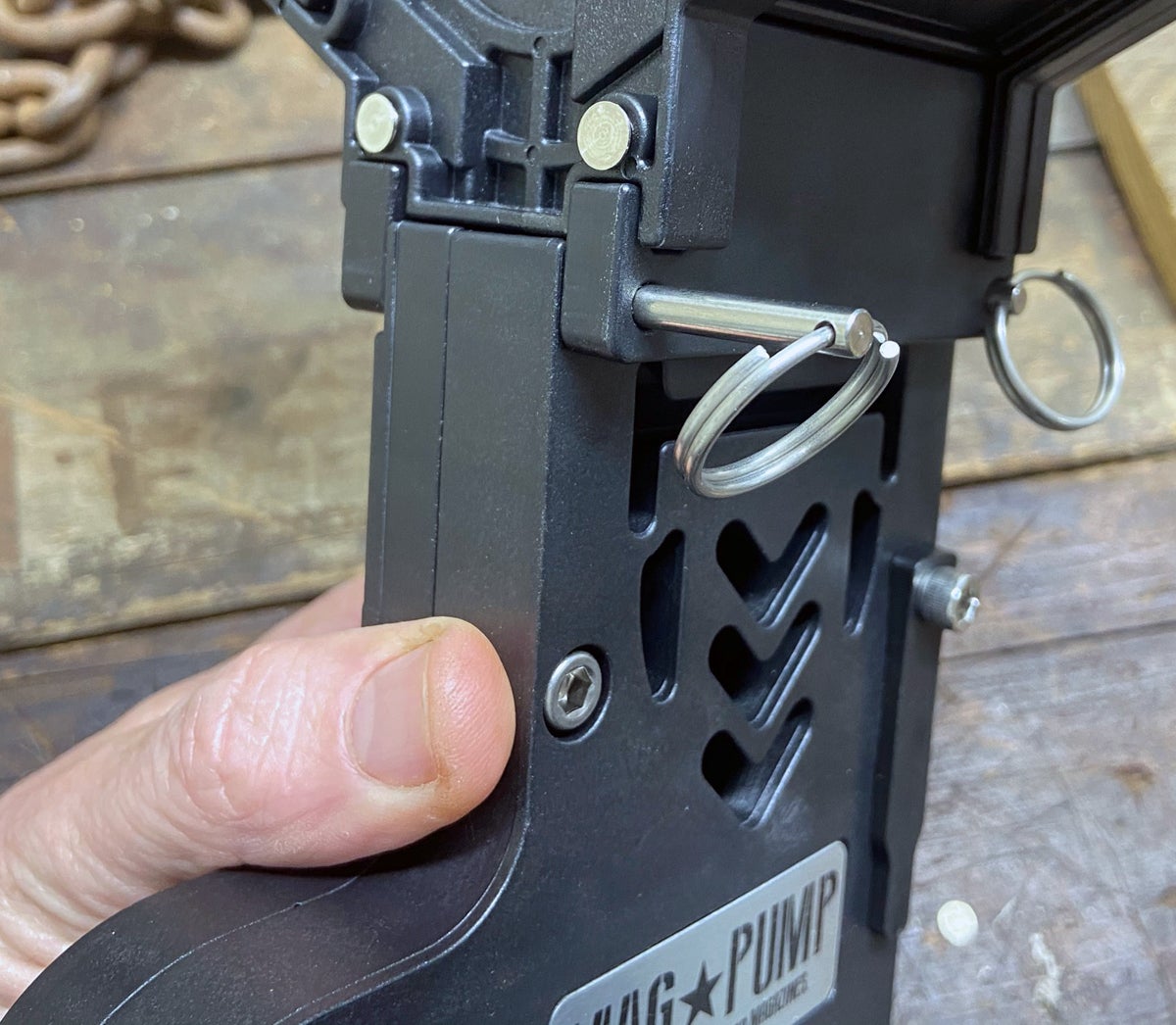 With the hopper on and pinned in place, the Mag Pump is ready to go.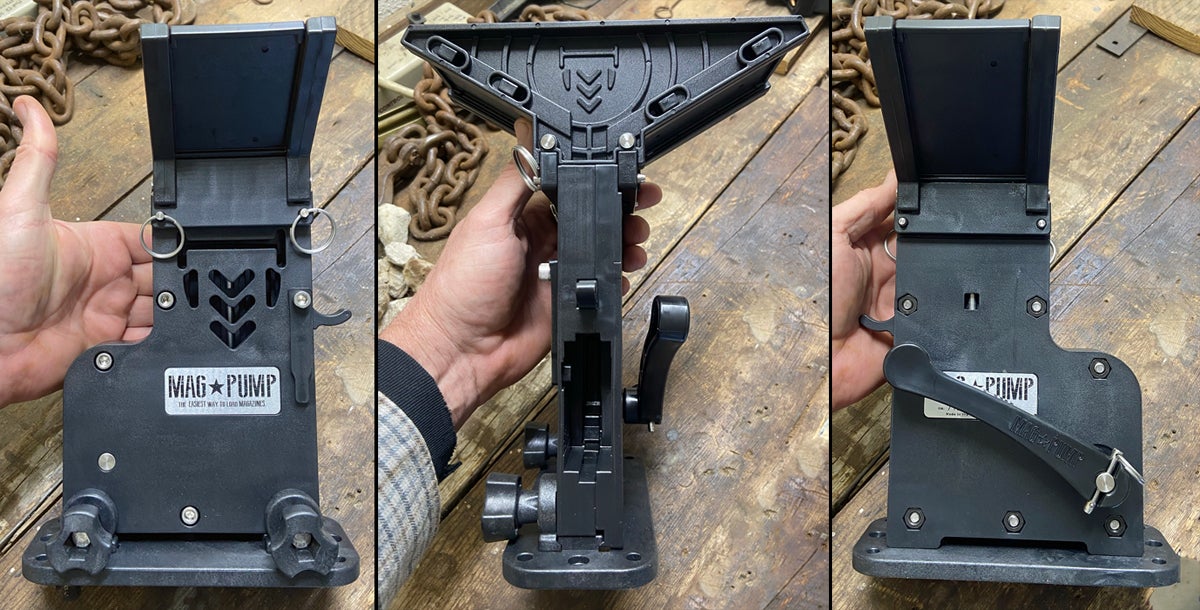 You want your ammo to be arranged as shown in the photo; you can't just dump it in a jumble. The machine will agitate the cartridges to jostle them so they flow into the chute, but it won't straighten them so they align with the opening. Doesn't matter which way they point, though. Photo shows Mag Pump with 40 rounds of steel case ammo in the hopper. You could easily fit 60 rounds into the hopper to load two 30-round mags. In fact, they say the hopper capacity is 90 rounds and that you can load 60 rounds in less than 60 seconds.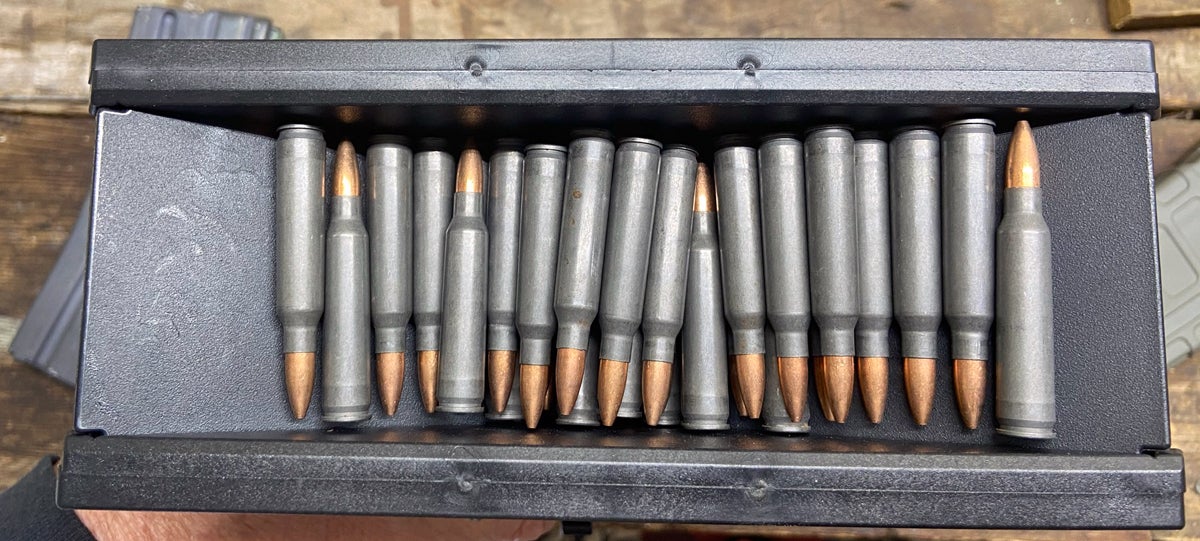 Once you have a magazine attached (front of magazine down), you work the lever up and down like a pump; hence the name. Each pump will drop a round and load a round, except for the first pump, which simply drops a round. So to load a 30-round mag, you'd work the pump 31 times. When the magazine is loaded, you can feel the difference in the way the lever operates and you're ready to remove the magazine.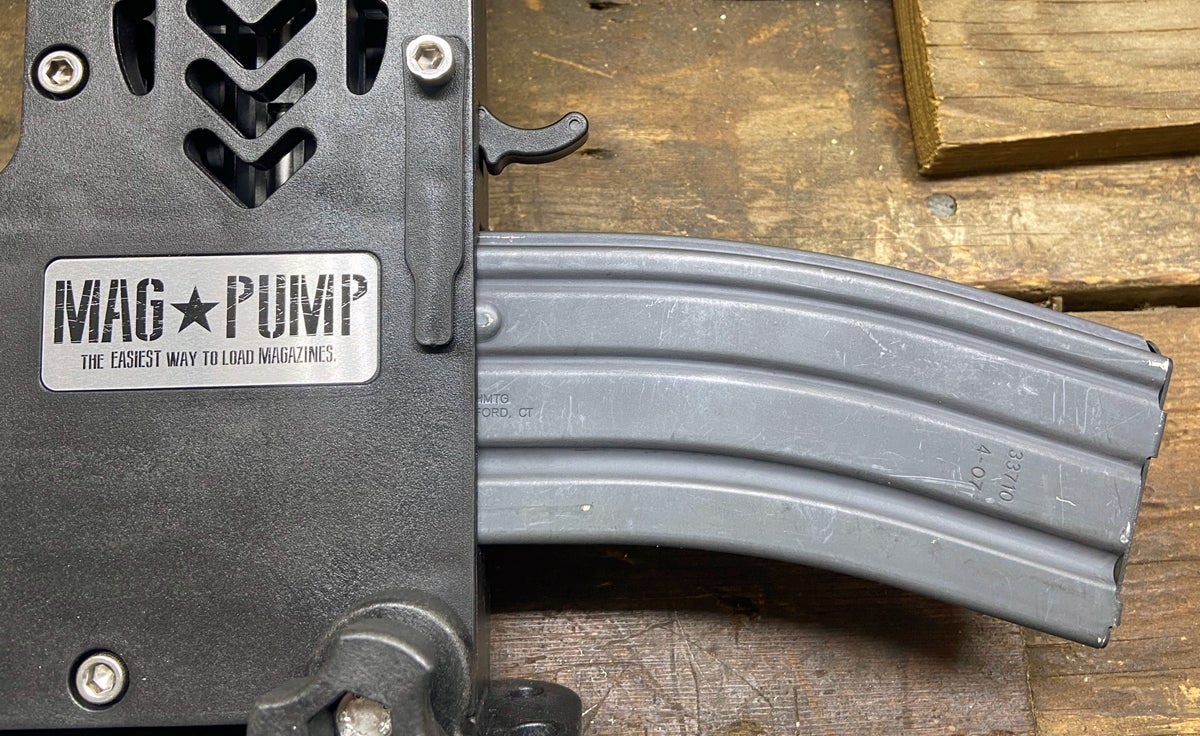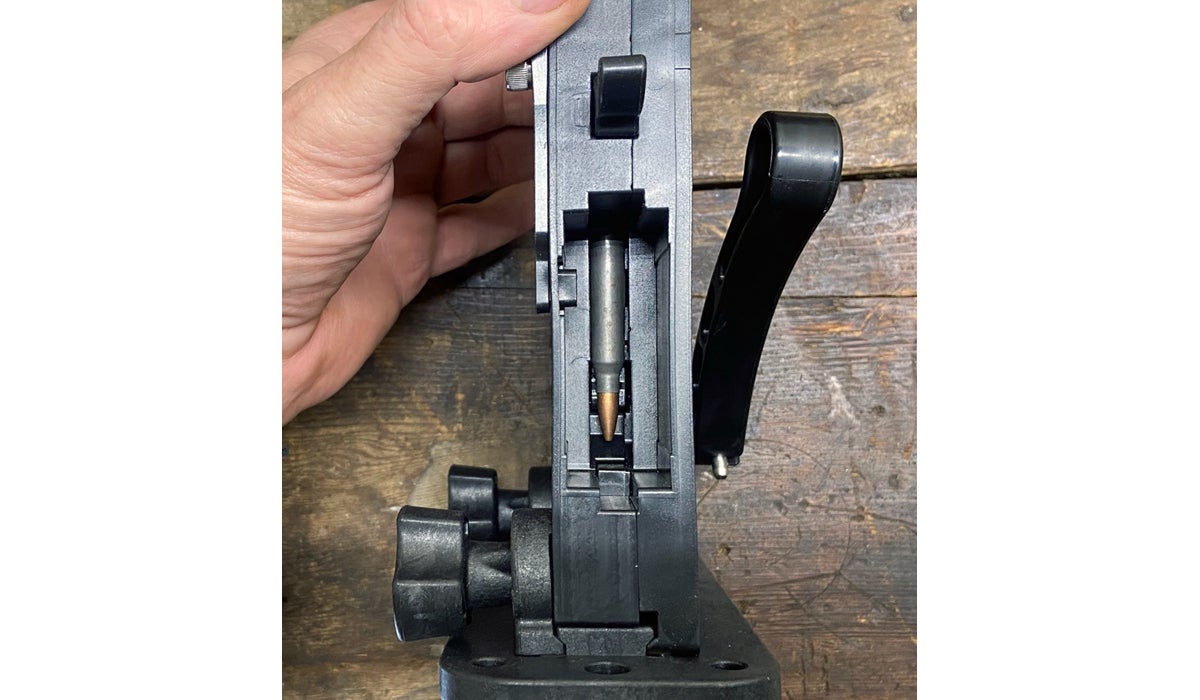 I included a photo of a round ready to be loaded just for illustration purposes. Be aware that if you have a round there without a magazine in place, the round is likely to fall out. To remove the magazine, push the trigger-shaped lever downward. That will shove the cartridge-shaped magazine catch off to one side so you can remove your magazine. All of my testing was done with Russian 223 Rem ammo.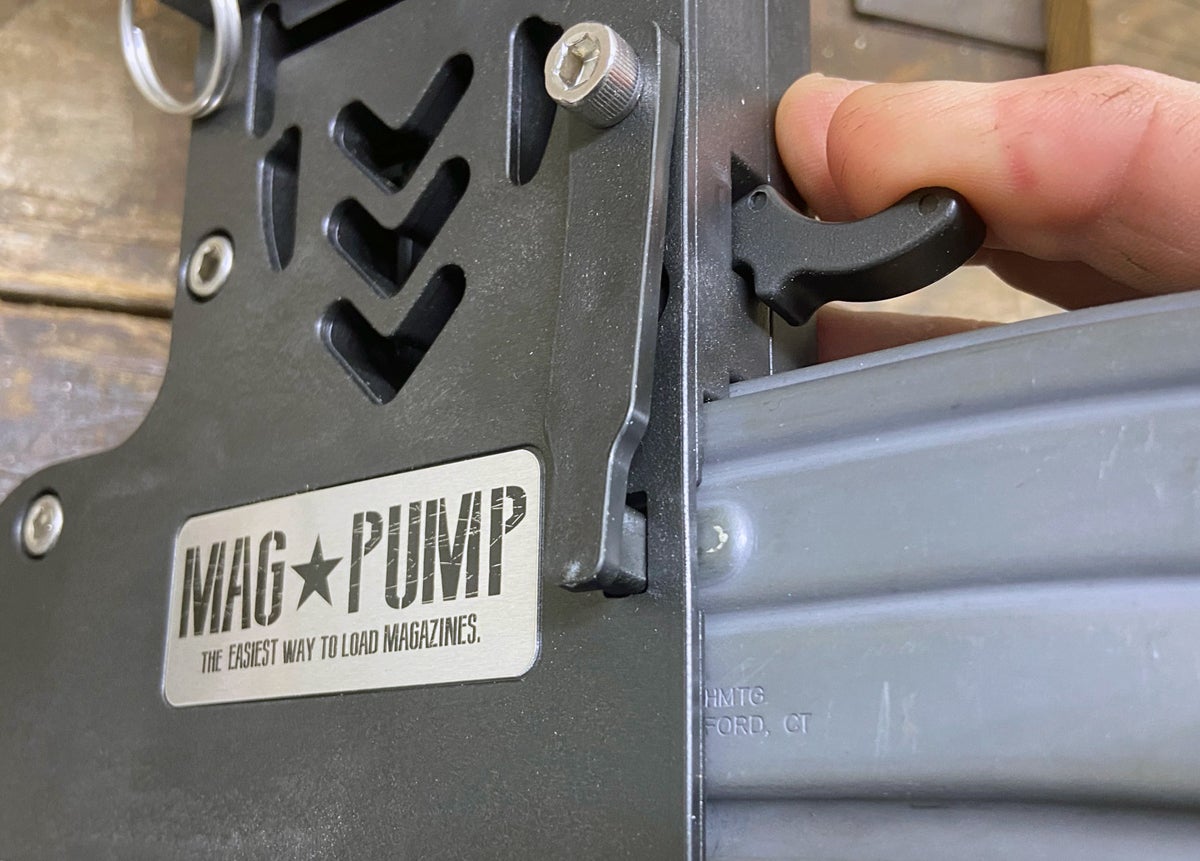 I used this Mag Pump with steel mil-spec and polymer PMAG magazines, and all magazines were loaded without any trouble. You can't work the pump handle super fast; it has to be done methodically and there must be time for a new round to fall down into place in between "pumps."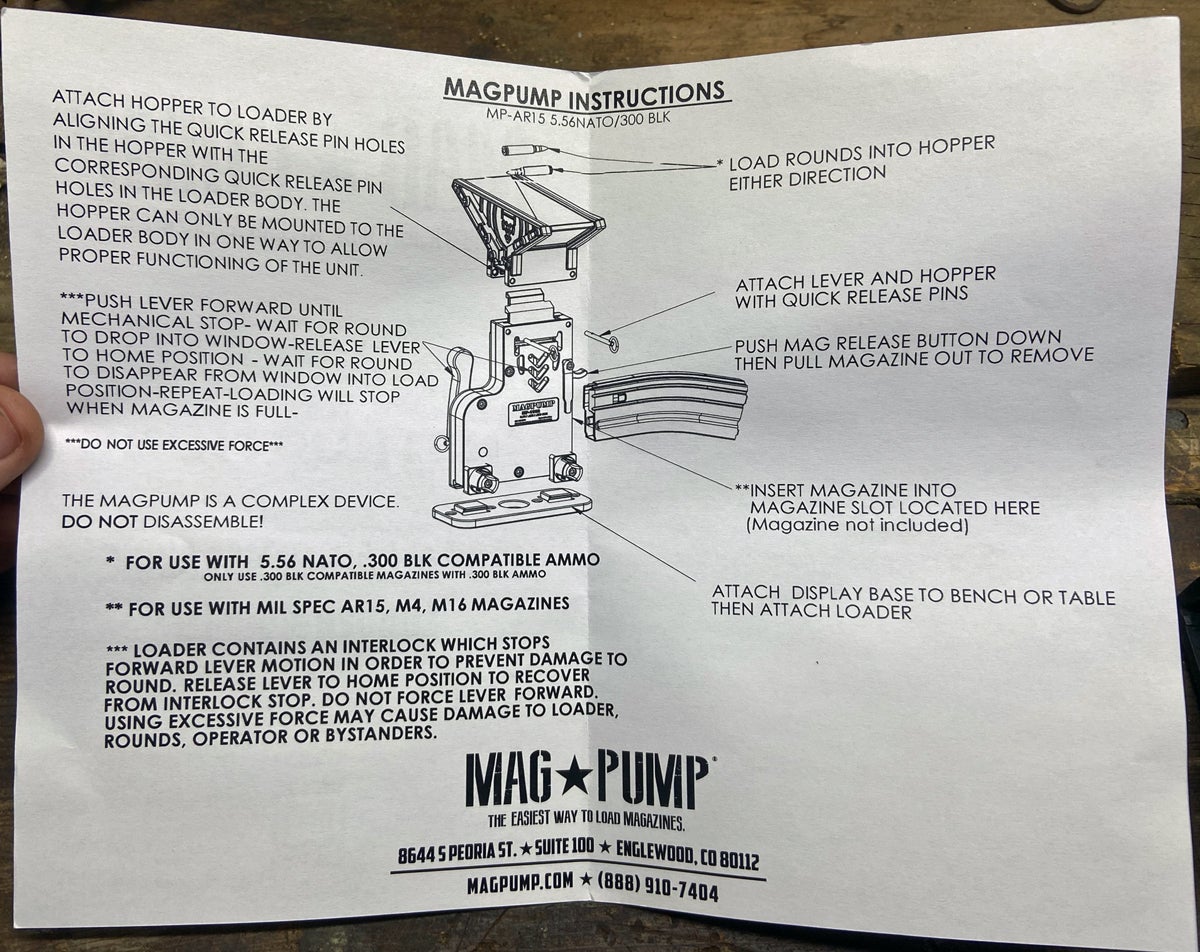 Final Thoughts – Mag Pump
The Mag Pump is a serious piece of equipment, and is priced accordingly. This AR-15 model sells for $149.99, is made in the USA, covered by a lifetime warranty, and has a definite feel of quality. It will absolutely save a lot of thumb fatigue and I believe anyone who loads many AR magazines is going to want a Mag Pump.
More serious operations (like machine gun shoots) may want to opt for the $249.99 Pro model which contains some machined metal internal parts where the standard model uses polymer parts. The Mag Pump is the real deal: a quality AR magazine loader that will probably outlast most of us, and if it doesn't, they'll fix it for free. Hard to argue with a deal like that.