Curious Relics #008: O.F. Mossberg & Sons 185D Bolt-Action Shotgun
Sam.S 03.10.21

Welcome to our recurring series of "Curious Relics." Here, we want to share all of our experiences, knowledge, misadventures, and passion for older firearms that one might categorize as a Curio & Relic  – any firearm that is at least 50 years old according to the ATF.
Hopefully along the way you can garner a greater appreciation for older firearms like we do, and simultaneously you can teach us things as well through sharing your own expertise and thoughts in the Comments. Understanding the firearms of old, their importance, and their development which lead to many of the arms we now cherish today is incredibly fascinating and we hope you enjoy what we have to share, too!
Welcome, if you are a newcomer to this fun bi-weekly segment of AllOutdoor.com! The last time around I covered the US 1917 Bayonet and Pinfire Ammunition. Despite the interesting factoids, I really enjoy going over older firearms and especially when they get some range time. It has been a cold couple of weeks up here in Minnesota so I have not had much of a chance to go to the range, but I still have an older shotgun for you today. The O.F. Mossberg & Sons Model 185D-B. Let's dive right in!
History Abridged: Mossberg 185D
O.F. Mossberg & Sons was founded in 1919 and has a long history of producing notable firearms for the average-Joe. A fair example is the highly popular and still produced Model 500. Before the infamous Model 500, there were firearms such as a four-shot 22 caliber pistol and small rifle designs. During World War II, Mossberg manufactured all sorts of parts for small arms used by the Allies. After the war ended, Mossberg was left to themselves again and had to find their calling – and at this point – it was headed to shotguns!
In 1947 they released the O.F. Mossberg & Sons Model 185D. The Model 185D was a bolt-action 20 Gauge shotgun with removable, exterior chokes. All 185D shotguns were sold with a set of three chokes (Improved Cylinder, Modified, and Full) along with a wrench to assist in loosening and tightening if need be. The chokes were also knurled on the outside for easy gripping. Speaking of easy gripping, it also featured plastic finger grooves in the semi-pistol grip walnut stock.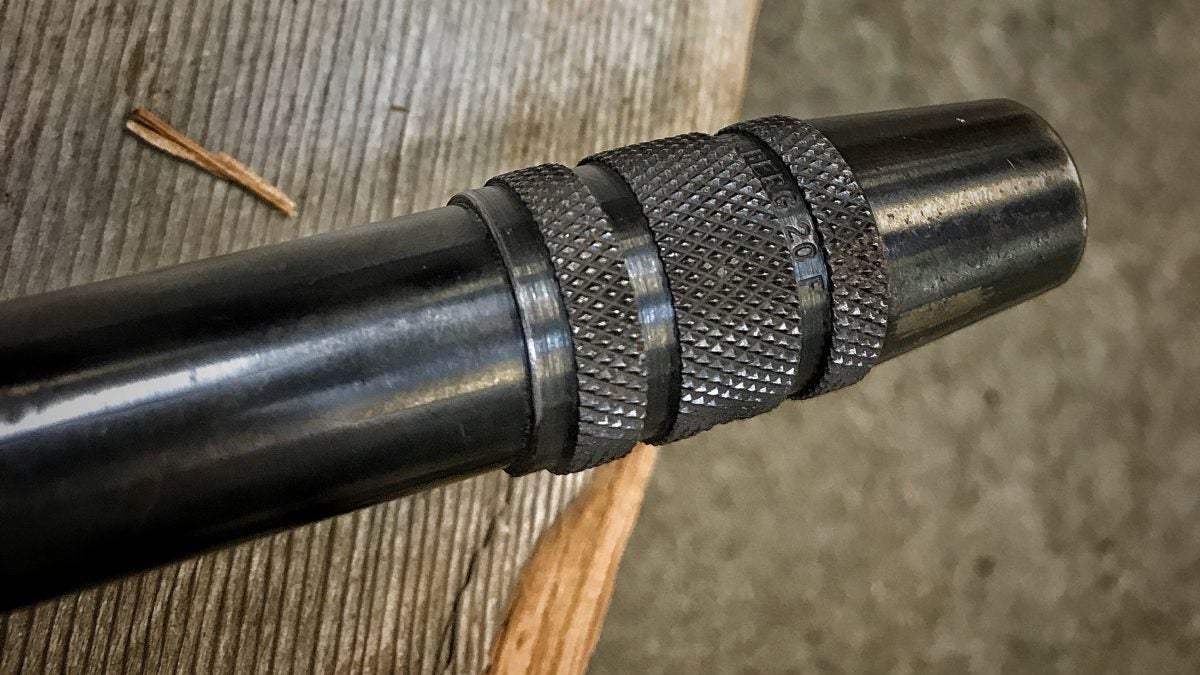 The Mossberg 185D has a long line of variants that followed, but our photo examples today are a 185D-B. The 185D-B was the 3rd iteration of the line of bolt-action 20 Gauge shotguns.
Through my research, I only found that the notable reason for a change from the 185D to 185D-A to 185D-B was a change to the firing pins. This was most likely a material/composition change or even a liability sort of change where poor heat-treating or design was a safety issue. I should say that I have found no evidence that this was the case.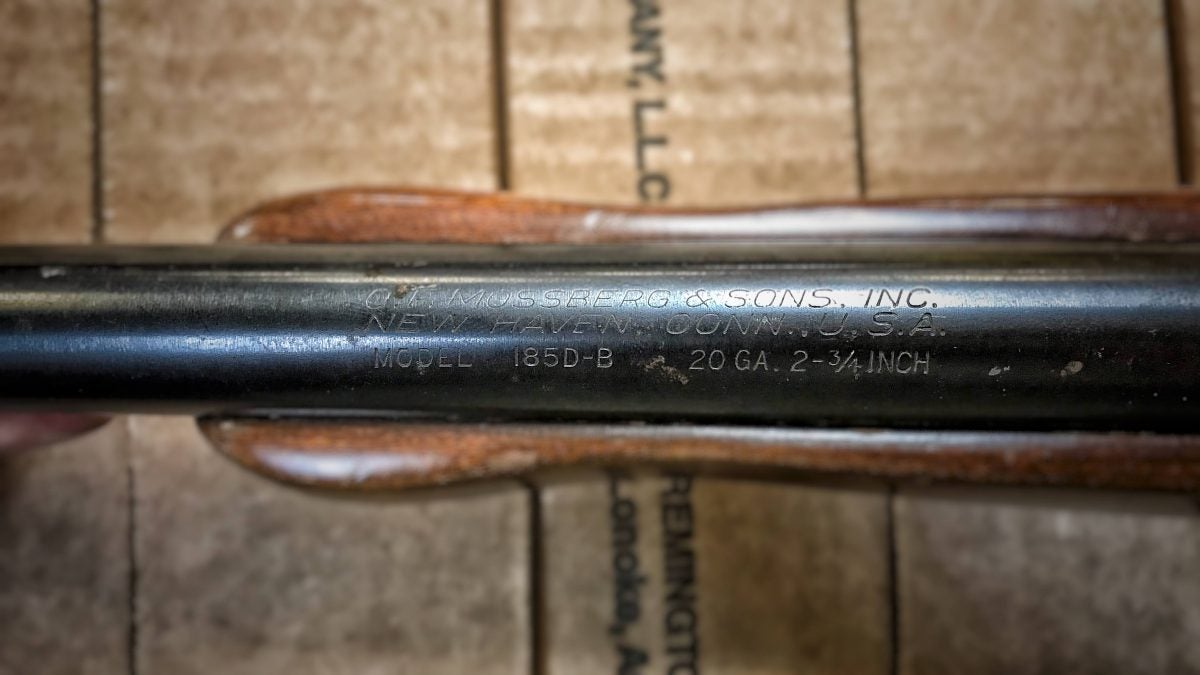 The Mossberg Model 185D and its iterations would be in production all the way until 1959 when manufacturing ceased. That is over a decade of providing a well-working, bolt-action shotgun to a market of hunters, not to mention some of which had just returned home from war and wanted to pick up a hobby. The Mossberg Model 185D was not completely dead, however! It lived on in another stretch of variations which I will cover below.
Variations: Mossberg 185D
The Mossberg Model 185D was the initial model introduced to the public. For reasons I mentioned, I have speculated the change from 185D to 185D-A to 185D-B was probably very small design changes including a firing pin change. Dating these guns is not terribly hard given the number of iterations. The fact that none have serial numbers can be sort of daunting though so bear with me!
The regular 185D was made from 1947 to 1950.
The 185D-A was made for only 1950 when a probable firing pin issue arose. This is the shortest run and the rarest of the bunch since the 185D-B also popped up toward the end of 1950.
The 185D-B was made from 1950 to 1955 and it introduced that firing pin change.
Finally, the Model 185D-C was yet another small change to the two-shot magazine making the bottom of the magazine a solid part of the assembly. This was probably nothing to do with functionality and more to cut costs as much as possible. The 185D-C was made from 1955 to late 1958 or early 1959.
After the 12 year run of the Mossberg Model 185D, Mossberg still had the Model 185K that was in production alongside the 185D. The most notable difference was it had a "C-Lect" choke system instead of the type that came on the 185D. The C-Lect worked similar to tightening or loosening the chuck on a drill so it was much faster and handier.
The 185K was made from 1950 to 1964 with a run of similar small changes along the way. If I ever have the chance I will cover the 185K deeper at a later date.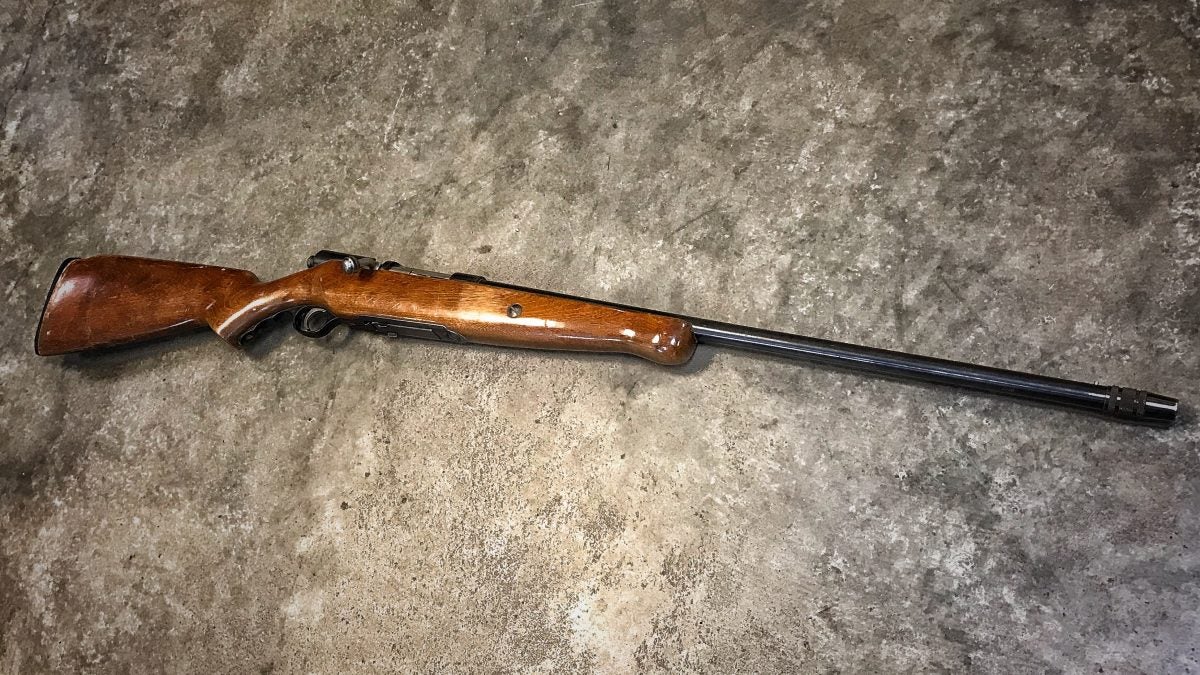 Specifications: Mossberg 185D
The Mossberg 185D was a bolt-action, magazine-fed, 20 Gauge shotgun produced from 1947 to 1959. It had an exterior screw-on type of choke system and would come with an Improved Cylinder, Modified, and Full Choke Tube along with a spanner style wrench if the knurling was not enough. A rundown of the specifications is below:
Years Produced: From 1947 to 1959
MSRP In 1951: Roughly $23 ($231.40 in 2021)
Chambering: 20 Gauge 2 3/4″ shells
Barrel Length: 26 Inches including the Choke
Overall Length: 46 1/8 Inches (Including Choke)
Weight: Roughly 6.76 lbs
Operating System: Bolt Action
Safety: Manual Selector with Green and Red Indicator
Choke System: Exterior Screw-on Chokes (Improved Cylinder, Modified, Full)
Front Sight: Fixed Front Hexagon Bead
Magazine: 2-Round Detachable Box Magazine
Stock: Walnut, Semi Pistol Grip with Plastic Finger Grooves, Monte Carlo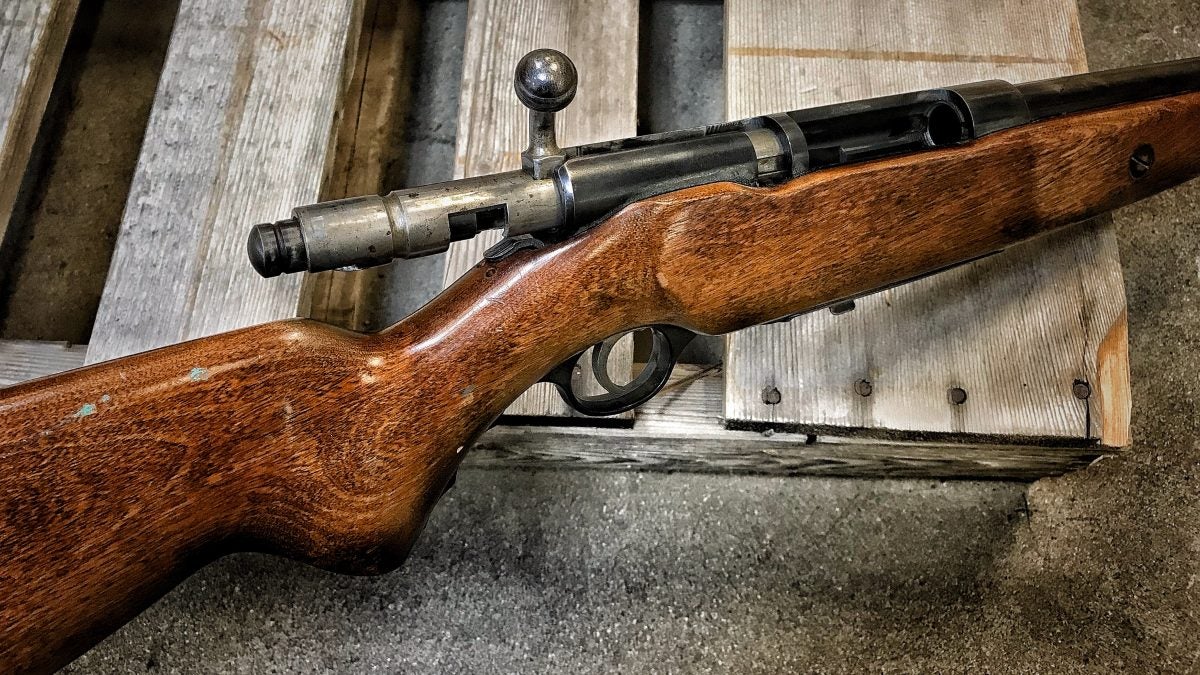 After Market Parts and Accessories: Mossberg 185D
As far as after-market parts or accessories go it is pretty slim pickings. I do not think this necessarily has to do with any sort of shortage of parts, but it is more that it is kind of a generic gun in terms of some other older firearms. That being said, when a 185D shotgun goes out of commission and is parted out they are not as discernable as say an Enfield's parts.
Numrich as always is a good first stop and also the lesser known cfnparts.com. I have seen throughout my internet travels that some people found it hard to track down the less popular style of chokes that were on these old guns and I have found some here. I have found little to no accessories beyond user manuals and chokes in my research.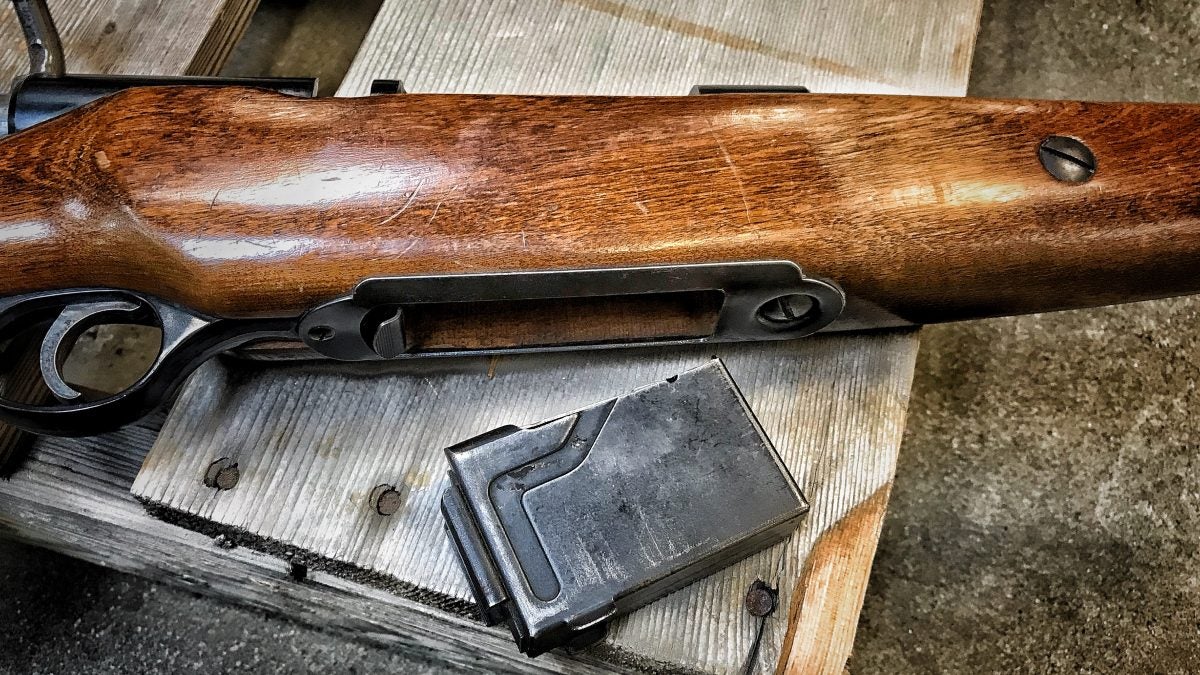 Final Thoughts: Mossberg 185D
The Mossberg 185D series of 20 Gauge shotguns was one of many bolt-action offerings in the mid 20th century. That being said, I do not believe that it makes this shogun any less significant or interesting. Your grandfather or father may have owned one, taught you to hunt with it, you may have gotten your first duck with one, or even became the trap shooting legend of your town with one. All these historically less significant firearms still matter and that is what this Curious Relics is all about – appreciating where we came from and preserving what is left.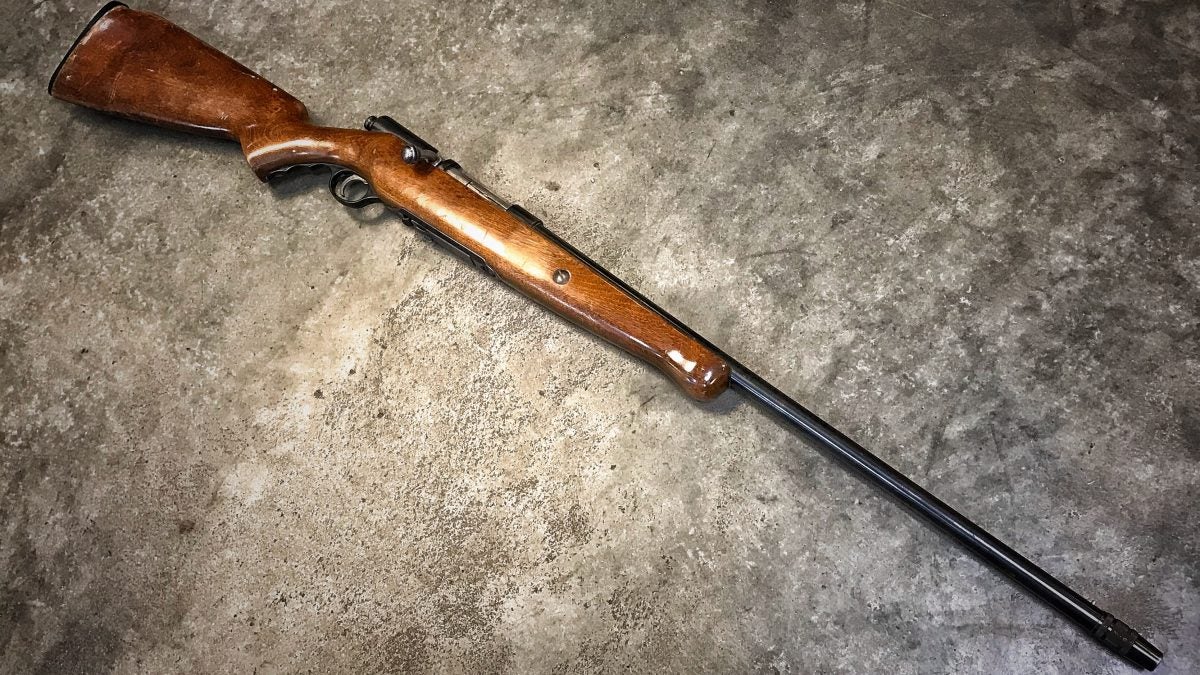 In closing, I hope our Curious Relics segment informed as well as entertained. This all was written in hopes of continued firearm appreciation and preservation. We did not just realize how guns were supposed to look and function. It was a long and tedious process that has shaped the world we live in.
So, I put it to you! Is there a firearm out there that you feel does not get much notoriety?  What should our next Curious Relics topic cover? As always, let us know all of your thoughts in the Comments below! We always appreciate your feedback.