Upgrade your S&W Shield with these New Faxon Match Series Barrels
Luke Cuenco 03.29.21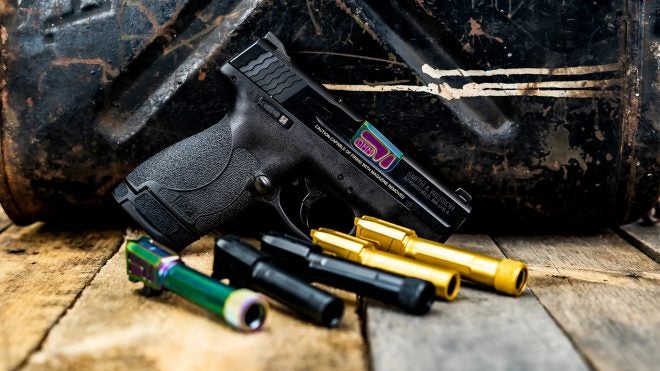 If you've ever wanted to spruce up your concealed carry pistol, Faxon Firearms now has new barrels available for all current and old models of the Smith & Wesson Shield pistol line including the recently released Shield Plus. The new Faxon Match Series barrels are available in several different configurations and coatings to match both your style and whether or not you want to add any muzzle devices down the road with the threaded barrel option.

Upgrade your S&W Shield with these New Faxon Match Series Barrels
"Faxon Firearms' Match Series Barrels for M&P® Shield provide a quick and easy upgrade to your M&P­® Shield handgun. These barrels are manufactured in our Cincinnati, Ohio facility from raw bar stock to provide premium accuracy, fit, and finish.

Faxon barrels for M&P® Shield feature our signature "X" logo engraved on the top of the hood, with layered pocketing and caliber identification on the ejection port side.

Both threaded and non-threaded versions feature straight fluting and are compatible with M&P® Shield 1.0, 2.0, and the new Shield Plus.

The Match Series Barrels for M&P® Shield are backed by Faxon's Lifetime Guarantee."

Something I have grown to love doing in competition settings is to bring my personal carry gun to a match to really put it through its paces. Even though the Shield series of pistols really isn't designed for that type of thing, these new Faxon Match series barrels just might help you shore up your accuracy or let you add a compensator to the end of the barrel for faster follow up shots.

The new Faxon Match series barrels are currently available in both threaded and non-threaded configurations and come in either Nitrided, TiN coating, or Chameleon PVD coating. If anything, the TiN or PVD coating at least gives the end-user a very easy cleaning job compared to a stock barrel. Pricing varies depending on the coating type selected and whether or not you choose to have the barrel threaded. Pricing and additional information are available on the Faxon website.