Meopta Optika6 FFP 1-6×24 Scope: Clarity for the Mid-Range
Eve Flanigan 03.31.21

Recently I had the chance to test a new scope called Optika6 from Meopta, an optics maker with plants in Florida and the Czech Republic. The experience left me with renewed enthusiasm for "reaching out" to targets with a rifle after a long winter dampened by Covid restrictions. New in 2019, the Optika6 is a series of five riflescopes developed for mid- to long-range engagements. Each scope in the series is available with the reticle on either the first or second focal plane.
For those unfamiliar with reticle placement inside the scope, first focal plane reticles expand in apparent size as magnification increases, making more details of the reticle visible along the way. This more modern design holds appeal to me because in addition to the comforting effect of seeing more detail on the reticle for more distant targets, it requires no special calculations for different magnification levels.
By comparison, a reticle on the second focal plane stays consistent as magnification changes, and a holdover calculated into the scope at, say 2x magnification, will not be precisely the same holdover required for the same distance with the magnification dialed up to 6x.
Optika6 1-6×24 Features
The Optika6 1-6×24 is the lowest-power scope in the series made for close- to mid-range targets for hunting and competition. The 30mm scope in this test with 1-6x magnification has a first focal plane reticle. My first impression of the scope was that it is a good-looking one. The 30mm tube complements many rifles without overpowering their appearance. Its turrets are textured for gripping in all conditions and adds a rugged visual appeal.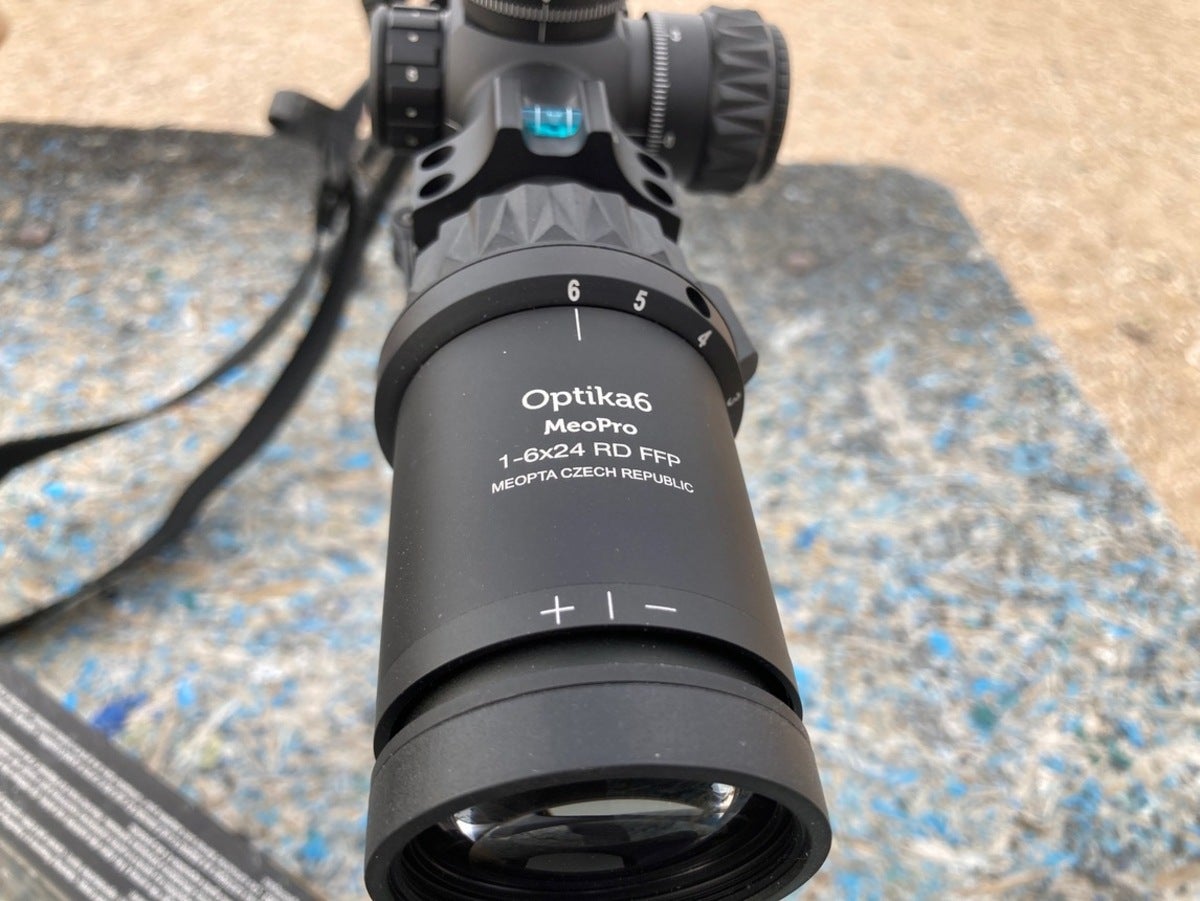 At 20.4 ounces, the scope struck me as a bit heavy upon lifting it from the box – something a competent student remarked on when I showed it to him as well. But when I compare it to my personal 1-6x scope (which I think of as light), the Optika6 is only 1.4 ounces more. For the biathlons I used to do, and for many hunters, every ounce matters. Most will never notice the bit of extra weight.
Consumers get a choice of up to nine reticles when choosing their Optika6. The test model has nine choices. Two are optimized for .223 Remington. Two feature Meopta's new Dichroic technology which automatically illuminates the reticle for maximum visibility in various light conditions. The Meopta Dichrotech page allows toggling from daylight to dusk conditions on a stag target to exemplify how it works. Try it, it's kind of fun!
Of all the options, I chose the MRAD2 RD. Having had most of my formal rifle training behind a Horus reticle, I prefer the ability to range using mils and successive hashmarks. While the MRAD2 is very much scaled down from a long-range reticle, it gives ample opportunity for using the reticle as a finely-tuned tool.
The "RD" in the reticle's name is for red dot. Meopta did a great job here putting a tiny red dot in the center of the reticle that doesn't block the view of distant targets. The left turret has a brightness adjustment and on/off switch. Every other click is "off" so if a person prefers a specific brightness or the day's activities demand a certain level of brightness, the user can just turn the dial and it's set as desired; no scrolling necessary.
Other Gear
The rifle in this test is my own Cutlass by Battle Rifle Company of Houston. Once a review item that I couldn't bear to send back, this accurized AR15 has proven itself time and again as an accurate beast. Mounting on the Cutlass rail was done with the Pro QD 30mm medium height mount from Lucid Optics. It'll have a review of its own soon. For now, suffice to say I chose this handy 6061 aluminum mount because it's not just a quick-detach design; it also has a built-in bubble level to make mounting easier.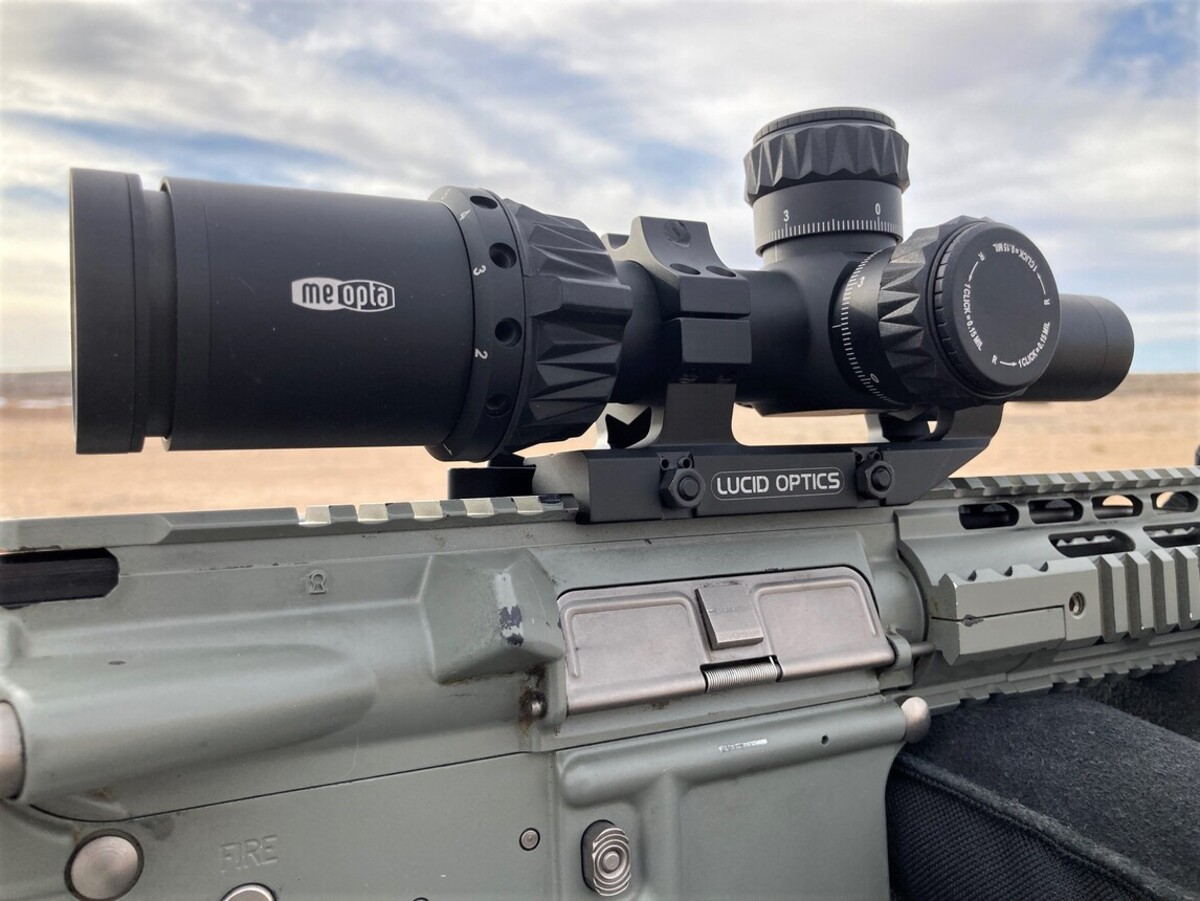 Speaking of easier mounting, I love that the Optika6 has a flat bottom on the center. A trick I learned from the Instructors of STA Training Group is easy to use with this scope. With the aid of a narrow ruler or bit of bar stock as a spacer, the flat scope surface makes it easy to ensure the scope is level inside the mount.
There was no shortage of test gear in this review. The eight screws on the Lucid mount were secured with a new product called the Mini All-in-One Torque Driver by Fix-It Sticks which is a tiny interpretation of the torque wrench. It will have its own coverage in the near future.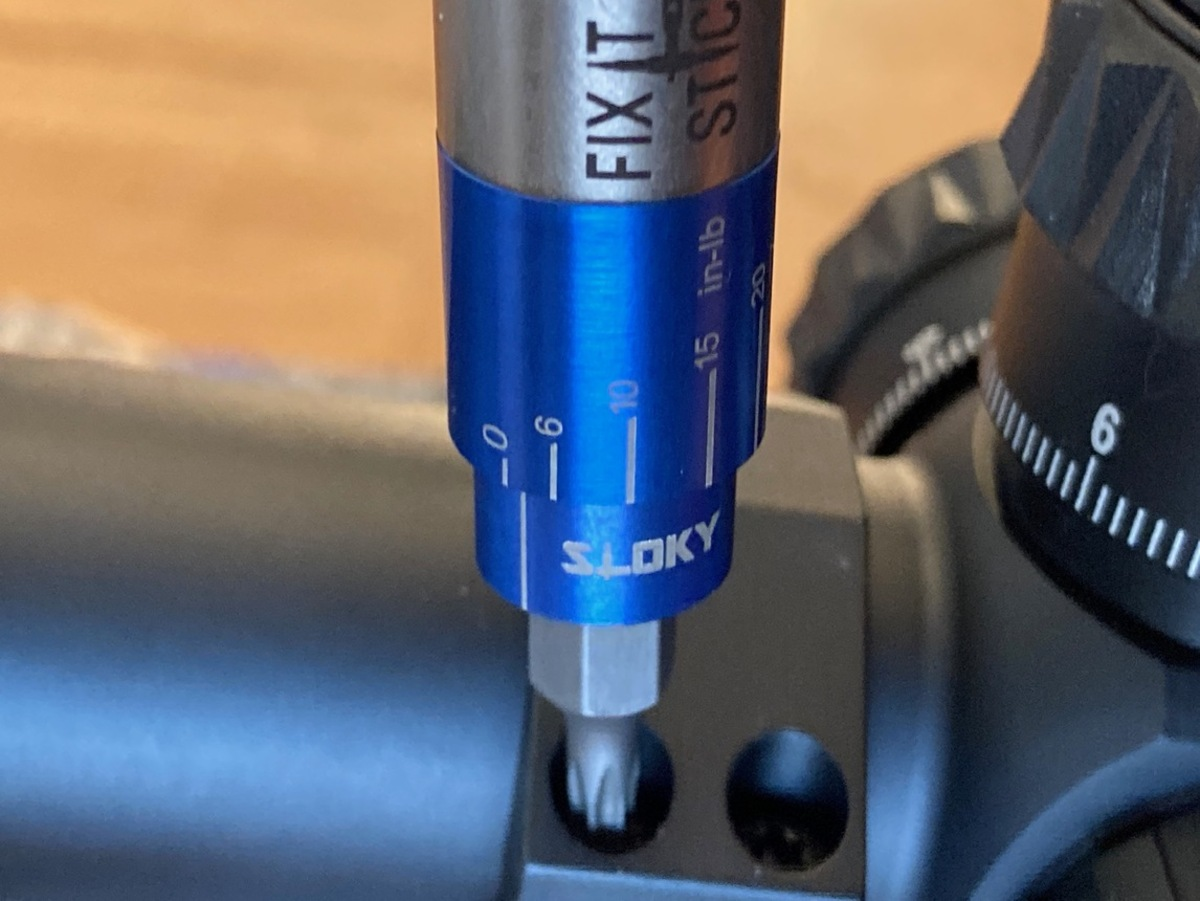 Shooting with the Optika6 1-6×24
At first look, the glass on this scope is strikingly clear. A herd of deer appeared more than 600 yards downrange near dusk on the first day of the trial offering a perfect chance to see how the scope performs at its outer limits. It so happened a group class was underway at the time. All five of us who had a chance to level the scope to view the deer had an easy time locating them even at 6x power due to the Optika6's generous field of view. We were able to identify individual deer in the small herd according to age/size, and of course, identify bucks which are sporting new antlers. Light transmission in less-than-ideal conditions proved itself to be very good.
Adjusting the dot's brightness is a handy feature on this scope. The dot is too small to overpower even tiny targets. It is exactly as a red dot in a magnified scope should be – it highlights the bullseye without interfering with aim.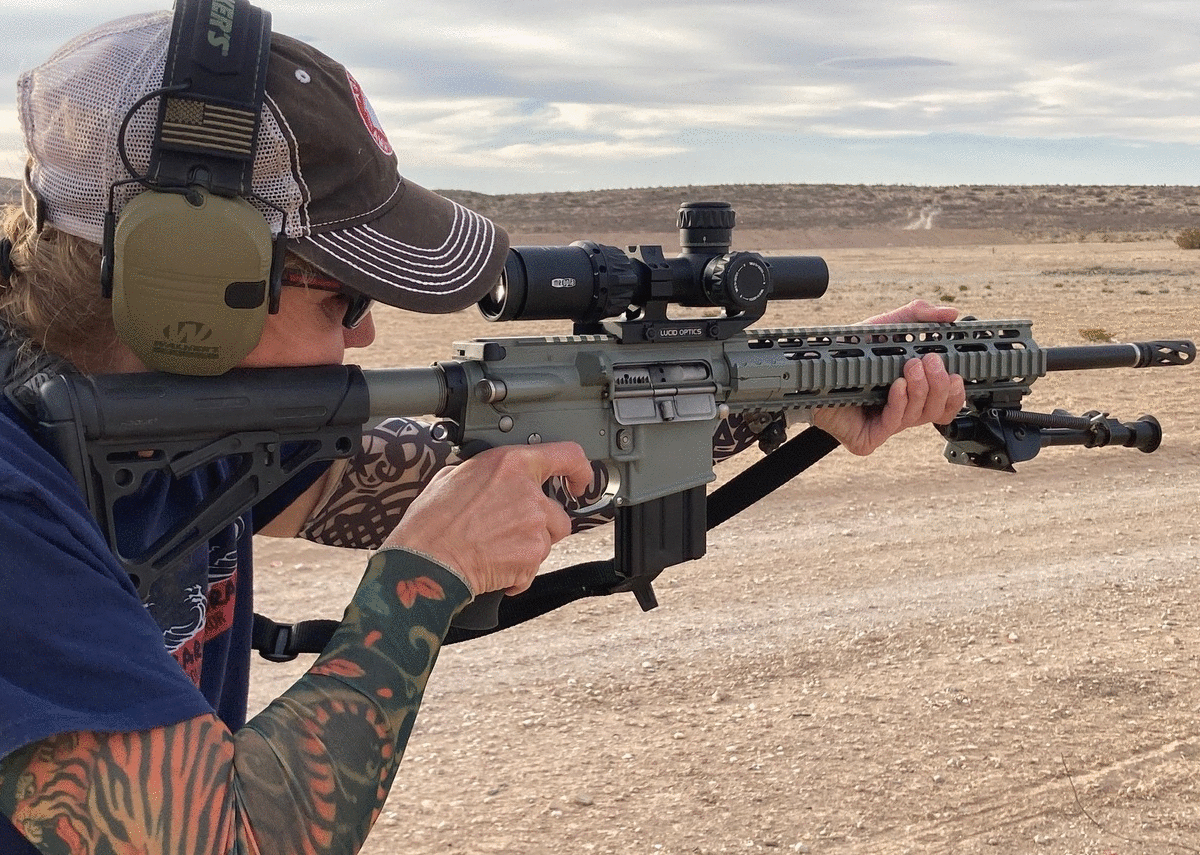 Click values on the turrets are a little odd at .15 milliradians per click instead of the customary .10 milliradians. This resulted in a bit of mental gymnastics, but is doable. The increments are palpably clear as the dials operate. The Optika6 has zero-stop turrets, a feature I've enjoyed on enough scopes that I've begun to expect it for clarity of the "home base" and speed of adjustment, at least after establishing the original zero with one's ammo and barrel of choice.
It's my opinion that this scope shines on the upper half of its magnification range. The reticle shows up in such a way that the mil marks are obvious, and between its clarity, light transmission, and outstanding field of view, hitting targets at distances outside of moderate becomes possible. I made this happy discovery when I had the scope in the car for a last-minute class to help a student zero his own optic. The Optika6 became a pinch hitter for a spotting scope that day. At 6x, it was possible to find targets at 555 yards in a hurry having sufficient field of view to engage in conversation about which target to pick and to see hits.
So, distance work was better than expected. I was a tad disappointed to see a slight bit of distortion at 1x. I asked two other shooters to confirm it to be sure it wasn't just my eyes; they saw it also. That said, engagements at 1x distances should not require the same precision as longer-distance ones, and the little wavy effect disappears when dialing anywhere above 1x. If outstanding clarity, rugged good looks, and great options for reticles are your thing in a magnifying scope, the Optika6 lineup is worth a look. The model featured here is $649.99 factory direct.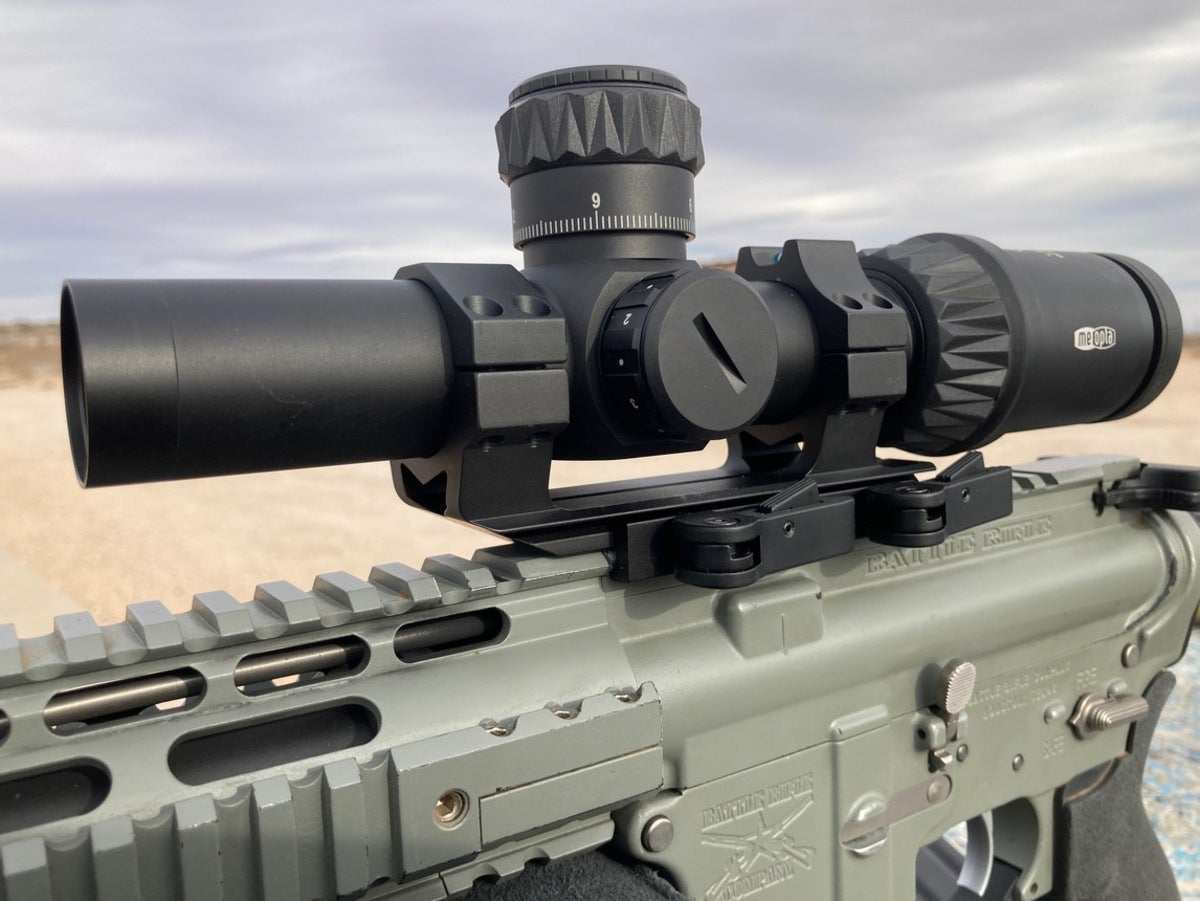 Meopta Optika6 FFP Scope Specifications
Magnification: 1 – 6 x
Objective Lens: 24 mm
Objective Filter Thread: M28.2×0.75
Main Tube Size: 30 mm
Exit Pupil Diameter: 10 – 4 mm
Eye Relief: 100mm | 3.94 inches
Field of View: 36.5-6.3m/100m | 109.5-18.9ft/100yds
Field of View at: 20.7 – 3.6 °
Focal Plane Position: First
Dioptric Compensation: -2.5/3.5 D
Daylight Transmission: 91 %
Twilight Transmission: 88 %
Twilight Factor: 4.9 – 12
Impact per Click: 1.5cm/100m | 0.52in/100yds
Windage and Elevation Adjustment Range: 349cm/100m | 125.7in/100yds
Parallax Correction: no y/n
Length: 256mm | 10.07in
Weight: 578g | 20.4 Oz
Windage and Elevation Adjustment Range: 120 MOA