Hornady 11th Edition Handbook of Cartridge Reloading Coming Soon
Luke Cuenco 04.01.21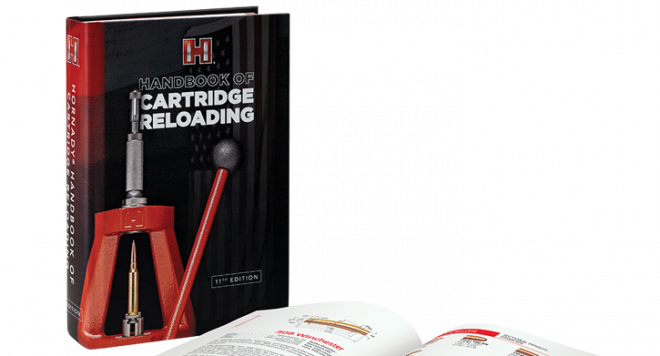 If you're itching to get started reloading some of the newer hunting cartridges on the market like 350 Legend, Hornady is on the cusp of releasing their 11th Edition Handbook of Cartridge Reloading. The handbook will still contain all of the information of the previous edition but will now also include reloading data on recently released cartridges like 6mm ARC, 300 PRC, and even 450 Rigby. In addition, the handbook has been updated with load data for more recently released powers like CFE BLK, Shooters World Precision, and Tactical Rifle of which I am a big fan. Whatever you've been wanting to reload, there is a good chance that the 11th Edition handbook will have tested and proven load data in it.
Hornady 11th Edition Handbook of Cartridge Reloading Coming Soon
Hornady® is proud to announce that the 11th Edition Hornady Handbook of Cartridge Reloading is coming soon.

Featuring the latest Hornady bullets, along with new cartridges, powders and more, the 11th Edition Hornady Handbook of Cartridge Reloading builds off 50-plus years of history since its inception. Filled with hand loading techniques, bullet information and reloading data, it is a one-stop shop for support of Hornady component bullets.

New cartridges include the latest efficient and accurate Hornady developments like the 6mm ARC, 6mm Creedmoor, 6.5 PRC and 300 PRC. Other recent cartridge offerings like the 224 Valkyrie, 350 Legend, and 28 Nosler are included, along with the additions of the 5.45×39, 300 Norma Magnum and 450 Rigby.

Many new or previously not included powders have been added including IMR 4955 & 8133, StaBall 6.5, Shooters World Precision and Tactical Rifle, Vihtavuori N-530, N-565, and N-570, Norma 217, CFE BLK, Accurate No. 11FS, 2200 and 4100, Reloder 16 and Ramshot LRT. Other recent additions like Reloder 23, 26 and 33, Accurate LT-30 and Power Pro 300 MP have been expanded.

Numerous new bullets make an appearance, including the new A-TIP® Match and new editions in the ELD-X®, ELD® Match, GMX®, FTX®, SUB-X® and more.

"Many unique challenges have arisen between the 10th and 11th edition handbooks. Despite the adversity, our team persisted and after hundreds of hours and thousands of rounds, we are proud to bring you the newest addition to our lineage of reloading handbooks." said

Jason Hornady, Vice President.
In addition to the hard copy of the book, many of you may want to pick up an electronic copy of the book for your tablet or e-reader which Hornady is now offering on iTunes iBook store for Apple products as well as a Kindle edition on amazon.com inside the Kindle book store. I'm partial to hard copies of books when I need to buy them, but I could also see the electronic edition being extremely handy if you quickly want to reference a cartridge loading or don't have a lot of space on your reloading bench for books. If the trend continues, the 11th Edition Hornady Handbook should cost around $50.00 for the hard copy edition.