Meprolight Hyper-Bright Sights For Smith & Wesson Shield Plus
Terry Nelson 04.05.21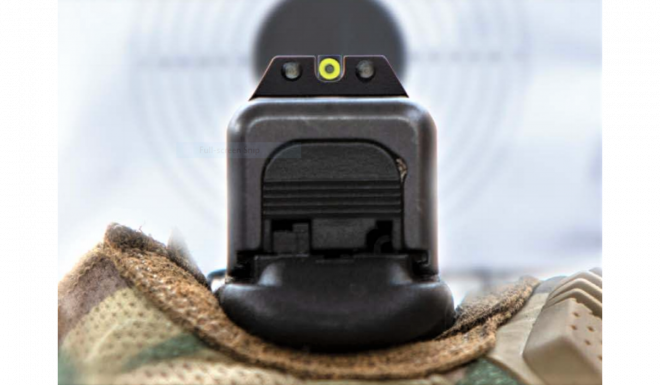 The new Smith & Wesson Shield Plus handgun has hit the market and has been met with great enthusiasm. Now, along with the Shield Plus, Meprolight which is known for their outstanding firearm sights has introduced the Meprolight Hyper-Bright Sights for the Smith & Wesson Shield Plus. Without a doubt, a quality tritium-enhanced, day/night sight is one of the add-ons I would suggest for any serious everyday carry (EDC) gun. Check out the following press release from Meprolight giving all the details of the Meprolight Hyper-Bright Sights for the S&W Shield Plus.
Meprolight confirms Mepro Hyper-Bright model for the newly released Smith & Wesson Shield Plus. Owners of the latest addition to the extremely popular family of S&W pistols can immediately upgrade their target acquisition capabilities by replacing their OEM factory sights with the Mepro Hyper-Bright sights. The sights are 30% brighter than any other pistol sight on the market and come with an extremely bright contrasting color ring on the front sight enabling you to focus on target faster.

Meprolight recommends you upgrade the sights on your handgun with tritium enhanced day/night sights in order to increase your defense capabilities in any lighting condition. Bill Yerby V.P. Sales & Marketing, Meprolight, "…. selecting your sights is as important as selecting your firearm. Upgrading the sights on your EDC—Every Day Carry—gun, will increase your capabilities to put the shots you need on target, in any light, when they are needed the most. Without a doubt, Meprolight Hyper-Bright™ sights will give you an edge."

Meprolight Hyper-Bright sights are available in three colors—Orange, Green or Yellow. The color combinations help the shooter focus on the front sight quicker which is critical for self-defense or competitive shooting. The tritium luminance is guaranteed for 12 years. Available for the Smith & Wesson M&P Shield as well as Sig models and all Glock models including MOS. Check it out at Meprolight.com.