POTD: The First Successful Autoloading Pistol – Borchardt C93
Sam.S 04.05.21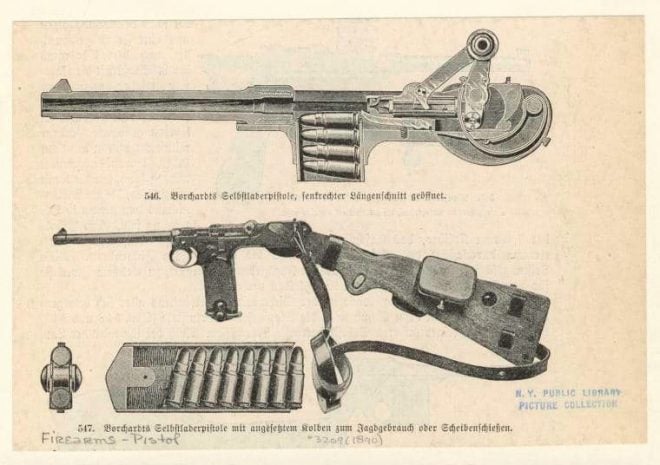 Welcome to today's Photo of the Day! This time around I found a lovely drawing of a Borchardt C93 on The Cody Firearms Museum's Facebook (Check them out!). For those of you who are looking at this going "That thing looks goofy," you are not wrong. The Borchardt C93 was arguably the first commercially successful autoloading pistol. It was surprisingly modern with a bottlenecked high-velocity cartridge and a magazine in the grip which had a button release.
You should note that it is a short recoil toggle locked action just like the much more infamous Luger P08. Georg Luger actually worked for and with Hugo Borchardt and when it came time to make his own autoloader he simplified and improved the design. It is an incredible story and it has a bit of drama to spice up the boring historical bits, but the long and the short is this:
Hugo was done with his pistol and intended to go on to invent bigger and better things. Luger invents the P08 and Hugo is unhappy with the similarities and he very well should have been. Heck besides the new pistol, 30 Luger was very similar to the Borchart cartridge. Lawsuits and arguments ensued, but to no real avail.
The Borchardt C93 should go down in history as a truly unique introduction to autoloading pistols. This was a time in which no one really knew what one should look like, feel like, or operate like. It was a magnificent start though!
N/A [Photograph found in Cody Firearms Museum Facebook Page]. (2021, February 26). In 1287635042 949192828 C. (Author). Retrieved April 4, 2021, from https://www.facebook.com/CodyFirearmsMuseum/photos/pcb.3582502148640605/3582501858640634/ (Originally published 2021, February 26)