3D Printed Chassis Turns Keystone Cricketts Into Survival Gun + 3D Print Files
Doug E 04.15.21

Last year, I covered a 3D printed design from Redditor and YouTuber, Booligan, in which he built a survival gun chassis for his Keystone Crickett pistol. The chassis was well thought out and had really unique features, but Booligan didn't stop there. This latest iteration is a streamlined version of his previous survival pistol build, and incorporates all of the same features, but now integrated into the chassis.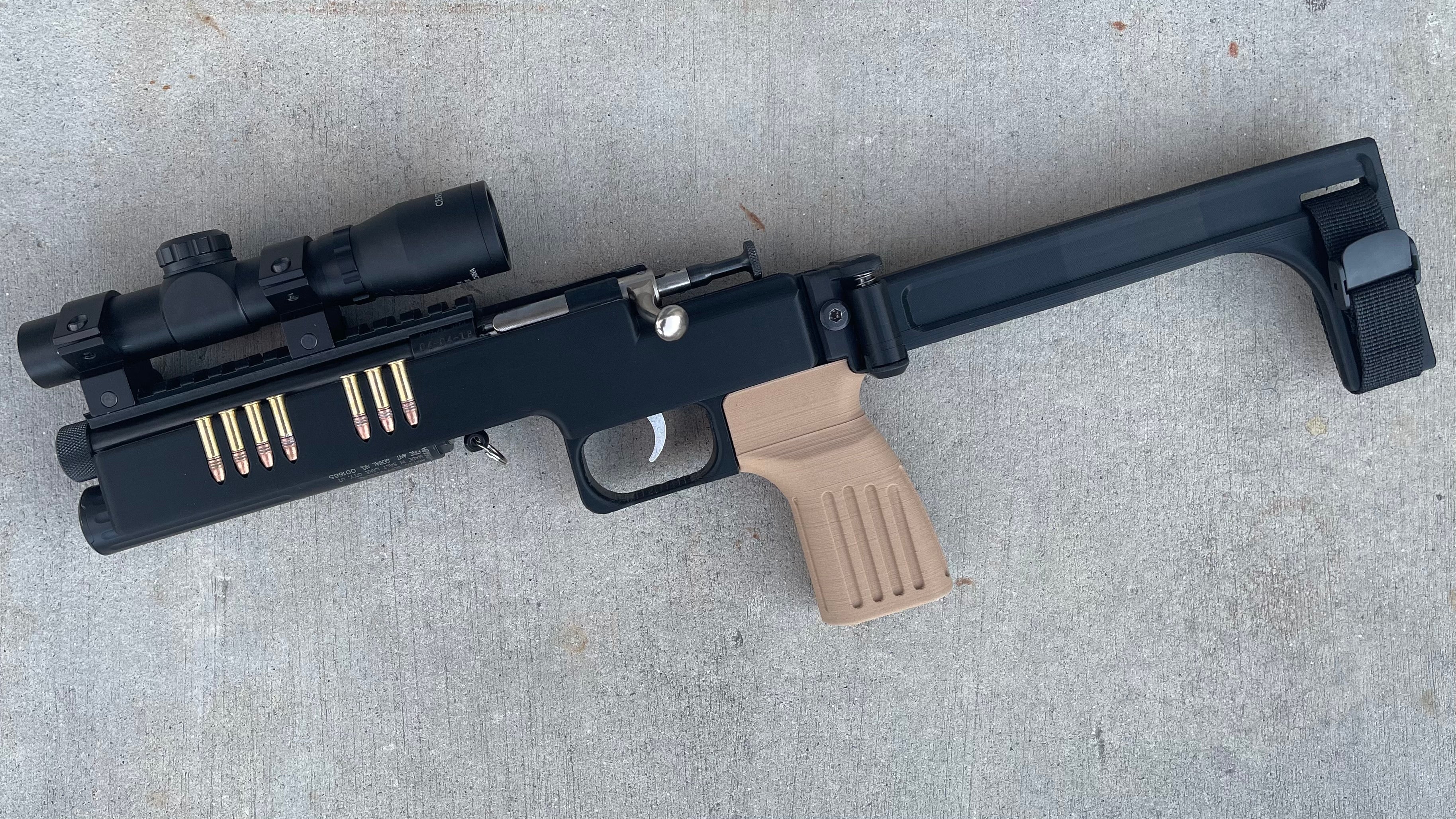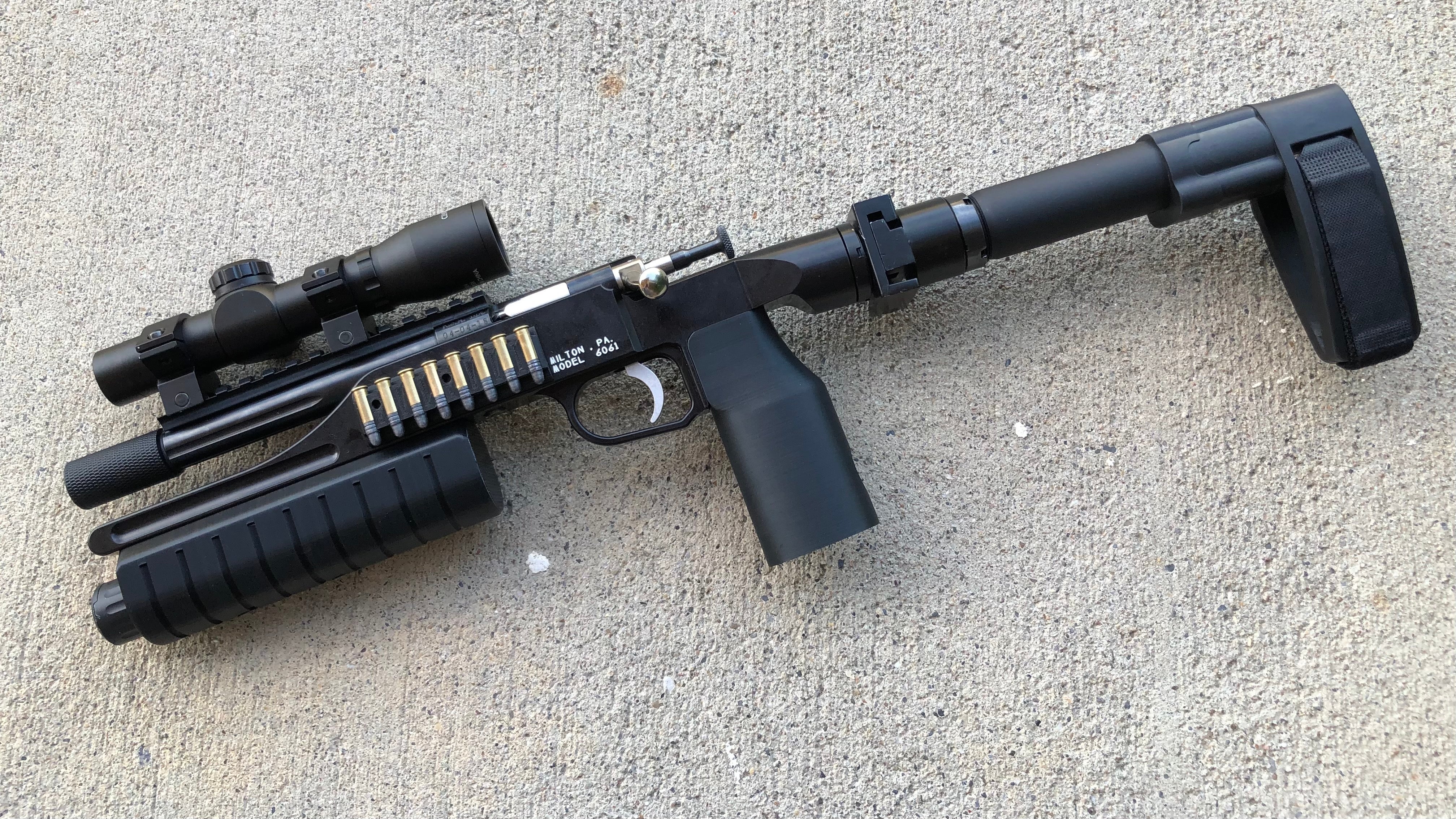 Just to be clear for those new to guns, survival guns have been around for quite some time and have taken many forms from pistols, rifles and shotguns, or even combination guns with two or three barrels to accomodate more than one caliber. The overall concept for survival guns typically involves using a short, lightweight gun that can take small game for sustenance, or in a pinch, defend one's self from larger game or people if need be. Militaries around the world have looked at survival rifles and survival pistols for air and space crews since the mid 20th Century.
Booligan's 3D printed survival gun design, is specifically made for the Keystone Crickett .22LR pistols and rifles. It should be noted that Booligan's Cricket action started life from the factory as a pistol, which is why his build utilizes a pistol brace and not a full stock so as not to create a short barreled rifle (SBR) which is regulated by the National Firearms Act.
A full stock could be used if you attach the chassis to a Crickett rifle, or have already registered yours as an SBR. A suppressor was very integral to Booligan's chassis design, so much so that he worked in a suppressor holder that allows you to screw it into the chassis itself for storage and transport. He also designed integrated .22LR cartridge holders on the side of the chassis for easy storage and loading the single shot Crickett.
The following video is from the Booligan Shooting Sports YouTube channel, in which he explains his survival gun design and takes a few shots with it. He also has a full breakdown video HERE in which he further explains his bolt modification to cock on close, rather than having to pull the cocking handle each time.
Booligan also provided me a written summary for our readers below:
This is the latest iteration of my ever-evolving Crickett pistol build. Previously, I had taken a Crickett pistol and installed it in their factory aluminum chassis, which was then later fitted with a folding brace and other 3D printed accessories that I designed. The more I added to it, the more complicated and bulkier the whole package became, and I decided it was time to follow the Chapman method and I began to simplify and add lightness.

The big change was to start from scratch with a new chassis design. Thanks to the power of math, some properly scaled photos, and my sloppy CAD skills, I was able to put together a simple chassis setup with AR grip compatibility and a rear picatinny mount to use my custom side folding brace design.

A note on my brace design, obviously this is a hot button issue in the current political climate, but my design reflects a good faith attempt to create a legal design following approved elements. It has a shorter length of pull than the ATF's "allowed" 13.5". The rearmost area is smaller and thinner than the approved Shockwave Blade, indicating that it is clearly designed as a brace and not a stock. I also went ahead and included a forearm strap so that it, you know, actually functions as a brace. Frankly, I designed a better brace than the other "approved" braces on the market, and as the ATF doesn't approve standalone accessories anymore, only taking a holistic view on approving a whole firearm or not, this is where the compliance road ends for me (at least until the release some actual written guidelines in the next month or two).

Back to the chassis itself. I wanted to make sure that I didn't lose any functionality compared to my prior chassis setup, so I added onboard ammo storage for .22 LR rounds and included a cutout with a threaded base to store any 1" diameter suppressor, in my case, my much loved Amtac Fire Ant can. For the pistol grip, I went with another favorite design of mine, the VZ61 (see my ridiculous 3D printed VZ61 based on the CZAR receiver by Deterrence Dispensed) printed in wood PLA (yes, it's printed wood) but modified slightly at the rear to better fit with my brace hinge.

I also made a modification to the bolt itself so that it cocks automatically when closing, taking out that extra step when loading a new round.

The end result is as shown, weighing less than 3 pounds and able to fold up to a package less than 12" long. It stores easily in a backpack and deploys quickly. The shortened barrel ensures that standard velocity ammo remains subsonic, and when shooting through the can, the striker impacting the round and the target getting hit are realistically the most noticeable sounds. It is precise thanks to the free floated fluted barrel with target crown and accurate due to the super long eye relief pistol scope, which is easily able to be used properly with the brace. The printed top rail has a rudimentary iron sight system built in to give you back-up in case of optics failure. Overall, the idea was to make a useful, lightweight plinker or small game getter, and I think it hit that mark quite well.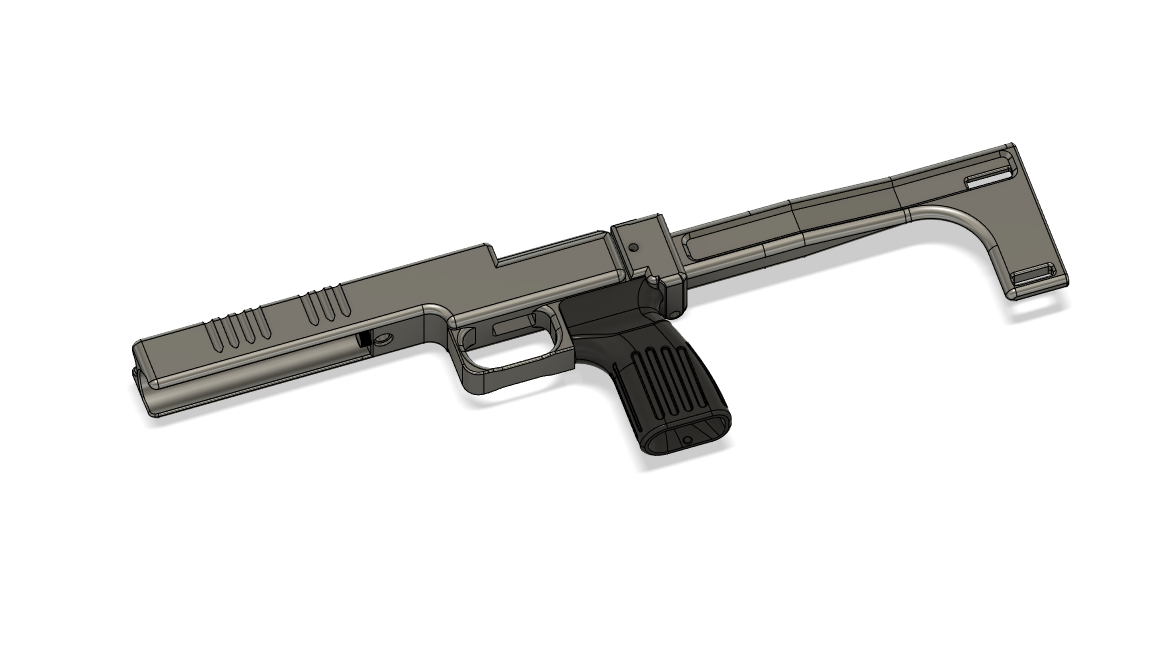 If you're interested in printing one (or three) of Booligan's survival gun chassis for yourself, check out www.booligancustomgunworks.com for the files. You can view his Reddit thread on the latest version of his survival pistol HERE for some more details. Keystone Firearms has a number of rifles and pistols that start around $159.00 and up depending on how they're dressed.
What do you think about the latest version of Booligan's 3D printed survival gun? I mounted a long eye relief 2-7x optic to one of my .22LR pistols and can vouch for its handiness. If you were to print and assemble one, which optic would you go with?