The Next Generation of Thermion 2 Riflescopes Series from Pulsar
Luke Cuenco 04.21.21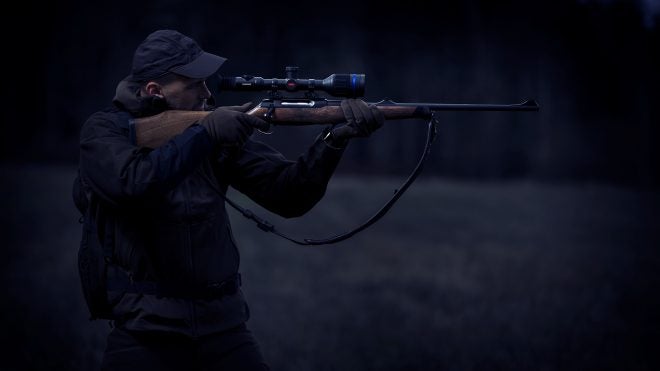 Pulsar has just released its next generation of Thermion 2 Riflescopes that boast more technology and features than ever. The new Thermion 2 riflescopes will come with built-in video recording with sound, 16 GB of memory storage, 7 hours of battery life, and even an IPX7 waterproof rating. These riflescopes would be great for any hunter who not only wants to harvest prey in all environments – but also wants to be able to capture the moment of the shot.
The Next Generation of Thermion 2 Riflescope Series from Pulsar
(MANSFIELD, TEXAS) – The next generation of Pulsar Thermion 2 riflescopes has finally hit the industry! Pulsar—the most trusted name in thermal optic technology—has unveiled three brand-new Thermion 2 models that redefine sleek, powerful optical technology. The Thermion 2s are ideal scopes for hunting, law enforcement, ranching and more. Each boasts 17µm pixel pitch technology to provide the highest quality of contrast and definition for heat signatures, and they transmit color-rich, pristine images on a 1024×768 AMOLED display. Thermion 2s boast fast aperture F/1.0 enhanced Germanium lenses, 10 reticle options, multiple profile saves and 8 color palettes to ensure positive target identification.

Technologically packed, Thermion 2s have Wi-Fi connectivity with Stream Vision App compatibility along with built-in video recording with sound and 16GB of memory storage. Thermion 2s are powered by combined internal and external batteries to allow hot swapping—so you don't miss a second of the action—and provide 7 hours of battery life. Tough as they come, Thermion 2s are waterproof IPX7 rated and operate in temperatures between -13F to 122F. When you need a top-line thermal riflescope, Thermion 2s provide everything you need and are backed by the Pulsar quality guarantee.

Key Model Differences

| | | | |
| --- | --- | --- | --- |
| Thermion 2 | XQ38 (PL76545) | XQ50 (PL76546) | XP50(PL76544) |
| NETD | <40mK | <40mK | <25mK |
| Microbolometer | 384×288 | 384×288 | 640×480 |
| Magnification | 2.5-10x | 3.5-14x | 2-16x |
| Detection Range | 1476 Yards | 1968 Yards | 1968 Yards |

Visit Facebook, Twitter, Instagram and YouTube to learn more about Pulsar® products.

Technology packed scopes are becoming all the rage with this new modern breed of hunters and I think Pulsar is bringing a lot to the table with this next generation of Thermion scopes – the detection range is beyond what I would ever consider using for a shot, but I do see how that much range would be able to give you a better idea of what your prey is doing and perhaps allow you to move in for a better shot.