AllOutdoor Full Winter Review: Northside Back Country Winter Snow Boot
Adam Scepaniak 05.04.21

When it comes to the cold I unfortunately consider myself a Subject Matter Expert (SME). Hailing from the frigid tundra that is Minnesota, our winters are long and brutal so good gear to do mundane tasks like checking the mail, chopping wood, or walking your dog requires bundling up so you can complete the task without catching frostbite at times.
For those reasons, I have discerning taste in winter clothing because it can make-or-break your day in January. Either you can go about your day and accomplish the tasks at hand or you are running indoors in search of warmth. Northside USA approached AllOutdoor inquiring if we would like to test out a pair of their Northside Back Country Winter Snow Boots to which I happily agreed.
Minnesota's first snow fall was the 2nd week of October last year and our last one (I sincerely hope) was roughly 2 weeks ago in April. While Minnesota does experience all four seasons of Spring, Summer, Autumn, and Winter, for some reason Mother Nature takes her sweet ol' time going through winter (a full 6 months). So, I had ample time to go ice fishing, deer hunting, dog walking, and cattle tending with the Northside Back Country Winter Snow Boots. Let's dive in and see what they are all about!
Specifications: Northside Back Country Winter Snow Boot
When it comes to winter boots there is a delicate balance of staying warm when you are out in the cold, but also having enough mobility and flexibility in the boot where you do not feel like an immovable "Tin Man." If you are plenty warm yet stiff and rigid that can cause irritation, blisters, and you might possibly slip and stumble. So, like eating a bowl of porridge your boots need to be just right. Let's take a look at all of the specifications for the Northside Back Country Winter Snow Boots listed below as presented Northside:
Rugged 11 inch mid-calf ballistic leather/nylon or leather suede upper features premium waterproof rubber shell with fully insulated lining.
This winter snow boot offers fully waterproof seam sealed construction to keep your feet dry; gusseted tongue keeps debris out
Removable 8 mm felt liner with foil bottom/padded collar offer superior cushioning; premier 200 gram Thinsulate insulation keeps your feet extra toasty
D-ring quick lace up closure allows for easy/secure adjustments; a heel pull strap make it easy to get on/off
Durable cleated rubber outsole ensures exceptional traction/shock absorption/good abrasion resistance in snowy or icy conditions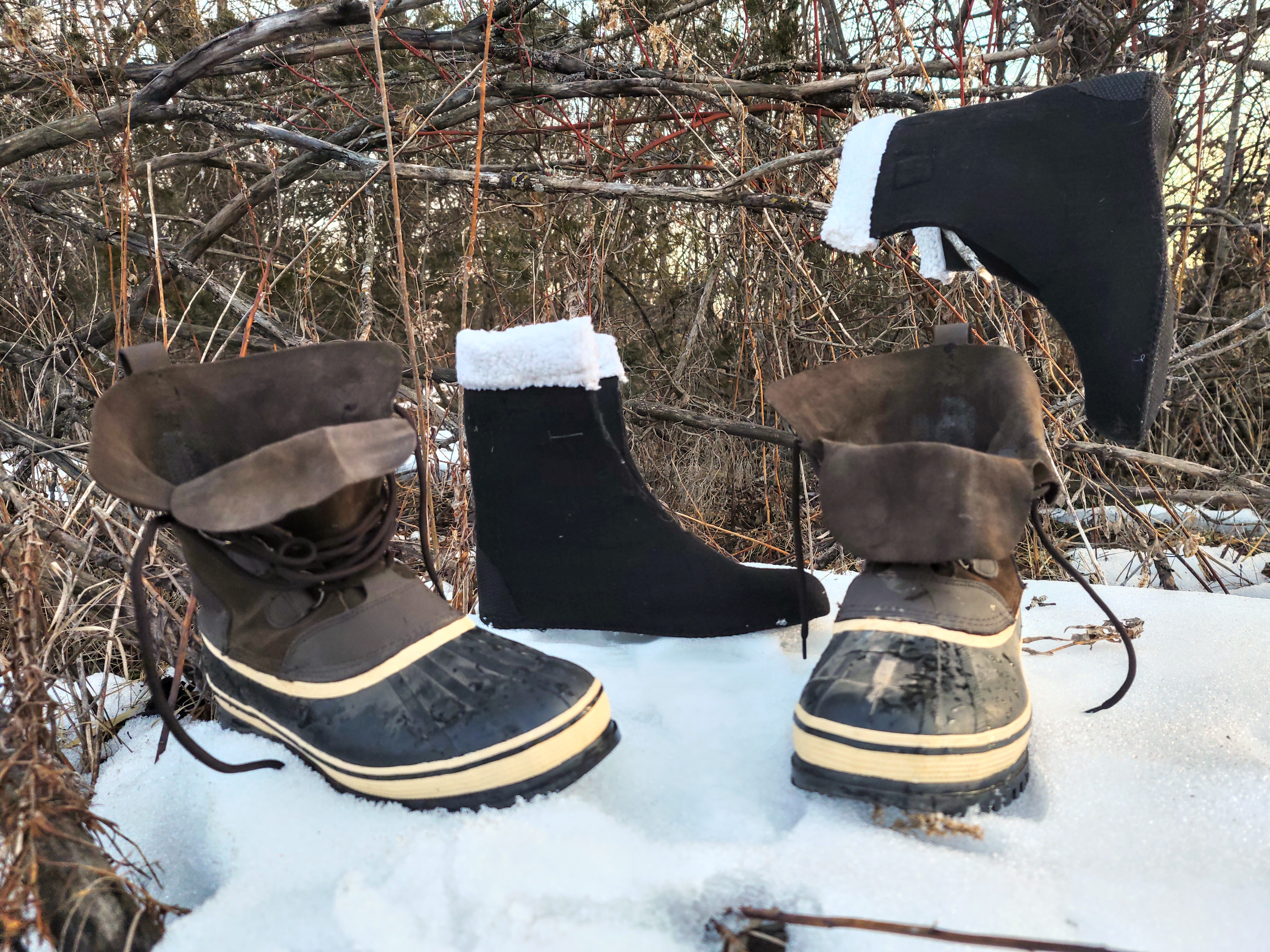 The sizing for these boots is in whole numbers (8, 9, 10, 11, 12, 13, 14) and is available in the one color offering of brown leather suede. The MSRP is $100 and if you purchase these directly from Northside USA's website there is Free Shipping on all of your Orders of $100 or greater. Also, if you were to ever have any issues with your set of boots Northside USA stands completely behind you.
As an independent, family owned and operated business, it's important to us that our customers feel like an extension of our Northside brand family. Everyone at Northside is dedicated to providing unrivaled service.

We work hard to build comfortable, functional, and durable outdoor footwear. We want you to be 100% satisfied with your purchase.

If you're not happy, we're not happy!

In the unlikely event that you have an issue with any of our products, contact us at [email protected].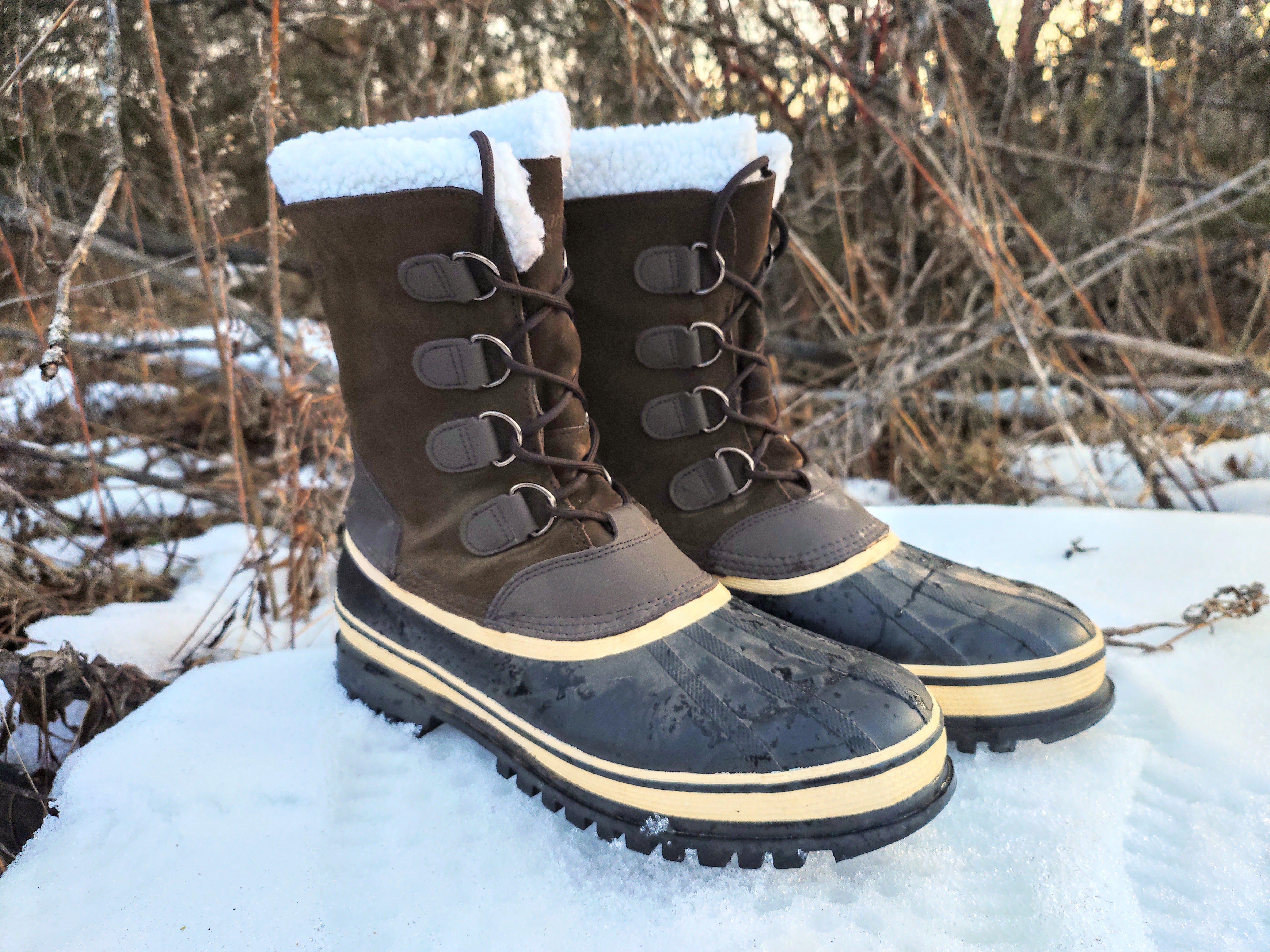 Field Use: Northside Back Country Winter Snow Boot
While out in the field I was able to test these boots over a lot of varying terrain and ground cover. I deployed these boots while deer hunting last fall and checking trail cameras which required me to traverse a small stream on my family's property.
This was a perfect test to see exactly how waterproof the waterproof rubber shell of these boots were. While I would never recommend submerging these boots in water completely (that is a foolish idea in the middle of winter with any boot), but simply stepping into a shallow stream or creek was no big deal for these boots.
Aside from being able to step into literal water if need be, I found the waterproof rubber shell to be valuable for other reasons as well. I would often use these boots in the evening, bring them home, any residual water or snow would shed itself from the boot, and dry off overnight to be used again in the morning. Other competitor's boots that might not be waterproof could retain water/moisture at the base of the boot and you would be stepping into a damp boot in the morning – that frankly, is a horrible wake-up for your feet.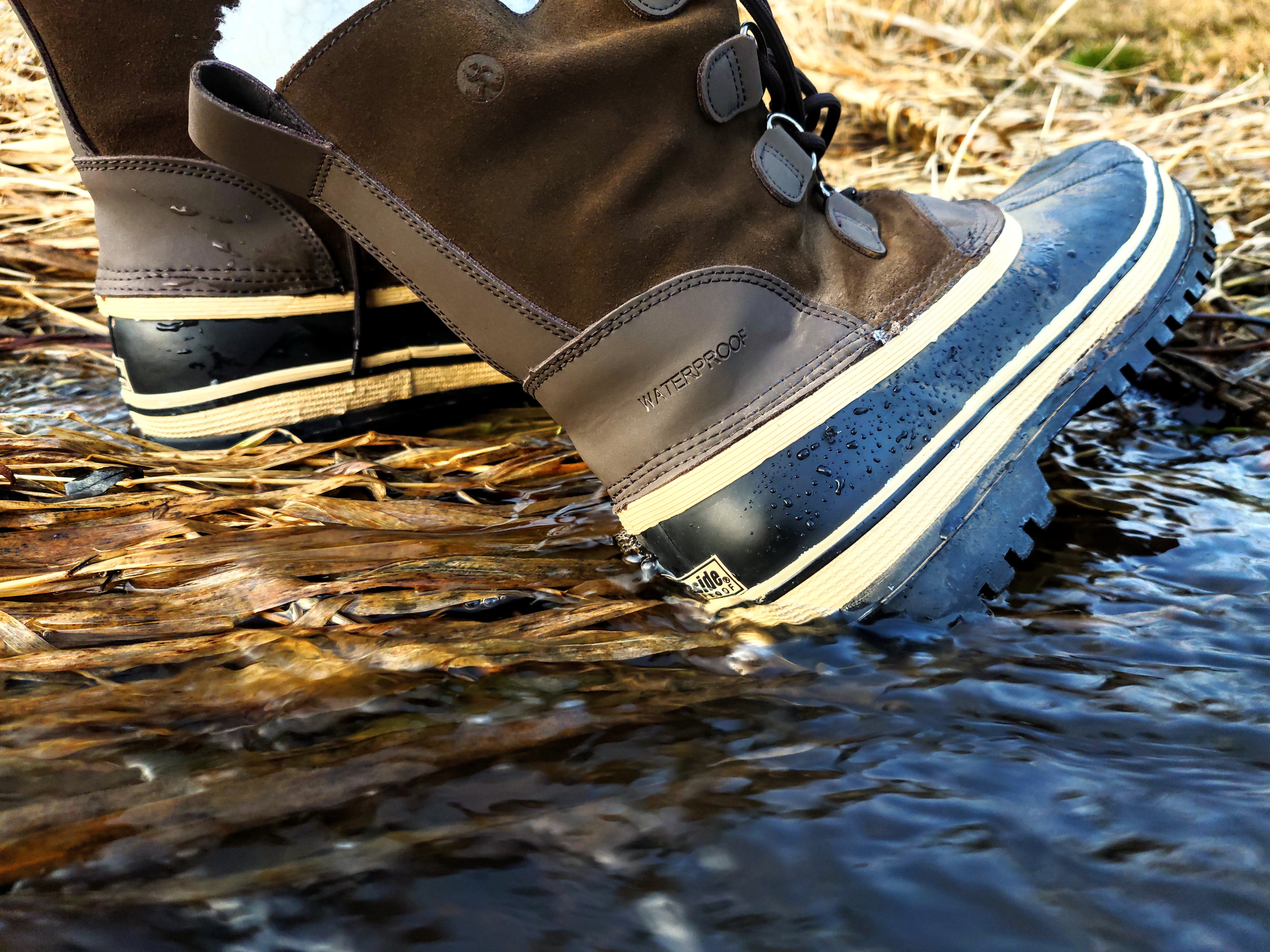 When it came to walking; furthermore, the traction I got from the boot, it was more than ample for wintertime activities. There were several days I went ice fishing and walking on glare ice these boots were not slippery with their tacky, rubber treads. If I were out in the woods stepping over icy, snow-covered logs they still had ample grip where I could step sure-footed over anything I had encountered.
Simultaneously, the tread or grip of the boots was a unique enough pattern where once I got near home and hit flat pavement in my driveway or garage it would shed any excess accumulation of snow before I hit my front door. There is nothing worse than walking into your house with a pancake of snow under your boot that will soon be a huge melted puddle in your house.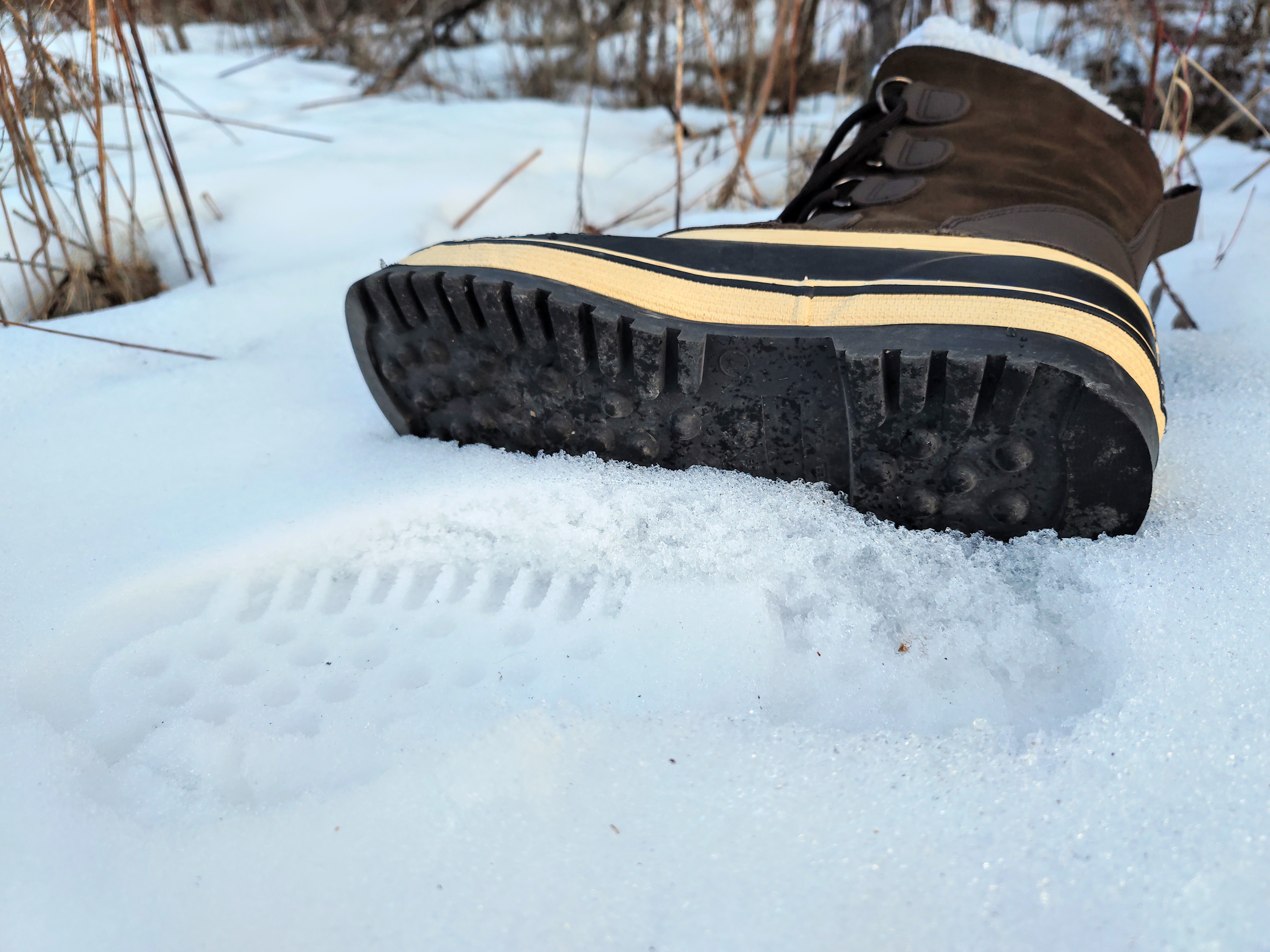 As mentioned earlier, it is not only a horrible feeling to dip your toes into a wet boot in the morning when it has not dried overnight, but it is also a really bad feeling when you can feel the ankle and the top of the boot gathering moisture (and impending cold) while you are actively out in the field. Thankfully, the top portion of this boot did a great job of shedding snow and moisture while being active. There were several times I needed to trek across an open pasture to check on some cattle which required sojourning through some large snow banks. Never once did snow or water penetrate the top of the boot leaving me feeling damp or cold.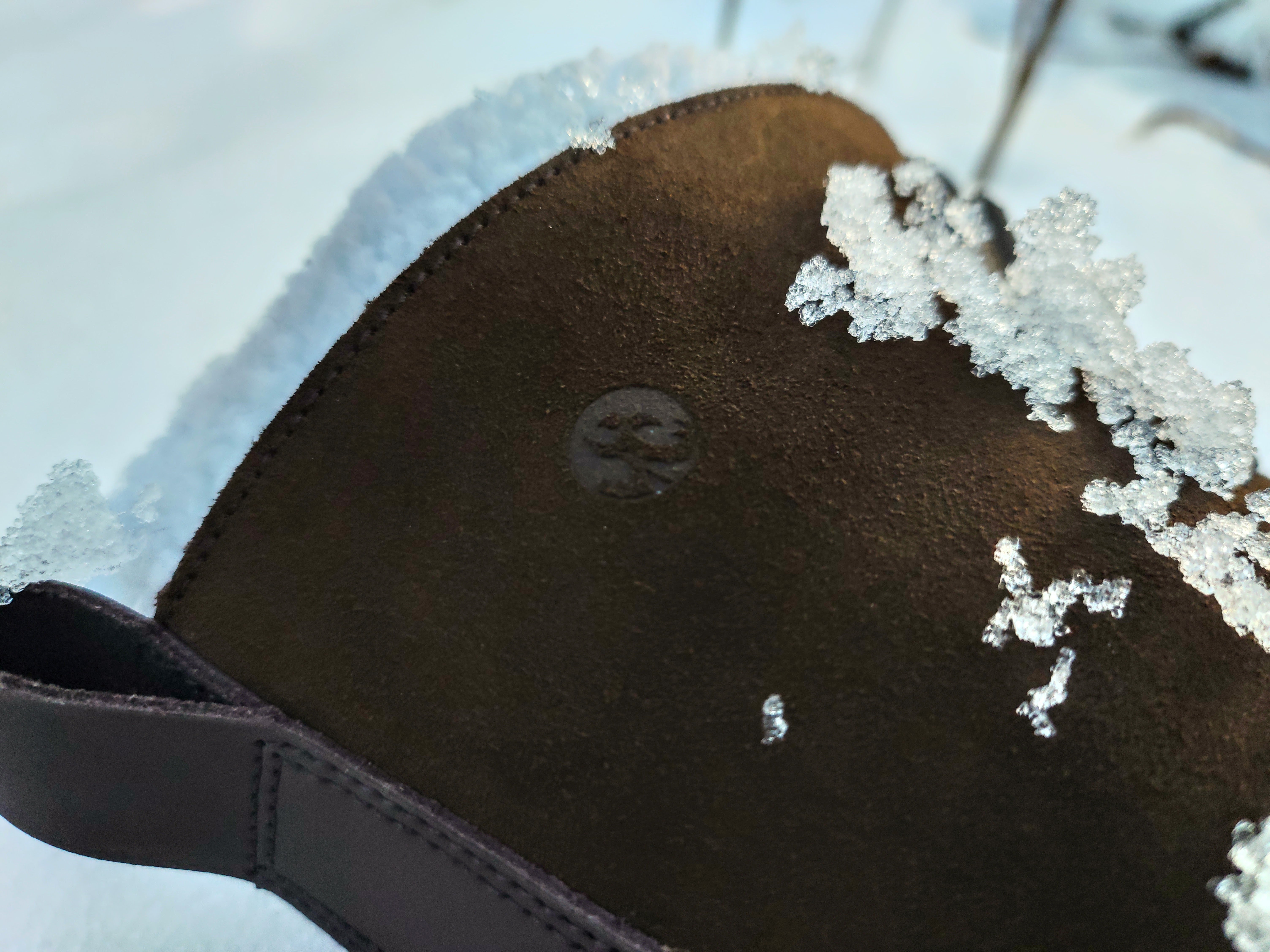 Finally, what about warmth? As long as you were staying mildly active these boots kept me plenty warm to remain working outdoors all day long. The only day that I felt less than warm was a particularly horrific winter day in which it was -30 degrees Fahrenheit before you factored in the wind chill (sometimes its so cold you simply should not be outside). Other than that one specifically cold day, I was always warm using these boots all winter.
Final Thoughts: Northside Back Country Winter Snow Boot
So, after 6 months exploring the frozen tundra of Minnesota that I call home what are my final thoughts? All in all, these boots performed beyond my expectations. They shed water from pretty much all surfaces of the boot, kept me warm nearly 100% of the time, afforded me good traction on everything from logs to ice, and the price-point of $100 with a strong backing behind the product lends me to believe these boots are definitely worth their asking price. If you are in need of winter boots these Northside Back Country Winter Snow Boots will not disappoint.
In closing, I want to say thank you to Northside for allowing AllOutdoor and myself the opportunity to try out their Northside Back Country Winter Snow Boots. That is greatly appreciated. Also, we would like to know what all of you guys and gals think? Do you believe that the Northside Back Country Winter Snow Boots are something worth spending your money on? Would you wear them while hunting? Sport them while camping or hiking? Walking your dog? All of the above? As always, let us know all of your thoughts in the Comments below! We always appreciate your feedback.