NEW Pelican Air 1646 Case Unveiled – Largest Pelican Air Case to Date!
Luke Cuenco 05.06.21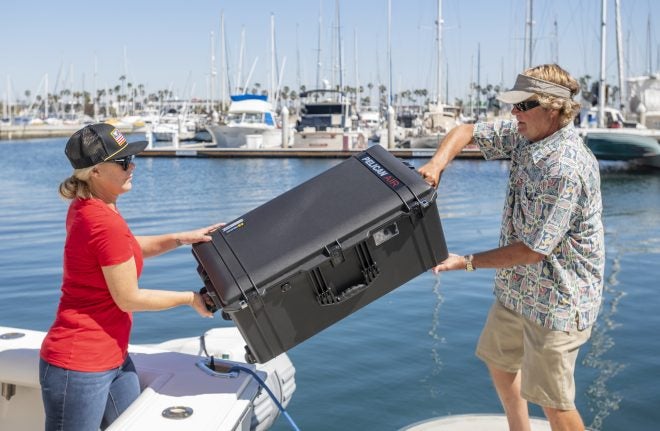 I'm sure most of you have had some experience with a hasty baggage handler who has been seen tossing your rifle or equipment case off onto the conveyor belt as you're about to embark on your long-awaited hunting excursion. Many hunters and sportsmen have known the pain of losing a valuable piece of equipment all because it was mishandled or dropped on accident.
Pelican has a long history of developing quality watertight hard cases to serve just about anyone who has something (like a $3,000 spotting scope) to protect from shock, water, and the other uncertainties life throws at us. Pelican Products is proud to unveil their latest addition to the Pelican Air lineup, the Pelican Air 1646 – their largest Pelican Air Case to date!
New Pelican Air 1646 Case Unveiled – Largest Pelican Air Case to Date!
Torrance, CA— May 5, 2021 – Pelican Products, Inc. (Pelican), the global leader in the design and manufacture of high-performance cases, today set another benchmark for the segment with the launch of the Pelican™ Air 1646 Case, the largest case in the Pelican™ Air Case line.

With more than 6,800 cubic inches of usable space, the Pelican™ Air 1646 Case is built in a long/deep form factor making it perfect for storage of longer and deeper type equipment. "Logistics issues for our on-the-go users traveling with large kits can be a bit of a nightmare, so we created the lighter weight, 1646 Pelican Air case to give them a transport option that allows for easy consolidation," said Vince LaDuca, Product Manager, Pelican Products Commercial and Government Division.

The Classic Pick N' Pluck™ Foam configuration offers a manually customizable solution with pre-scored foam for fast and simple protection to fit almost any equipment.
The No Foam configuration allows a blank slate for custom interior solutions (visit pelican.com for more details).

Boasting a weight up to 40% lighter than a standard Pelican Protector Case, the Pelican™ Air 1646 Case has a pull trolley and wheels that are roll tested over 914 meters. It also boasts classic Pelican case features including a watertight O-ring gasket, a crushproof and dustproof exterior, stainless steel hasp protectors, rubberized, over-molded handles, and proven tough push button latches. Just like our classic Protector series cases, each Pelican Air case is subjected to external third-party lab testing to certify IP67 ingress protection and military standard impact, drop and extreme temperature performance.

It is also backed by the company's legendary Lifetime Guarantee of Excellence. The Pelican Air 1646 Case with foam is available in black with an MSRP of $450.00 U.S.
Pelican Products, Inc. is a portfolio company of Behrman Capital, a private equity investment firm based in New York and San Francisco.
Pelican has developed their cases for just about every application out there and their heavy-duty cases, while sturdy, aren't exactly great for hefting around all the time. The Pelican Air line of cases now has a contender in the large hard case environment that I'm sure can be adapted to be used with your favorite set of hunting tools that need to ride around in the back of your truck or ATV for while. I could imagine this being extremely useful for bringing along a large spotting scope, a bipod, and maybe even your favorite pair of high-quality binoculars.