AllOutdoor Review: Smith & Wesson M&P 22 Compact Suppressor-Ready
Sam.S 05.11.21

Plinking is a popular past-time and one of the things that initiates us from our youngest ages is the effortlessly, low-recoiling joy of the .22 Long Rifle cartridge. That is only half the equation to a fun afternoon, however. That ammunition needs to be put into a firearm that makes the day truly fun, and today we have an excellent example of a jubilant one. Today's review is of the Smith & Wesson M&P 22 Compact that comes with a thread adapter out of the box for a muzzle device (ideally a suppressor). Let's jump right into the Smith & Wesson M&P 22 Compact Suppressor-Ready!
More Smith & Wesson:
Specifications: Smith & Wesson M&P 22 Compact Suppressor-Ready
The Smith & Wesson M&P 22 Compact Suppressor-Ready comes in a cardboard S&W box with a 1/2″ x 28 TPI threaded adapter already installed. It also comes with one extra 10 round magazine, thread adapter wrench, cable lock, manual, Allen wrench, and action safety locks. The thread adapter comes with a thread protector already installed.
 M&P®22 COMPACT Threaded Barrel

 

White 2-Dot – Screw Adjustable

 Armornite®

 Black
 

3.6″ (9.1 cm)

 

15.3

 oz.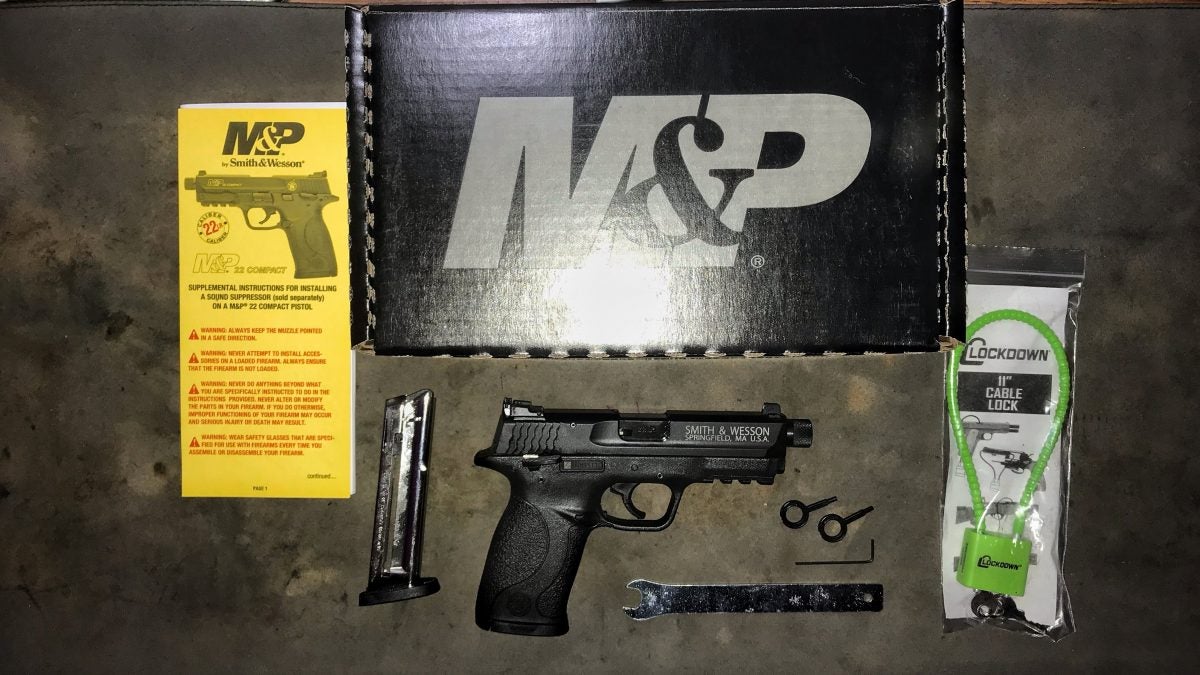 The MSRP of the M&P 22 Compact Suppressor-Ready sits at a very reasonable $409. It retains many of the features from its full-size, centerfire counterparts. There are plenty of 22 pistols out there at this price point that come with much less. For what it comes with, the Smith & Wesson lifetime warranty, and excellent customer service I feel this is a fair asking price. Smith & Wesson goes more in-depth about this pistol below:
"Precision built to be the most accurate and reliable firearms, M&P pistols are an experience you have to feel to believe.  Durable and comfortable, they are capable of handling as many rounds as you are.  Engineered with an attention to detail and superior ergonomics, M&P22 pistols connect the shooter with the shot.  Ideally suited for training or target shooting, this semi-automatic compact pistol maintains standard M&P pistol design features and includes a few extras."
Range Time: Smith & Wesson M&P 22 Compact Suppressor-Ready
I requested the M&P 22 Compact Suppressor-Ready for one specific reason. I have handled many 22 handguns in my line of work and the M&P 22 Compact always seemed very comfortable, I had heard it was reliable, and it has the same basic features as its centerfire counterparts. With all that in mind, I believe it may be one of the best 22 pistols to use for beginners or just to have in general.
I shot it quite a bit and supervised a few newbies to handguns and all the reviews were extremely positive. The recoil is more than heavier 22 pistols like the S&W Victory, but not stout by any means. It helps give the effect that this is not a toy and you still need to hold onto it like you mean it. The controls are all within reach and easy to use. The white dot sights are easy to pick up even in lower light and although I did not have to use the adjustment on the rear I still appreciate the value. The best part for me is that it is suppressor-ready which makes communicating with others a breeze and makes the whole process more comfortable.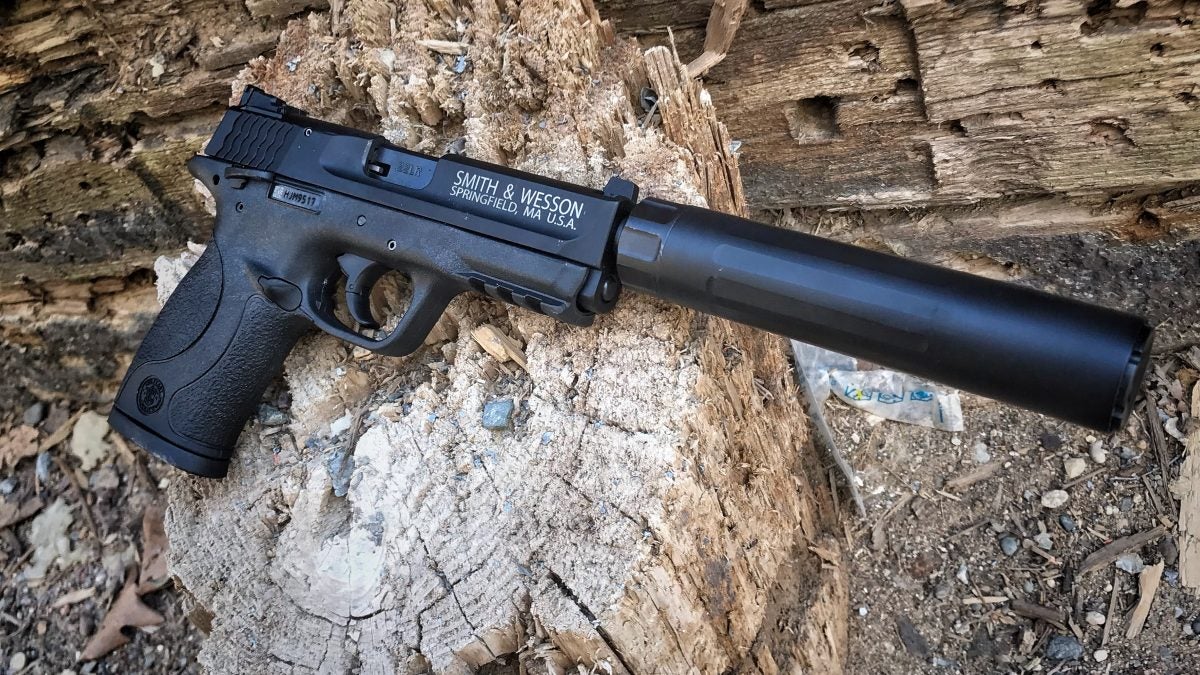 I paired this handgun with a Dead Air Mask HD 22 Suppressor and it sounds fantastic! It is not movie quiet, but it is comfortable. I fired a few different grain weights through this pistol (some lead bullets and some jacketed) and never – not once – had any sort of malfunction with or without the suppressor. To me, the thing that makes a 22 pistol good, above all else, is that it is reliable. Some other 22 handguns on the market require certain grain weights and/or velocities, and I think that can be a disservice to the consumer so I am happy to say this one passed the biggest test with me!
I did shoot some paper with the M&P 22 Compact Suppressor-Ready and it was about what you would expect for a 22 handgun. On paper, it did not excel or stink, but it was perfectly reasonable for a handgun of this size and a shooter of my skill. I would not pick this gun to shoot bullseyes, but I would pick it to shoot regardless because it functions great and is incredibly fun.
Final Thoughts: Smith & Wesson M&P 22 Compact Suppressor-Ready
As you may have inferred from my range time, I really enjoyed working with the M&P 22 Compact Suppressor-Ready. More than anything I liked seeing brand new handgun shooters light up with excitement and understand the controls so well. One such new shooter had been taught the basics while shooting at a dirt clot in a field with one magazine. The next magazine she hit a water bottle first shot 25 yards away. I really highly recommend this as a training pistol and an everyday plinker. It is easy on the wallet and does not waste your time with jams or malfunctions.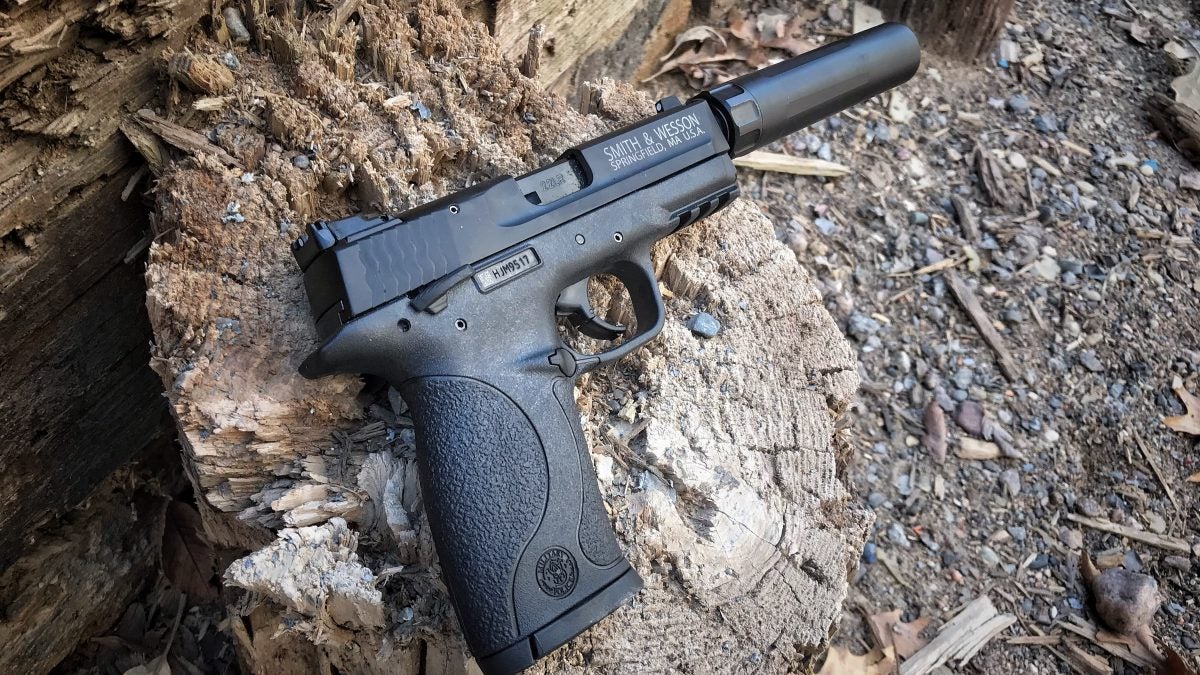 In closing, I want to say thank you to Smith and Wesson for allowing AllOutdoor and myself the opportunity to try out their M&P 22 Compact Suppressor-Ready. That is greatly appreciated. Also, we would like to know what all of you guys and gals think? Do you believe that this great trainer 22 is worth spending your money on? Would you take this out to the range? Would this be your go-to 22 pistol? Let us know all of your thoughts in the Comments below! We always appreciate your feedback.