VF-ORYX Precision .22 Long Rifle Introduced by Volquartsen Firearms
Luke Cuenco 05.11.21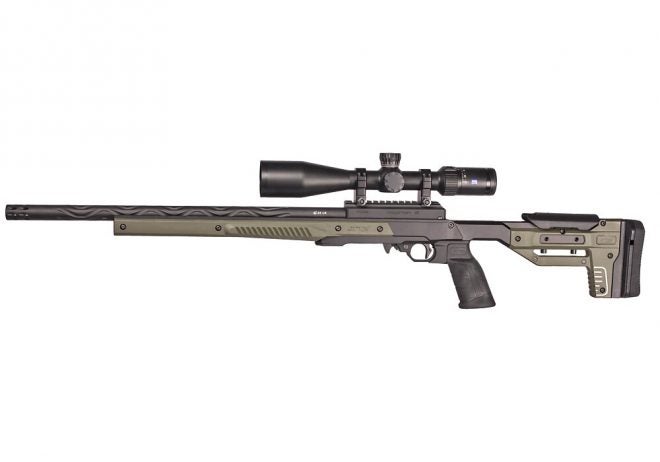 As a hunter and recreational shooter, precision is one of the best skills to learn. Part of learning precision is time behind the trigger, but the shooter can only progress as far as his equipment will allow him to. Volquartsen has just unveiled its latest offering to the precision rimfire market with the semi-auto VF-ORYX 22LR rifle. The VF-ORYX is aimed at riflemen who want to shoot at long range with 22LR which can make for some great practice of holdovers and judging wind.
VF-ORYX Precision 22LR Rifle Introduced by Volquartsen Firearms
With the popularity of precision 22 LR rifle shooting continuing to grow, we felt this was the perfect time to introduce the VF-ORYX. This chassis set up is perfect for precision shooting. As we've discussed, 22 LR is a great way to introduce new shooters to the long range game. Teaching them how to properly use an optic, learn their holdovers, and manage their breathing to execute the shot, long range 22 LR is ideal for competitors and recreational shooters alike.

The VF-ORYX is the latest addition to our line of 22 LR rifles. It features a CNC-machined stainless steel receiver with an integral 20 MOA rail making it ideal for long-range 22 LR shooting.

The Snake Fluted Barrel is threaded into the receiver. This increases rigidity between barrel and action, and ultimately, accuracy.

As with all Volquartsen rifles, it features CNC-machined and wire-EDM internal components for unparalleled reliability. The CNC-machined bolt includes a round titanium firing pin and tuned extractor for improved performance and function.

The TG2000 trigger group provides a crisp, clean 2.25lb trigger pull. Both pretravel and overtravel are user-adjustable to the shooter's preference.

The VF-ORYX is set into the ORYX chassis from MDT. This one-piece integrated aluminum chassis and buttstock is designed to improve the consistency and accuracy of your rifle, whether you're shooting from the bench, a bipod, or a prone position.

The ORYX chassis features a free floating barrel, contoured forend grip, adjustable cheek riser, and overmolded pistol grip for added comfort and stability. It also features a .25″ spacer in the buttpad for adjustable LOP.

The ORYX chassis is available as a stand alone product. It will fit most 10/22 style receivers.

We are also offering the VF-ORYX-S, which includes a Zeiss Conquest V4 6-24×50 and rings preinstalled

Please note, the bipod shown in some pictures is sold separately.

VF-ORYX Specifications:

Barrel Twist: 1:16
Barrel Length: 20.5″
Action: Stainless steel
Total Weight: 9lb 3oz
Stock: ORYX chassis from MDT
Whether its off a bench, prone, or even from a barricade – the VF-ORYX puts you in position to succeed.
Having just been to a match myself I was surprised to see so many semi-automatic rifles there. I had it in my head that precision rimfire was purely the domain of bolt-action rifles, but I suppose if companies like Volquartsen are making a precision-oriented, semi-automatic .22 Long Rifle there must be something to it. The price may be a bit too steep for me at the moment, but I definitely wouldn't mind taking one of these rigs for a spin at a match.