AllOutdoor Review: Farm Hounds Treats – Fresh, Organic Protein
Adam Scepaniak 05.27.21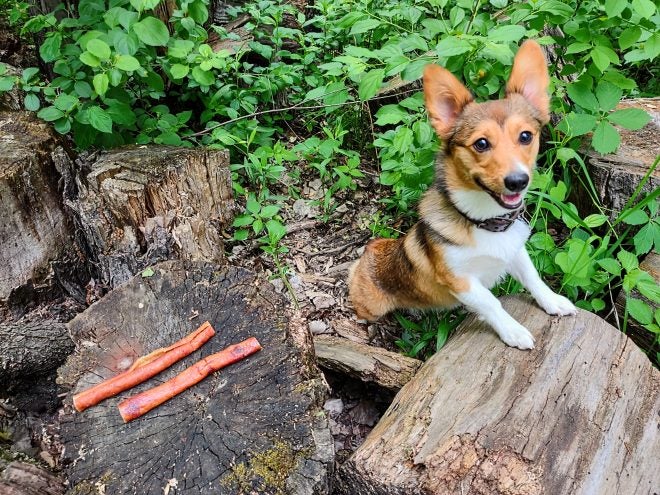 Many of us who adventure, hunt, camp, and hike in the outdoors have four-legged companions. They are as much a part of our family as our actual children, and we want to give them the best. A wonderful thing has been happening in the dog food/treat industry in the last decade or so, and that is acknowledging that we can do better for our pets by providing them with healthier, more nutritious, and sustainably-sound food choices.
One company who has these thoughts near and dear to their mission is Farm Hounds. They reached out to us to see if we would like to try a sample of their products, and after conferring with my Board of Doggo Treat Directors (my two Pembroke Welsh Corgis), they confirmed that we'd love to give them a try! So, in this AllOutdoor Review, we take a look at a fresh, organic approach to dog treats offered by Farm Hounds to keep our pets happy and healthy. Let's dive in!
About Farm Hounds
Farm Hounds has an interesting start to their company and how it has grown into the burgeoning business that it is today. In a nutshell, they (like many of us) wanted to provide the best for their pets so they sought out to create those products themselves. That is about as "American entrepreneurial" as it gets – if you can't find it in the marketplace, make it yourself. This is their story from their website:
Since 2004, we've been a small company focused on dogs. Our business decisions have always grown from what's best for our animal companions. Their health and happiness is tied to our own.

We started our first small business in the dog care industry, owning and operating a large dog boarding and daycare facility in Atlanta. We began offering a curated selection of foods, treats and accessories for our customers based on our own personal research of what we would want for our own pack and they loved it!

From daycare and boarding, our mission evolved into the retail space, where we currently own and operate dog-centered pet retail stores called The Whole Dog Market. Our goal has always been to provide the very best nutritional options and guidance for our fellow dog lovers.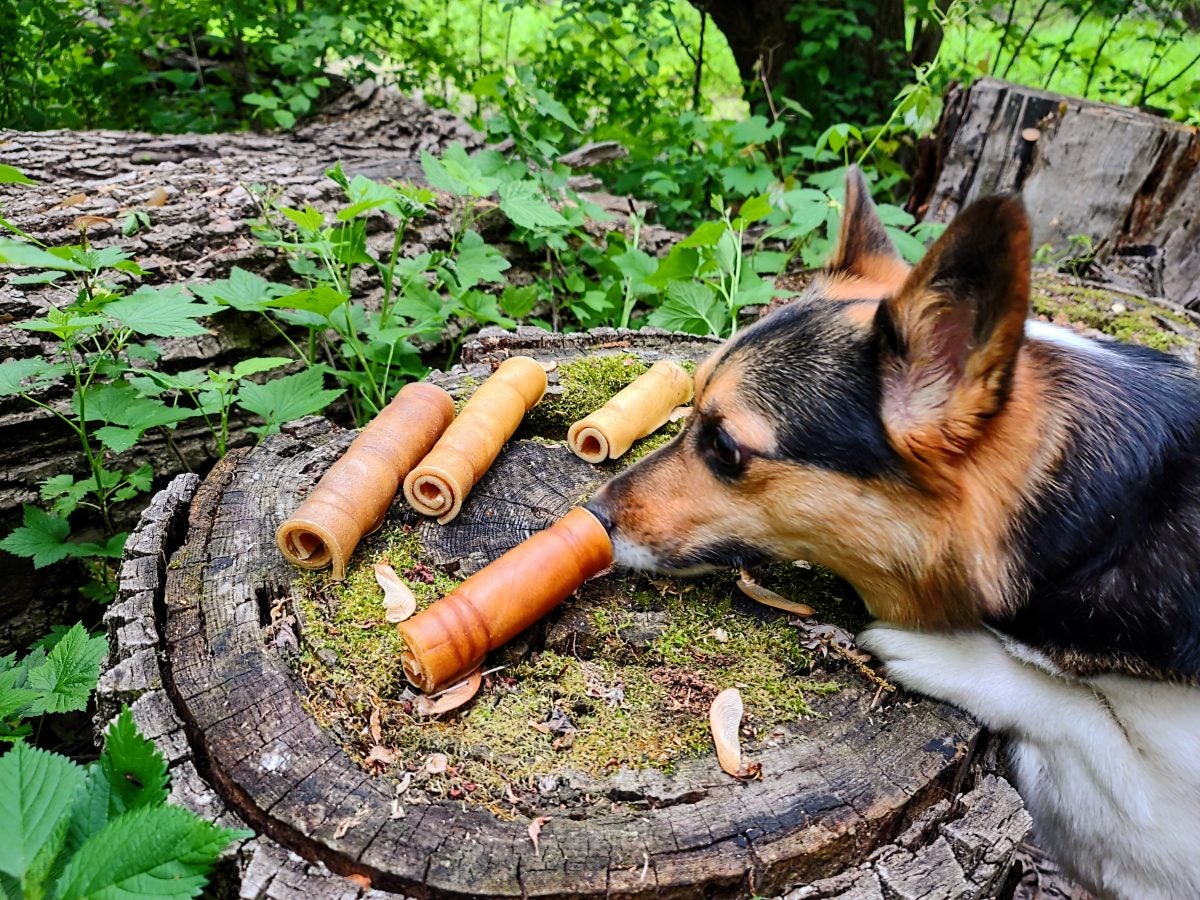 Something else that is very rare in the food industry (even when it applies to our dogs) is that Farm Hounds offers a tremendous Promise and backing of their product. They are confident our four-legged friends will be satisfied with their treats, but if they are not, they are here to make it right:
Your satisfaction is 100% guaranteed. Our goal is for you to be completely happy with your purchase. If for any reason you or your dogs are dissatisfied, please reach out to us and we will work to make it right!
Packaging, Presentation, and Shelf Life
So, when it comes to normal fine dining, "presentation is everything," right? Even if it is going into the paws of our dogs it is something I want to talk about. The way that I received my sample of treats from Farm Hounds was in a cardboard box shipped to me and all of the treats were packaged in paper bags. Why does this matter? In my personal eyes, cardboard and paper bags can be easily recycled and are biodegradable at worst. So, Farm Hounds is not only aiming to create good food and treats, but they are also factoring in the end user – us dog owners – and what will become of the left over packaging.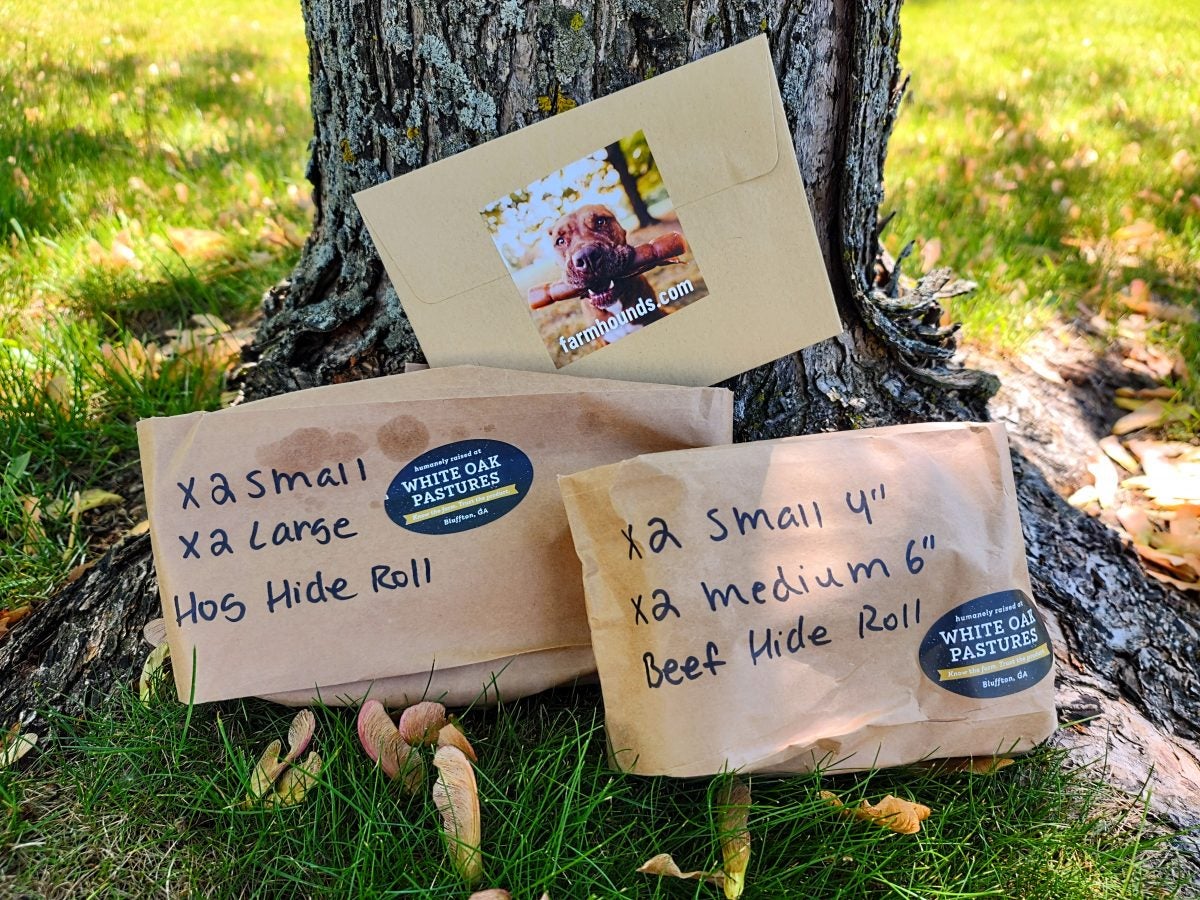 I got a whole assortment of different treats that Farm Hounds offers in their sample pack for this review, but to be completely honest and transparent, I was so excited to have my dogs try some that I did not get photos of all of the treats they so generously offered to AllOutdoor. I can assure you though that every treat sent was ravenously gobbled up and enjoyed.
When looking at the actual presentation of the treats they appeared to be produced/manufactured well. Some things I look for in treats is that they are not "greasy" or "wet." This more realistically translates into being really high in fat. Again, none of these treats were that way. In fact, they were the exact opposite. High in protein and only slightly marbled with fat which is exactly how I like my steaks (my dogs and I have similar tastes).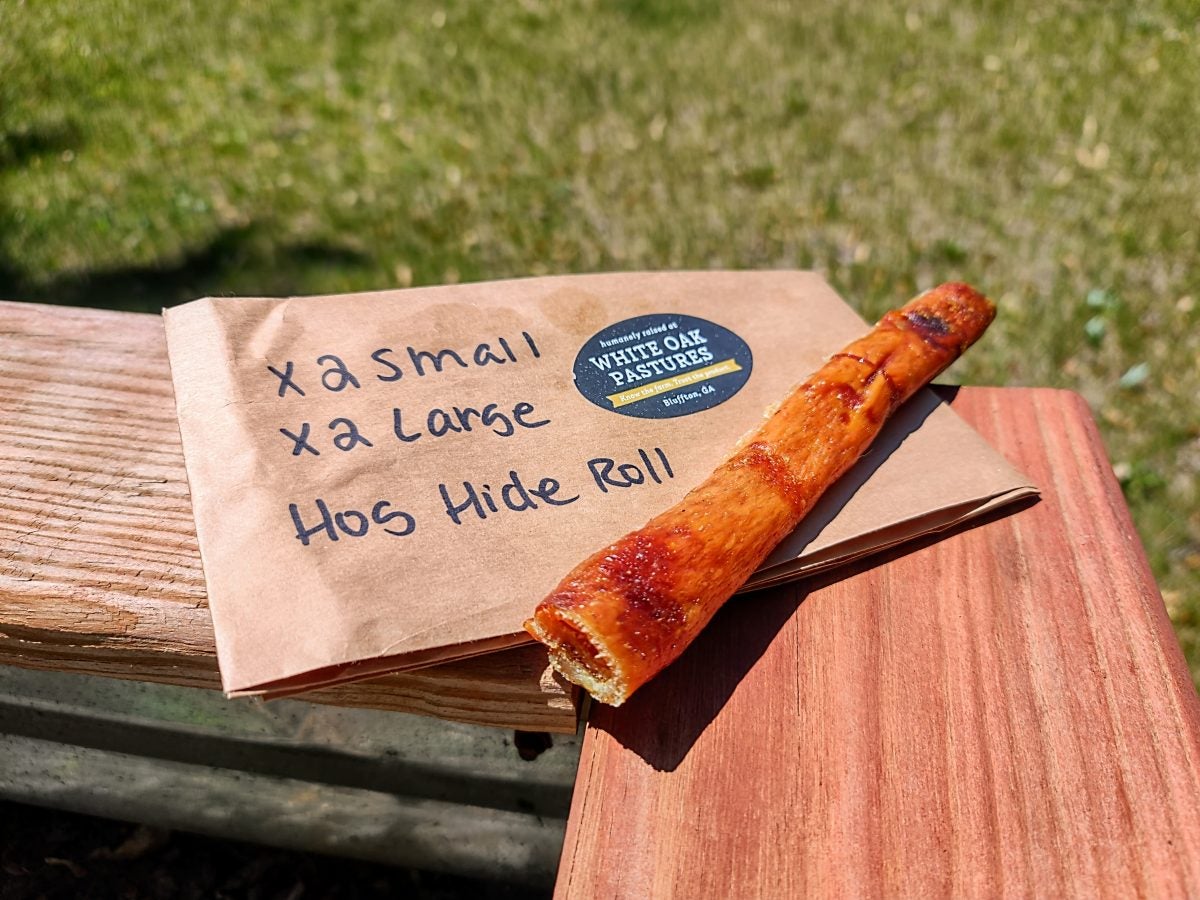 It is important to me that I am feeding my dogs a quality protein treat (when I am treating them) because I not only want it to serve some nutritional value to them, but also to keep their bathroom breaks and bowel movements consistent. Without being too detailed, all dog owners know a fatty treat or high fat diet makes for messy clean-ups in the backyard. It's not good for our dogs and it is not good to clean-up afterwards. For those reasons, I was happy to see that the samples from Farm Hounds looked like actual meat, and not some fake imitation.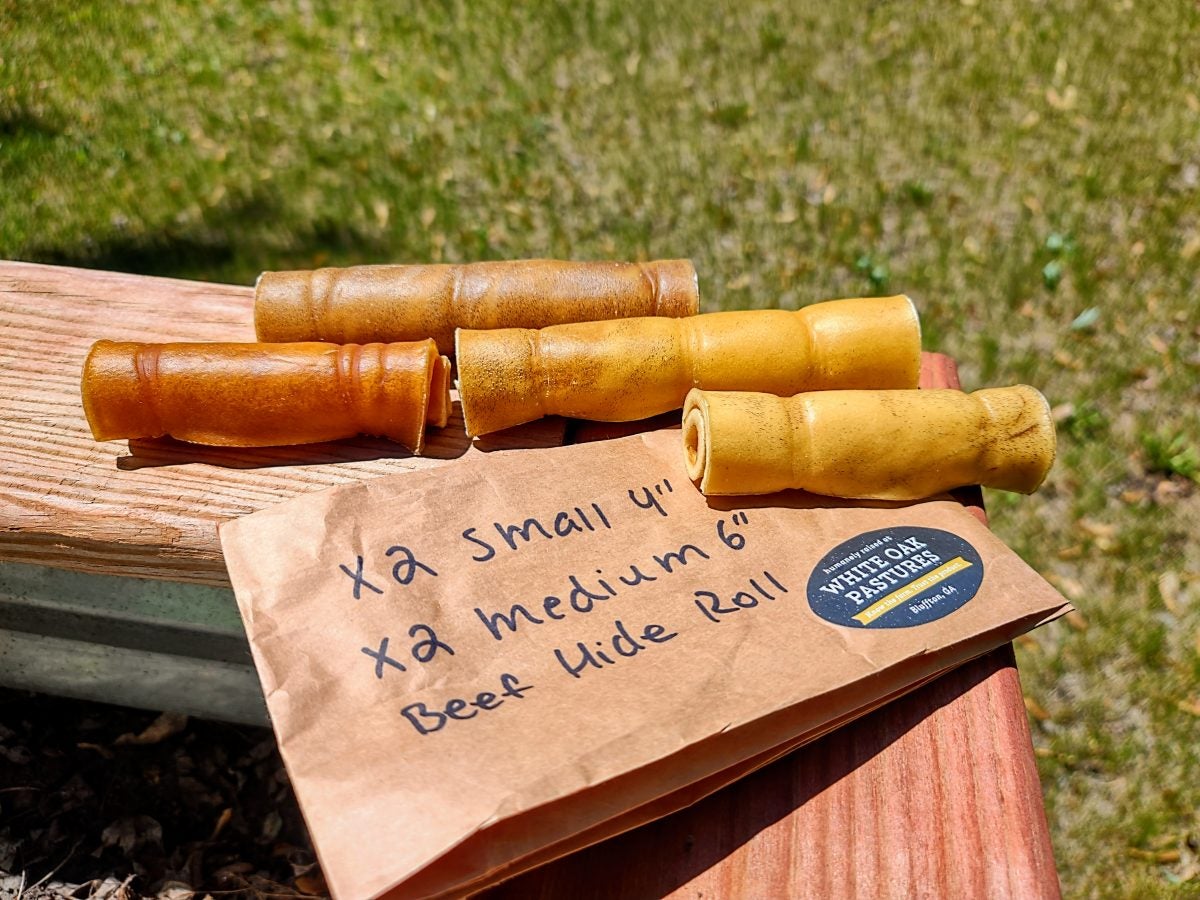 The Verdict – What 2 Corgis Had to Say
Since my corgis are the strong, silent type the best metric I have to know that they whole-heartedly enjoy a treat or not is how quickly they devour it, and how long it holds their attention. With the Hog Hide Rolls (MSRP starts at $4.99), they chomped those down in a matter of minutes with a smile from ear-to-ear. Their butts were shaking with happiness and it was incredibly easy to tell they gave those two paws up! With the Beef Hide Rolls (MSRP starts at $7.49), they spent 6 straight hours gnawing away at those and I could not pull their attention away from them. Never have I given them a hide roll of any kind that they finished in one sitting. The Beef Hide Rolls definitely get their resounding, barking endorsement!
In closing, I want to say thank you to Farm Hounds for allowing AllOutdoor, myself, and my corgis the opportunity to try out their dog treats. That is greatly appreciated. Also, we would like to know what all of you guys and gals think? Do you believe that Farm Hounds Treats are something worth spending your money on? As always, let us know all of your thoughts in the Comments below! We always appreciate your feedback.