Viridian Debuts Red & Green Laser Sights for Taurus GX4 9mm
Adam Scepaniak 05.27.21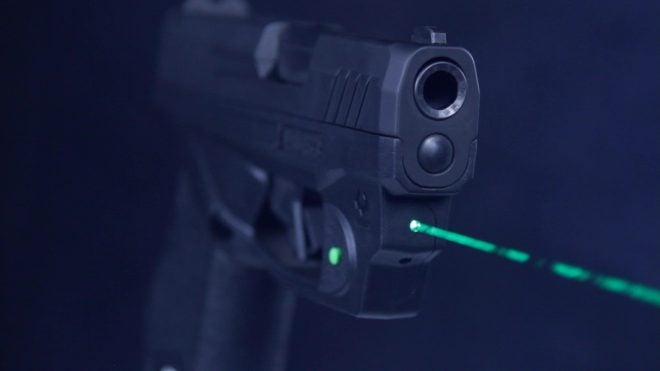 Viridian Weapon Technologies, based out of Minnesota, is known for their lasers, lights, and similarly related accessories to fuel our range fun and self-defense needs. This extends to some of the most popular concealed carry pistols on the market including ones that have just come out like the Taurus GX4 9mm micro-compact pistol. Now Viridian has debuted red and green laser sights for that newly unveiled Taurus GX4 9mm micro-compact pistol.
Viridian Weapon Technologies & Taurus News Coverage on AllOutdoor
Lasers can be helpful to shooters and concealed carry advocates for innumerable reasons. They are great dry-fire training tools to see if you are exerting poor practices on your trigger pull. In regards to self-defense, they can be a tremendous deterrent so if you are prompted to brandish your firearm, hopefully you do not need to discharge a round. Thirdly, they offer you a safe and effective point-of-aim from varying non-traditional shooting positions especially if you are knocked to the ground. Viridian Weapon Technologies goes on to explain their newest products for the Taurus GX4 in this Press Release statement below:
MINNEAPOLIS, Minn. – May 20, 2021 – Viridian Weapon Technologies is proud to announce new green and red E-Series™ laser sights for the new Taurus GX4™. Taurus's new micro 9mm is purpose-built for every day carry, and the new E-Series lasers add to the GX4's utilitarian design by cutting down time-to-target.

"Viridian has had a long relationship with Taurus, and we're thrilled to add these new E-Series lasers to our line-up," said Viridian President and CEO Brian Hedeen. "The E-Series lasers, both red and green, are ideal for those who carry every day. The new GX4 is a solid concealed carry option and provides substantial capacity. With the added aiming assistance of the E-Series laser, the package becomes even more effective. Taurus understands self-defense, and Viridian's E-Series lasers help take that personal protection to the next level."  

Viridian is one of the world's largest independent providers of weapon-mounted technology. The company specializes in gun-specific lasers that add versatility. The E-Series green and red laser sights for the Taurus GX4 are the newest additions to Viridian's line of dedicated Taurus lasers. The red E-Series laser excels in low-light scenarios. The green E-Series laser can be seen at up-to 100 yards in daylight and at over two miles in darkness.   

E-Series laser sights mount to the trigger guard. The ambidextrous on/off button of the laser sight is positioned directly where the trigger finger falls during the draw. The lasers come with a 5-minute auto shut off to preserve battery life.
The Taurus GX4 9mm micro-compact has been a hit since its introduction and it is great to see that aftermarket companies are already supporting it so strongly like Viridian with their red and green laser sights. Do you currently carry a laser on your everyday carry (EDC)? Would you consider doing it? As always, let us know all of your thoughts in the Comments below! We always appreciate your feedback.
---
About Viridian Weapon Technologies
Headquartered in Minneapolis, Minnesota, Viridian Weapon Technologies is devoted to applying cutting-edge technology to design compact, powerful self-defense products for the civilian, military and law enforcement markets. Viridian is the leader in weapon-mounted technology and responsible for a number of firearm innovations including green and red laser sights, LED weapon-mounted illuminators and several shooting accessories including the TacLoc® Holsters. Viridian products are designed and built in the USA. More information is available at ViridianWeaponTech.com.