Woolverino: Old School/High-Tech Fabric Combo for Summer Comfort
Eve Flanigan 06.09.21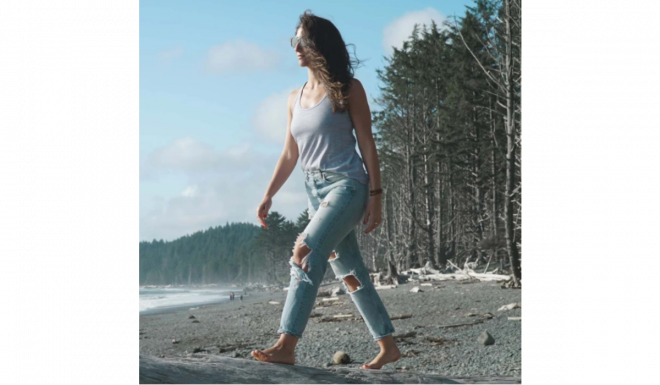 Hot-weather hiking and other outdoor labor are strenuous, mostly in a good way, but the joy of working or recreating in nature's sauna can become misery when undergarments bind, roll up in weird places, or hold in sweat. Synthetic fitness wear resolves some of those issues for some people, but wearing it can be plagued by stink that just won't wash out after a couple major sweat sessions. What's an active person to do?
Enter summer woolens. For the unacquainted, it's odd, since wool's always been considered a winter fabric, but textile tech has changed that, and those who spend hot days outdoors are the beneficiaries. Woolverino clothing from Minus 33 uses what the company calls core spun technology. That means each fiber is composed of two materials:  a nylon thread forms the core, providing strength, elasticity, durability, and resilience to stretching. Woven in a cross-hatch pattern around that nylon core are wool threads, which lend sun protection, insulation, and moisture-wicking qualities.
Minus 33 is one company making modern such wool fabrics and clothing to span four seasons. That includes undergarments and socks, which I've had the chance this early summer to test. The socks are being saved for their own comparison article, so this one is focused on the under-things, consisting of a tank top and "boy shorts," aka women's underwear in a cut similar to so-called tighty whities from the men's side of the store.
For this test, I wore each garment on two occasions, for both work and a day off.
Let's start with the Woolverino Women's Micro Weight Boy Short. Its counterpart in the men's department is the Woolverino Men's Micro Weight Wool Brief. These proved to be functional and luxurious. The softness of the Micro Weight fabric is lovely against the skin. The wide elastic band stays in place and doesn't roll. The rise is just right to not expose that feature so often associated with plumbers at work, yet never is exposed under mid-rise pants.
There's no binding or pinching, even with quite a lot of activity. On the day off, I rode a horse and stacked hay with these on. On the work day, the boy shorts were under my duty pants and belt, a dress shirt, and the tail flaps of my body armor. After my usual 10 laps around the block and a fair amount of sitting in a hot vehicle during a four-hour shift, those undies came out drier than I've experienced before, having wicked sweat out to the armor and shirt. My skin was happily dry at the end of both experiences. Thanks to the shorts design, there's no dreaded visible line from the rear. These are a real winner, if a costly one at $33.99 for both the men's and women's designs.
The Boy Short washed up nicely. One of the selling points of Minus 33 apparel is its easy-wash/dry feature. Who has time for hand washing? This fabric has the lightness of silk without the stickiness or burden of hand washing. A total win, even though there is some slight pilling after two washings (but who's gonna see that? Nobody, so I don't care). Over time, I'll be replacing regular underwear with these. There's simply no comparison in comfort between Woolverino fabric and cotton or satiny undies.
In slight contrast to the Boy Short, which are designed to be underwear only, the Woolverino Micro Weight Racer Back Tank Top can be worn as a base or outer layer. This tank is well-designed with side panels rather than an irritating center seam from armpit to bottom hem. It's long and relaxed enough at the bottom to stay tucked or fold and blouse over a snugly-worn small pistol. But take caution, there is a bit of translucent quality to this fabric, so guns or bright support garments might show.
Like the Boy Short, this tank is pretty much the definition of comfort. There are no pinch points. The fit is gently hugging, but not binding. Whether riding or on duty, I never thought about it because I never felt it. The fit is true to size and the definition of comfortable. Under my duty wear, it wicks as well as my Asics brand, all-synthetic tank does, but lacks the stench that "athletic fabrics" are notorious for emitting after a good sweat or two. After two washings, it shows no pilling and no loss of elasticity, and comes out of the dryer looking neat. As with the Boy Short, there is no sign of the shrinkage normally associated with drying wool in any way other than air-drying.
While a tank doesn't cover much, what is covered gets a sun protection factor of 20. This is true of all Minus 33's Micro Weight products.
There was a slight loss of black dye with this top before the first washing. The first sign was a little black on the seams of my sports bra. So, the first washing was in a basin with cold water. I let it soak overnight and there was a grayish hue to the water in the morning. It rinsed clean, and showed no signs of bleeding after that first washing.
This is not an inexpensive tank at $59.99, but the gains in comfort compared to synthetic gear, and the advantage of being able to wear it on its own or as a base layer to an ensemble in cooler months, delivers exponential value.
Two other fabric weights are offered by Minus 33. Their website has a helpful chart that cross-references three activity types (mostly sedentary, like fishing from the lakeside, to bursts of activity, like downhill skiing, to constant activity, i.e., cycling) with ambient temperatures and fabric weight. Sizing seems pretty true to their size chart, from my experience.
Minus 33 may not have the array of colors that some of its modern wool competitors do, but they are in the business of creating functional woolens that can stand in for most any function, outdoors or not. The company rep also informs me that Minus 33 is developing a cult following of sorts for its incredible sizing range, up to 6X. For sustained value and supreme comfort, they're worth a look.