SITKA Kelvin Aerolite 30 Sleeping Bag – The Bag That Never Sleeps
Adam Scepaniak 06.15.21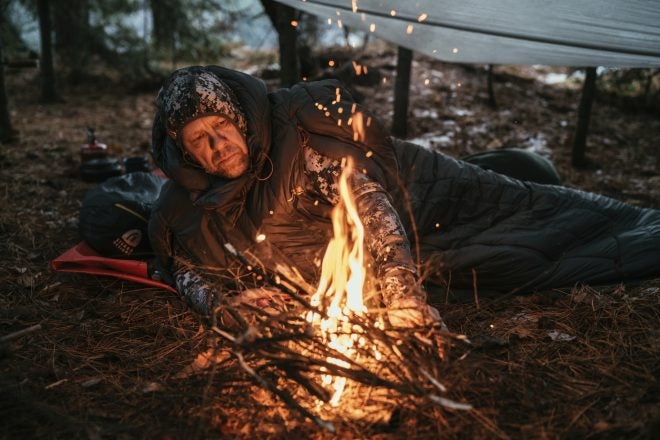 We have officially turned the corner of spring and are into the beautiful days of summer that invoke thoughts of time at the lake, camping, bonfires, and s'mores. For those of us who hunt, that can mean we have already turned our thoughts and gaze towards fall knowing we have a lot of gear prep that needs to be done. One underrated tool in most everyone's hunting arsenal is a quality sleeping bag if you pursue big-game animals for days at a time. Sitka, known for their phenomenal camouflage clothing and outdoor gear, has taken the simple sleeping bag and kicked it up a notch with their Kelvin Aerolite 30 Sleeping Bag.
SITKA Kelvin Aerolite 30 Sleeping Bag
Most people think of sleeping bags as a bulky, hot pocket that is quite literally only for sleeping in. Sitka re-imagined it as something more. With the Kelvin Aerolite 30 Sleeping Bag there are zippered arm holes to allow you to cook breakfast or supper by your campfire while staying warm. Sitka also integrated a hood for times when you don't want to get out of bed, but you still want to glass a ridge or valley below you for game as the sun rises. Sitka goes on to explain how the Kelvin Aerolite 30 Sleeping Bag could be the last sleeping bag you ever need to invest in:
BOZEMAN, Mont. (June 14, 2021) – After years of designing clothing systems that protect in extreme conditions, SITKA is proud to debut the Kelvin Aerolite 30 Sleeping Bag. Designed as an extension of your clothing system, the Kelvin Aerolite 30 is SITKA's final layer of mobile warmth.

With jacket-like features, the Kelvin Aerolite 30 does a lot more than sleep. Its multifunctional
design includes zippered arm holes, contoured shoulders and hood, and a center-front two-way
zipper. A stowed hook at the bottom of the bag connects to an interior loop allowing you to
shorten the bag for active time in camp, cold glassing sessions or dreaded midnight nature calls.

"We built the Kelvin Aerolite 30 Sleeping Bag with the same design principles we use for
building any of our clothing systems, performance, durability and functionality." said John
Barklow, SITKA's Big Game Product Manager. "The sleeping bag is the final part of your clothing
system and it was built to maximize efficiency so that you can stay focused on in-the-field
objectives."
Taking cues from one of nature's most effective insulators, SITKA saw an opportunity to harness
the insulation property of air. Weighing just 38oz, the bag features PrimaLoft® Gold Insulation
with Cross Core™ technology. Mimicking the benefits of down while offering the warm-whenwet, low-bulk performance of synthetic insulation, PrimaLoft® Cross Core™ insulation fibers
(35% recycled) are infused with silica aerogel, a nearly weightless material that's composed of
more than 95% air that reduces weight and acts as additional thermal insulation. Earning a 30-
degree comfort rating (ISO 23537), the bag is designed to be worn with your SITKA clothing
system for full-season performance. As temperatures dip below freezing, stack on additional
layers to extend the comfort rating.

SITKA's Kelvin Aerolite 30 Sleeping Bag will keep you warm well after sunrise. After all, why
should your sleeping bag only work for you at night?
The Kelvin Aerolite 30 Sleeping Bag was debuted and launched yesterday by Sitka and has a full MSRP price of $399. It is available now on Sitka's website HERE to view it more in-depth. With its multi-function design of being an authentically great sleeping bag plus its dual-ability to be used as a jacket, I believe Sitka knocked this sleeping bag out of the park. As always though, let us know all of your thoughts in the Comments below! We always appreciate your feedback.
---
About SITKA
SITKA, based in Bozeman, Montana, created and leads the technical hunting apparel category. The company is recognized for its commitment to continually improving the life experience of the hunter and for its support of healthy ecosystems and wildlife populations. SITKA products work together in systems, and each piece is designed and tested rigorously in both the lab and the field. SITKA is owned by W.L. Gore & Associates, an advanced materials company well known for Gore-Tex™ fabrics and many other industry-leading innovations that provide durable comfort and protection to outdoor enthusiasts. Go to sitkagear.com to learn more about how SITKA enhances the full life experience of the hunter.