Cold Steel Introduces NEW Range Boss Folders for 2021
Terry Nelson 06.17.21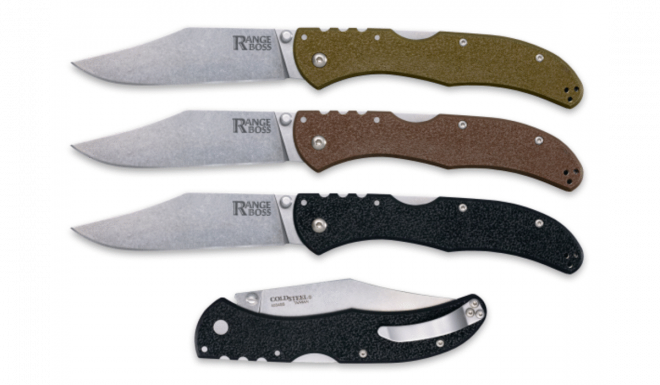 Cold Steel Knives have been around for 40 years and continue to bring new and innovative blade products to the market. The company is dedicated to creating some of world's strongest and sharpest knives, swords, tomahawks, machetes, cutlery, and tools for everyday carry.
Many of the blades are adopted by military, law enforcement, emergency services personnel, and the everyday citizen for defense and outdoor recreation. For this year, Cold Steel introduces Range Boss Folders which are new for 2021 and are yet another great example of a blade ideal for a variety of purposes. Cold Steel gives all the details of the Range Boss folding lockback in the following Press Release:

Cold Steel engineers developed the Range Boss to be a true general-purpose folder that is thin and light enough to carry in a pocket, waistband, or jacket yet is sized for any task. The Range Boss blade is constructed of 4034SS steel, with a flat-ground profile that is easy to sharpen and will stay sharp for extended use. Further contributing to blade performance is the four-inch length and clip point, making it suitable for a broad range of cutting jobs, including field dressing and utility work. The blade also features a stonewashed finish for a sharp look and reduced glare. A thumb-assist stud makes one-hand opening a breeze.

Housing the folded blade and Cold Steel's industry-leading Tri-Ad® locking system is a 5.25-inch Zy-Ex™ handle. Available in Black or OD Green, this glass-reinforced nylon handle material includes a tactile stippling pattern and jimping along the spine to ensure a positive grip with slippery hands or when wearing gloves. For added carry convenience, an ambidextrous pocket clip is included.
Cold Steel Range Boss Specifications
Models: CS-20KR9 Flat Dark Earth | CS-20KR7 OD Green | CS-20KR5 Black
Weight: 3.4 Oz.
Blade Thickness: 3.5mm
Blade Length: 4 inches
Handle Length/Material: 5 1/4 inches | Long ZyEx™ Handle
Blade Steel: 4034SS
Overall Length: 9 1/4 inches
Additional Features: Steel pocket clip, thumb-assist stud and Tri-Ad® locking system
MSRP: $51.99
To find out more about the Range Boss lockbacks and a wide variety of other Cold Steel products, check out https://www.coldsteel.com.