AllOutdoor Review: 5.11 Tactical Range Ready Bag 43L
Sam.S 07.01.21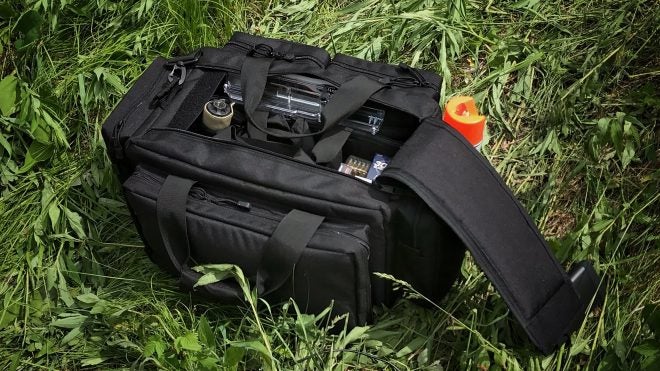 Whether it's a single range day or a long weekend trip to the middle of nowhere you should always have an efficient way of carrying the necessary gear for good fun and proper safety. Having a good range bag with efficiency built into it is important. I would argue that it is hard to go to the range without one once you've experienced the convenience of having one. I had the awesome opportunity to get to hang out with 5.11 Tactical's Range Ready Bag 43L and I took it on a few range days and one long trip. Full review is available below!
Specifications: 5.11 Tactical Range Ready Bag 43L
Out of the box, well it's just the range bag. It was sent to me in a cardboard box and inside a very large plastic bag. I assume this is standard practice since it's a very big bag. The Range Ready Bag 43L itself just had the normal tag you'd expect on a gun case or range bag detailing the highlights and worthwhile specs. My Range Ready Bag was black, but they also offer it in a sandstone (tan) color.
Segregated, padded storage for multiple pistols
Drop-down front flap stores 8 magazines
Removable ammo and brass storage
Durable, all-weather 600D polyester
Integrated hydration storage
Accessory pockets sized for optics and ear protection
Reinforced grab-and-go handles
Removable padded shoulder strap
YKK® zipper hardware
Hook and loop grab handle unifier
Imported
Main Compartment – 9.5" H x 17.5" L x 10.5" D
Front Pockets – 8.5" x 7.5" x 2.5"
Back Pocket – 8.5" x 15.5" x 2.5"
Side Pockets – 8" x 7.5" x 2.5"
Water Bottle Pocket – 5.5" x 3" x 2.25"
Brass Bag – 5" x 6.25"
Total Capacity – 2639 cubic inch / 43 liter
Weight – 6.2 lbs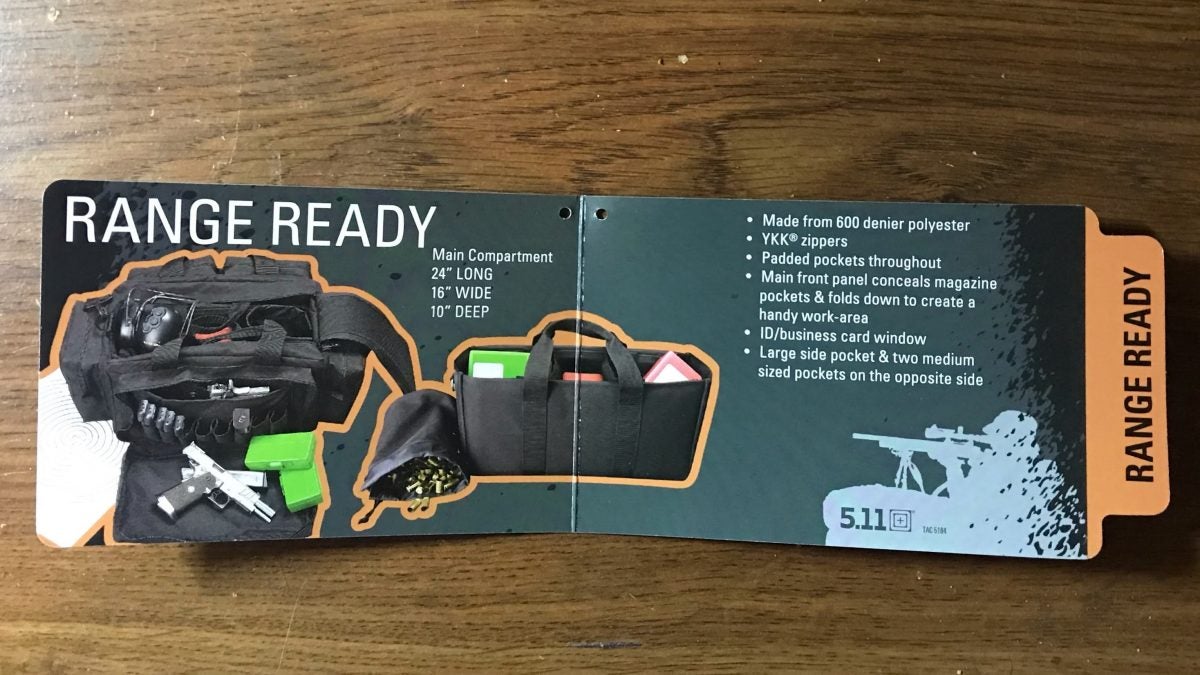 The MSRP of the 5.11 Tactical Range Ready Bag 43L (both black and sandstone) sits at $99.99. For the overall construction and quality of materials, I understand why it is at that price and I believe it is fair because of that, but it would not surprise me if someone leaned into the more affordable range bags that 5.11 Tactical offers. 5.11 Tactical goes into more detail on their Range Ready Bag 43L below:
"Constructed from durable, all-weather 600D nylon, the Range Ready™ Bag features seperates padded storage for multiple pistols, a zip-down front organizer that effectiviely stores 8 magazines, side pockets, a removable ammo tote to keep you topped off, and a removable brass tote for easy cleanup. With a padded should strap, easy-grip handles, and an ID insert, you'll be home on the range in no time."
First Look: 5.11 Tactical Range Ready Bag 43L
First impressions out of the box were somewhat surprised at the sheer size of the Range Ready Bag. It is pretty big, but not super heavy or unwieldy looking. It appears to have a good amount of exterior pocket space and plenty of interior space, especially when you take the ammo/brass tote insert out. I noticed right away that 5.11 Tactical did a really good job of not wasting any walls of the bag. What I mean is that if you take that interior tote out, the inside walls have pockets. To me that's efficient and efficiency makes my brain feel good.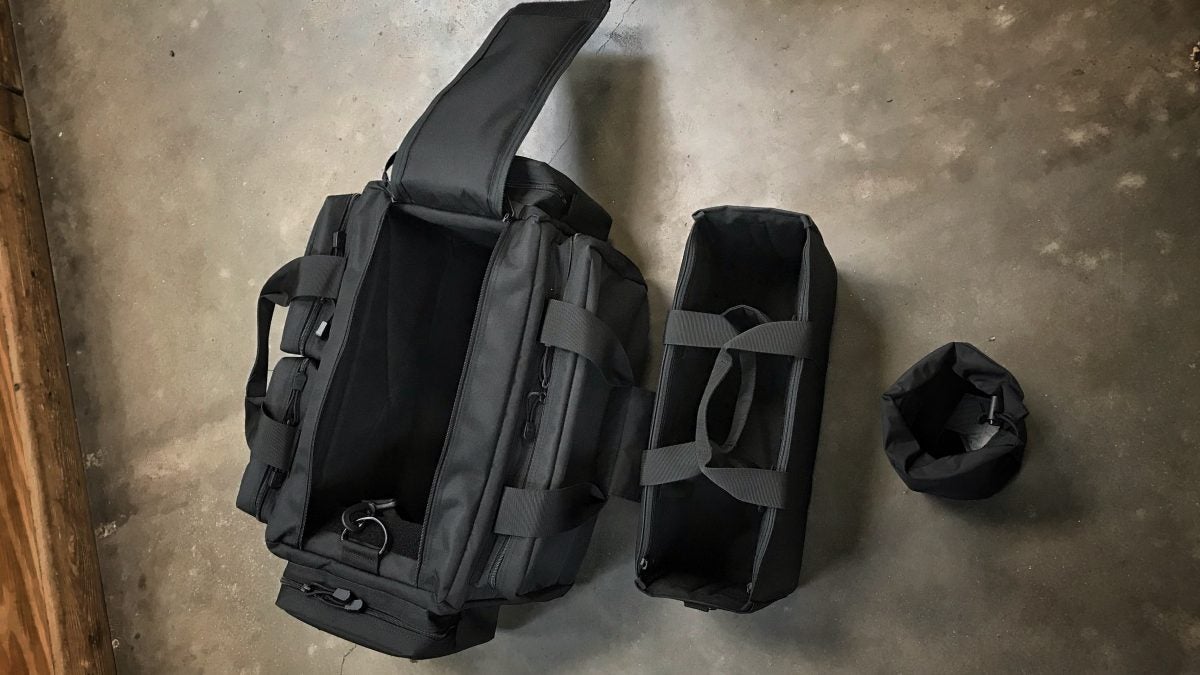 Range Time: 5.11 Tactical Range Ready Bag 43L
Range time with the Range Ready Bag 43L was sort of surprising in some aspects. When I say that I mean that working with this product made me feel sort of torn about range bags in general. In a separate article, I'll use this bag as an example when we cover the top ten items to store in a range bag so I won't give away too much of that, but the biggest consensus that I came to was that although this bag is big I felt like space was cramped.
When I say that I mean that the pockets, for example, look huge cause they are and that's awesome cause when I got to the range I want to pack this with what I need and not have it be a pain in the butt. Unfortunately, I noticed one thing that I understood, but was disappointed over. This bag is padded well. Like really well! It's great if you put fragile items or things you want extra protection for (like handguns) in the pockets. The caveat is that you get large-looking pockets with less space than you would think because of the padding.
The padding taking up space is really my only critique and it's not even a bad one per se because it is doing exactly what it's supposed to (and doing it well) and just has an inescapable, unfortunate byproduct in terms of space. Overall, I would feel plenty comfortable putting a handgun, nice pair of shooting glasses, or hearing protection in them.
It surprised me that after I filled this range bag with what I would call the bare minimum for a decent range trip it was pretty heavy. Not uncomfortably heavy; just heavy. I did not have a scale on hand so I apologize I could not tell you an accurate weight. The weight was not a huge deal to me since 5.11 Tactical gives you a nice shoulder strap.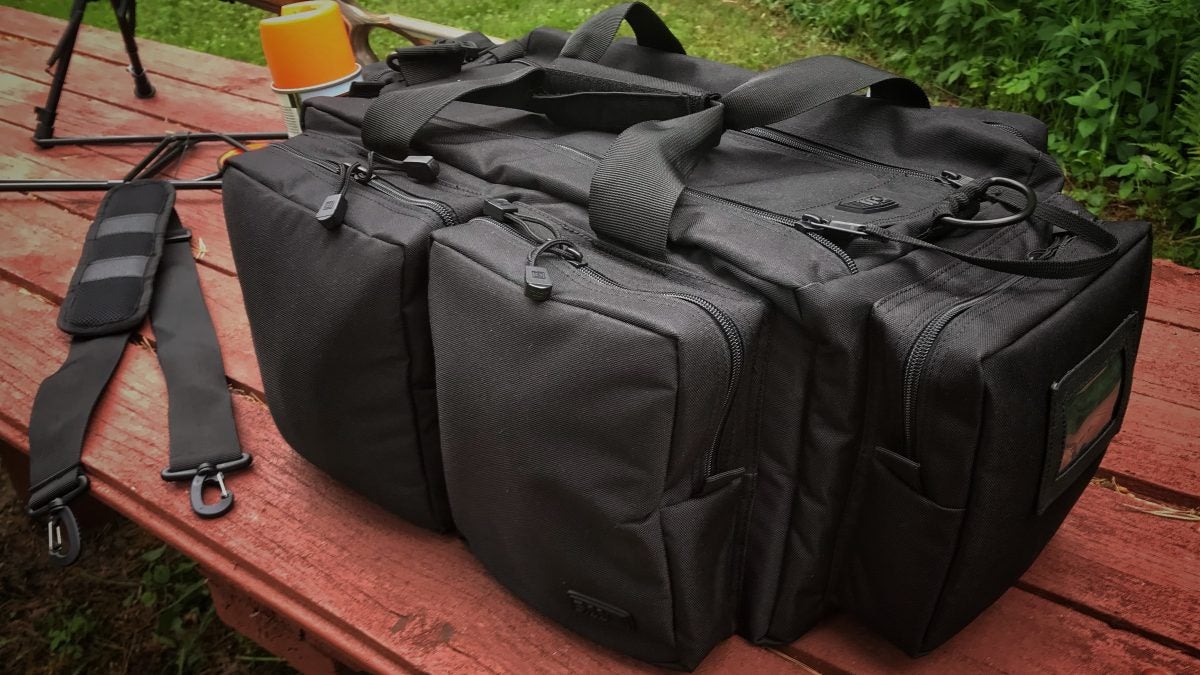 The size of the bag is a little on the bulky side. It feels like you definitely have the potential to bump into all sorts of stuff while walking around, but with that extra padding, I did not mind. If this looks or sounds like it may be on the bigger side to you then I would not hesitate to recommend 5.11 Tactical's other range bag offerings cause they really do have good quality stuff and great customer service.
The real highlights to me were what I would refer to as the cup holder, the center flap/zipper configuration, the mag pouches, the inner tote, and overall efficient use of space. That center flap with a one-loop zipper on either side was super handy. Loved that! I realize that comes on a lot of range bags these days and I can see why. The inside tote is a cool idea. It's easy to take in-and-out, and convenient to set on a bench while shooting, putting brass in, or taking ammo out.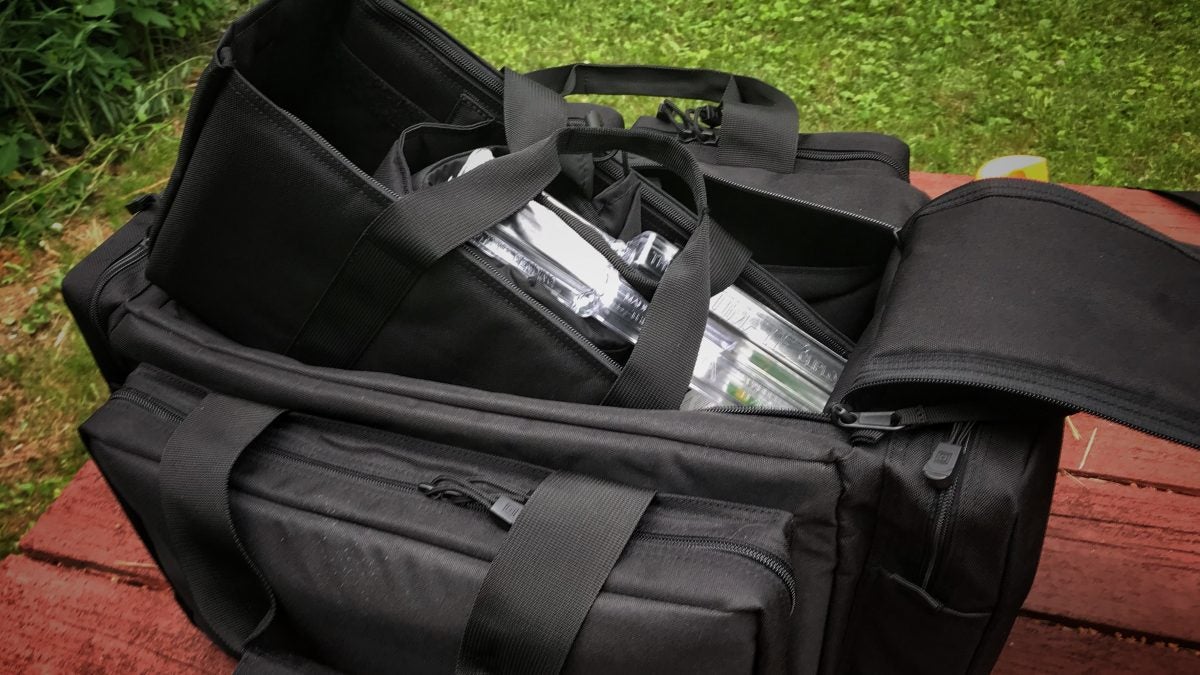 The mag pouch side is overdoing it for me because I only own one gun that has a bunch of pistol magazines and I rarely shoot it. If I did shoot it I sure would not use up that much ammo in one range trip, but that's not the point! This bag makes it so you can and I appreciate that. Behind the magazine pouches is a nice padded space for a handgun or in my case I put a few extra paper targets.
The "cup holder" was useful for holding a spray paint can for my AR500 target, but it could also easily be used for some aerosol lube like CLP or my favorite – G96. Other than that, obviously you could put a tumbler or some sort of source of hydration like a metal refillable water bottle.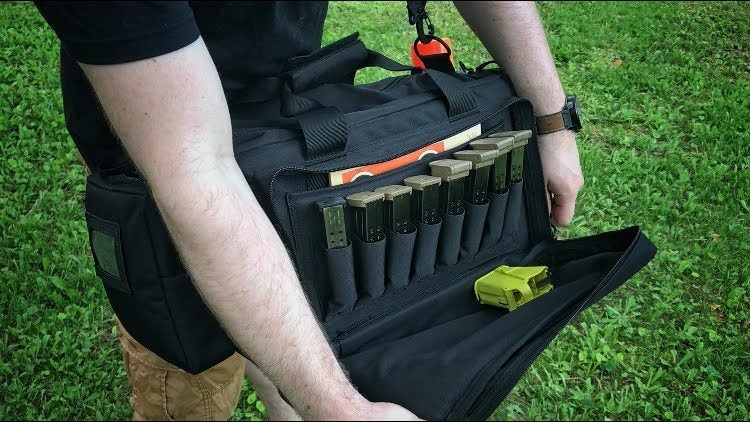 Final Thoughts: 5.11 Tactical Range Ready Bag 43L
All in all, I really enjoyed working with 5.11 Tactical's Range Ready Bag 43L! First and foremost it was high-quality materials and construction. That being said alone I think the price is justified. I did not find one thread out of place or fraying under the stresses I inflicted. It is on the larger side, but honestly, I would rather have extra space over not enough. Like I said earlier the weight when loaded up is not a huge deal with the strap and the size kind of tells you that you can make it pretty heavy. I really enjoyed it and I encourage anyone out there to check out what 5.11 Tactical has to offer. This Range Ready Bag might be the range bag for you!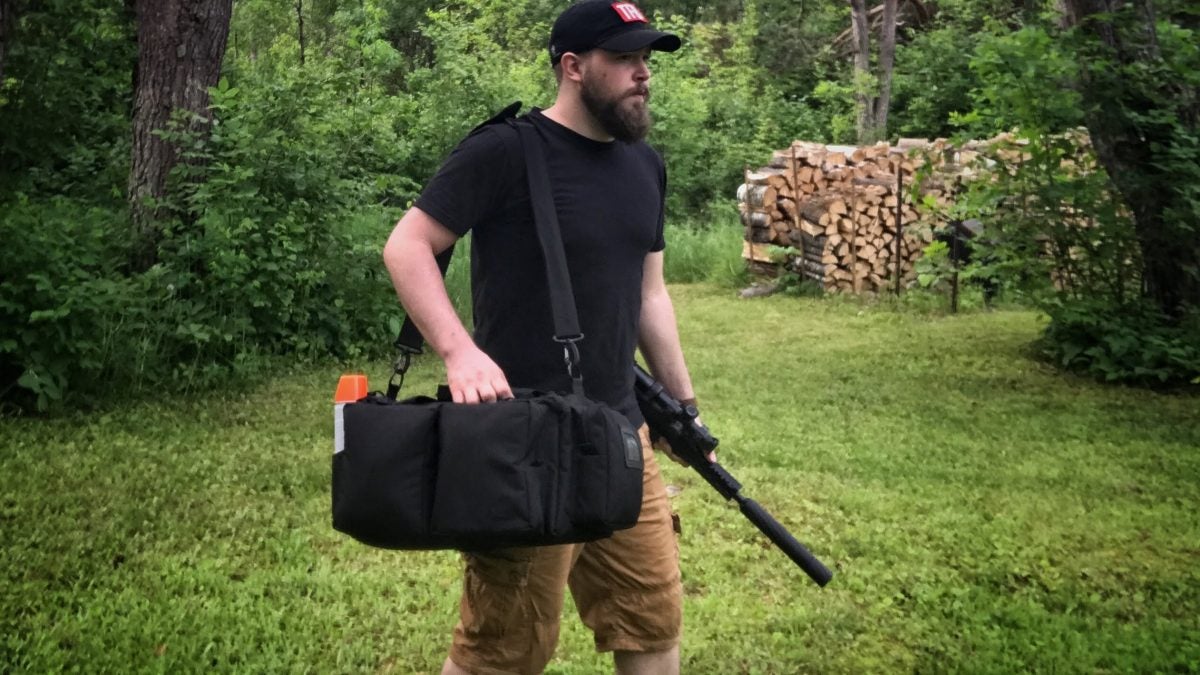 In closing, I want to say thank you to 5.11 Tactical for allowing AllOutdoor and myself the opportunity to try out their Range Ready Bag 43L. That is greatly appreciated. Also, we would like to know what all of you guys and gals think? Do you believe that this Range Ready Bag is worth spending your money on? Would you take this out to the range? Would this be your go-to piece of range kit? Let us know all of your thoughts in the Comments below! We always appreciate your feedback.