NEW Taylor's & Company TC86 Takedown Lever-Action Rifle
Luke Cuenco 07.13.21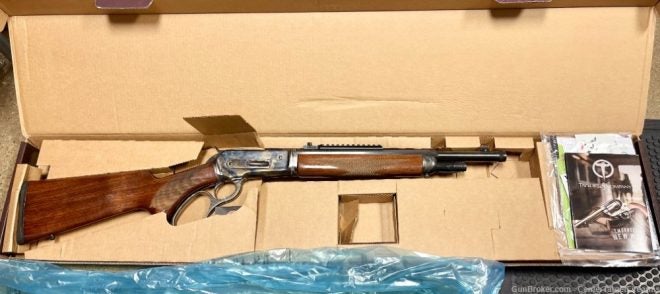 If you're a fan of either the .45-70 Government cartridge or classically designed lever-action rifles, then you'll be happy to know that Taylor's and Company have just added their new TC86 Takedown to their 2021 Lifestyle Series lineup. The TC86 Takedown blends the classic lines and function of a Winchester Model 1886 and adds modern flair and functionality to it complete with a 5/8″ x 24 threaded barrel and oversized lever loop. The new/classic rifle looks like it would make for a great hunting rifle when topped with a nice piece of glass and capped with a matching suppressor.
Taylor's New TC86 Takedown Lever-Lever Action Rifle
The rifle can hold up to 4 rounds of .45-70 Gov't within its tubular magazine which sits under the 5/8″ x 24 threaded, matte blued, partially octagonal barrel. The threaded barrel means the addition of a 45 caliber suppressor comes straight from the factory. The new TC86 Takedown Rifle is available for order now for an MSRP of $1,839.86.
The Color Case Hardened TC86 will look just as good in your gun safe as it does on the back of your ATV or gun rack in your truck. Along with its rubber butt pad-equipped walnut stock, the rifle also features an oversized lever loop, checkered grip, Skinner peep sight, and weaver rail-base integrated into the Semi-octagonal barrel. The oversized lever loop is quite popular these days and most importantly makes for an easy-to-use winter hunting rifle when you've got to wear heavy gloves to contend with the cold environment.
"Taylor's & Company brings to the gun enthusiast classic firearms that made cowboys, lawmen and outlaws famous, but with a modern twist. All Taylor's premium firearms are made using the latest in precision machinery and high-quality materials with one goal in mind; to create reliable and accurate reproductions of Civil War, Old West, hunting and tactical guns from the 19th century. The TC86 Takedown is a perfect example of this."

-Rob Girard – VP of Sales and Marketing Taylor's and Company