Enigma Holster System by Phlster: A Real-Life Trial – Part 1 of 2
Eve Flanigan 07.16.21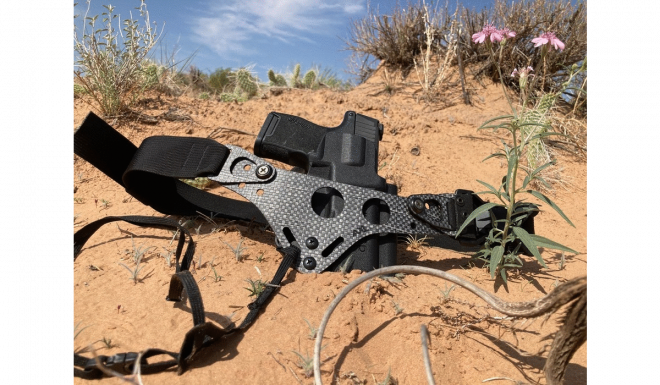 The good folks at Phlster were kind to share one of their breakthrough holster systems for testing. Seeing it described as a "breakthrough," and having seen an article in which the wearer described being able to wear formal attire and conceal comfortably one day, then go running in their Enigma the next, made me interested to see what it's all about. After all, there's generally not much new under the sun in the holster market despite plenty of dramatic marketing language. I was skeptical, but I found out the Enigma really is in a class of its own.
This product and the experience of wearing it turned out to be novel enough that this will be a two-part series.
The Enigma is different than other holsters and is truly a system; it can accommodate many companies' "shells" (the kydex holster itself) which attaches to a flexible, laser-cut frame at a customizable angle and height. That frame, which faces out to the world while the holster is against the body, is secured by an adjustable web belt and a flat cord called the leg leash. All that to say this is the only holster I've seen that allows front-of-body carry in a way that offers security of the gun in terms of keeping it put and covering the trigger guard, provides for safe re-holstering without removing the holster, and does not require belted pants. Also, it conceals even a full-size gun really, really well if you're willing to invest some time experimenting at the outset.
This system can be ordered as a complete set if Phlster makes a shell for your gun. Or add your own non-light bearing holster with a ModWing, Darkwing, Raven wing, or similar AIWB concealment claw/wing attachments with standard 5/8ths hole spacing. Many Enigma users have found ways to use a light-bearing holster, even for full-size guns, as well as attach magazine and blade carriers.
If you're getting the impression that using the Enigma is a combination of trial, error, and maybe some DIY ingenuity in exchange for the ability to carry with just about any kind of clothing, you're on the right track. But it's not necessary to go it alone. For Facebookers, there is a massive support and education system centered around the Enigma. The design and sales team behind this product, Sarah and Jon Hauptman, provide the Phlster Concealment Workshop as a forum for concealed carriers, and the group's focus is largely around the Enigma. In this group can be found an endless array of discussions, Q&A sessions, and an amazing assortment of photos showing how people are making the Enigma work for them. Shopping for a holster from a traditional retailer is fraught with dilemmas, especially when a person is much smaller or larger in circumference than the typical gun model. Or maybe their manner of dress isn't the typical presentation of jeans and a tee shirt. No worry, someone in the group has you covered, whether your attire is an oxford style dress shirt and slacks or even a two-piece bathing suit (not kidding, it's in there — and the gun is astonishingly invisible).
My own trial of the Enigma entailed some normal daily wear for my life, including going to the store, riding my horse in English riding breeches, and low-impact workouts. At the extreme ends of this test were wearing it to a wedding and reception in a skirt and dress top, and taking a six-mile hike in 108F heat. While some may not agree with my conclusions, they are earned, and should of course be considered somewhat unique to me as it's obvious that this system can be adapted for wear by just about anyone who has a waist.
The term "printing" will be used in this article. For concealed carry purposes, that word refers to the visible and at least sometimes identifiable outline of a gun, usually the grip, under a garment. A gun that's identifiable to onlookers, even if it's under clothing, is not concealed under practical nor numerous states' definitions of "concealed."
The EDC Test
My days are pretty casual, for the most part. When I'm not teaching on the range or working security with a belt-borne OWB holster, mags, and other gear, I'm in jeans, riding breeches, or shorts with a tee-shirt. After years of donning a belt or making sure I have a drawstring pulled tight enough to act as one, it was liberating to pull on a pair of elastic-waist shorts and to wear breeches and have the Sig seemingly disappear. I could even wear the Enigma and, with the belt slung a little lower than I prefer, wear low, hip-hugger pants and a shirt that covers the waistband, to hide the belt which was still visible at the small of my back. While the gun was well-concealed this way, sitting brought back the memory of trying to conceal my old Glock 19, which poked me in the thigh and wore an abrasion. This could be remedied by changing the holster angle, but since hip huggers aren't my usual attire, I didn't do that—there is the usual recommendation to use a dab of Loctite on the attachment screws when moving the holster around, and I'm no fan of losing screws from holster experimentation.
From reading comments in the aforementioned Facebook group, I'm aware I'm in a minority, but definitely not alone in struggling with the leg leash. First, let's discuss why it's there. It keeps the Enigma from riding up too high. This can be a concern during repeating drawing/re-holstering practice, and I would definitely wear the leash if I were to, say, take a full class with or even shoot a 50-round qualification with my concealment gun. The leash is easy enough to attach, even for fumble-fingered people like me, though it doesn't appear like it would be. It dangles like a lasso from the support side thigh front of the Enigma, loops around the thigh, and buckles somewhere in the front. The buckle didn't print under my thin tactical pants, but I struggled constantly with it dangling down to my knee in the back, hanging up there being distracting.  It wasn't painful or abrasive, just distracting and visible when I wore shorts. Though the leash has a slider adjustment, no amount of sliding would correct the too-long contraption. Over the long term, I'll likely keep it because it does serve a function, but cut some length off.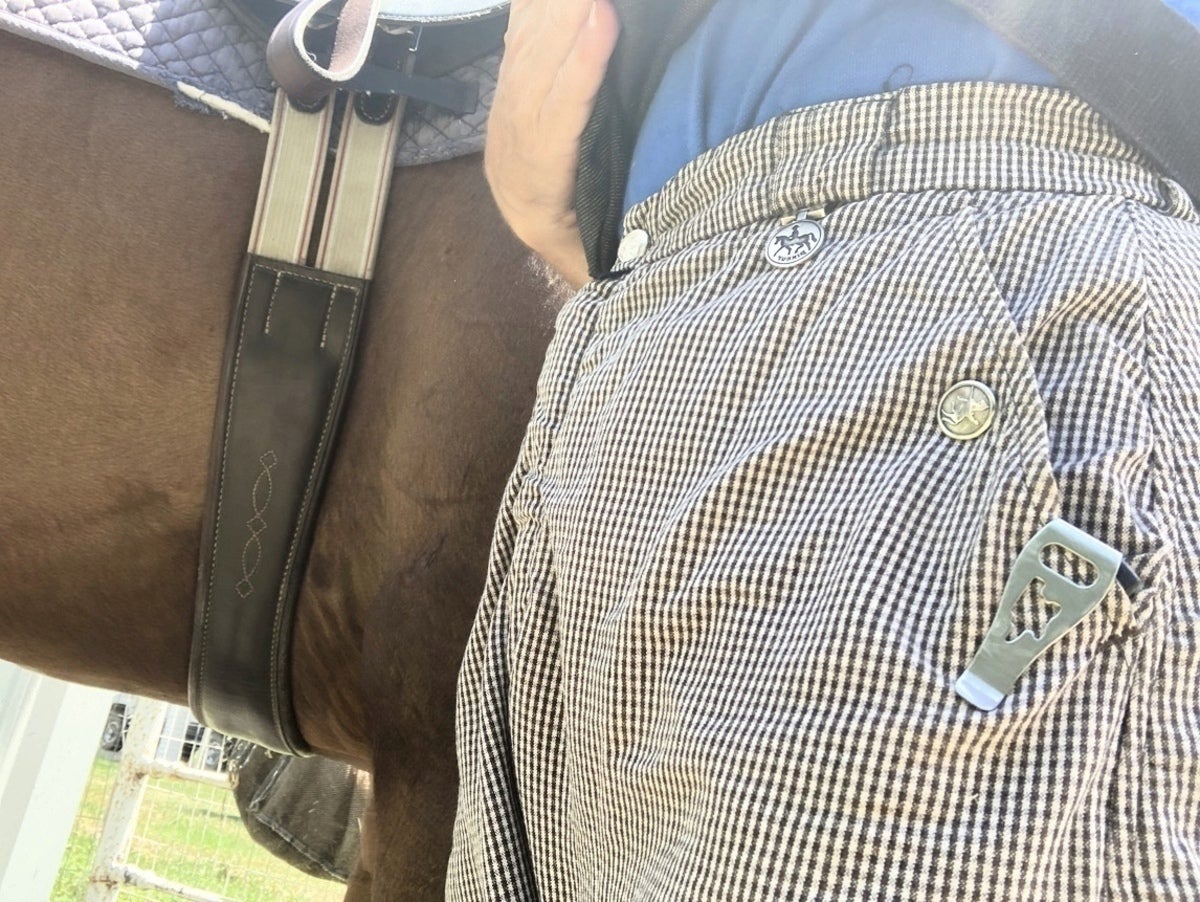 Conclusion of the EDC test: Superior concealment, including while riding which has not otherwise been possible and keep the gun off bony areas short of wearing a fanny pack. That's a fashion faux pas at equestrian events. I take comfort in the fact that, while astride a horse, I can position the gun so there are no hard materials over any bones in case of an unplanned dismount. The Enigma provides more freedom in terms of what I can wear and still conceal. A skin-tight tee still prints, but I can get away with a wider range of shirt fits compared to my usual belt-borne IWB setup. The downside is that my drawstroke is slower, in excess of two seconds, and requires two hands—with work, I can get to a single-handed draw with most pants, but doing so is slower than drawing with the aid of my support hand to clear the shirt out of the way. I am slightly annoyed with how the back of the belt creeps up on my back during the day. My waist is short and my hips are significantly wider than my midriff, so this problem is probably limited to people with similar conformation. It is not so bad when I wear the leg leash, which does hold the entire belt down.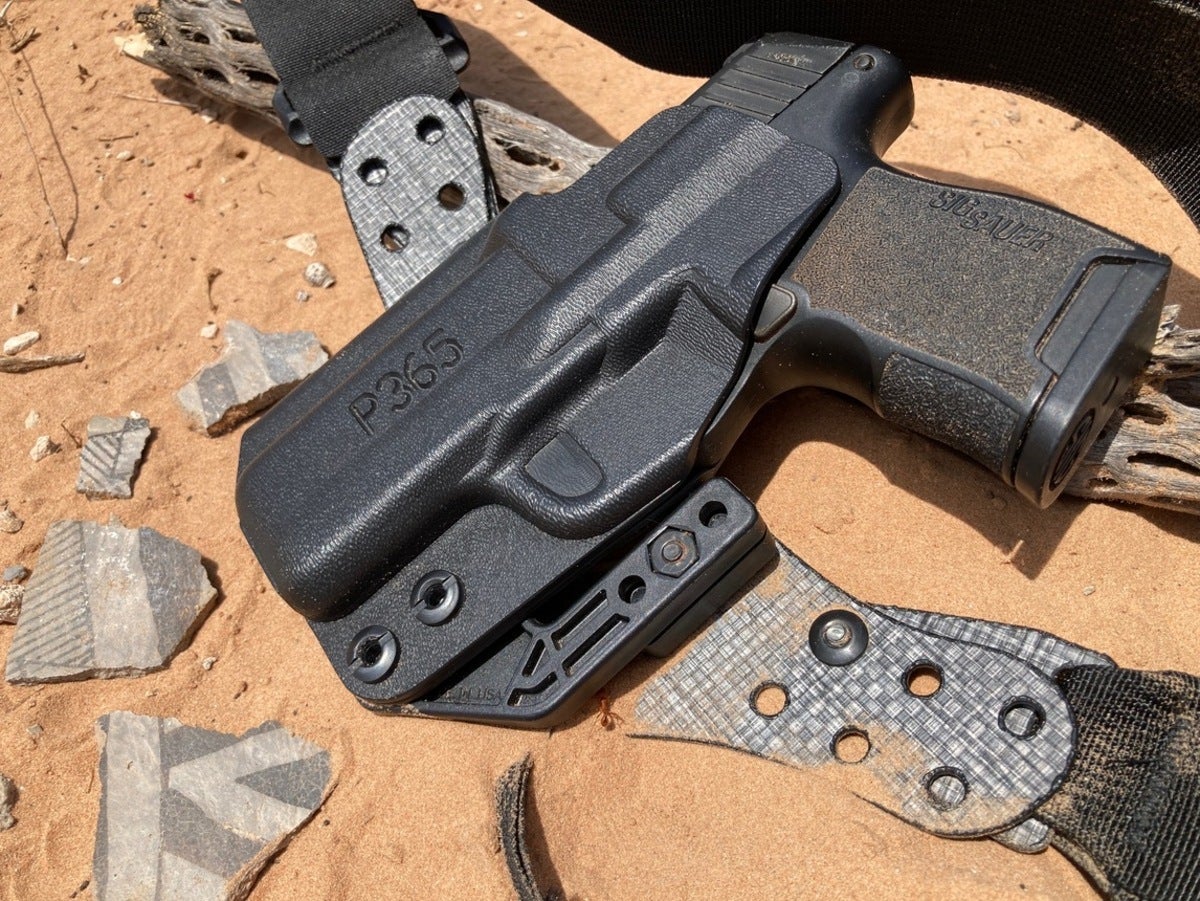 Perhaps it goes without saying, but to be clear, this system is safe in terms of shielding the trigger guard while carrying and keeping the gun from falling out of the holster or off the body. Of course, the user is responsible for keeping their own digits, clothing, and whatever else out of the trigger guard.
Stay tuned for Part 2 of this series, in which I attend a wedding and have a somewhat scary encounter with wild animals while wearing the Enigma.