TFBTV – A $500 Budget Semi-Auto Tactical Shotgun Build
Adam Scepaniak 07.23.21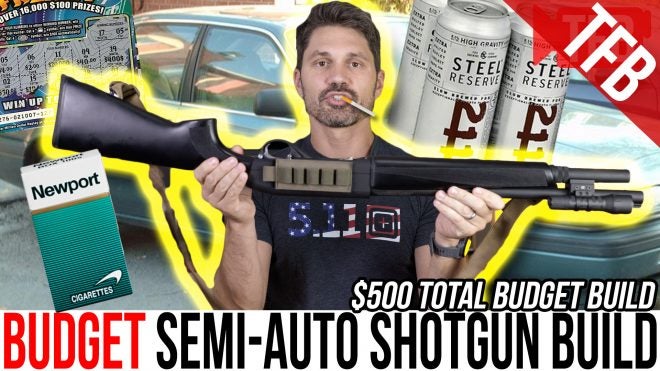 You asked for it: After James' popular Beretta 1301 review and build videos, viewers wanted a budget shotgun build and review. In this episode, James budgets $500 for a semi-auto shotgun build. So, he buys a $400 Black Aces Tactical Pro Series S Max semi-automatic shotgun and then spends $100 at Amazon.com on budget accessories and goes over the build process. A build list is below, along with the budget items James would have bought instead. James will run this train wreck of a rig in a full review airing in 2 weeks.
►► GEAR FROM THIS VIDEO ◄◄
‣ Shotgun: https://blackacestactical.com/product/pro-series-s-max-semiautomatic/
‣ Shotgun Cards: https://amzn.to/3iBe3ub
‣ Flashlight: https://amzn.to/2W3TZJf
‣ Flashlight/Sling Mount: https://amzn.to/3eKpPl3
‣ Blu Collar Patriot Sling: https://amzn.to/2UuNWgI
►► BUDGET ITEMS I WOULD HAVE PROBABLY BOUGHT INSTEAD ◄◄
‣ Shotgun Cards, $7.50 each: Funanasun 6 rd. Shotgun Cards (cheaper than Spankers and hold an extra round. Downside: They are not called "Spankers"): https://amzn.to/3izrtH3
‣ Sling: Magpul RLS, $19 (I trust Magpul and it's only $4 more than the Patriot, plus the guy in the Magpul promo video on Amazon looks like Jeff Bezos) https://amzn.to/3BuwTMh
‣ Flashlight/Sling Mount: Elzetta ZSM $37 (Elzetta is not a high profile company but has been in the business a long time and is based in the US): https://amzn.to/3kJkcXW
‣ Light: Streamlight HL, $69 [nice] (Similar to the Polytac but with an aluminum body for an extra $25 or so. First press is high and doubletap for strobe): https://amzn.to/3zohg75
‣ Light: Surefire G2X Tactical kit w/spare Surefire batteries, $75 (US Made, typically better quality than Chinese-made Streamlights, this one is polymer barrel with an Aluminum head. Do NOT get the "Pro" model because first press is low, and you have to press again to turn on high. Get the "Tactical" version.): https://amzn.to/2Wbhpwv
««« GUN AND GEAR GIVEAWAYS »»»
PLEASE check out our Patreon and Subscribe Star pages if you enjoy our program, and consider helping us at TFBTV out! We give away hundreds of dollars of gear a month to our supporters!
https://www.patreon.com/tfbtv​
https://www.subscribestar.com/tfbtv​
NOTE: These giveaways are not affiliated with, associated with, or in any way endorsed by YouTube and TFBTV is solely responsible for the giveaways mentioned in this video and this description. No purchase required for gear worth over $250.
««« FOLLOW US ON SOCIAL MEDIA »»»
https://www.facebook.com/TheFirearmBlogTV/
https://www.instagram.com/TFBTV/
https://www.reddit.com/r/tfbtv/
««« SPONSORS »»»
Please Support Them! They help make our videos possible.
– Ventura Munitions – www.venturamunitions.com
– Federal Premium – www.federalpremium.com
– Blue Alpha Gear – www.bluealphagear.com
– Top Gun Supply – www.topgunsupply.com
««« TFB CHAT ROOM »»»
Want to join the TFBTV chat room? Use our Discord Invite: https://discord.gg/bcVD9zw
#TFBTV