THYRM Releases CellVault 5M Modular Battery Case
Eve Flanigan 07.29.21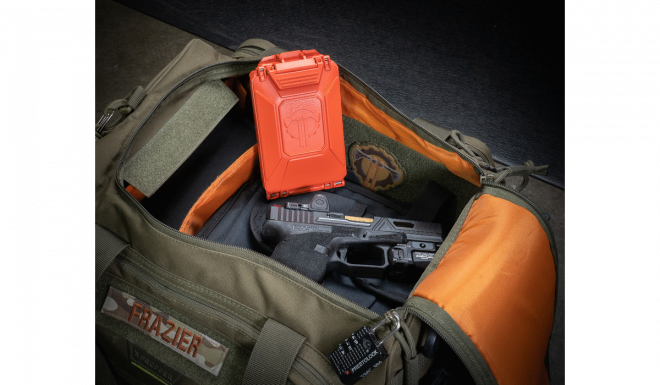 THYRM (pronounced THEER-um) just announced the latest in their protective storage solutions line. The CellVault 5M Modular Battery Case is a compact, weather-resistant storage solution that solves the problem of carrying and protecting spare batteries in austere environments.
The latest rendition of the CellVault is specialized for 18650, 18350, and CR123 batteries with extra wells for CR2032s. Movable inserts allow the user to sort batteries by type or even by ready/depleted statues. An optional modular divider set expands the array of batteries that can be organized in the case.  Dividers anchor to the inside of the case rim and allow users to configure the interior for their particular storage needs. Individual batteries snap into the case securely, staying separated without bulk. A rubber gasket keeps the case waterproofed from short-term exposure, though sustained immersion is not recommended.
The CellVault 5M has integral straps for attaching to MOLLE or webbing. Or, use the Velcro panel to stick it to the side of a pack. When that helmet, night vision device, flashlight, or weapon-mounted light runs out of gas on a hog hunt or other nighttime pursuit, backup batteries can be at the ready in seconds, and thanks to the design of the CellVault 5M interior, other spares won't roll out onto the ground. A sturdy double-hinged closure keeps the case closed securely. THYRM has a great descriptive video demonstration of the CellVault 5M's use.
On the outside, the rugged CellVault case has the molded-in THYRM "T" logo. Four color choices are available:  black, flat dark earth, olive drab, and rescue orange. As with many other THYRM products, this case is one that has utility for anyone who works outdoors or in harsh environments. Hunters, hikers, law enforcement, or fire/rescue professionals could all put this case to work.
Pricing on the CellVault 5M is $54.99 without the optional modular divider kit; $64.98 with the kit. The CellVault is designed and manufactured in the USA.