The Path Less Traveled #020: AllOutdoor Review Opinel No. 2 Knife
Andrew D 08.02.21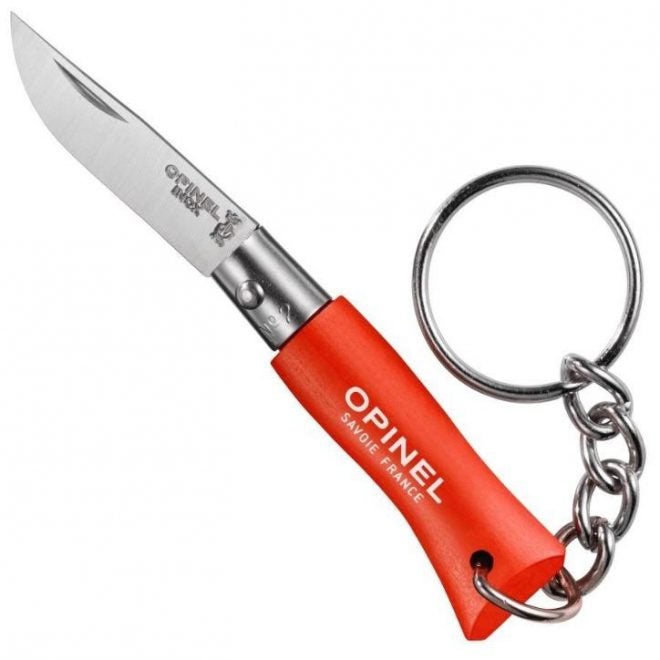 There have been a few times when something of novelty status has changed my life. I think this is one of those times. This week, in the mail, I received an Opinel No. 2 knife and despite its diminutive size, I think I am in love.

---
Welcome to our recurring series of "The Path Less Traveled." In this series, we want to take you along for our exploits out in the wilderness while hiking, camping, exploring, and general adventuring. This will include our small daily victories, foibles, tips, tricks, and reviews of gear we authentically appreciate and frequently utilize. While a well-worn trail can often be the pathway to a leisurely day, the paths less traveled can often spur on some of the greatest memories, misadventures, and fun we could imagine. Join us in the Comments as we share our travels and hopefully, we can all come together for a greater appreciation of the outdoors.
---
Company Info – Opinel Knives
I could list off the 131 year history of Opinel Knives, but I know my audience well enough to say they probably already know it, or they know how to check Wikipedia or Opinel's site on their own. I will make a bulleted, abridged notation of their highlights:
1890 – Joseph Opinel, a curious man in Savoie, France let his curiosity and inventiveness run wild and developed the Opinel No. 8.
1955 – The Vibroc locking ring was developed and placed on Knives No. 6 and larger.
2016 – Opinel opens Opinel USA in Chicago, Illinois.
While their folding knives are very self-explanatory due to their ubiquitous nature, Opinel also makes many other things including spreaders, chef's knives, folding tree-trimming saws, and many premium products for your pocket or kitchen. You should check out their site!
Product Info – Opinel No.2
The Opinel No.2 is Opinel's smallest knife and comes in two options – with or without key chain ring. The no key-ring model solely comes in Beech Wood. The knife comes in five colors for the key chain model:
Beech Wood
Emerald (Green)
Tomate (Orange'ish)
Sky Blue
Anise (Greenish-Yellow)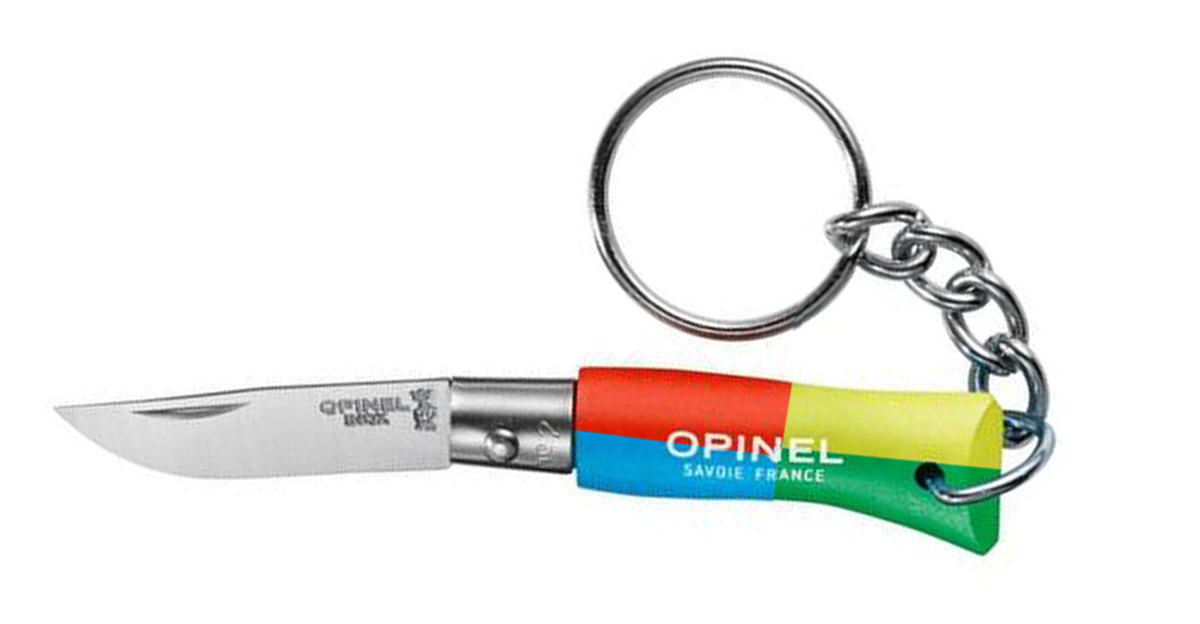 Blade length is 34.5mm (1.36 in.), 1mm thick and weighs 8 grams.
Opened dimensions are about as long as a .300WM, if you wanted some tangible comparisons.
Closed dimensions are roughly the same size a Leatherman Micra, sans hinge area.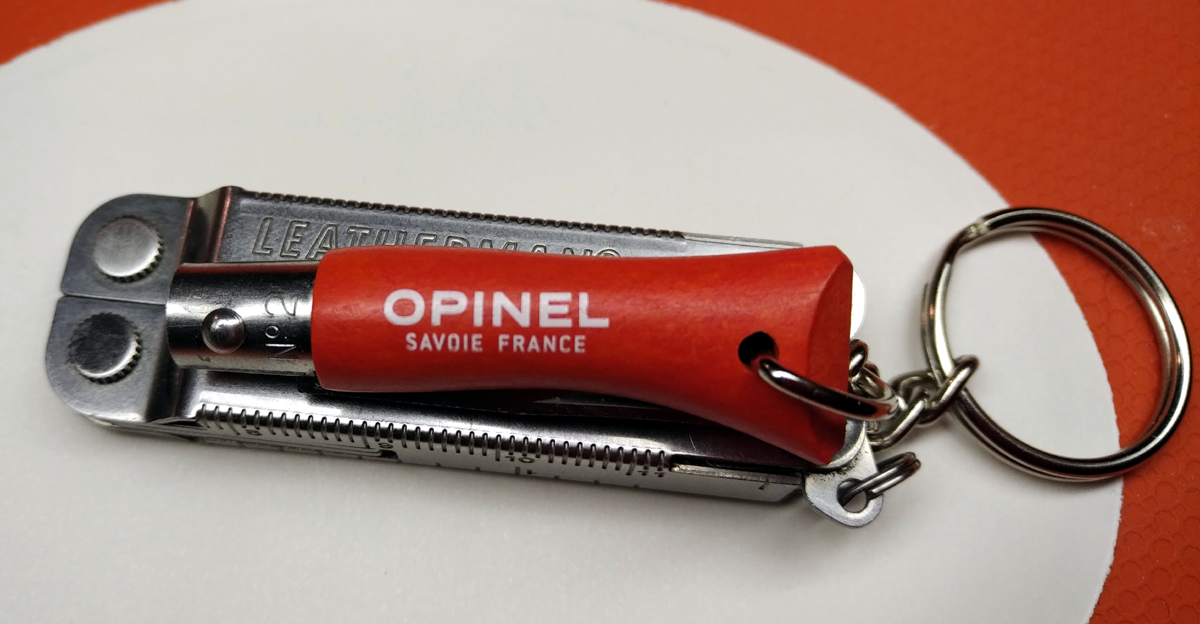 Let's cut to the chase, here are some other knife posts:
Observations
I purchased the Opinel No.2 from Opinel's website for $10 and $3.95 shipping. It arrived in two or three days, much earlier than I had expected!
The sheer novelty of having a tiny, non-offensive knife that weighs as much as three or four peanut M&M's is just fun. I think fun is the best way to describe this knife.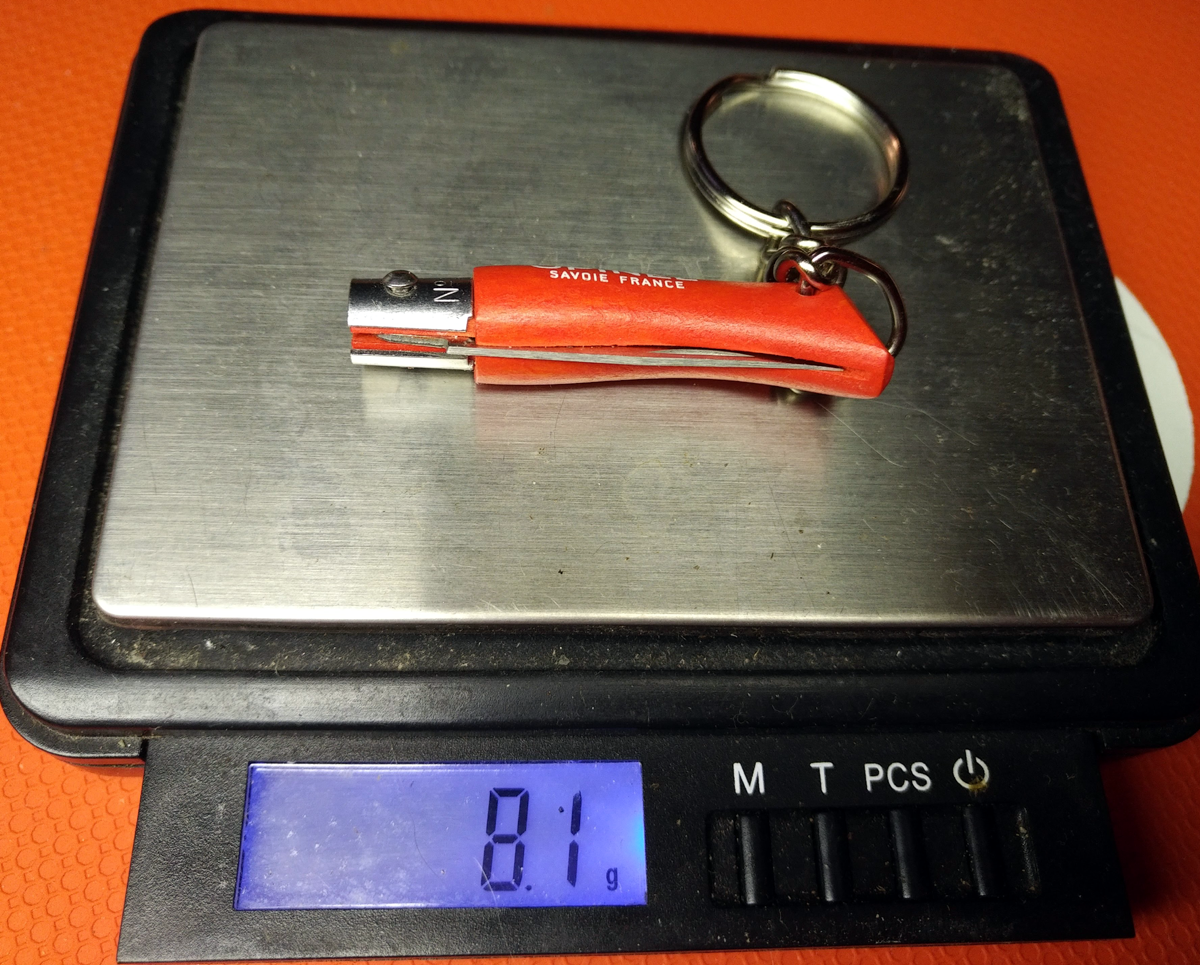 Opinel's No.2 knife is great at opening packages, meals, bubble wrap packages, and even kinda good at digging crud out from under your nail. I have several employees I showed it to that:
Wanted it.
Had no concern with it being on a campus where knives are verboten.
Said how neat it was compared to their Old Timer or Case knife their father left them.
I've stuck to using this knife as my daily beater knife as the price, size and friendly nature of it does not make it feel out of place.
Seeing how it is 6x lighter than any one of my plethora of Leatherman Micras, I feel it has a spot on my backpack on my next camp trip for trivial duties. We're not talking about using this to carve a spear or feather a stick for tinder – a bigger knife definitely has a purpose for these kinds of tasks. I imagine using this to get a broken nettle thorn out of my leg if I forgot my tweezers at home.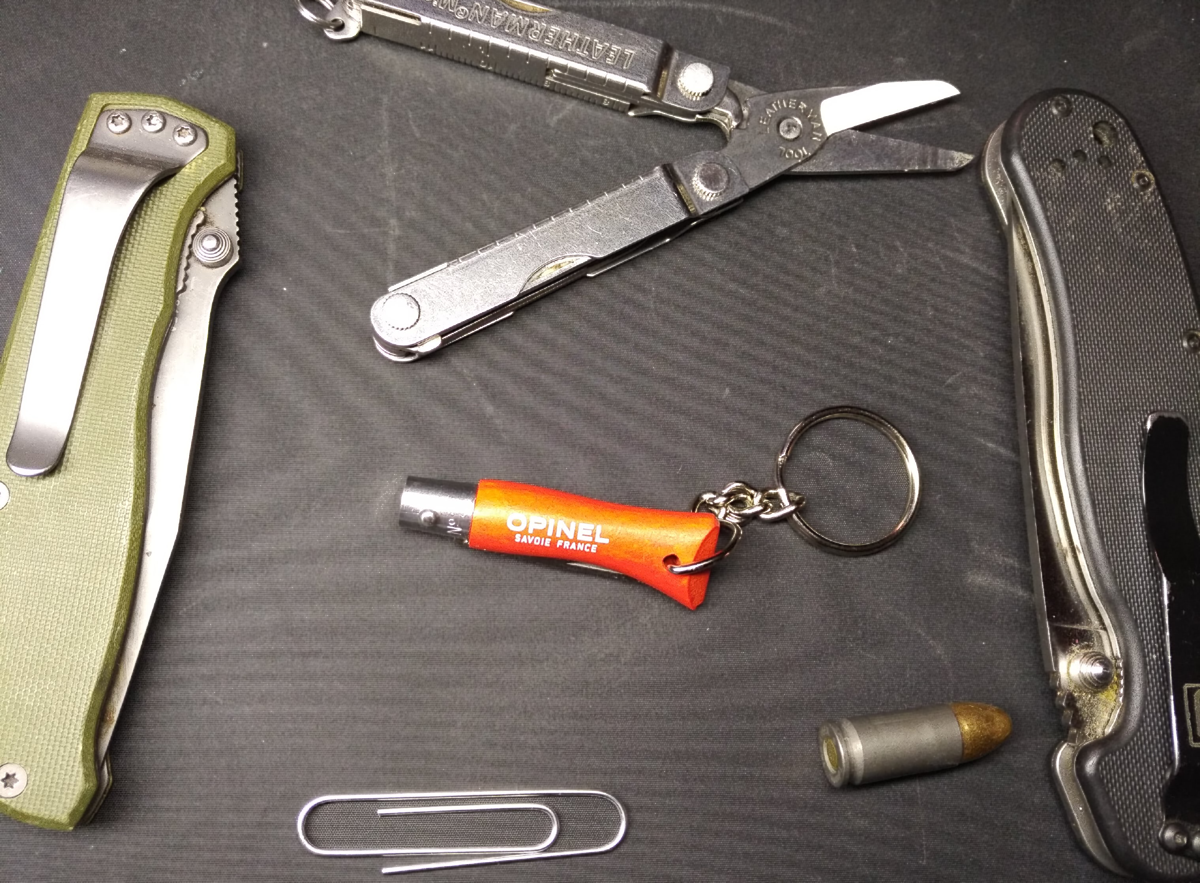 After buying this knife, I see a lot more Opinel folding knives in my future. @Opinel – If you're up for it, send me anything, especially your Orange Butter Spreader! ?
Comparison
My closest comparisons for the Opinel No.2 are from very different philosophies. I still believe, just like the Opinel No.2, you would have no problem taking one of these on the trail, or in the office. Your miles may vary. Follow all laws and regulations.
First off, the Gerber GDC Zip Blade:

Gerber GDC ZIP BLADE
$13.00 (as of August 01, 2021)
Compact .68-inch Plain Edge utility blade
Product Number31-001742
Length2.26 in
Weight1 oz
Secondly, those style of farmers knives you see someone pull out of their coin pocket in their jeans comes to mind.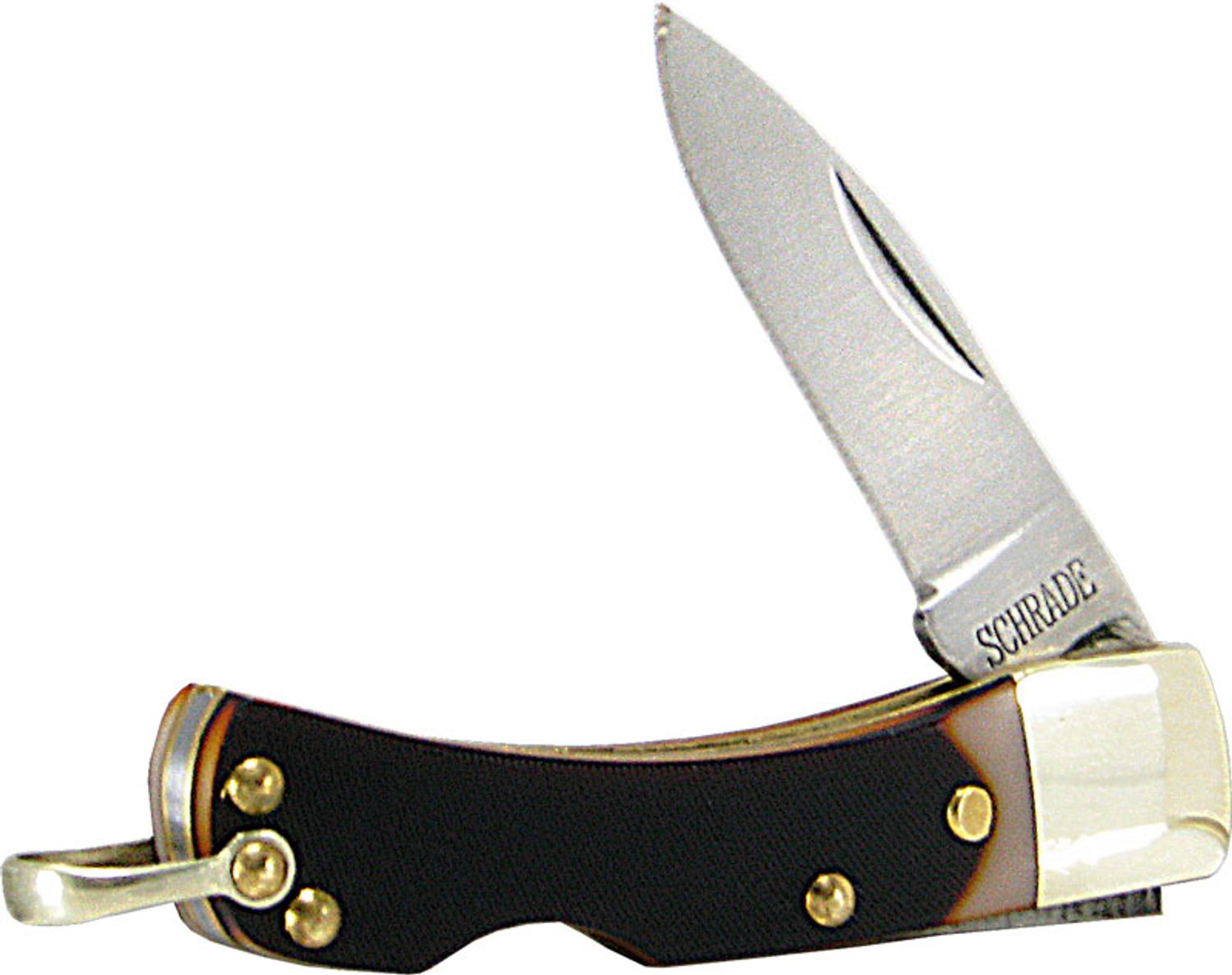 Old Timer Small Lockback Folding Pocket Knife
$19.99 (as of August 01, 2021)
HIGH CARBON STAINLESS STEEL
BLADE LENGTH: 1.6 IN
TOTAL LENGTH: 3.8 IN
Specifications – Opinel No.2 Folding Knife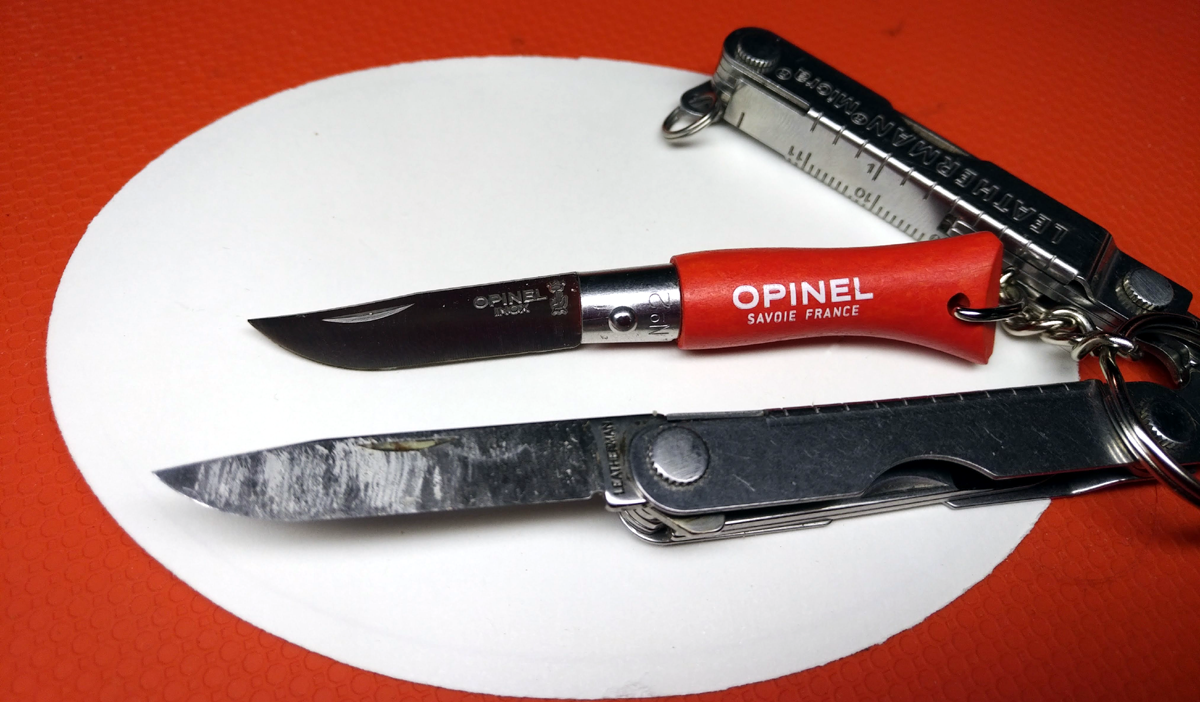 "The Opinel No.2 is our smallest model and does not feature the Virobloc safety ring. This tiny knife is commonly used to perform small tasks such as opening letters or cutting papers. This is a very small knife; please review its size before purchasing."
Price: $10.00

Dimensions: 3.25″ x 0.25″ x 0.25″

Blade Material: Sandvik Stainless Steel 12C27 Mod.

Blade Length: 1.36 inches

Handle Material: Hornbeam (Colored), Beech Wood

Keychain: All colored models are 

keychain only

.
Weight: 0.18 oz
Made in France