Curious Relics #019: The Tricky Togglelock – The Stoeger Luger Part II
Sam.S 08.11.21

Welcome, if you are a newcomer to this fun bi-weekly segment of AllOutdoor.com! The last time in Part One I covered the history and the set of variations of the Stoeger Luger .22 L.R. CAL. Automatic Pistol. This time we are finishing up with Dating, Specifications, Aftermarket Information, Range Time, and My Final Thoughts. Today we are back into the variation of a firearm icon, the Stoeger Luger. Let's dive right into the rabbit hole!
---
Welcome to our recurring series of "Curious Relics." Here, we want to share all of our experiences, knowledge, misadventures, and passion for older firearms that one might categorize as a Curio & Relic  – any firearm that is at least 50 years old according to the ATF. Hopefully along the way you can garner a greater appreciation for older firearms like we do, and simultaneously you can teach us things as well through sharing your own expertise and thoughts in the Comments. Understanding the firearms of old, their importance, and their development which lead to many of the arms we now cherish today is incredibly fascinating and we hope you enjoy what we have to share, too!
---
Dating: Stoeger Luger .22 L.R. CAL. Automatic Pistol
Unfortunately, there is no serial number lookup or reference chart, but luckily there are internet sleuths and firearm fanatics interested enough to help narrow things down. At the change to steel, the safety positions were also painted to indicate safe or fire. People use this information as a way to identify when their Stoeger Luger was made. If you are not sure of the composition of your frame try putting a magnet on it. If it sticks it was produced sometime after 1980.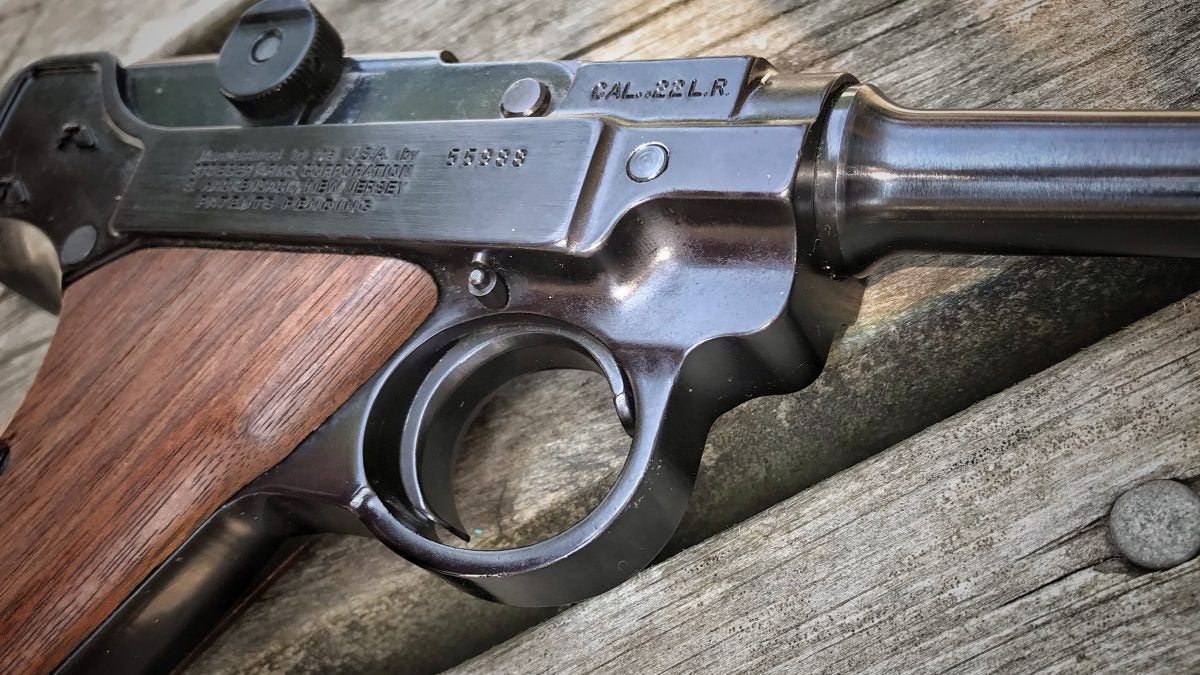 Another change that happened very early on was the switch from checkered walnut to smooth wood grips. Other than that there appears to be a change in font sizes and positions on the frame that may have given some indication of dating. The font size information was found here at a gun forum in which a user named Moonpie did an admirable deep dive that I recommend checking out if you want to narrow down the date of your Stoeger Luger.
Specifications: Stoeger Luger .22 L.R. CAL. Automatic Pistol
The Stoeger luger would come in a box like the one below with a warranty card, parts reference sheet, and manual (mine is a reproduction). Besides the gun, it would also come with two magazines total. The operation of the gun is pretty much exactly like its real-life counterpart.
Years Produced: 1969 – 1985
MSRP In 1972: ~ $70
Chambering: .22 Long rifle
Barrel Length: 4.5″ | 5.5″
Overall Length: 10 Inches (Our Example has a 4.5 Inch Barrel)
Weight: 1 Lb 13.9 Oz (with empty magazine)
Trigger Pull: 2.5 Lb
Operating System: Blowback
Safety: Manual Selector
Rear Sight: Fixed Square Notch
Front Sight: Fixed Front Serrated Ramp
Magazine: 10-Round Detachable Box Magazine
Grips: Checkered Walnut (early) or Smooth Walnut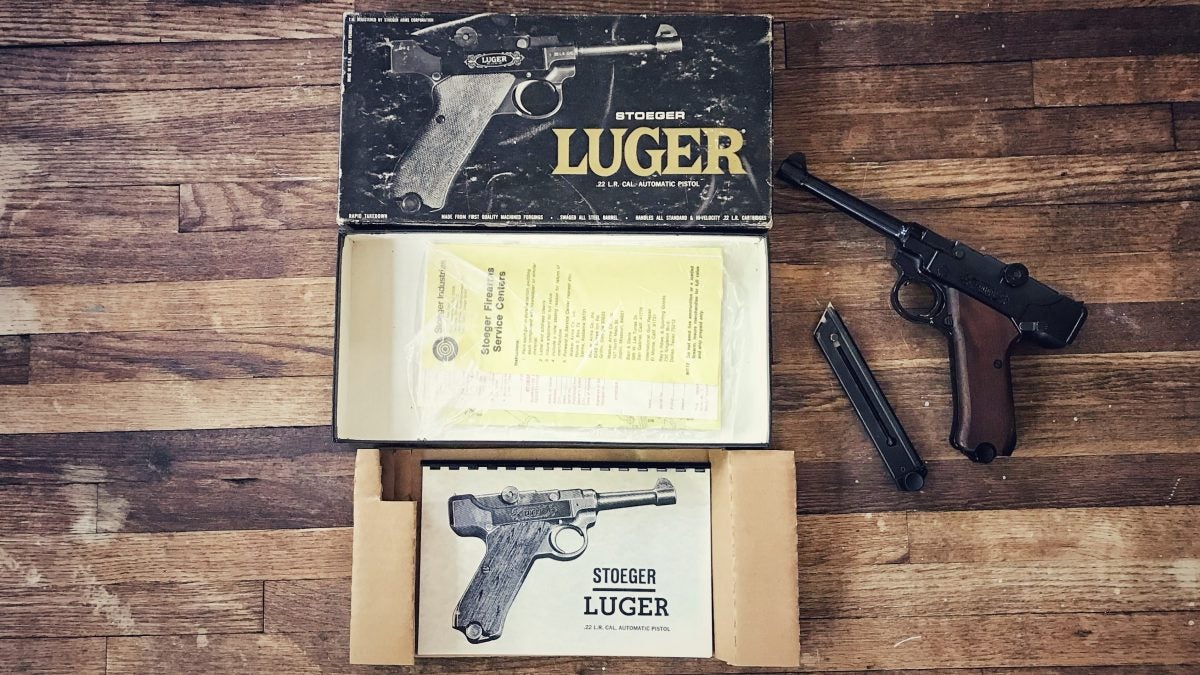 After Market Parts & Accessories: Stoeger Luger .22 L.R. CAL. Automatic Pistol
When it came to my usual search for parts for the Stoeger Luger I was somewhat disappointed because even though parts are available on websites such as SARCO Inc,  Jack First, and Numrich there seems to be a very limited variety of parts. When the Stoeger Luger came out there were leather holsters offered although I could not locate one to take pictures with. Besides those basics, I found a speedloader for the magazine that RE-Supply on eBay makes, but a regular HKS 22b speed loader that I have for my Ruger MK4 Tactical works much better cause it stays in place. Just make sure to only bring the follower down far enough for ten rounds of 22. Beyond that, the follower assist button will fall out of the disassembly hole.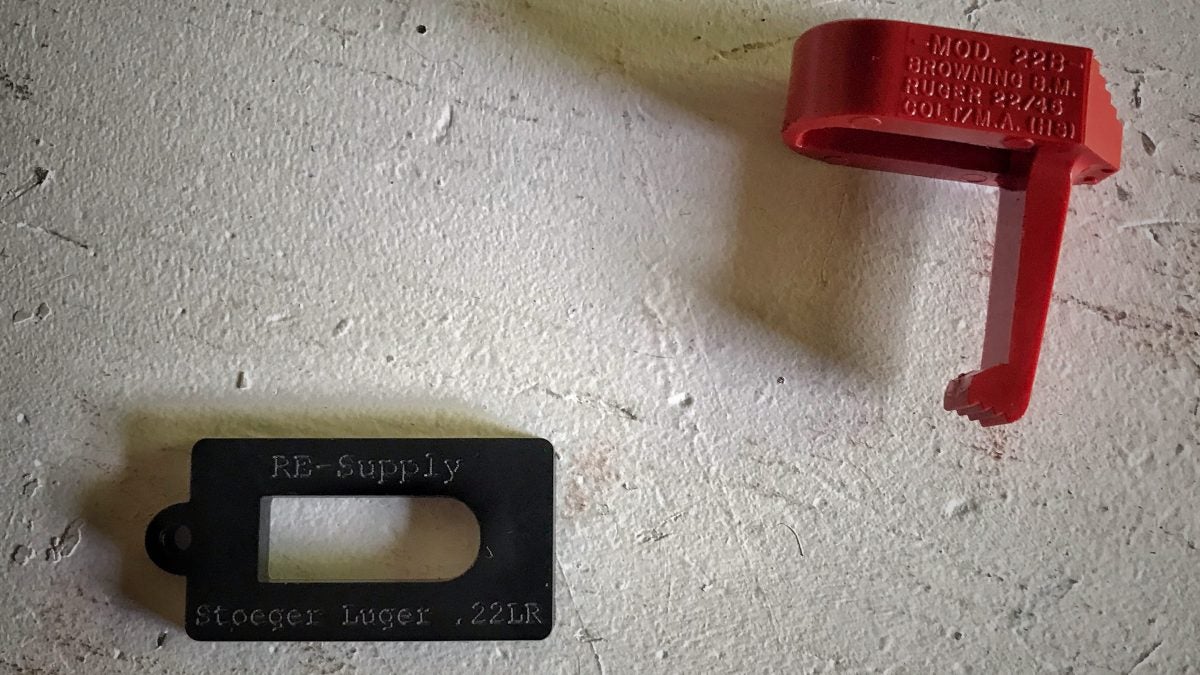 Range Time: Stoeger Luger .22 L.R. CAL. Automatic Pistol
Range time with the Stoeger Luger was interesting. I went into this finicky pistol with an open and logical mind just like I did with the Charter Arms Explorer II that I previously covered. The biggest difference between that one and this one is that I did not take this gun apart and lubricate areas that would deem necessary. When I acquired this pistol it was basically new in the box. I shot my first ten shots at ten yards and it was a surprising group.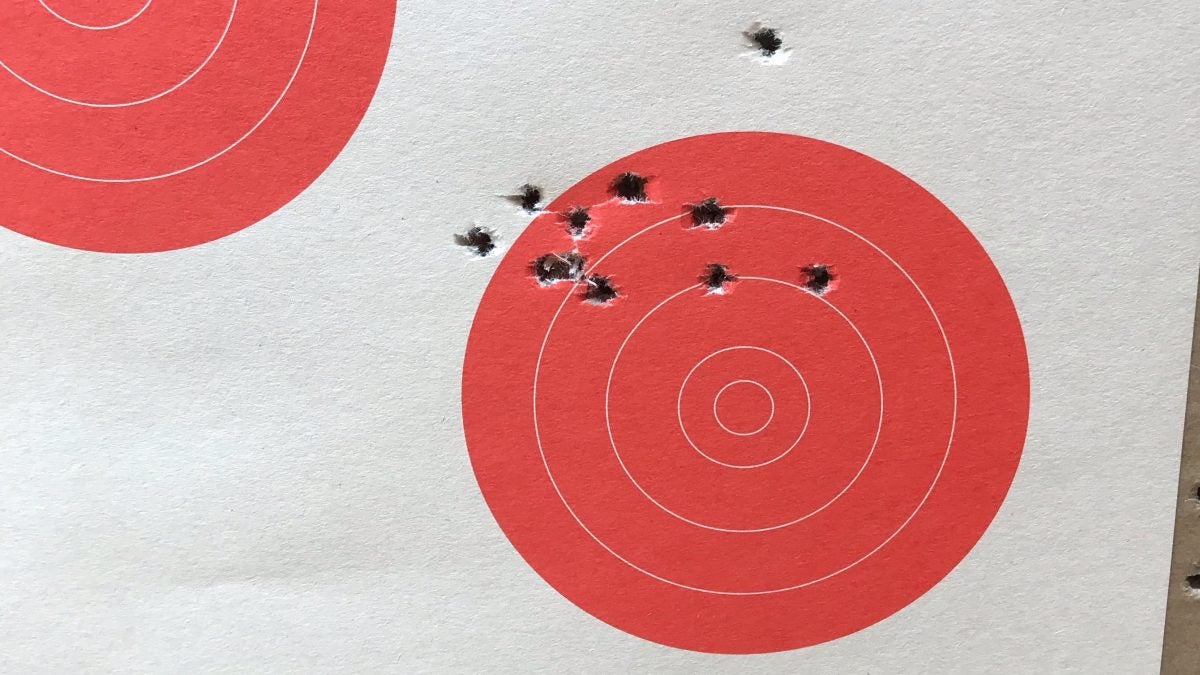 I started out with a 10 round magazine of Federal 40 grain lead with a velocity of 1,200 FPS. The ten shots of that are on the paper target shown and there were three total malfunctions. All malfunctions were failures to feed a new round fully into battery. I did shoot some old Winchester Xpert 40 grain lead ammo which seemed to feed even more poorly which is probably due to its degradation with age. On a later date, I shot some old Remington plated hollow-points that I have had since I was a kid and two magazines cycled perfectly. Judging by the failures to feed fully I would wager that polishing the chamber would probably solve the problem.
Final Thoughts: Stoeger Luger .22 L.R. CAL. Automatic Pistol
Aside from the difficulties this gun may present they are all easy to forgive because of its closeness to an iconic piece of arms history.  The sheer exposure to an amalgamation of a different sort of action, one uncommon to us today makes it worthwhile in my opinion to know or own or collect. I really enjoy working with this pistol because even clearing jams tend to be a moment of satisfaction.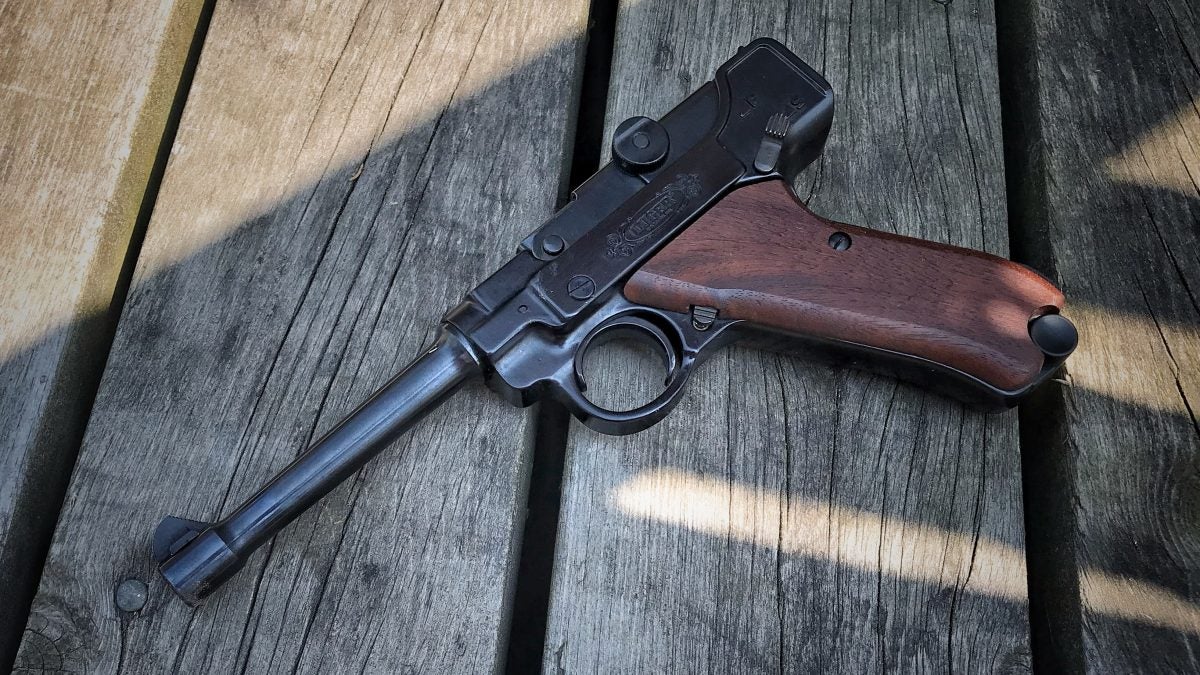 In closing, I hope our Curious Relics segment informed as well as entertained. This all was written in hopes of continued firearm appreciation and preservation. We did not just realize how guns were supposed to look and function. It was a long and tedious process that has shaped the world we live in. So, I put it to you! Is there a firearm out there that you feel does not get much notoriety?  What should our next Curious Relics topic cover? As always, let us know all of your thoughts in the Comments below! We always appreciate your feedback.