Cold Steel offers up the NEW SRK Fixed Blade Survival Rescue Knife
Luke Cuenco 08.12.21

Knives are great tools that can be insanely helpful and useful no matter the situation. Whether your goal is to have a handy slashing and cutting tool for everyday applications or you need a dedicated hunting knife, the New SRK Fixed Blade knife is there to help. The new blade features two distinct designs the SK-5 and the brand new VG-10 San Mai variant. Each knife comes with a 6-inch full tang blade and its own sheath.
Cold Steel Offers Up the New SRK Fixed Blade Survival Rescue Knife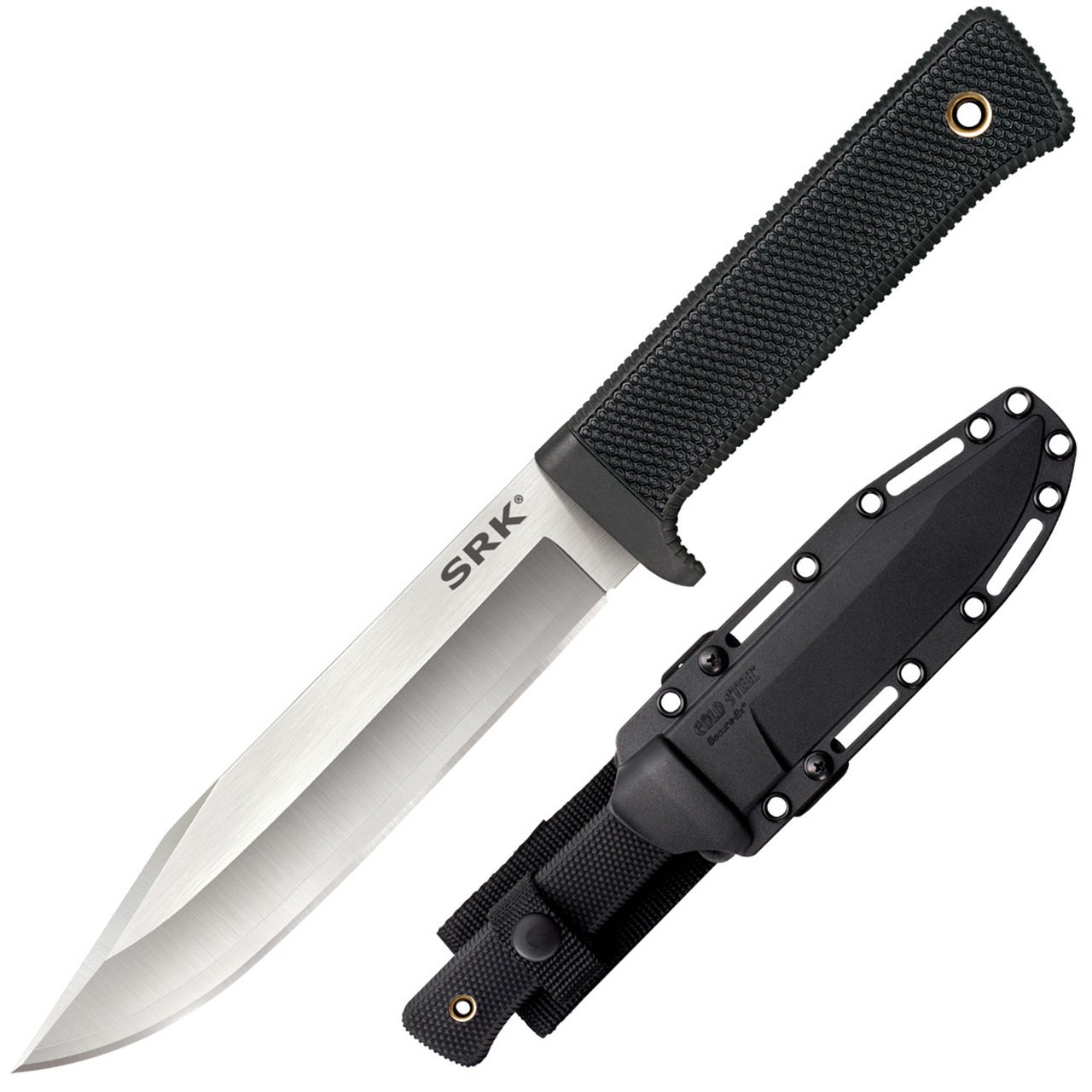 The SRKs handle sports a single quillon finger guard and a deeply checkered Kray-Ex grip. If you want a knife you can bet your life on, and is reasonably priced, check out our SRK its the knife for you.
Featuring the same blade design as the SK-5 the main difference for this SRK is its VG-10 San Mai blade steel. The San Mai steel is tremendously strong and also fine enough to do delicate work like skinning and more accurate slashing. The blade is very fine at just 3/16ths of an inch thick, but not too thin as to compromise the blade integrity. The SRK handle sports a single quillon finger guard for safer cutting as well as deep checkering for a better grip through a variety of conditions. The New SRK (VG-10 San Mai) blade is available for $179.99 and comes complete with a secure-ex sheath and a limited lifetime warranty.


Featuring a 6-inch SK-5w steel blade with a Black Tuff-Ex finish, the SRK SK-5 blade is marketed as a Survival Rescue Knife (hence the SRK naming). The knife design is apparently popular with the NAVY Seals during BUDS training due to its performance in demanding environments. The SRK is available with a lifetime warranty and lifetime free sharpening service for those who choose to carry the SRK (SK-5) blade. The SRK (SK-5) is available for $69.99.
Either of these knives would work great to take with hunting or camping, and should stand up to just about anything you can throw at it. In regards to the VG-10 San Mai blade, San Mai steel is said to be both supple and incredibly sharp making for a good slashing and cutting tool. This same steel is the same type of steel that was used to make samurai swords and is now used with many modern production knives for its unique characteristics and flexibility as a cutting tool.