AllOutdoor Review: Maven 10x42mm B1.2 Binocular With ED Glass
Doug E 09.01.21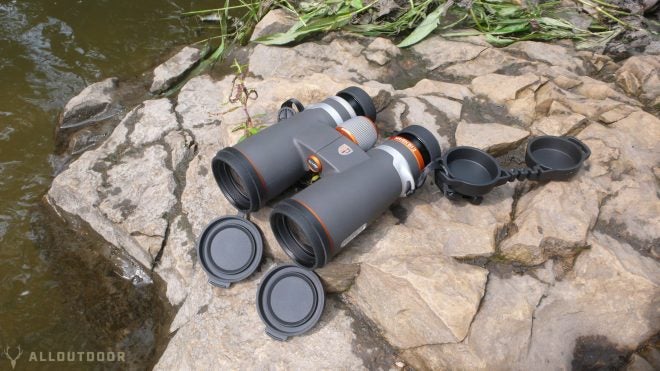 Seeing your prey on a hunt, viewing far away landmarks, or just watching the world go by is best done with a sturdy pair of binoculars. I've always found a satisfaction in seeing as much of my natural surroundings as I can, or focusing in on a problematic spot of town on duty with binoculars, so when I was given the chance to test out Maven's new B1.2 binocular, I was curious to see if they would stand up to their price bracket. Let's take a closer look at Maven's latest offering.
Maven @ AllOutdoor
Specifications – Maven B1.2 Binocular
Magnification: 8x | 10x
Objective Lens Diameter: 42mm
Exit Pupil: 5.25mm | 4.2mm
Field of View (FOV): 8.0° | 6.6°
Apparent FOV (FOV x Power): 64° | 66°
Field of View (Ft/1,000 yds): 420 | 362
Brightness: 27.6 | 17.6
Light Transmission (%): 93.95% | 94.50%
Twilight Factor: 18.3 | 20.5
Multi Position Eyecups: Yes
Eye Relief: 18.1mm | 17.8mm
Near Focus: 4.9ft
Eye Width Adjustment: 56 – 74mm
Dimensions (W x H x D): 5.2″ x 5.7″ x 2.2″
Weight: 26.8 Oz
Objective Lens Construction: 3 Groups, 4 Elements (ED)
Ocular Lens Construction: 4 Groups, 5 Elements | 4 Groups, 6 Elements
Prisms Type: Wide Angle, Schmidt-Pechan
Prism Reflective Coating Type: Dielectric Coating
ED Glass with Scratch and Oil Resistant Lens Coating
Diopter Correction (dpt): +/-3 | +/-5
Pressure Tested: 1m for 30 min. (IPX7)
Storage Temperature & Functional Temperature: -40°~158°F | -13°~140°F
Frame Material: Magnesium
Internal Gas Purged: Nitrogen
Tripod Adaptable: Yes
Origin: Japanese Components assembled in the United States of America
Initial Impressions of Maven's B1.2 Binocular
Maven's packaging is quite unique, and utilizes a pressed paper carton, surrounded by a clean cut cardboard slip. While the carton is clearly specially made, you get the feeling that it's simply made to get your optics to you safely, with the expectation that you're not going fuss about the box. This appearance is refreshing as it seems rustic and practical for the rough and tumble demographic that just wants to get out and use the gear in any type of environment.
Getting to the B1.2 binocular inside, I found the rubberized coating on the barrels to be nice and grippy, and the grey and orange color scheme wasn't too loud. I immediately noticed the rubber objective lens covers that are retained by a ring around each barrel. The covers can be replaced or removed if desired, but I liked that feature since I've grown tired of having to remove lens covers separately which can easily roll away or get lost over time. The cover over the eyepieces is a single unit that can attach to the supplied neck strap, and it allows for full movement of the binocular's adjustment angle while still protecting the ocular lenses.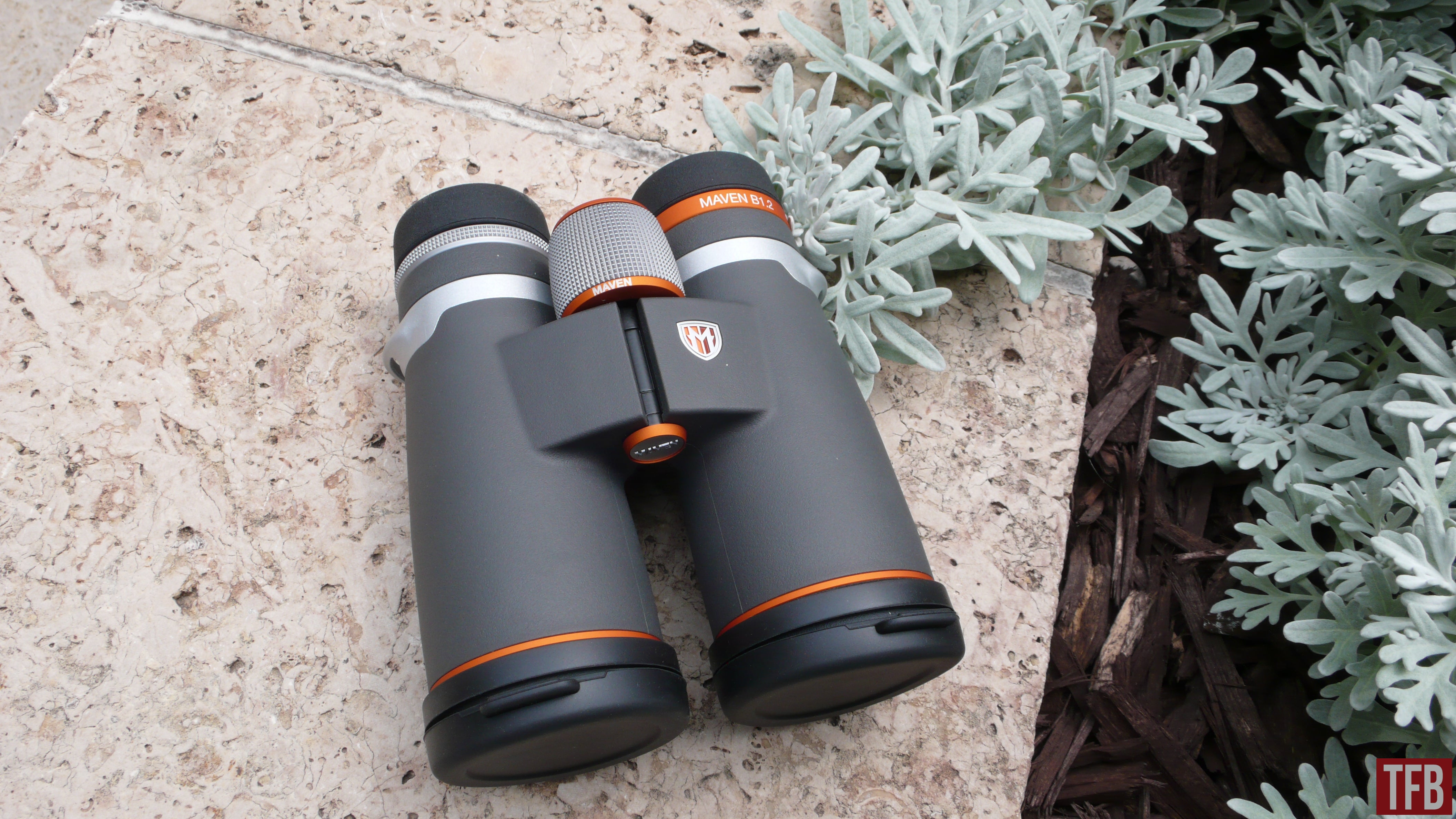 When I adjusted the left eyepiece, I noticed that it was loose when I moved it to the furthest position, but it was a quick fix by grabbing the tube just under the eyepiece adjustment and tightening it down with two fingers.
The diopter ring on the right side was slightly stiff, but I prefer it that way so that it takes intentional force to adjust. The knurled focus wheel glides smoothly and is textured perfectly for precise adjustments.
Range Time
The use of Extra-Low Dispersion, or ED glass really shines and this was the clearest set of binoculars I've ever used. The image is crisp from edge to edge and the color is quite true to life. I took the B1.2 binocular on all of our family trips during my time with it and enjoyed checking out our surroundings through it.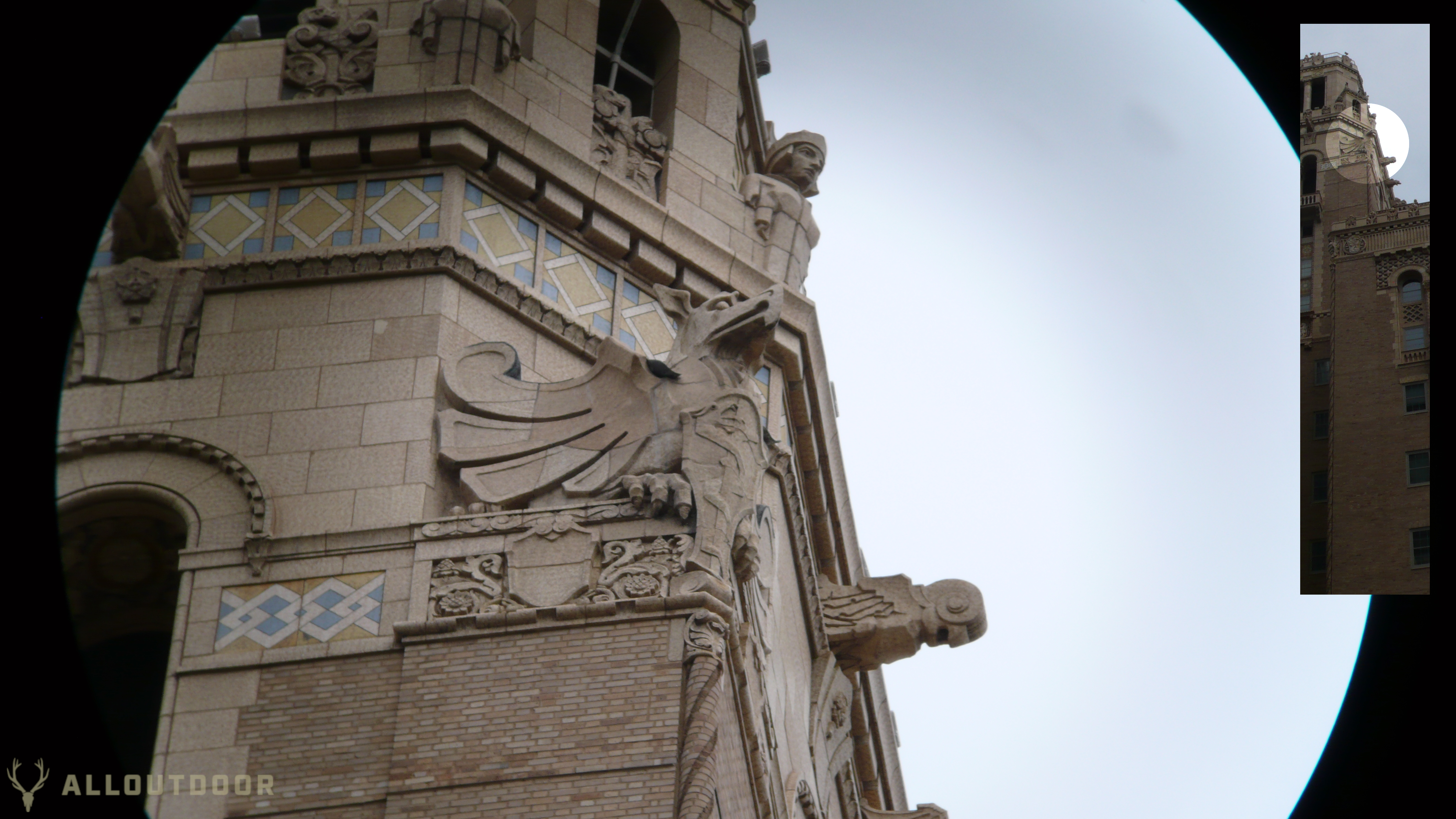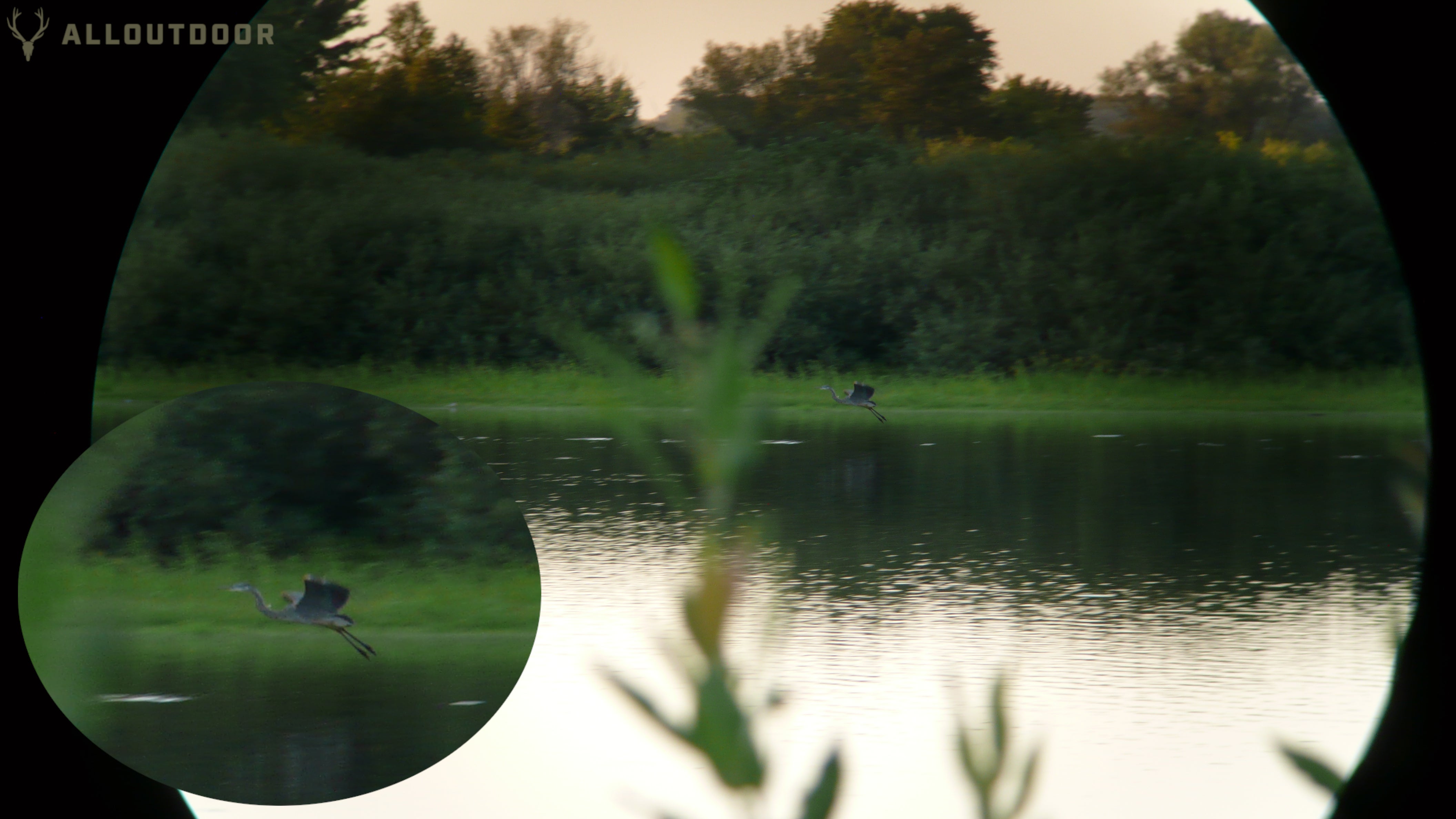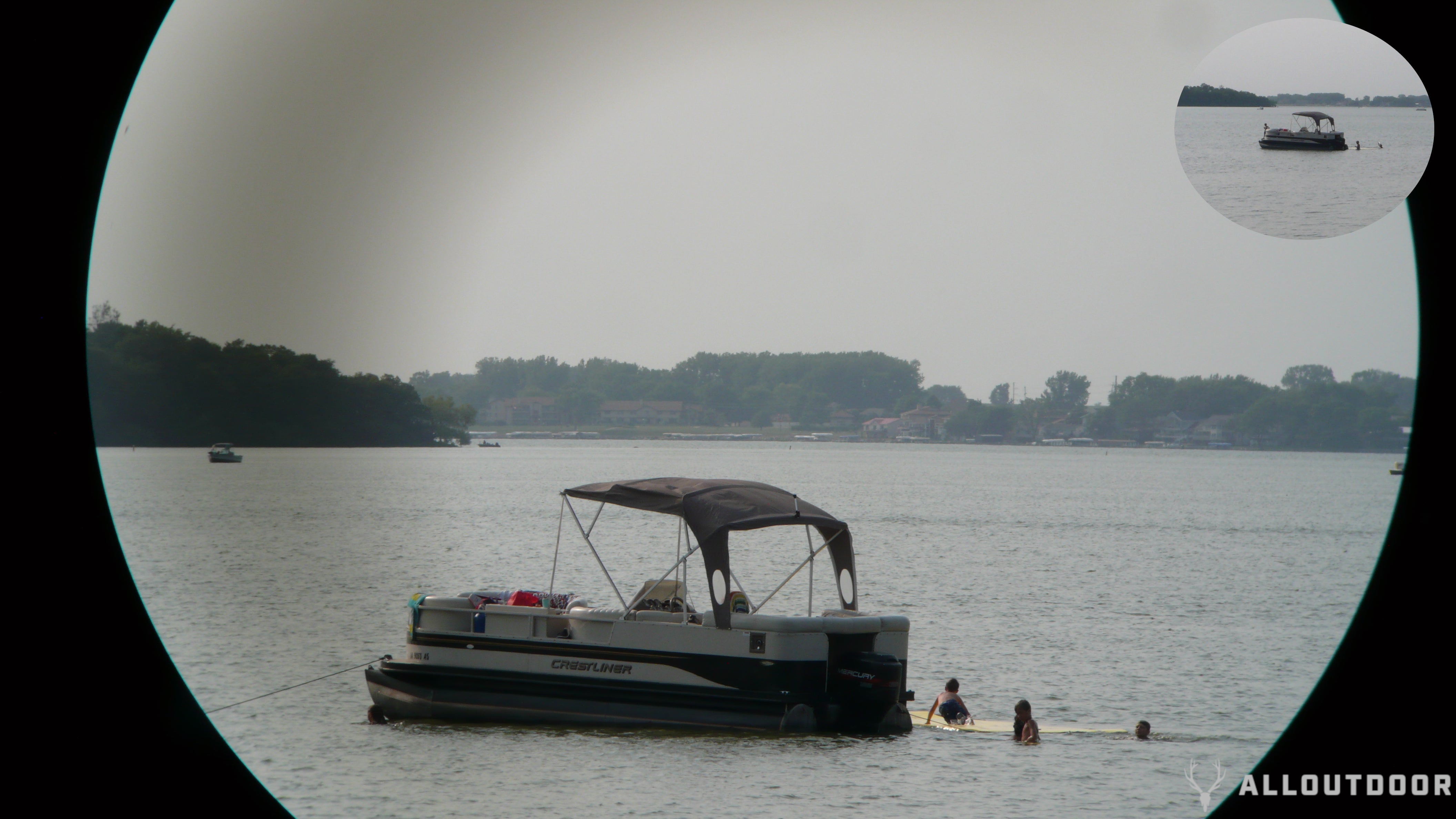 Using the B1.2 binocular at night also worked great as long as it was in an urban environment. A local bar had very large crowds over several weekends, so I parked the squad car a few blocks away and used the Maven binocs to make sure no fights broke out during closing time. The colors of people's clothes were still vibrant under the city lights. The image below is only blurry due to the camera taking a slightly longer exposure and some movement I imparted to it.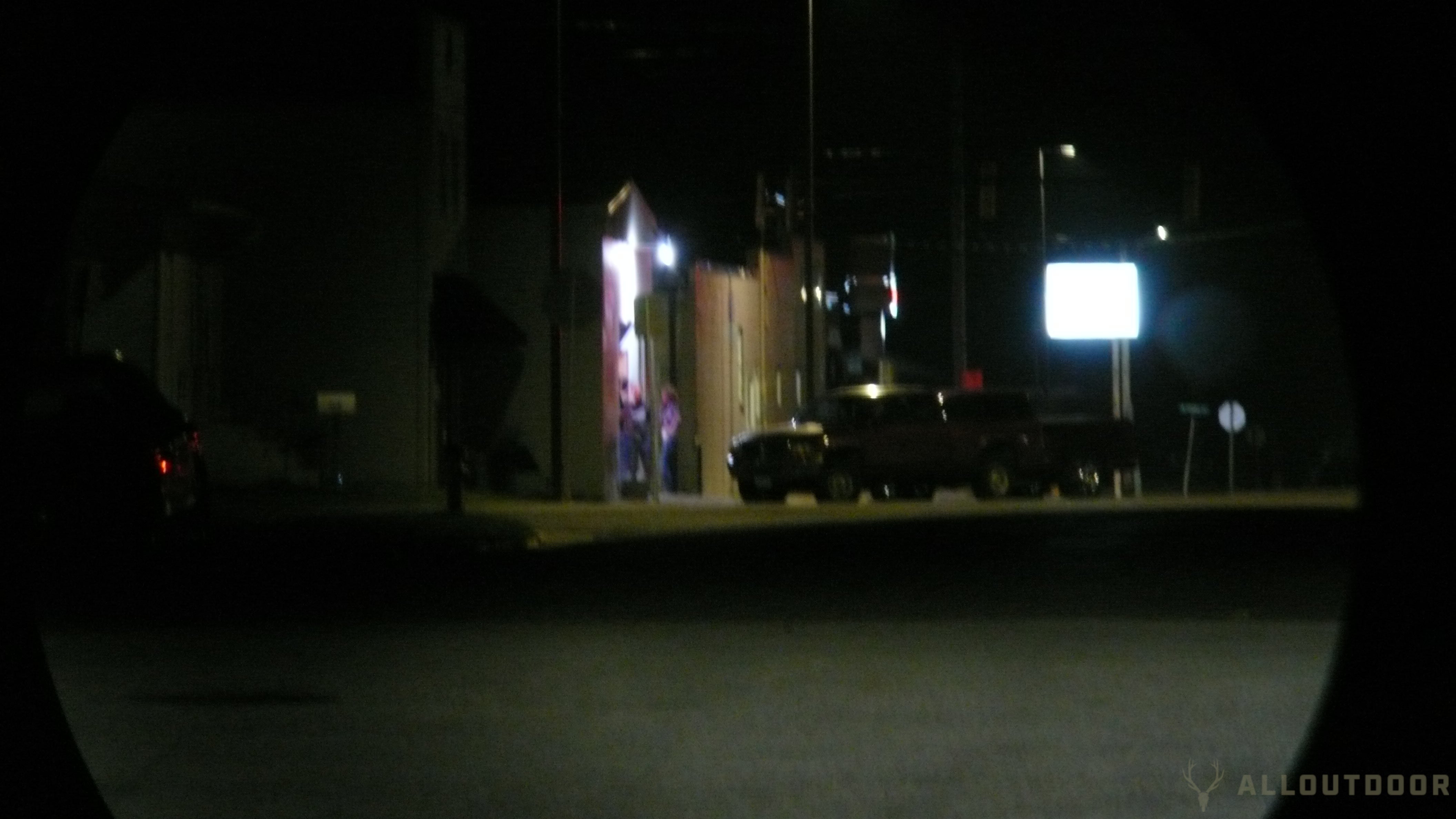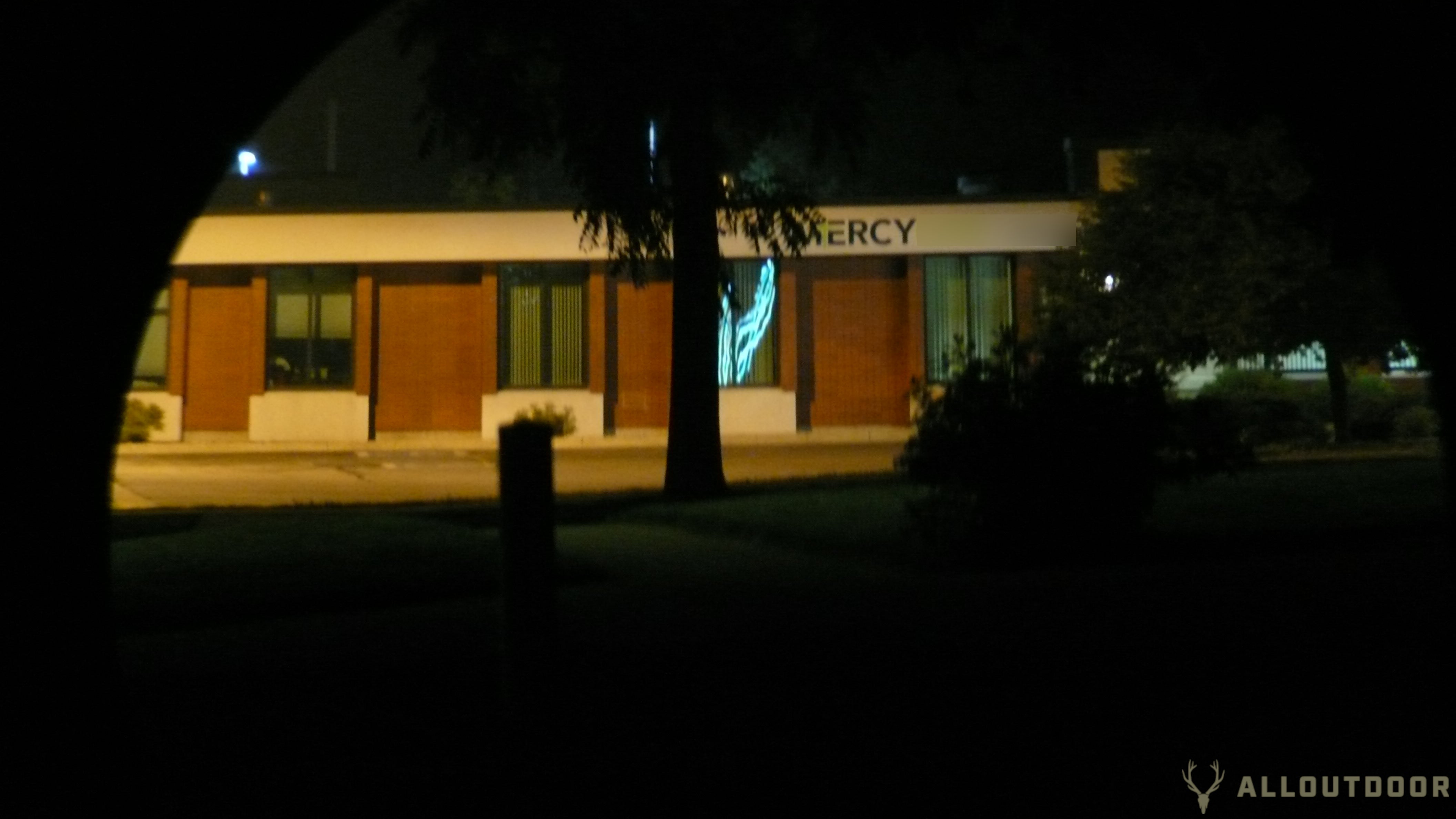 My camera also really liked the Maven B1.2 10x42mm binoc, and it has never jived so well with any other optic. I was also glad for the reduced size compared to the B.1 that this model replaced in Maven's lineup since it fit easily into my packs, whereas the longer version would've been hard to zip into my smaller long range rifle support bag.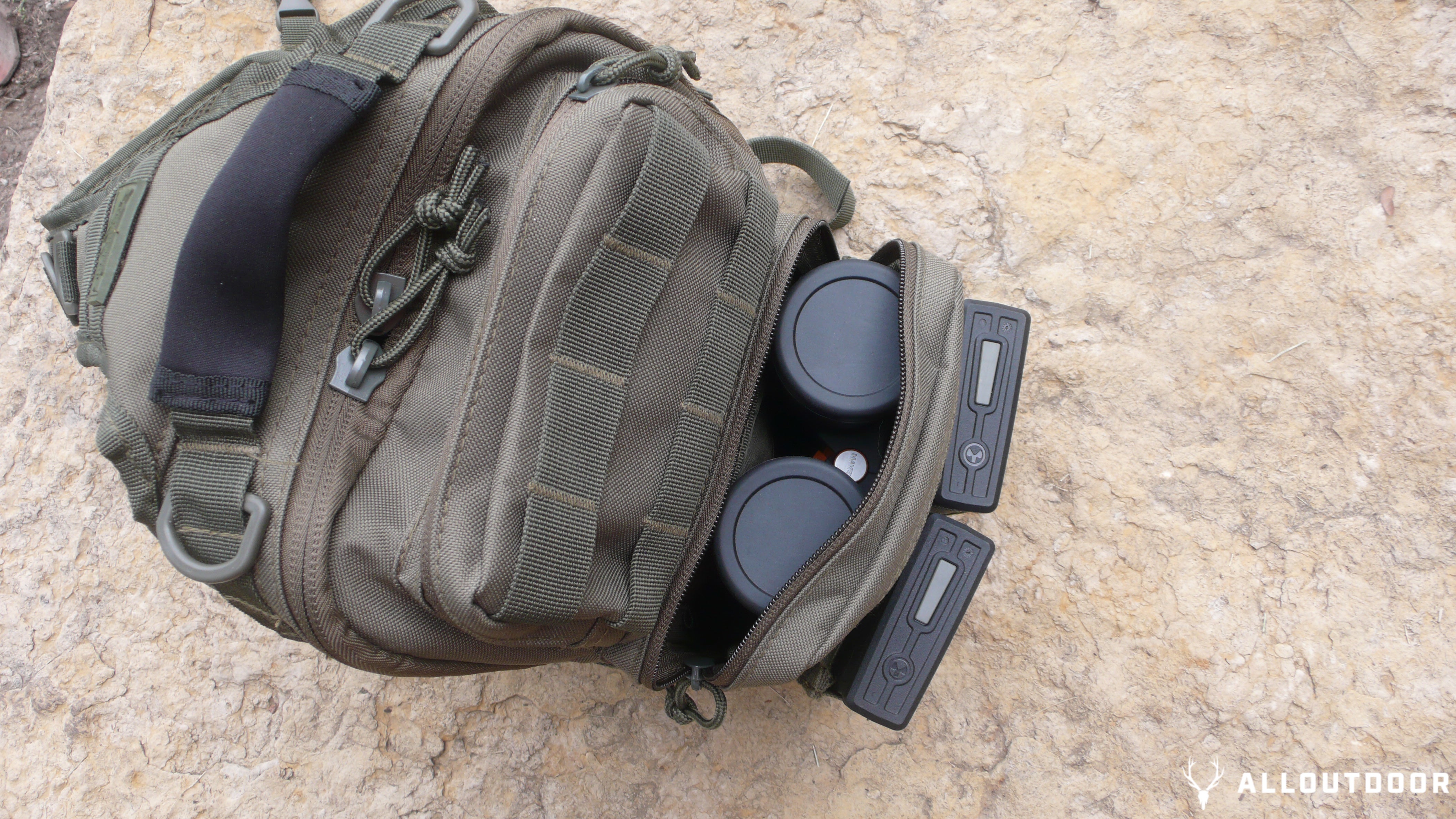 Maven lists the B1.2 binocular as being waterproof, so I wanted to test that feature out. I typically trust the word "waterproof" when it comes with a larger price tag, but it's one of those things that's just begging to be tested anyway. I headed over to my proving grounds, aka the local creek, undid the lens caps and set the new Maven binocular on a rock under the moving water. I only held them under for about a minute, but bringing them up to my eyes they worked just as they had before, perfectly. No fogging, no leaks. Once they were fully dry, I hit the lenses up with the supplied lens cloth.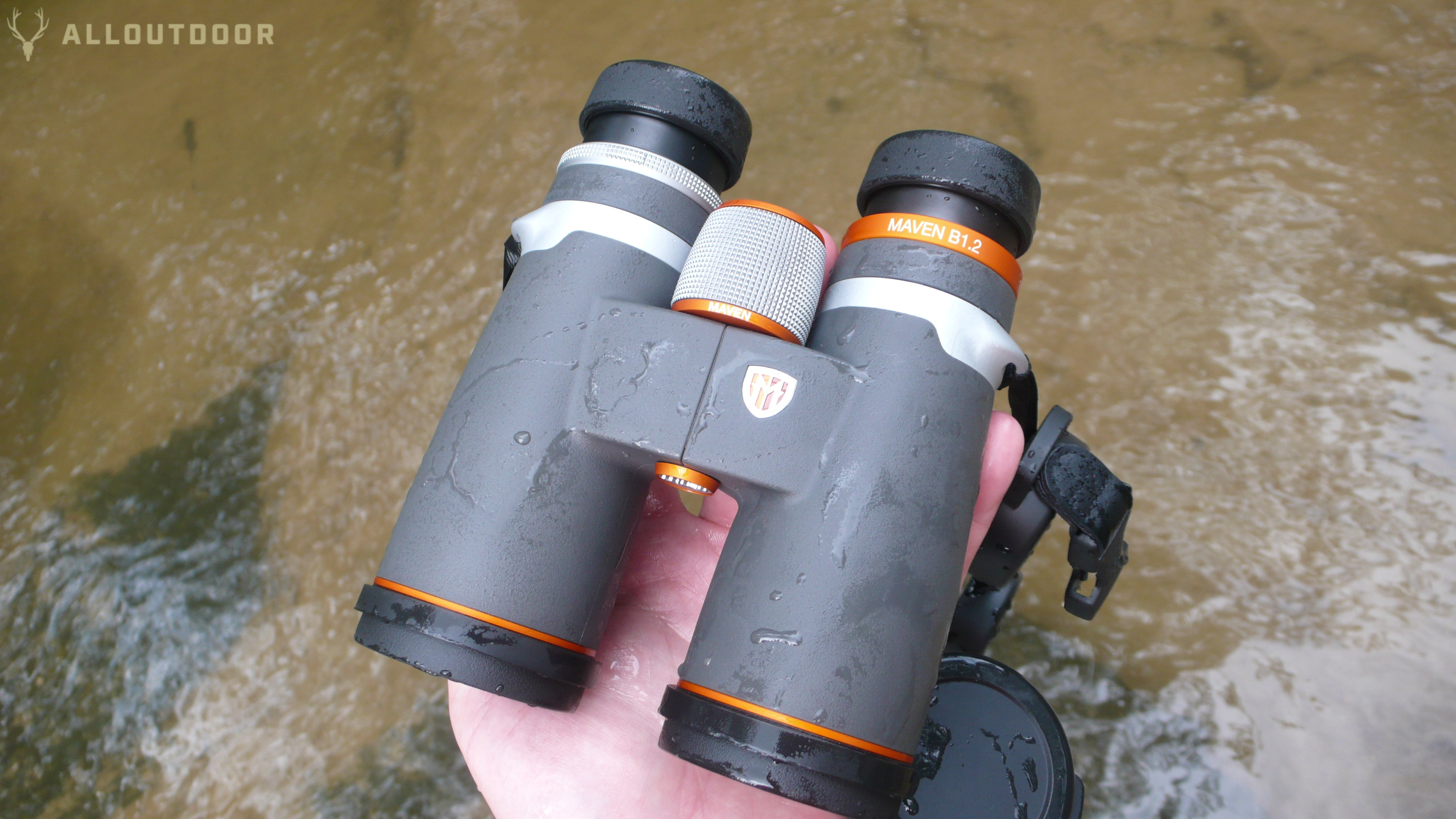 Parting Thoughts
In terms of overall construction, excellent picture quality and handiness, I can honestly say that the Maven B1.2 10x42mm binocular is the best binocs I've ever used. Thus far, most of my reviews have been over on TFB, but between here on AllOutdoor.com and TheFirearmBlog.com, it's pretty rare I give that endorsement. However, I have to say that the price of $950 is out of reach for a lot of people, myself included, and I'll be loath to send them back. I know there's a lot of people out there with bigger equipment budgets than mine though, so if the Maven B1.2 is within your budget and you like seeing far away things with absolute clarity, you won't be disappointed.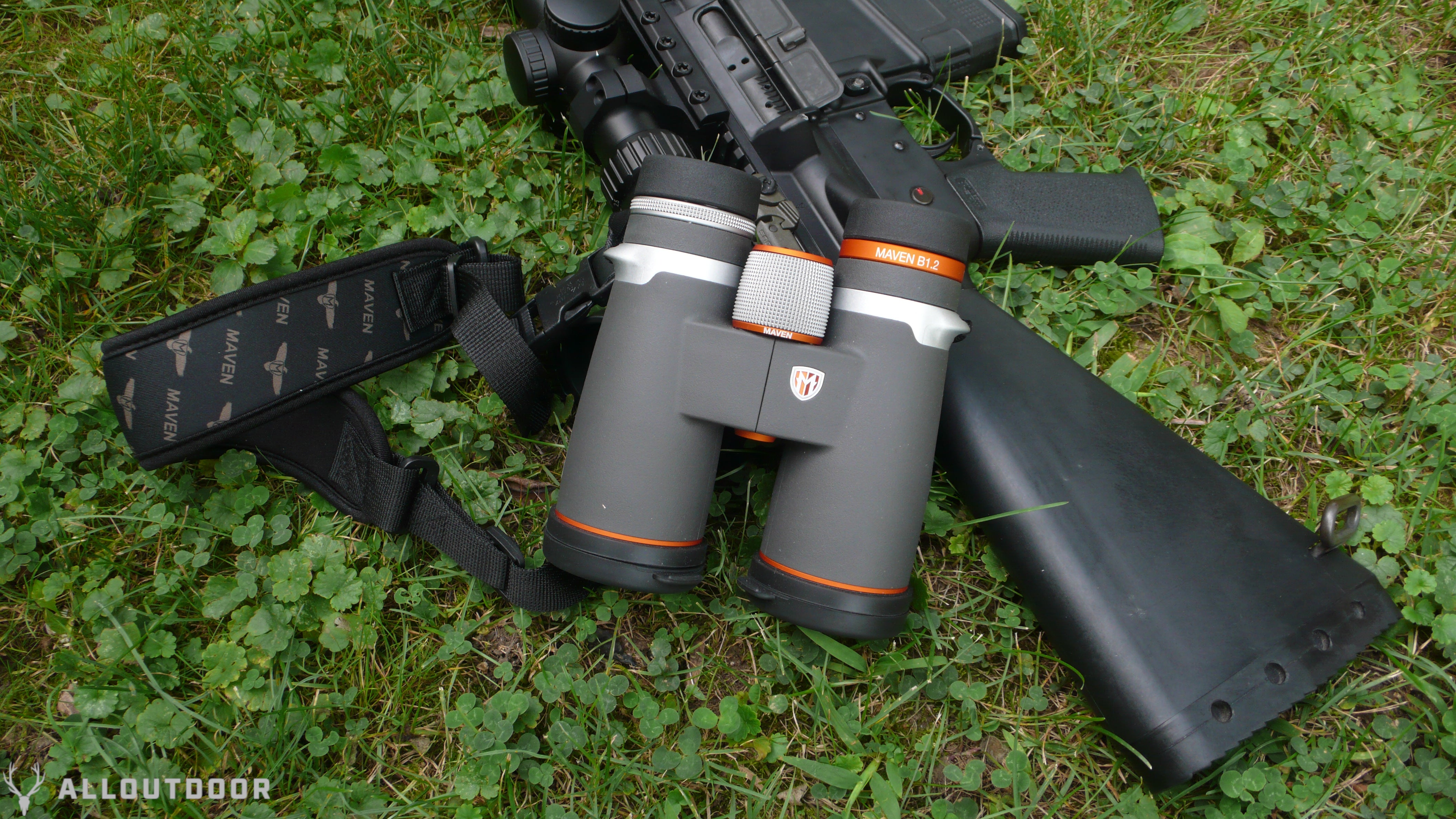 You can view the specs page for the Maven B1.2 binocular (both the 8x and 10x) HERE, or visit MavenBuilt.com to see all of their products. You can also follow them on Facebook, YouTube, and Instagram. If you've already gotten a B1.2 binocular, or have been using Maven's B Series optics, let us know how your experience has been.