The Path Less Traveled #026: Thunderbolt 9 Watt Foldable Solar Panel Review
Andrew D 09.20.21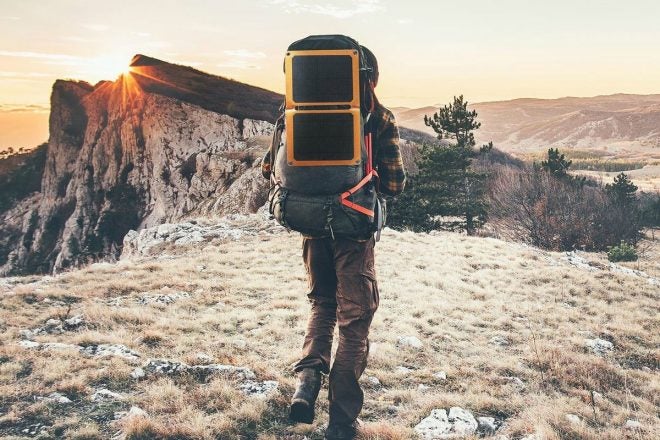 My three-year-old phone's battery is on its last leg. I have to charge the phone roughly every eight hours, or two and a half times a day. When out on adventures, keeping the GPS enabled decreases battery percentage faster than the oil on my Volvo 940's cam-shaft seal leaked out. I've decided to take a two-step process in remedying this conundrum by using an external battery pack as well as Harbor Freight's Thunderbolt 9 Watt Foldable Solar Panel. By using a two-step approach in charging, I will have enough juice to get through two or three days with no problems.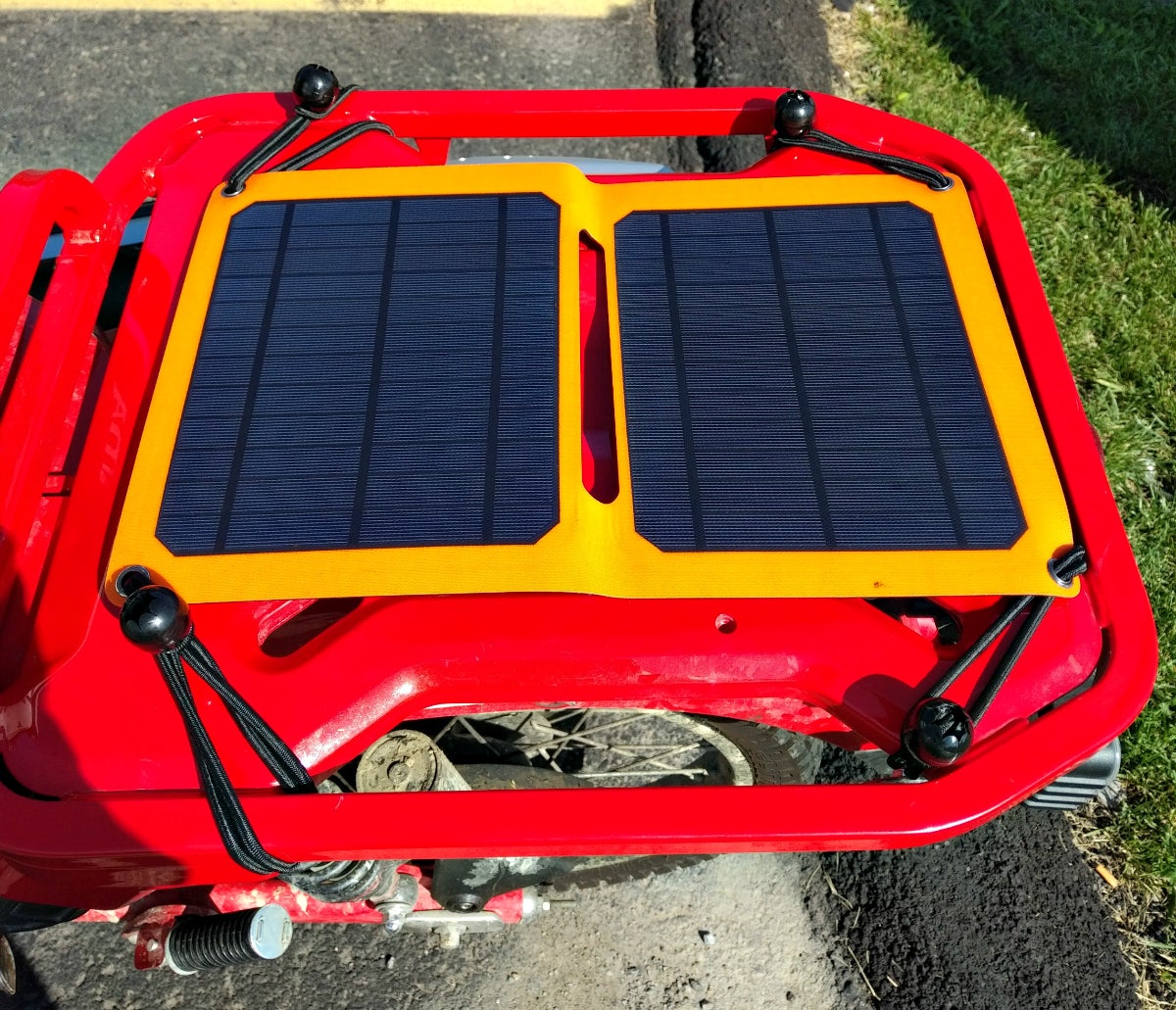 ---
Welcome to our recurring series of "The Path Less Traveled." In this series, we want to take you along for our exploits out in the wilderness while hiking, camping, exploring, and general adventuring. This will include our small daily victories, foibles, tips, tricks, and reviews of gear we authentically appreciate and frequently utilize. While a well-worn trail can often be the pathway to a leisurely day, the paths less traveled can often spur on some of the greatest memories, misadventures, and fun we could imagine. Join us in the Comments as we share our travels and hopefully, we can all come together for a greater appreciation of the outdoors.
---
Company Info – Harbor Freight: Thunderbolt
Harbor Freight has been around for 40-some years, starting in the mail order catalog business of selling discounted tools and equipment. In the past three years, the company has introduced lines like ICON, and others to distinguish themselves as more than that place you go to get a $12 angle grinder that'll break after a few hours of use. Harbor Freight reports they are opening two new stores a month, and with COVID-19 occurring, many people are getting back to repairing their homes and cars. Harbor Freight has been known to have a very liberal return policy, and with the Thunderbolt Magnum line (to be distinguished from just Thunderbolt?), it seems to continue the 90-day return policy.
Thunderbolt is Harbor Freight's in-house brand name to signify that something is related to electricity, including batteries, solar panels, and even 12v USB adapters for your car. It is said that the new Thunderbolt 100 Watt Monocrystalline Solar Panel is promising for those trying to power parts of their house – or RV!
Product Info – 9 Watt Foldable Solar Panel
Harbor Freight carries other solar panels that tend to fit into the categories of "house-based" or "portable devices." The 1.5 Watt Solar Battery Charger is a trickle charger that is roughly 14″ x 5″ and weighs a pound and a half. While I understand the idea of a trickle charger for cars, tractors, or motorcycles… the 1.5 Watt seems to be outdated.  There is also a 5 Watt Foldable Solar Panel Charger that seems to be the equivalent of bringing a pistol to a rifle match. The 5-watt charger is 16″ x 12″ and weighs 3/4 Lb and is made of 210T denier or Cordura.
The 9 Watt Foldable Solar Panel is 9.5″ x 15″ when fully open, and 9.5″ x 7.5″ when folded. The Spec Sheet for the 9 Watt Foldable Solar Panel states USB output is rated at 1.4 Amps at 5VDC.
The product's manual gives the following instructions about utilizing it:
Select a location where the Solar Panel faces the sun and is not blocked by shadows. Choose a location that protects the panels from accidental damage.
Unfold the Solar Panel allowing the front to have full, unobstructed sunlight. The Solar Panel must have at least four hours of direct sunlight to fully charge a small electronic device.
 Angle face of Solar Panel toward true south (or north if in the southern hemisphere).
To hang the Solar Panel: Thread rope (not included) through the Grommets. Alternately, the Grommets may be used to hang the Solar Panel from nails fastened to a wall.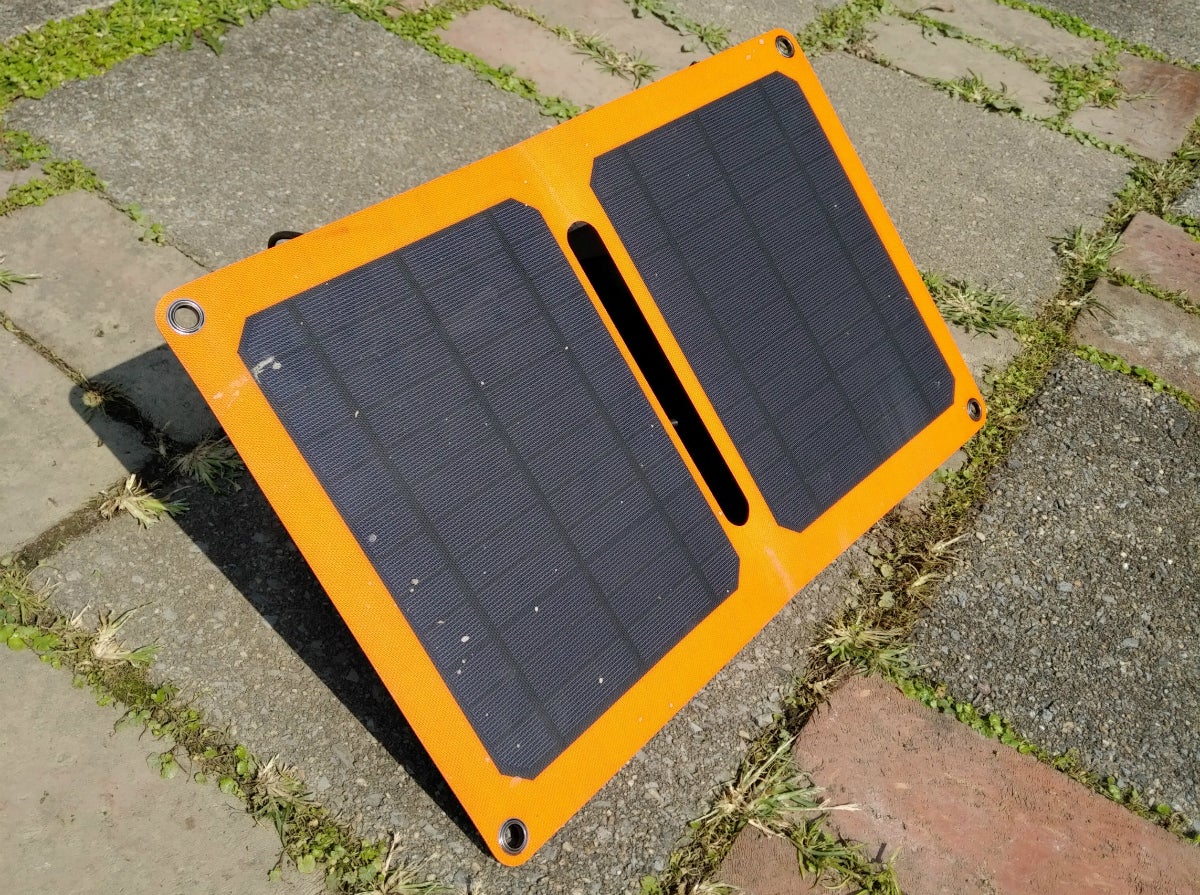 Observations
I spoke to a few of the other writers for AllOutdoor about portable solar panels for hiking and backpacking. The conversation went something like this:
Me: Anyone use solar panels for anything?

Other Writer: I bring a solar charger when I go backpacking.

Me: Cool! I just bought Harbor Freight's Thunderbolt 9 Watt Solar Panel!

Other Writer: LOL, 9-Watt is smol pp power. ??? 21-Watt is what I bring.

Me: Well, that's cool. I'll have to try this one out and see how it does. Got links to yours?
So, we all know that the stats that a solar product gives you is the highest level possible, right? That's public knowledge, no? I got 1.3 Amps as the peak output number. That's not bad for the spec sheet indicating 1.4 Amps is the highest it can output. It is neat to be able to look at the USB hub on the back of the solar panel and be able to read what the output is at any moment.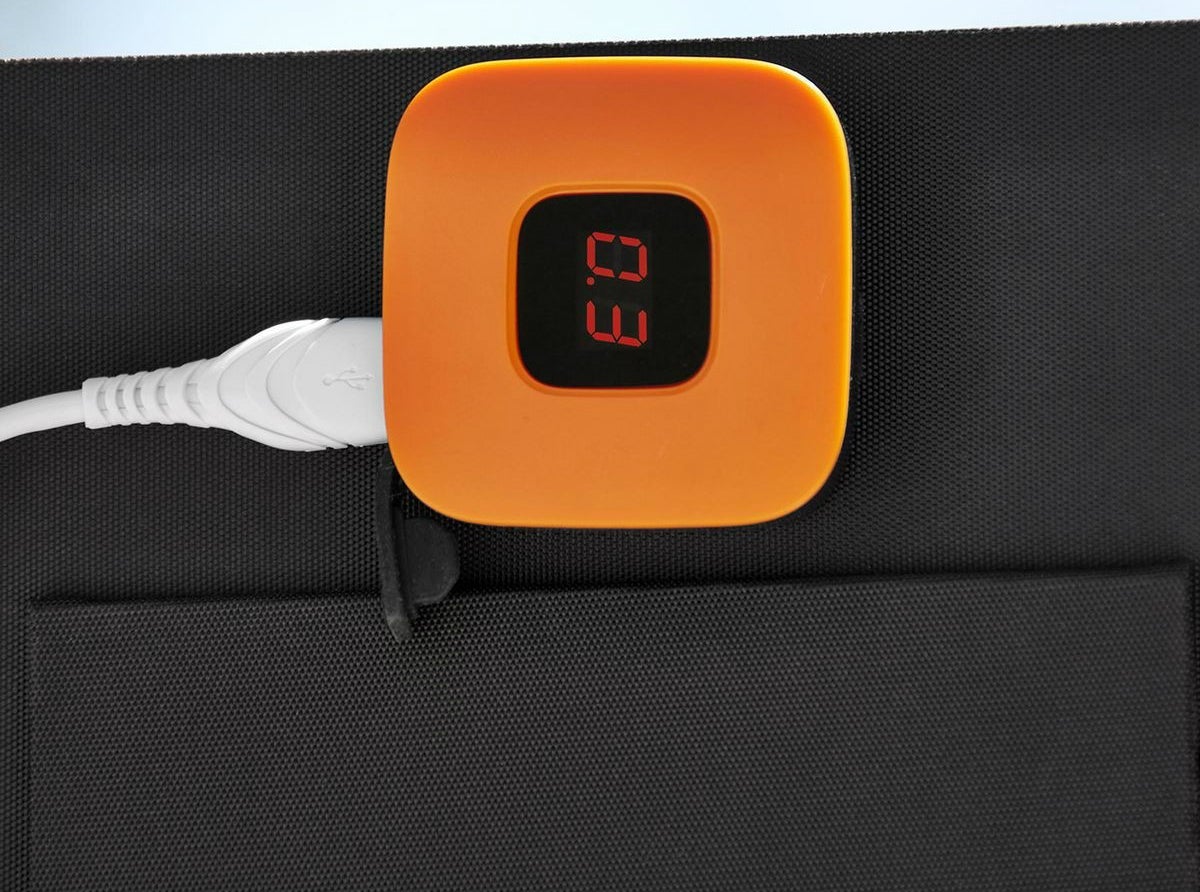 While out on the road, the folding center portion of the panel wanted to bow upward. This reduced charge to my battery pack, but not as much as clouds or trees blocking the sun did.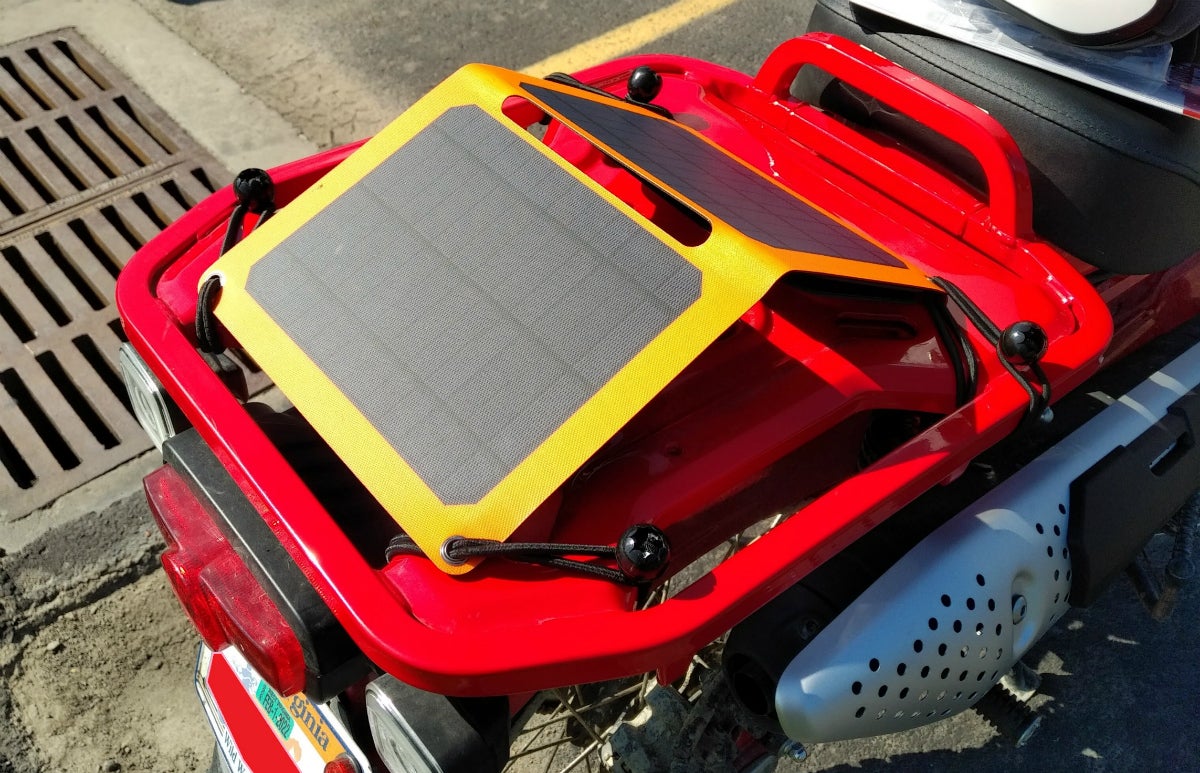 Took the solar panel out for nearly three hours while attached to my generic 10,000mAh battery. The battery was at 27% when I started the trip and filled up to 95% at 02:41:06. This gives the 9 Watt Foldable Solar Panel roughly 2500mAh of charging per hour. With the average cell phone battery being around 3,000 – 4,000… We're looking at an hour and a half to two hours to charge a fully dead phone.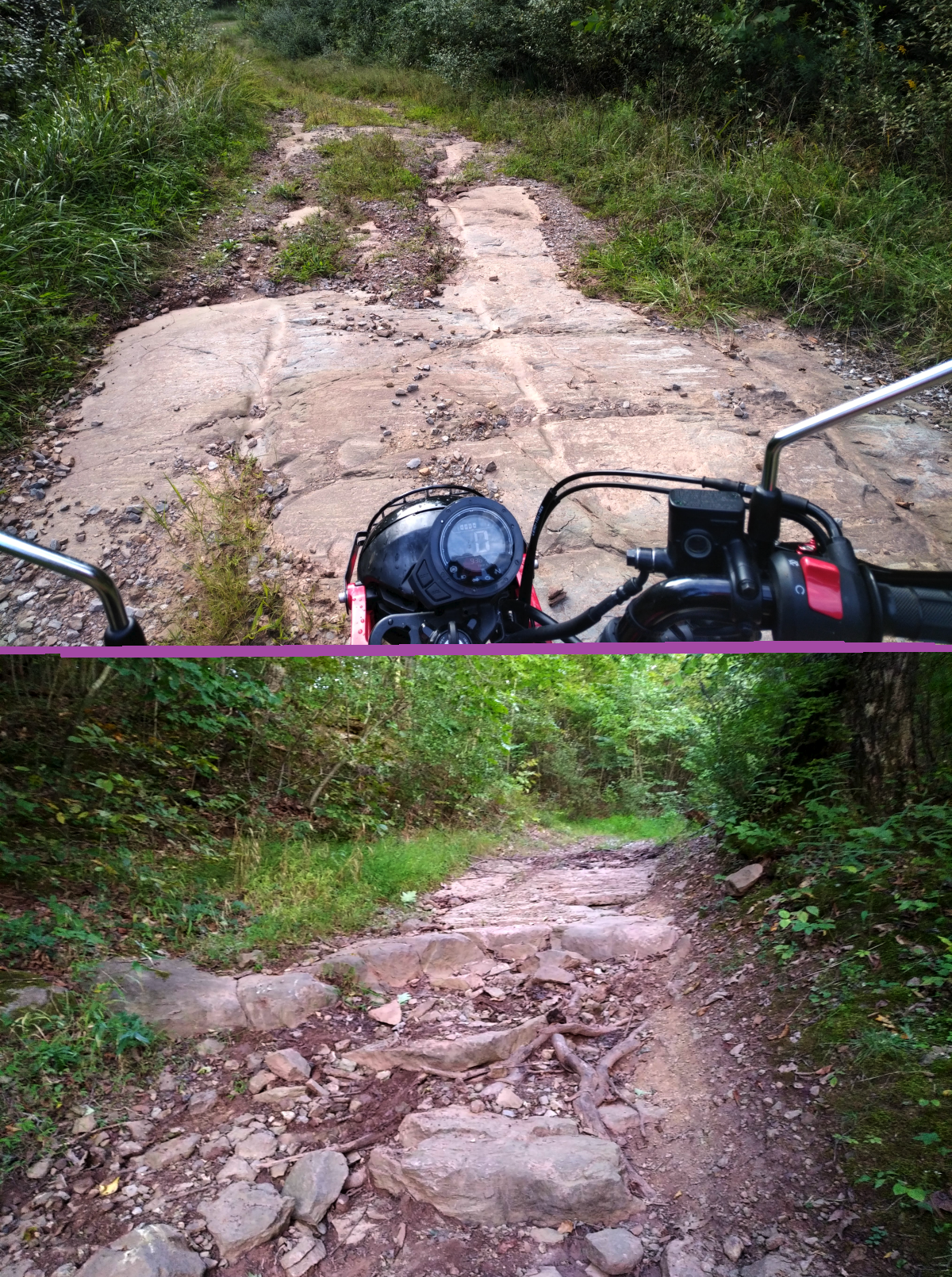 Comparison
There seems to be strong competition in the folding, portable solar panel market. The first contender is the product another AllOutdoor writer states they use: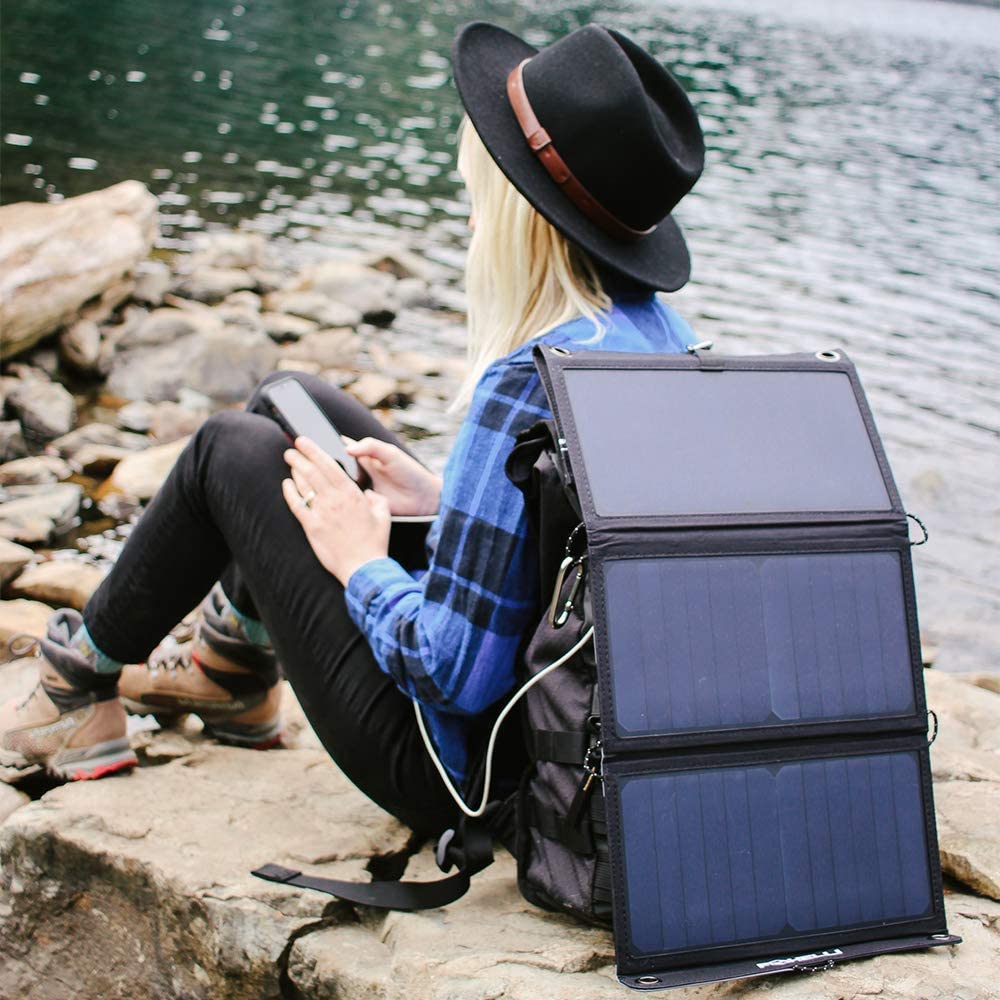 Price: $59.97 (as of 09/20/2021)
Size: ???
21 Watts @ 3.5 Amps
Three USB-A ports
120-day warranty by Foxelli
Below is the recommended comparable solar cell, as indicated by HF's site.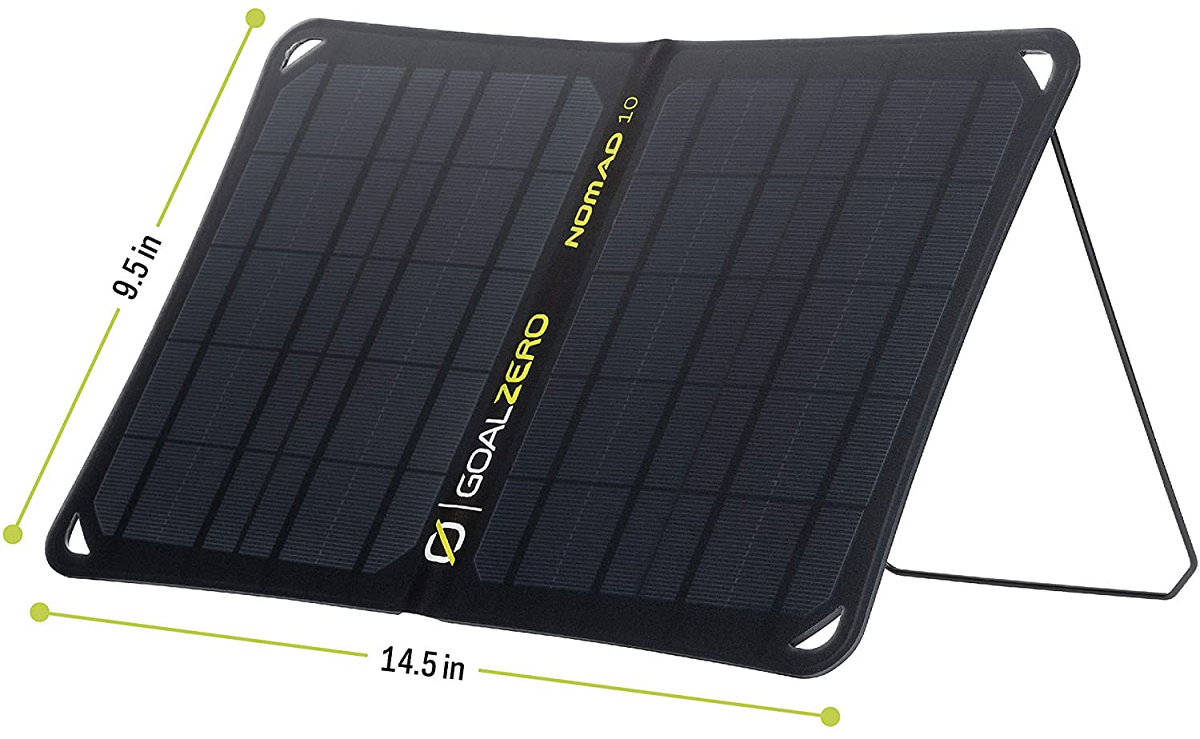 Price: $99.95 (as of 09/20/2021)
Size: 9.5″ x 14.5″
10 Watts @ 1.5 Amps
One USB-A port
12-month warranty by GoalZero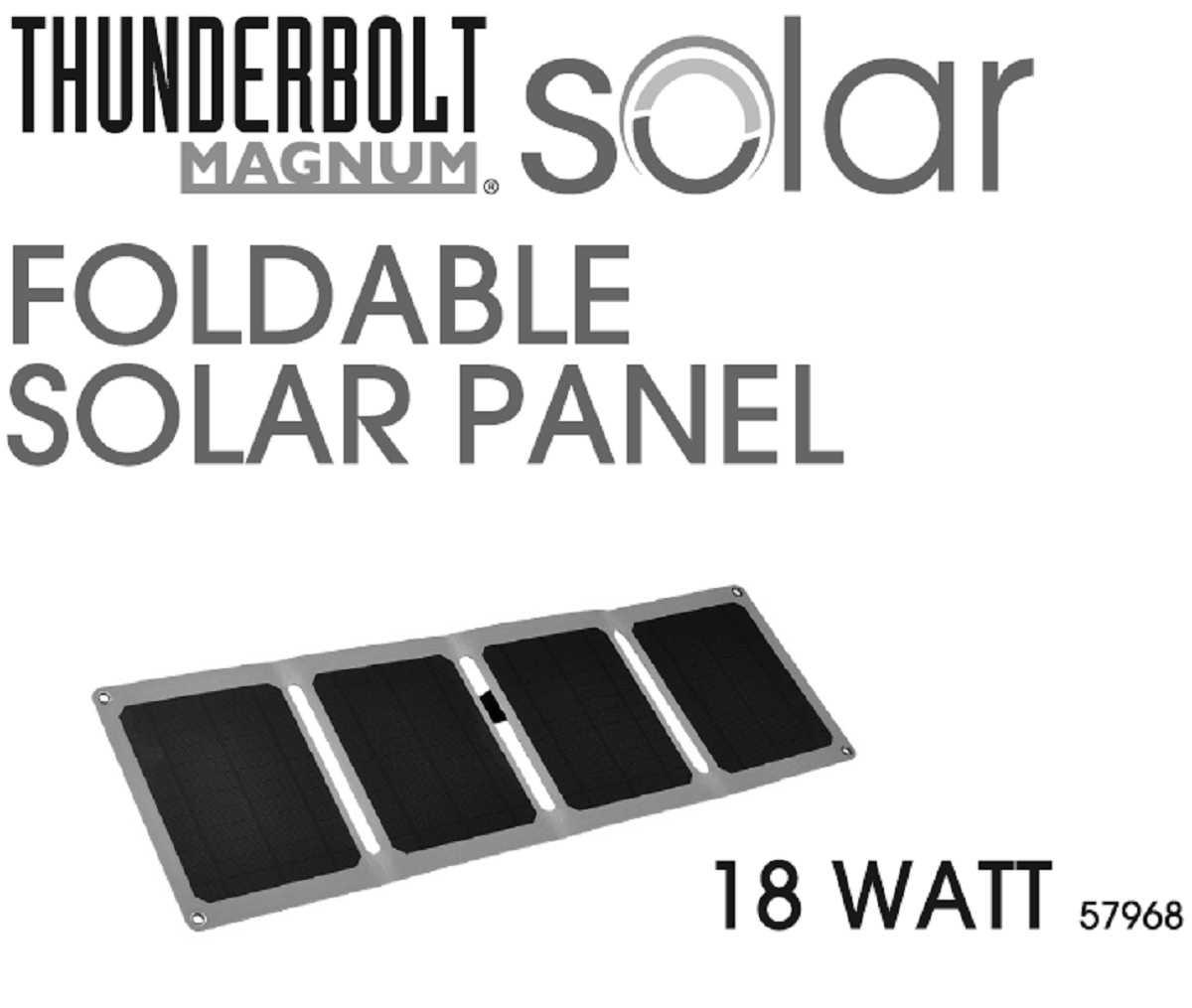 Price: $89.99 (as of 09/20/2021)
Size: 9.6″ x 7.6″ (folded) 9.6″ x 30.4″ (unfolded)
18 Watts @ 2 Amps
Two USB-A ports
90-day warranty
Reading about this product in the user manual for the 9 Watt model I received, I decided to start asking when the 18 Watt model seen in the manual would be released. The store manager requested I contact corporate. I did, via customer service. Craig Hoffman, Director of Corporate Communications & Content reported to me and stated this on September 15, 2021:
"I can tell you that we'll be releasing the 18 Watt Thunderbolt will be released sometime next month (October 2021), so it's coming shortly."
Discussion
All in all, I purchased a product that is small and light, but not as power packing as some of the generic solar panels on Amazon.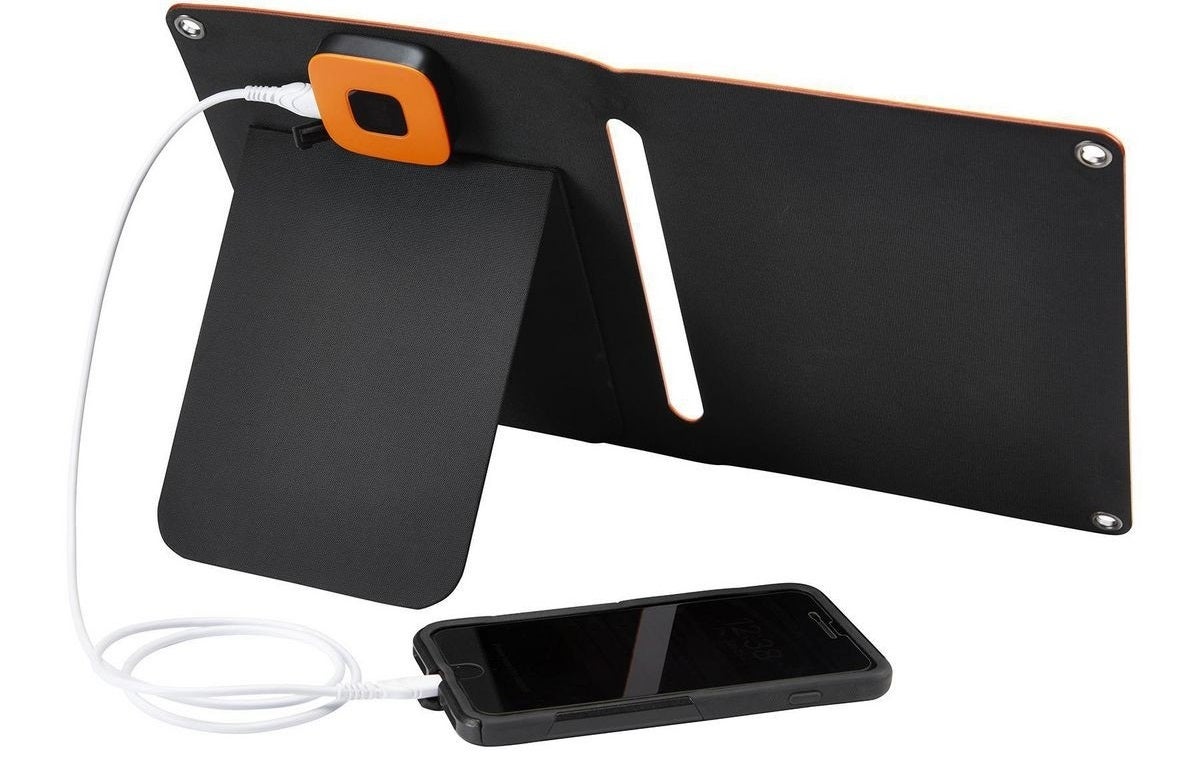 The Thunderbolt 9 Watt Foldable Solar Panel does its job and is cheaper than its direct competition, the GoalZero Nomad-10.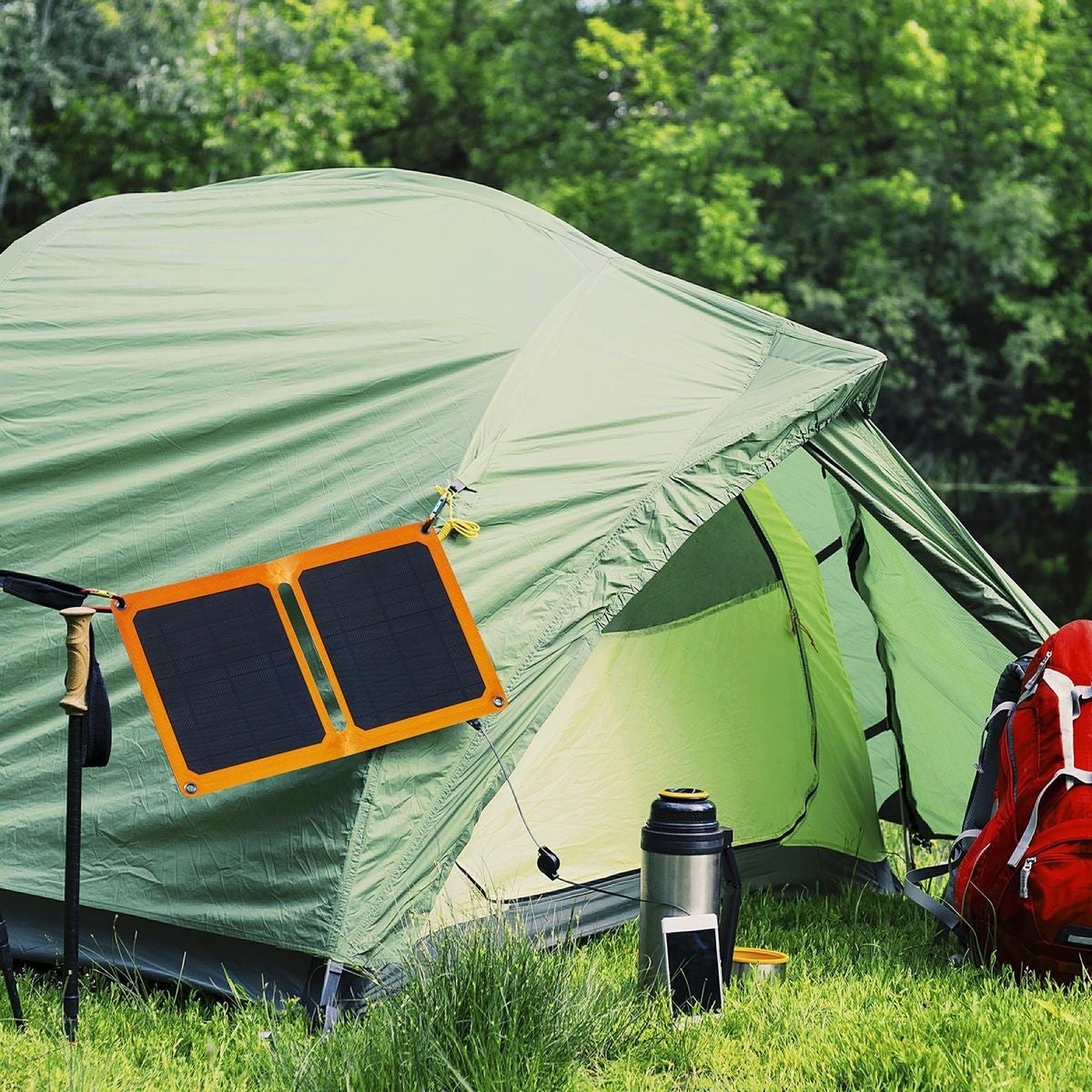 The solar panel packs well, cleans up easily, and has a fun ammeter built-in to help you determine the best location and angle for placement. If you're able to use a 10% or the nowadays rare 20% coupon to take this solar panel to $44.95-39.96, I would see no reason to hesitate!
With the way that HF's improved products like the ICON line and some of the Doyle products have been working in my mechanical endeavors, I do not believe this solar panel is a "one pump and dump" product like some of Chicago Electric's older products.
I'm hoping that when I'm going for a three-day hike, this panel will help keep my phone and Garmin InReach powered up. If I'm able to even get 2500mAh over eight hours of sunlight, limited use of GPS and Data to navigate maps will make sure I keep an external battery pack running on full.
The big test is to see whether I will ever become confident enough to leave the battery pack at home and attempt to keep my phone charged with the solar panel directly. ???
Specifications – THUNDERBOLT 9 Watt Foldable Solar Panel
As Per Retailer's Website:
This rugged, foldable solar panel delivers 9 watts of free, clean, and quiet energy. The solar panel charges most smartphones and other small USB-powered devices in 2.5 to 5 hours and large tablets in 4 to 10 hours. The panel easily folds down for packing with a secure snap closure. (I think someone copy and pasted this from the 5-watt folding charger.)

Two high-efficiency monocrystalline solar cells for maximum output
Charges a typical smartphone in 2.5 to 5 hours and most large tablets in 4 to 10 hours
Rugged build to withstand harsh weather
Kickstand with lock for added stability
2X USB outlets with up to 1.5A output
Item: 57970
Price: $49.95 (as of September 20, 2021)
Panel Rated Output: 0.8A, 9W
USB Rated Output 5VDC, 1.4A
Panel Size (unfolded) 15.125″ L x 9.666″ W x 0.7265″ D
Panel Size (folded) 7.5″ L x 9.666″ W x 0.93″ D
Weight:  567g (1.25lb )
Made in: China? (not documented)