POTD: Go Get Some Furs – The Getsem Gun Co. Percussion Trap Gun
Sam.S 09.27.21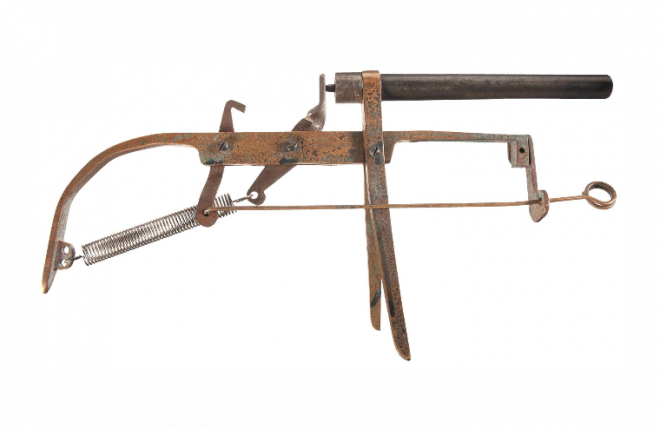 Welcome to today's Photo of the Day! I really enjoy finding new trap guns to show to everyone because they are such a neat and narrow piece of forgotten history. We have covered the Taylor Fur Getter and the Sure Pop, but today we have the Getsem! The Getsem works very similarly to the Taylor Fur Getter in that this has an extension rod in which bait would be placed. This rod acts as a trigger and upon its agitation, the hammer is dropped and the percussion cap ignites setting off the rest of the chain reaction and ideally, humanely dispatching an animal as well as saving its fur.
"This is a brass framed percussion trap gun manufactured by the Getsem Gun Co. of Lincoln Nebraska. The stand is composed of two brass pieces that form a tripod. The hammer is a bent piece of flat steel that has a spring attached at the bottom and runs to the brass frame. The trigger has a hook at the top that the hammer fits into with a hole at the bottom with a piece of heavy brass wire running from the trigger through a support at the front of the device with a loop on the end. When the brass wire loop is pulled the trigger moves, releasing the hammer onto the nipple. The left side of the brass frame is marked "GETSEM GUN CO./LINCOLN, NEBR."."
Lot 91: Getsem Gun Co. Lincoln, Nebraska Percussion Trap Gun. (n.d.). Rock Island Auction Company. photograph. Retrieved September 26, 2021, from https://www.rockislandauction.com/detail/57/91/getsem-gun-co-lincoln-nebraska-percussion-trap-gun.