"Partner in Adventure" – Outdoor Education Grant is Back!
Adam Scepaniak 09.28.21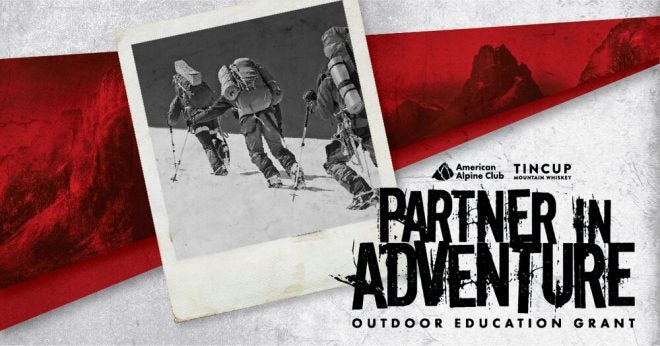 Last year was a great success for the "Partner in Adventure" Outdoor Education Grant by TINCUP Whiskey and the American Alpine Club, and they are planning to build on that yet again in 2021 by upping the number of grants they are able to provide. The Outdoor Education Grant is offered as an inclusive opportunity for anyone itching to get outside and learn new skills alongside their closest pal.
Getting in the Outdoors on AllOutdoor
The "Partner In Adventure" grant powers outdoor education adventures with awards given out up to $1,000 per duo – supporting safe recreation and helping the greater guiding community. While experienced adventurers are encouraged to apply, the grant aims to also empower individuals hoping to begin adventuring for the first time.
What TINCUP Whiskey and the American Alpine Club are offering through this grant is not only the experience of a lifetime, but it is a grassroots way of giving back to the outdoor and recreational community at-large. Often times us weekend adventurers cannot fund some of the audacious exploration we have in mind so this gives people a unique opportunity to learn new skills, gave valuable experiences, and wonderful new memories.
If you feel inclined to apply with your partner in adventure the application process will be launching to consumers on October 1st. Feel free to visit the "Partner in Adventure" website at that time and you could be the next lucky candidate to win! As always, let us know all of your thoughts in the Comments below! We always appreciate your feedback. Also, check out what some previous winners had to say about their experiences below.
---
Christopher and Andrew – Course Completed: Mountaineering Course
This will be our formal introduction to glaciers and we couldn't have aspired to this route without the mountaineering course you sponsored. We're stoked!

I want to be trustworthy so we can do great adventures together, safely pushing each other beyond our individual limits.
---
Alex and Jason – Course Completed: Avalanche Course
This avalanche course has given us tools and education to go out and backcountry ski for the first time, pursue ski mountaineering objectives this year, and allows us to confidently share our knowledge and experience with other friends along the way.

We are lifetime learners and the courses we have already taken are not our last, we will keep on putting safety first. Thank you for the opportunity to do so.
---
Jason and Jason – Course Completed: Ski Mountaineering Course with the American Alpine Institute
We definitely felt our skills were enhanced and we were better prepared to support ourselves as a partnership.

Selfish or half-cocked pursuits are dead ends, even if "successful". In contrast, shared adversity overcome through preparation and teamwork forges lifetime friendships, lasting memories, and yarns that will bore the kids to tears!