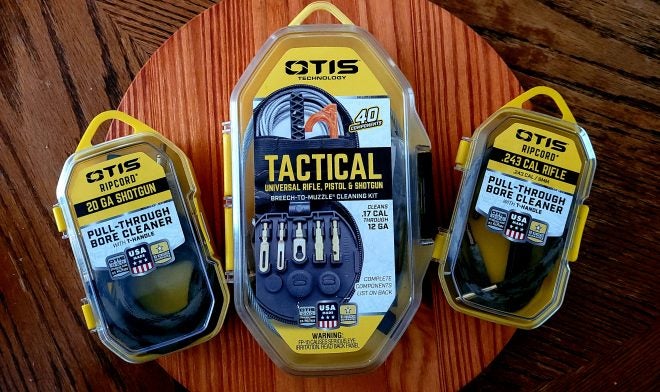 Otis Technology is a gun cleaning product powerhouse headquartered in the tiny town of Lyons Falls, New York. From their state of the art facility, the company produces kits that have everything needed for maintenance and cleaning of a variety of firearms, and are good quality. The Otis Technology slogan is "Smart Gun Care," and it shows. The products are top of the line and always improving. Also, Otis Technology takes care of its community and its employees. From teamwork procedures to reduce fatigue, to grunt-work robots, the company has invested time and money into keeping its team healthy. There are many gun cleaning products on the market right now, but this author only uses Otis. Here's why:
1. Otis Steps Up & Gives Back – OTIS Technology Gun Cleaning Products
During the early days of the COVID-19 pandemic, Otis Technology quickly shifted into producing PPE including surgical masks, disposable face shields, and hand sanitizer. A portion of these materials were donated to local hospitals, police departments, and county emergency management teams. Otis Technology is a huge advocate for supporting our armed forces and law enforcement. Otis Technology donated nearly $100,000 in PPE to the Police Benevolent Association of New York State to protect its members and to share with the public at large. Otis Technology was recognized this summer for this effort. Throughout the year, Otis Technology offers discounts for military, law enforcement, instructors, etc.
Engaging with the local community (and beyond) has always been a part of Otis Technology. Founded, built, and operated in Northern New York, Otis Technology vows to keep producing goods in the United States. Claiming the hashtag #AmericasGunCare, on its website, the company promises:
"to do everything possible to support our military and give back to the communities and citizens that helped us get where we are today. That's why our products are Made in the USA —and always will be."
2. Girl (Founder) Power! – OTIS Technology Gun Cleaning Products
The origin story takes place in 1985 when Otis Technology founder, sixteen year old Doreen Garrett, took a fall in the mud while out deer hunting with her father, thoroughly smothering the barrel and clogging the bore of her grandfather's Model 94 Winchester. That hunt was over and Garrett's spirit was sore, but not crushed. She picked herself up, brushed off, and went home with a mission – find a better way. This fateful day led Garrett to found Otis Technology which she named in honor of her father. The first product was a gun cleaning kit featuring a flexible cleaning rod as the centerpiece.
The company has grown tremendously since its inception to become a leading supplier of gun care products to the United States military forces, law enforcement, and the general public. In recent years Otis Technology has also acquired DRD Tactical (a firearms manufacturer) and Shooter's Choice (a brand of gun care solvents and lubricants).
3. Innovation – OTIS Technology Gun Cleaning Products
Otis Technology makes great products, but they never stand still. The company is known as a leader in the gun cleaning industry because they are always innovating, trying new things and creating new (and/or better) products and upgrades. The patented Ripcord® cleaning tool provides an easy, portable, one-and-done, and single-pass firearm cleaning system. Otis Technology's Breech-to-Muzzle® technique was created to thoroughly clean the firearm by pulling debris out of the muzzle instead of back toward the delicate firing action.
It is important to keep firearms clean so that they perform properly for the longest time possible. Residual buildup from lack of maintenance and cleaning can lead to firearm failure. Regular, consistent cleaning extends a firearm's lifespan. When choosing a gun cleaning product, be sure to choose one that will clean thoroughly without damaging the integrity of the firearm.