Shoot Further More Confidently – Bushnell Fusion X Binos Now Available
Adam Scepaniak 10.08.21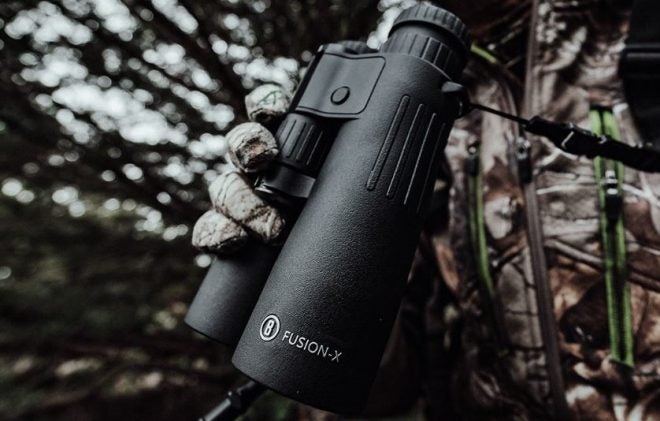 The Bushnell Fusion X Ranging Binoculars were introduced this summer and now they are available just in time for fall and all of your hunting adventures. Blending the technologies of a standard laser-rangefinder and a good set of binoculars, you can have both with one set of technology from Bushnell that is available on their website and available for immediate shipping.
Bushnell Coverage on AllOutdoor
A few of the popular features off of the Bushnell Fusion X Ranging Binoculars are the Bow and Rifle Modes, ActivSync Display, and the Exo Barrier Waterproofing technology that Bushnell is known for on many of their products. All of this is available at an MSRP $699. Bushnell goes on to explain the Fusion X Ranging Binoculars further in their Press Release statement below:
Superb ranging accuracy and advanced optics combine to make the best of both worlds in Bushnell's Fusion X 10X42mm Ranging Binocular. Our HDOS—High-Definition Optical System—provides optimum viewing clarity, while the one-of-a-kind ActivSync™ Display means you'll never again have trouble reading the ranging readout. Together, they make the Fusion X the one tool every hunter needs.
For many hunters – regardless if you are sporting a bow 'n arrow, firearm, or muzzleloader –  it is GO TIME right now with the air becoming more crisp with every passing day and big-game animal seasons opening up across the US. Being able to carry two different pieces of technology bundled into one out in the field can mean less pack weight and a less fatigued shooter during that pivotal moment when you shoot. For those reasons, it may be worth checking out these new rangefinding binoculars from Bushnell. As always, let us know all of your thoughts in the Comments below! We always appreciate your feedback.