North Star Arms: Arizona Proud and Building "Not Just Another AR"
Eve Flanigan 10.20.21

Noel Lasure, Business Development Manager of North Star Arms, showed off the company's new wares at the Outdoor News America Gun Writer's conference in mid-October. The company makes a very interesting AR platform rifle, but how they came to make those guns is a history worth knowing first.
North Star Arms is part of RSW Group, a triad of companies based in Phoenix. It started with RSW Aviation, a military aircraft group that builds and re-builds military training planes. When an RSW Aviation customer requested the installation of a minigun onto their aircraft, it soon became apparent that no reliable source existed. So, the enterprising minds of RSW started building "a minigun with a twist: it does have six barrels, but is unlike any other," said Lasure. The minigun-producing arm of RSW Group is called Profense.
With a slogan like, "If you want it, we can build it," it's little wonder that Arizona-based firearms distributor Davidson's reached out to Profense when the usual supply of firearm parts dried up in the recent past. "They asked us to get into the commercial gun business, with the request that the gun should be priced around a thousand dollars," said Lasure. The result is a .223/5.56 AR-15 that North Star Arms calls the NS15. A short-barreled variant is soon to be released.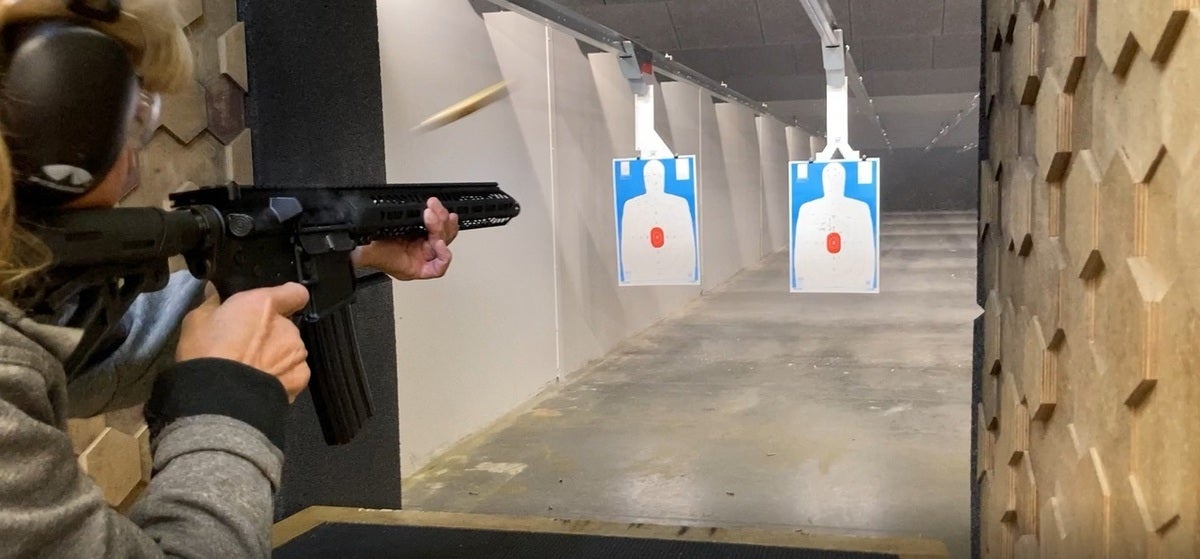 This is a lightweight, ready-for-work AR with a 7075 T6 forged aluminum receiver. It has a Ballistic Advantage-forged sub MOA barrel. "We have worked with Ballistic Advantage for years and knew they could deliver a barrel that would stand up to real use. Hogue makes the grips for our M1 34 minigun and they provided the grip and over-molded stock. We know who the best people in the industry are for certain components, and our relationships with them allowed them to contribute to these rifles," explained Lasure.
In addition to a quality barrel, the rifles have true-to-spec M-LOK free-float handguards made by North Star Arms that should make for superb accuracy. The pistol version sports a Maxim Defense handguard and brace.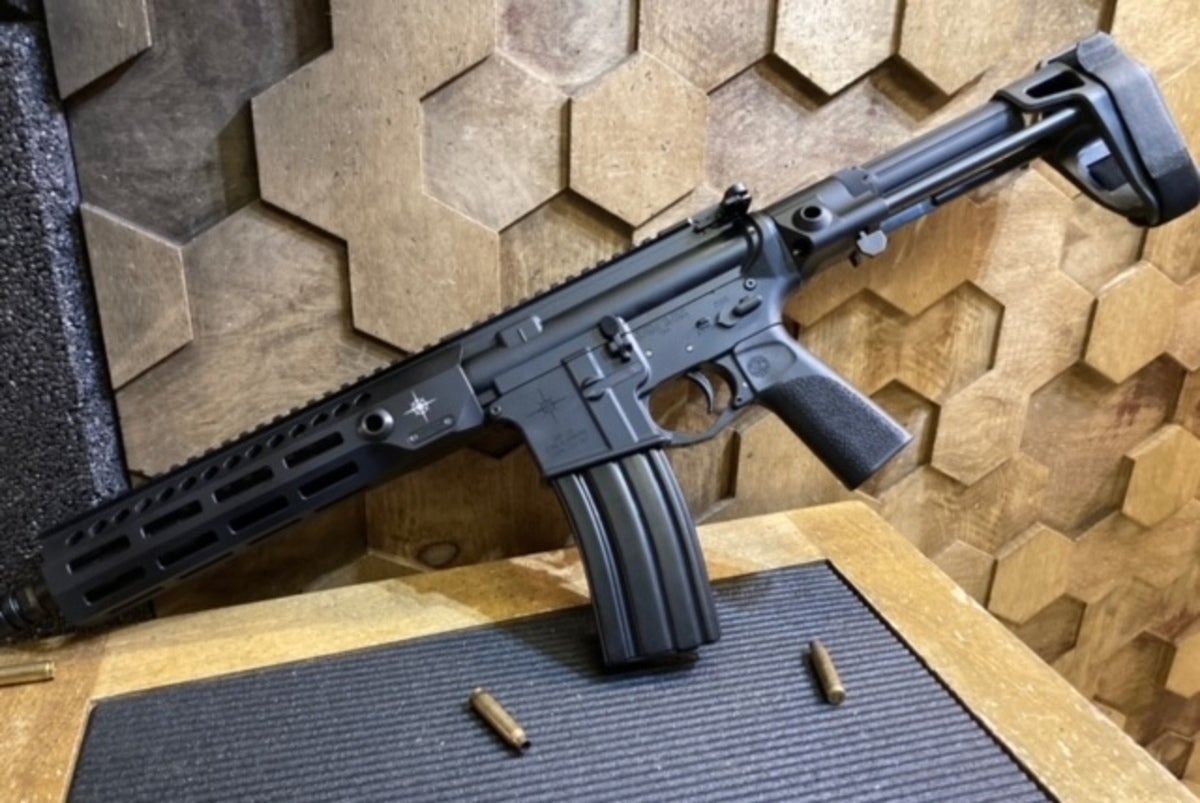 Lasure said the minigun he helped build is unlike any other, and although the market is quite saturated with AR rifles, even sub-MOA ones with great quality components, he found a way to take North Star's a step further. "We wanted to be sure that it's going to work. We subjected the rifles to 10k round endurance tests. The bolt carrier group is high-pressure-tested, not a common thing in the industry. Also my personal background is law enforcement and military. Police are using the AR platform more than ever before. The NIJ, who writes body armor standards, also has a patrol rifle standard. But no maker has paid attention to it. We did. This rifle has been tested to exceed the NIJ patrol rifle standard," he explained.
There was no settling in the build of these guns, even regarding the magazines. "Our aluminum mags are military contract-made mags, made by the same company that makes them for the military," Lasure said, emphasizing that aluminum magazines dedicated to a .223-caliber rifle can be easier to discern in a crowded safe or range bag for users of the popular .300 Blackout caliber.  "I got to decide where the value of that thousand dollars would be, and I tried to put it where it counts," he said with fervor. "Your gun box is basically a pizza box. It's only exciting until you open it the first time, then you forget about it. So we don't have a hard case with locks." Lasure went on to explain that the box is cardboard box, but nevertheless reflects Arizona values. "We are very proud of our connection to AZ. It's part of our ethos that makes us who we are. The people who settled AZ weren't necessarily looking for the easy way; they were looking for the right way. That's why you'll see the AZ logo on the box." Also, every buyer gets a copy of the US Constitution, and a replete set of home and child safety advice for gun owners, in the form of National Shooting Sports Foundation Childsafe program brochures. "I think you're gonna come across an unsecured firearm, as a kid, more often that you're gonna come across a house fire," Lasure said, making a comparison between resources dedicated to fire safety versus gun safety that will be familiar to anyone who's read LTC (Ret.) David Grossman's work. Also included an Otis open-bolt chamber indicator.
I was expecting the flag-and-sunset motif associated with Arizona highway signs and such. But when I got a look at the real box, it was better still. Inside an outline of the state, large enough to occupy about ¼ of the box length, is a classic Sonoran desert scene, including Suguaro cacti. Across the entire front of the box in a diagonal line are what I first thought were dog tracks. Lasure corrected me, saying, "those are coyote tracks, to symbolize Arizona."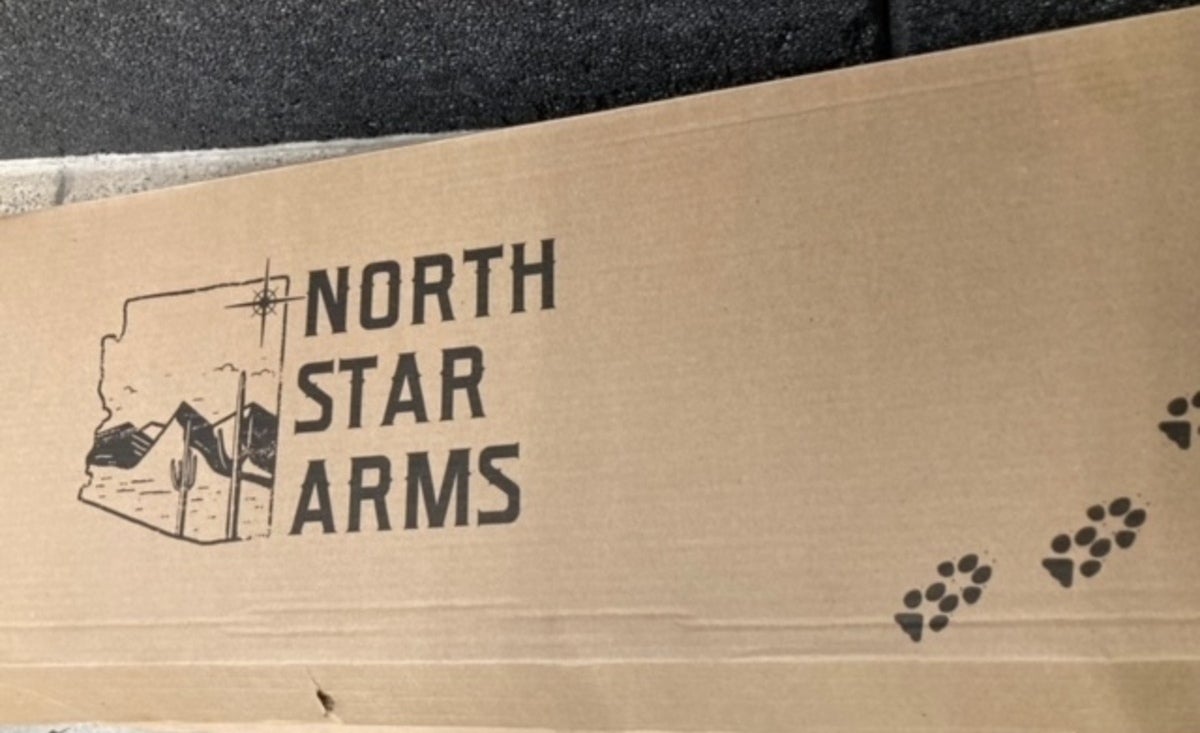 Another decision Lasure made in building a made-to-last rifle was to leave it bare on top. Since sights/optics are highly subject to personal preference and intended use, users must pick their own.
"Davidson's is the distributor. There are a few rifles out there now but we're building for a full launch at SHOT. Not having 2020 SHOT hurt our planned timing," Lasure said.
"Why does the pistol cost more than the rifle?" one conference attendee asked. Lasure answered, "It's the sum of its parts. I don't necessarily go with the cheaper parts, I go with the parts I feel good about using. I do as well as I can to keep margins low, but that is the driving force." As an aside, having shot both, albeit sans any aiming device, I found the fairly straight-angled grip on the North Star Arms pistol pleasing; it allows me to reach the mag release and safety without unseating a firing grip.
Davidson's has a lifetime guarantee on rifles purchased through their network. As of this writing, the pistol doesn't appear on their website. The MSRP of the North Star Arms NS15 AR in 5.56 NATO is $1,099.