AllOutdoor Review: Springfield Armory SA-35 9mm (Hi-Power Clone)
Adam Scepaniak 10.25.21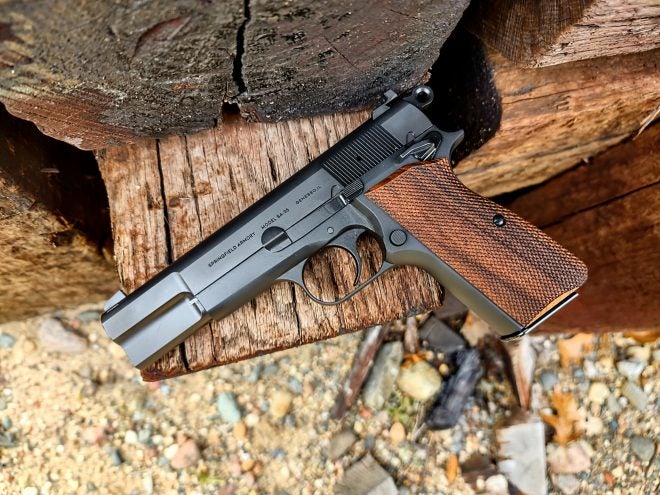 The Hi-Power created by one of the Godfathers of firearms in John Moses Browning is one of the most copied and borrowed from designs in the history of handguns. It was the first semi-automatic pistol to deploy a double-stack magazine and many of the internal workings (their concepts) are still present in innumerable handguns today. It only makes sense that such an iconic firearm in history be produced once again by one of the most famous manufacturers in history in Springfield Armory. The news of Springfield Armory making a Hi-Power reproduction will be setting the internet on fire for months to come, but today we are going to take a deep-dive look at the SA-35 9mm pistol. Let's dive in and see what it is all about!
Springfield Armory Coverage on AllOutdoor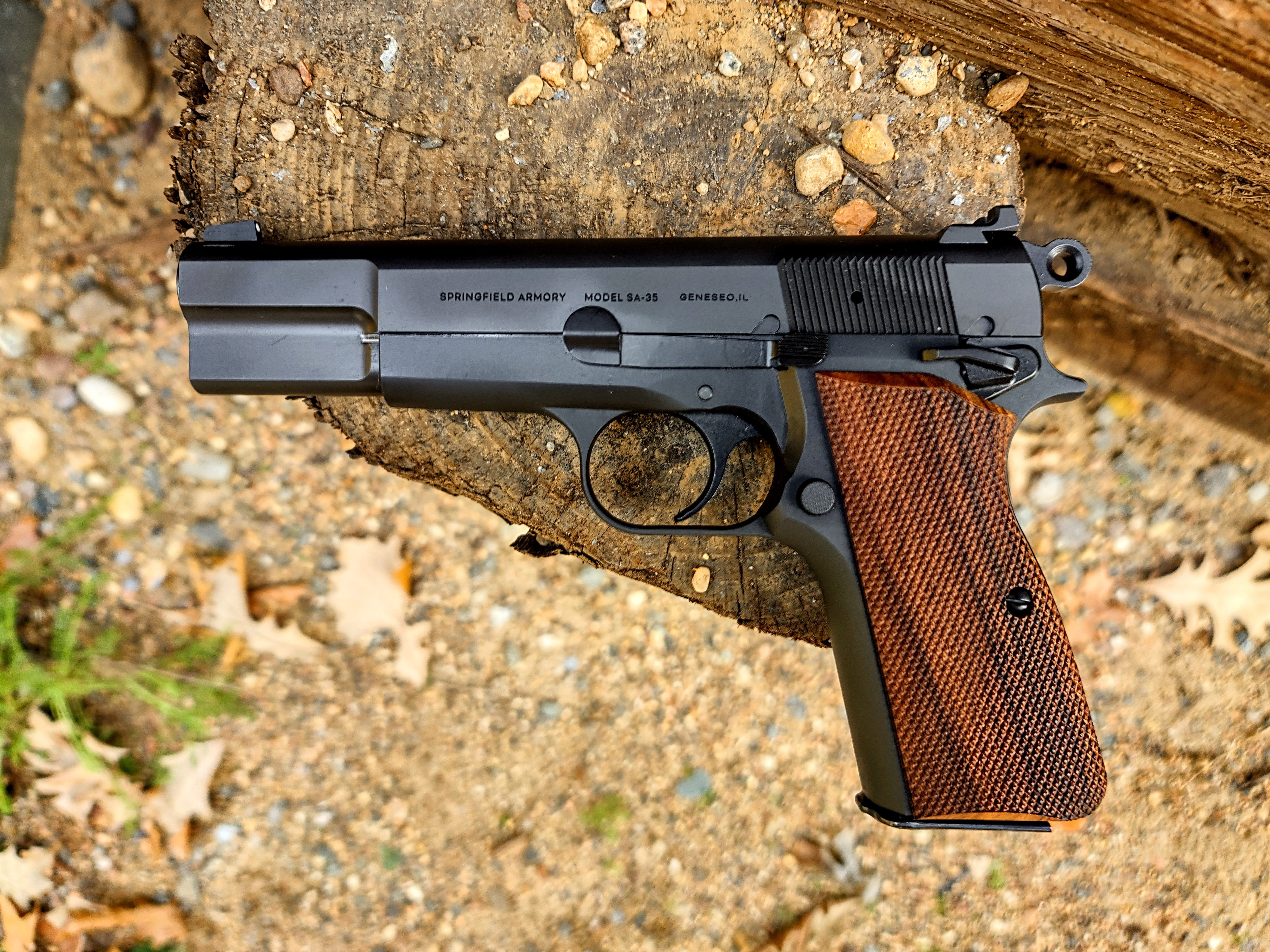 Specifications – Springfield Armory SA-35 9mm
If you are wondering where the name "SA-35" came from with Springfield Armory producing this extremely genuine Hi-Power clone you may be surprised to learn that the name makes complete sense. The moniker of SA-35 is referring to Springfield Armory (SA) and the year the first Hi-Power was ever produced in 1935. While this is the newest and freshest take on the Hi-Power design, Springfield Armory remained true-to-form by keeping the same aesthetic lines and iconic shape we all know and love. All of the specifications can be read below as presented by Springfield Armory:
Caliber: 9mm
Barrel: 4.7″ Cold Hammer Forged, 1:10 Twist
Slide and Frame: Forged Carbon Steel, Blued
Sights: White Dot Front, Serrated Tactical Rack Rear
Recoil System: SA-35™ Recoil Spring & Guide Rod
Grips: Checkered Walnut
Magazines: (1) 15-Round
Weight: 31.5 oz
Length: 7.8″
Height: 4.8″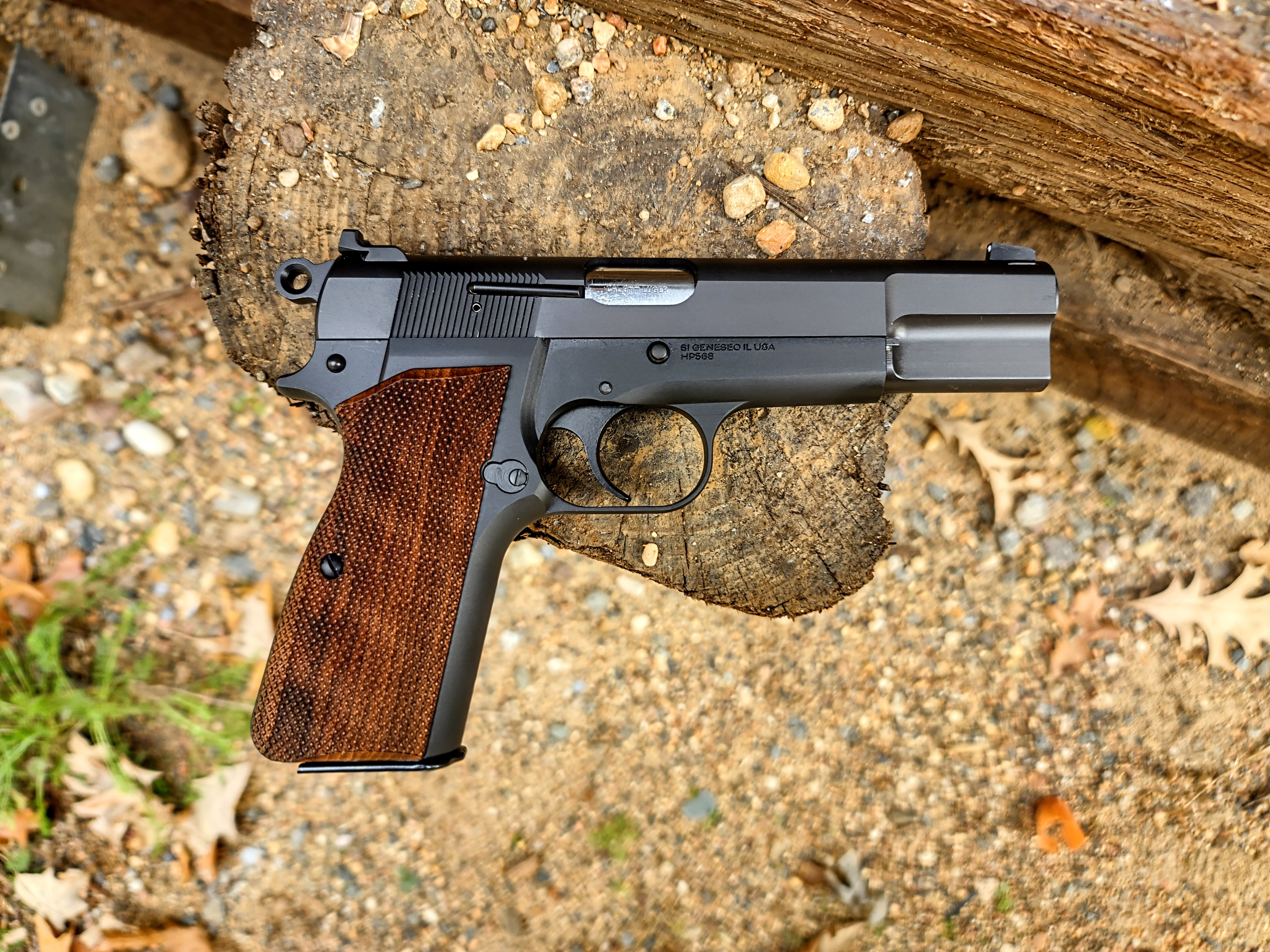 The initial MSRP for the Springfield Armory SA-35 9mm is benchmarked at $699 which sounds astoundingly affordable. An authentic and attractive Hi-Power reproduction such as this I thought might go for $1,000+ at a minimum so the $699 price-tag is a pleasant surprise. As always, in the rare event that you should ever need service for your firearm Springfield Armory has a Lifetime Warranty that stands behind all of their firearms. One final snapshot into what the SA-35 9mm is all about can be read below in Springfield Armory's Press Release statement:
Based on one of the most prolific and popular pistols in small arms history, the Springfield Armory® SA-35 gives today's shooters a modern take on a revered classic. Featuring subtle but significant upgrades to John Moses Browning's original P-35 design, the 9mm SA-35 captures the appeal of the "wood and steel" era of arms making while offering the upgraded enhancements of today's defensive pistols. Made in the U.S.A., the SA-35 features rugged forged steel parts for strength and durability, improved ergonomics and enhanced controls, a factory tuned trigger, modern sights, an improved feed ramp design, and an increased 15-round capacity.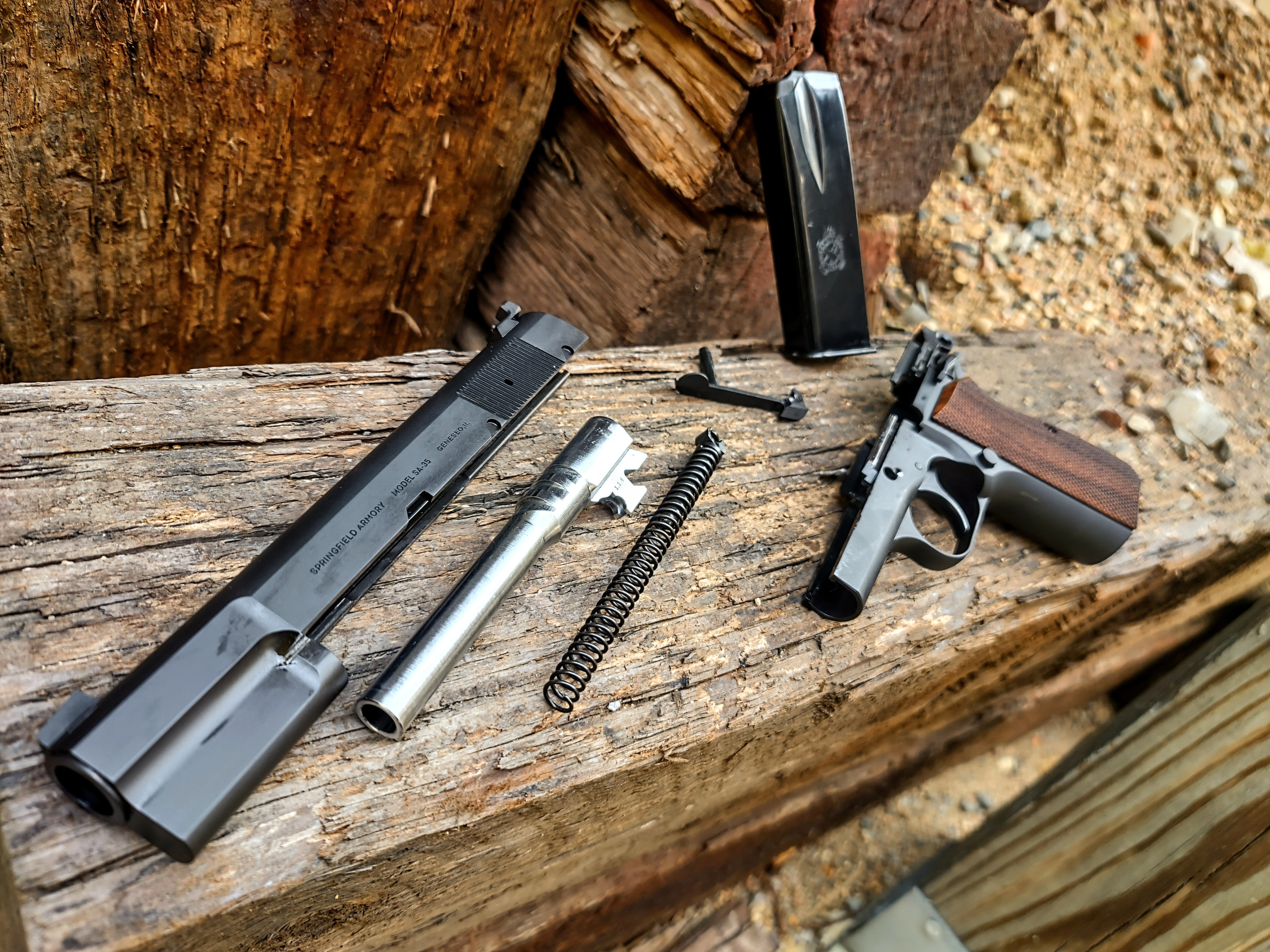 First Impressions – Springfield Armory SA-35 9mm
The very first impression I had handling the Springfield Armory SA-35 fresh out of the box is how simple yet gorgeous it looks. When I heard Springfield was going to be making a Hi-Power my greatest fear is that it would have laser beams, be a crazy finish with tacti-cool grips, or have a Picatinny rail for endless, non-sensical accessories. This pistol has none of that. It is true-to-form and looks amazing.
My next thought was: where are the upgrades? Springfield touts this model as having multiple upgrades applied to it yet it looks like the Hi-Powers of old. That, again, is one of the beautiful things about this pistol. While there are multiple upgrades bestowed upon the SA-35, none of them detract from the overall appearance and familiar functioning of the original pistol.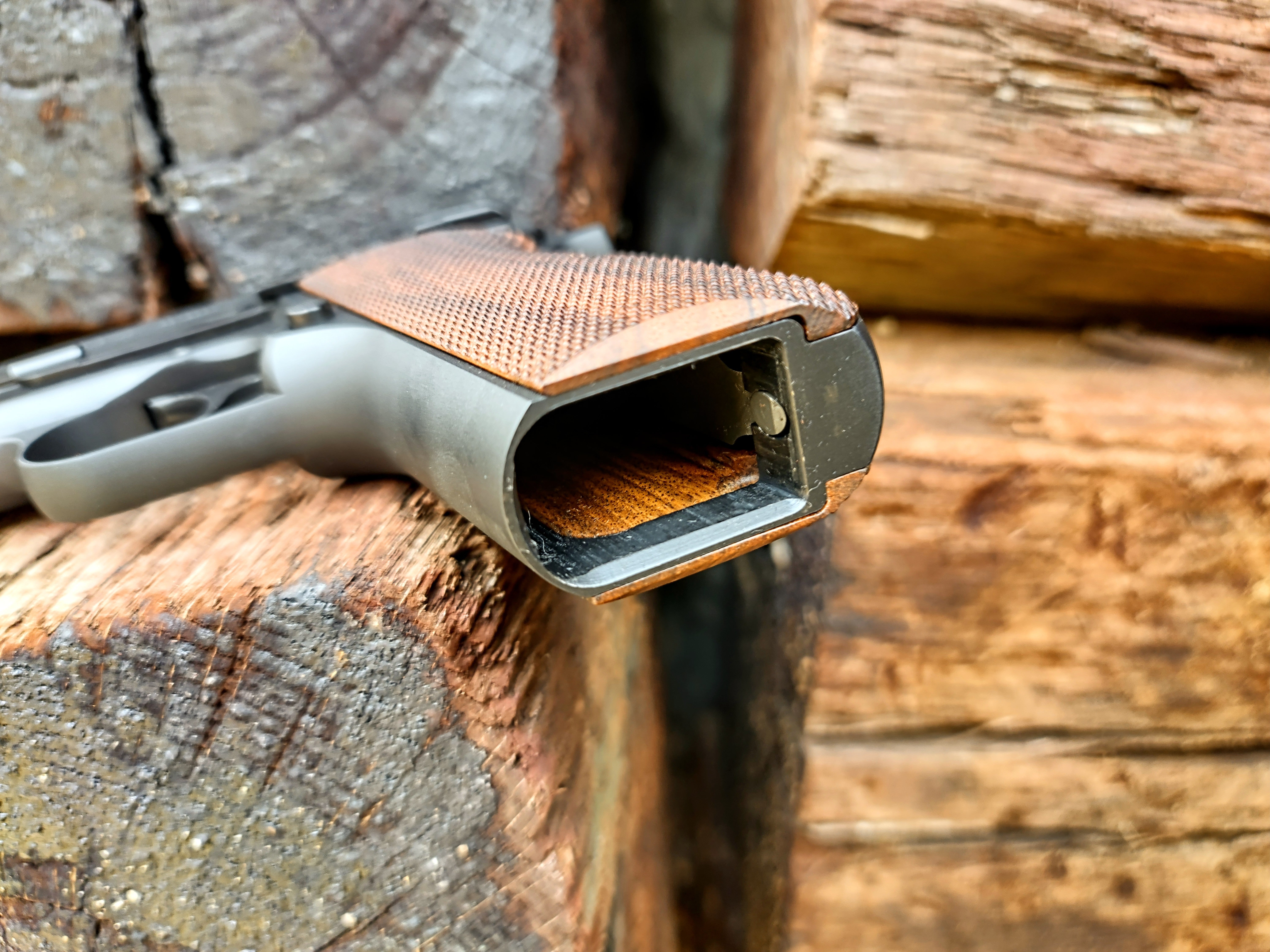 An ever so lightly beveled magazine well makes it easier to insert magazines yet you would never notice it if you did not look for it. Internally there are several upgrades as well including the barrel and trigger. The barrel has undergone Springfield's lauded cold-hammer forging process for extra durability and strength plus the feed ramp has been improved to suit modern ammunition profiles. The trigger has been factory tuned for a cleaner, crisper, and lighter feel as a result of removing the magazine disconnect in the original design. So, on paper this should be one very accurate pistol.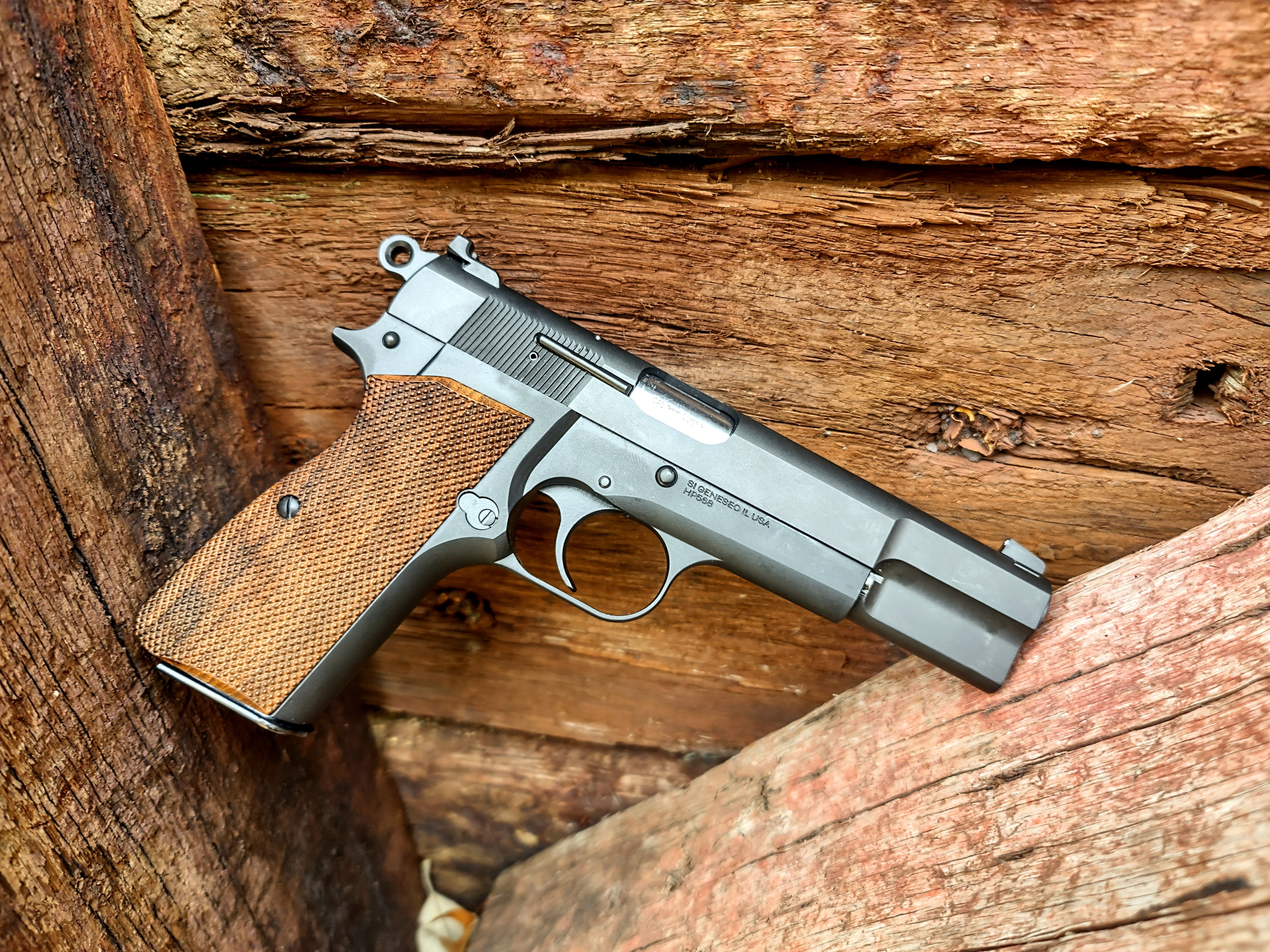 For those who might be less informed about hammer-fire designs, this newer Hi-Power has had the geometry redesigned to prevent the risk of "hammer bite" to the web of your hand. It is the small, less-noticed upgrades such as this that I really appreciate. It is Springfield going the extra mile for shooters whether they know it or not. Another subtle change from the original Hi-Power design is the modernized and extended manual safety. It has been altered so it is easier to manipulate one-handed yet it does not detract from the overall aesthetic of the pistol.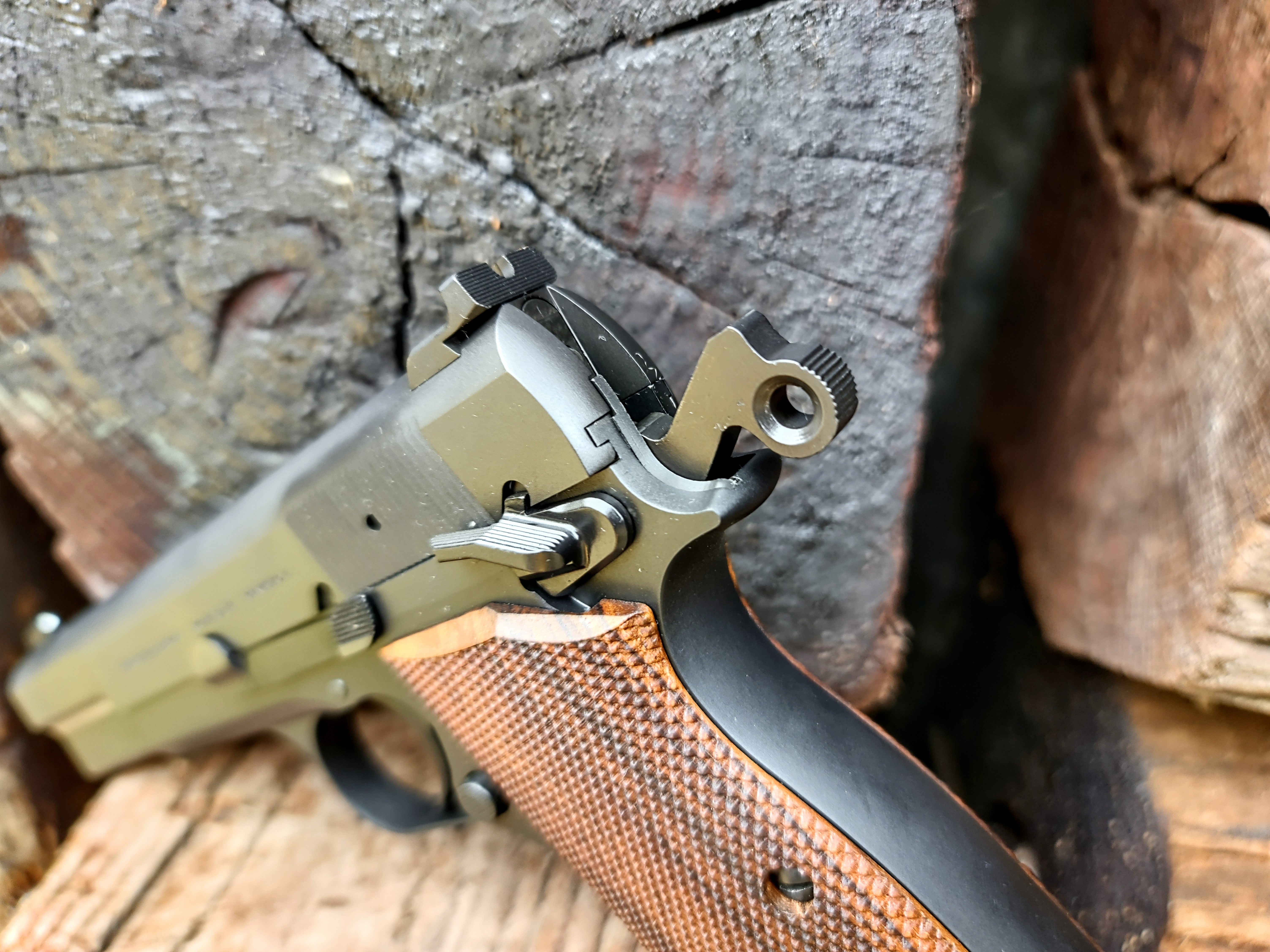 Finally, we come to the sights. For anyone who knows their way around a Springfield Armory Hellcat, the sights on the SA-35 should look very familiar. They are a White Dot Front with a Serrated Tactical Rack Rear. This U-notch design has become incredibly popular over the past couple years and Springfield has been applying it to all sorts of firearms ever since (even new Hi-Power models). What's nice is you have a modern sight picture that doesn't scream tactical or is an eye-sore. They fit right into the overall package.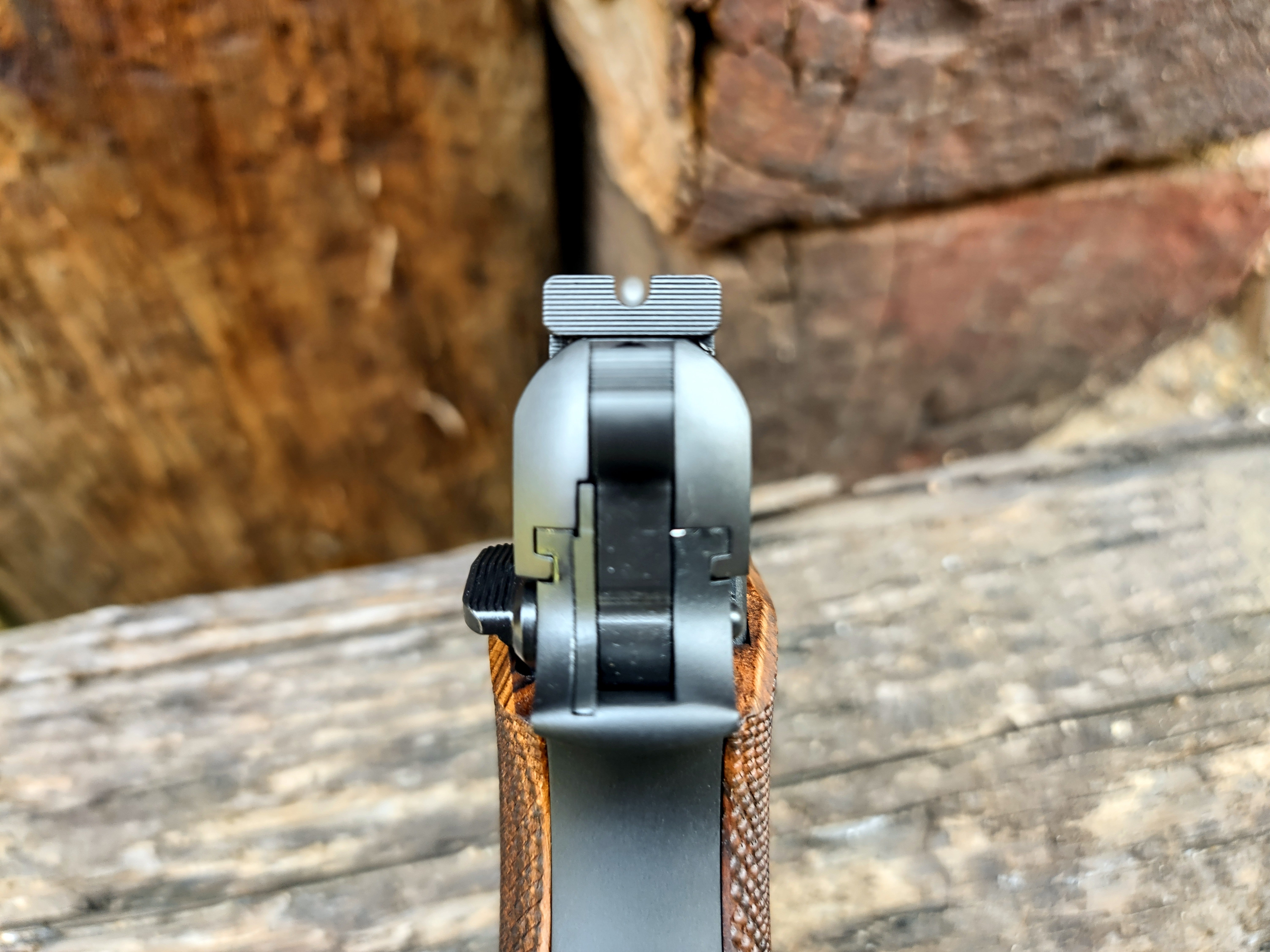 Range Time – Springfield Armory SA-35 9mm
When it came to actually shooting at the range I was pleasantly surprised – again – as I have been throughout this entire time of getting to know the Springfield Armory SA-35. The first 15 rounds on paper (the very first magazine) at 10 yards was a tight clustered group. I had not gotten to know the trigger yet, its breaking point, the reset, or found the perfect grip where my hands should meet this firearm. Nevertheless my group was outstanding.
The trigger is genuinely really good just like Springfield advertises it to be. I have a friend who owns an original Browning Hi-Power and everything about the trigger on the SA-35 is better. The pull, the clean break, and the reset are all vastly improved. I was definitely impressed.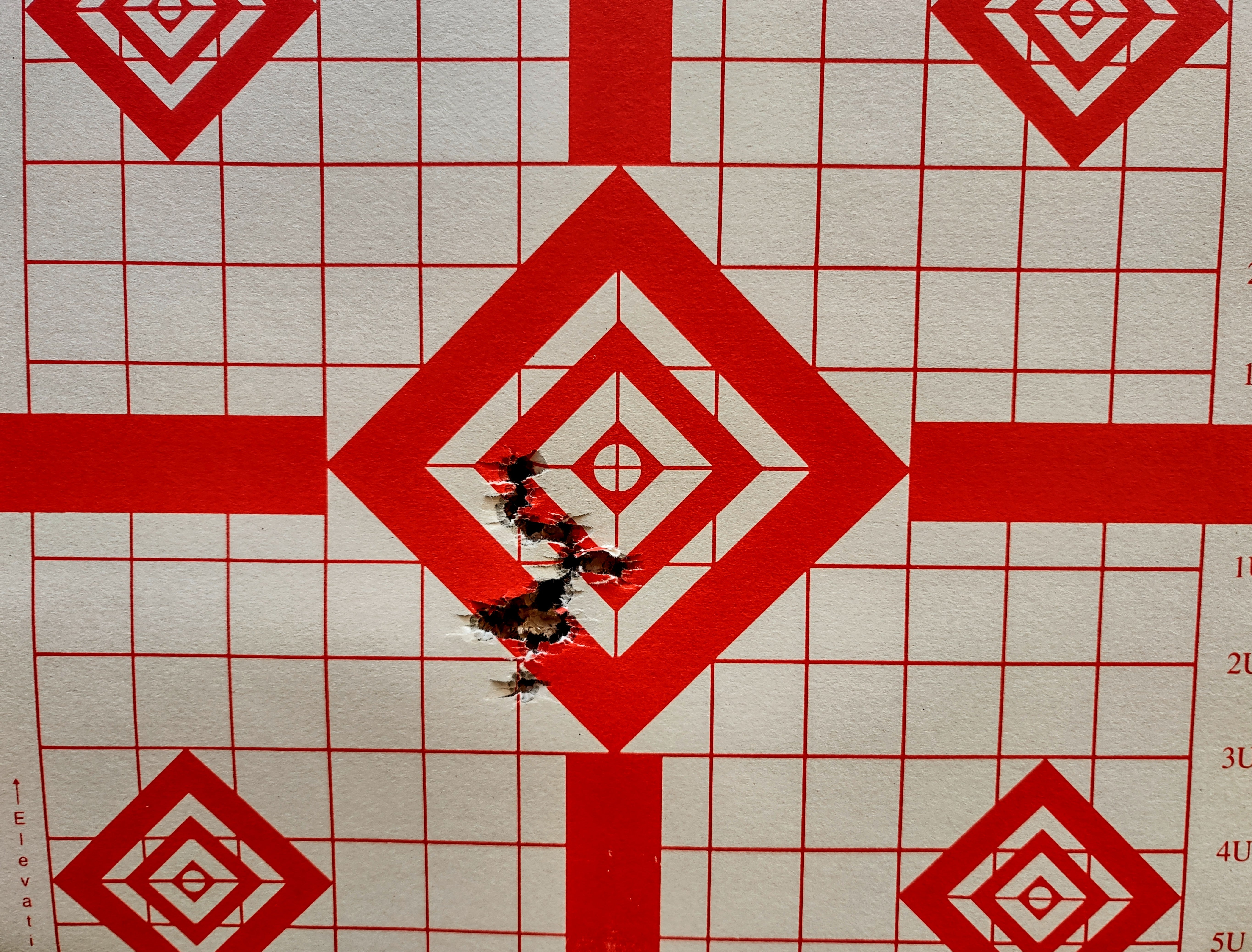 The other element about the Springfield that I liked was the grip. Not only are they an attractive checkered walnut, but the dexterity I have is tremendous. I am normally one of those people who love a grip that digs into your hand (think of a Springfield TRP). Even though the checkered walnut grips are not aggressive by any means, they have a large surface area so you get a lot of grip (no pun intended) with this classical looking grip.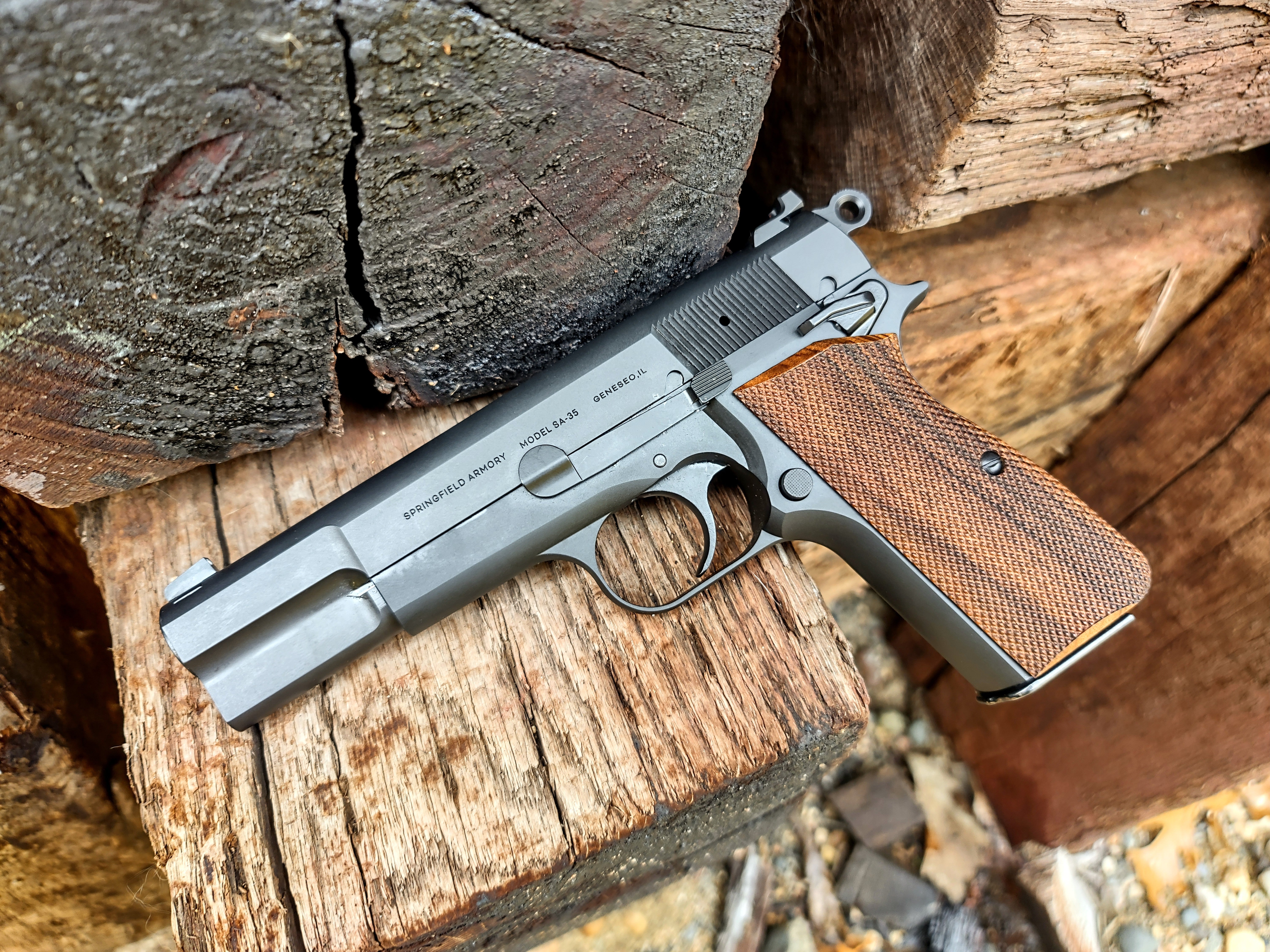 Final Thoughts – Springfield Armory SA-35 9mm
So, like you, I was stunned by the announcement that Springfield Armory was bringing back the Hi-Power with their own version of this classical design. After having it in my hands and shooting, what are my final thoughts though?… Overall, this is authentically one of the best pistols I have reviewed in years considering the $699 price-point. You can't touch a clean-looking Browning Hi-Power for less than $1,500 on the used market right now and the Springfield Armory SA-35 shoots better, is just as attractive, utilizes larger magazines (15-round), and has a bevy of sneaky improvements. If you ever wanted a Hi-Power, but were squeamish over the $1,000+ pricing, you need to buy a Springfield Armory SA-35. I highly recommend it.
In closing, I want to say thank you to Springfield Armory for allowing AllOutdoor and myself the opportunity to try out their Springfield Armory SA-35 9mm. That is greatly appreciated. Also, we would like to know what all of you guys and gals think? Do you believe that the Springfield Armory SA-35 9mm is something worth spending your money on? As always, let us know all of your thoughts in the Comments below! We always appreciate your feedback.