Curious Relics #025: Action Icon – Winchester Model 1887 Shotgun Part III
Sam.S 11.03.21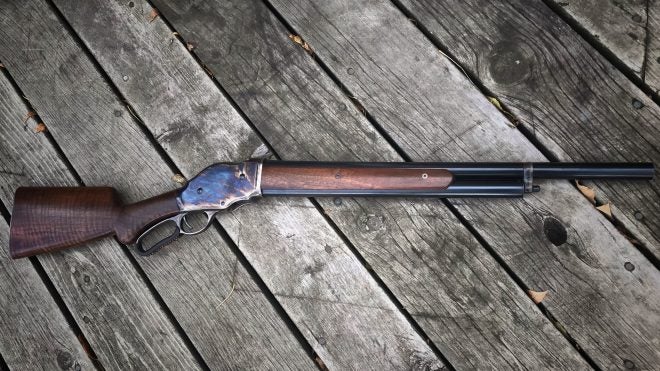 Welcome, if you are a newcomer to this fun bi-weekly segment of AllOutdoor.com! The last time around I covered the absolute iconic Winchester 1887 shotgun and we are diving back in this week with Part Three! I went over the Variations last time. Now I get to continue to go over one of my favorite firearms ever! The Winchester 1887 Shotgun. Unfortunately, I myself do not own a true old Winchester, but rather a Chiappa Reproduction. My father helped me buy it when I was in high school so that I could use my dream gun for trap shooting and I have ever since. I have hesitated to do a Curious Relics on the Winchester 1887 because I do not have an actual one to work with. Thanks to the Cody Firearms Museum I had the chance to take some photos of the ones that they have on display and I figured that was a perfect opportunity to get this gun out of the way and onto the internet! Let's dive right back down the rabbit hole and jump back into the Model 1887!
Note: Some pictures of a Winchester 1887 are actually my Chiappa 1887 provided for closer details. The biggest giveaway is the color case hardened receiver on my personal shotgun. For anyone interested in learning more about my experience with the Chiappa 1887 specifically you can find that information at the link here.
---
Welcome to our recurring series of "Curious Relics." Here, we want to share all of our experiences, knowledge, misadventures, and passion for older firearms that one might categorize as a Curio & Relic  – any firearm that is at least 50 years old according to the ATF. Hopefully along the way you can garner a greater appreciation for older firearms like we do, and simultaneously you can teach us things as well through sharing your own expertise and thoughts in the Comments. Understanding the firearms of old, their importance, and their development which lead to many of the arms we now cherish today is incredibly fascinating and we hope you enjoy what we have to share, too!
---
Core Specifications: Winchester Model 1887 Shotgun
Years Produced: From 1887 – 1898 (Model 1887), 1901–1920 (Model 1901)
Rough Price: $25 ($672.33 in 2021)
Model 1887 Manufacturing Numbers: 64,000
Chambering: Black Powder Loads of 12 gauge 2 ⅝" and 10-ga 2 ⅞"
Barrel: Smooth Bore
Barrel Length: 18, 22, 24, 26, 28-inch barrel lengths
Action: Lever Action
Capacity: 6
Front Sight: Bead
Rear Sight: Groove in Receiver
Range Time: Winchester Model 1887 Shotgun
As far as range time goes it should be mentioned yet again that I myself do not own a full-blown original Winchester Model 1887. I have a Chiappa 1887 with a 22" barrel. My Chiappa is probably the nicest amalgamation of a Model 1887. The fit and finish are really nice, it's chambered in 12 gauge, and has removable chokes (I've always used modified). As of now, I have probably put an estimated 3,000 shells through it without too much trouble. I recently did an article on the Chiappa 1887 specifically over at our sister site TheFirearmBlog. I have been extremely happy with it throughout my decade of using it. The only issues I have had are parts coming loose or getting fouled up, but that is all maintenance issues.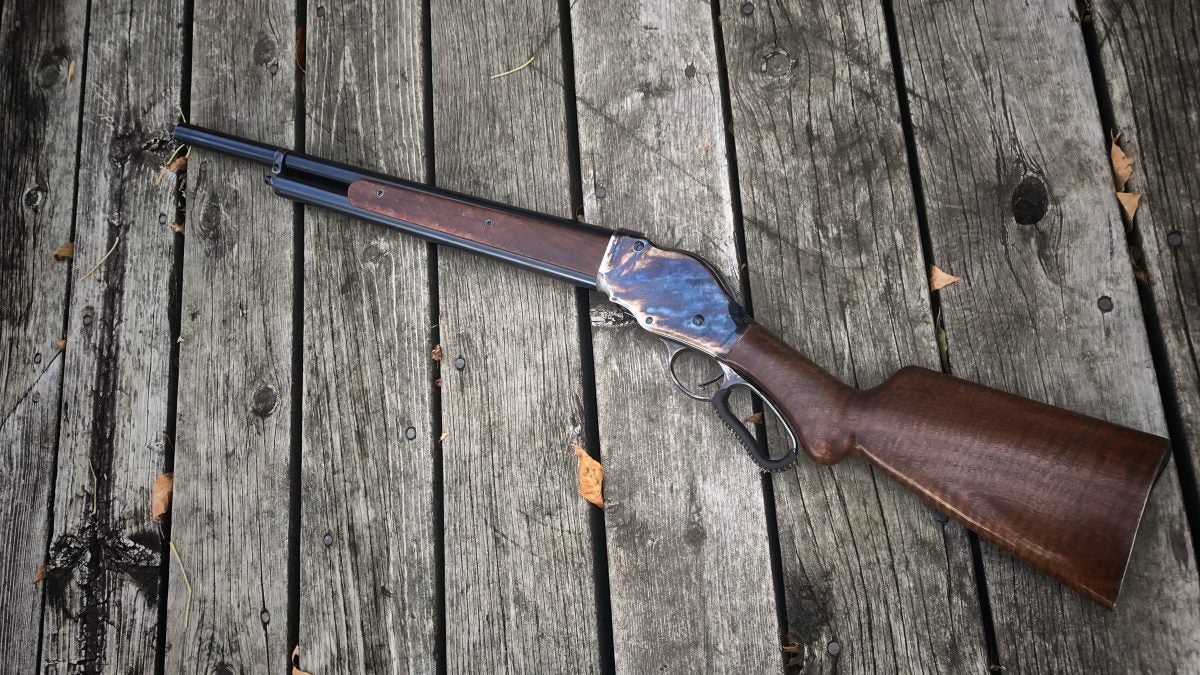 Looking specifically at the idea of a Model 1887, the feel is very comfortable. The Browning-style knobbed pistol grip fills your palm really well. The forend wooden slats do a good enough job keeping your hands away from a hot barrel. The amount of travel on the lever can take a bit of getting used to and some beginners may short stroke it upon their first shots with it. The sights are really well set up in that it is a cylindrical brass bead at the front and the rear of the receiver has a groove cut through it to help line things up. However, the glossy finish of my specific barrel can take a bit of getting used to. With heat, it makes a visible mirage and in bright light, the glare can take some getting used to as well. I would assume some original Model 1887s with a high polish blue will be similar. The gun itself is around eight or nine pounds loaded so recoil is pretty manageable and comfortable. The gun overall is balanced at the receiver given its mass on the gun. I have never had any issues with the length of pull or the overall fit of the shotgun.
After Market Parts and Accessories: Winchester Model 1887 Shotgun
As far as aftermarket parts go for the Winchester Model 1887 it is pretty slim pickings. I saw more parts on eBay than I did in the usual avenues like Numrich. Chiappa has a very well-put-together parts ordering platform for all of their firearms on their website. I doubt that the parts are interchangeable, but if you had a Chiappa 1887 you are safe! There is surprisingly a ton of different websites with custom stocks and handguards. Accessories are a tough one. I have found saddle scabbards and lever wraps. The one featured on my gun was ordered off of eBay around 9 years ago.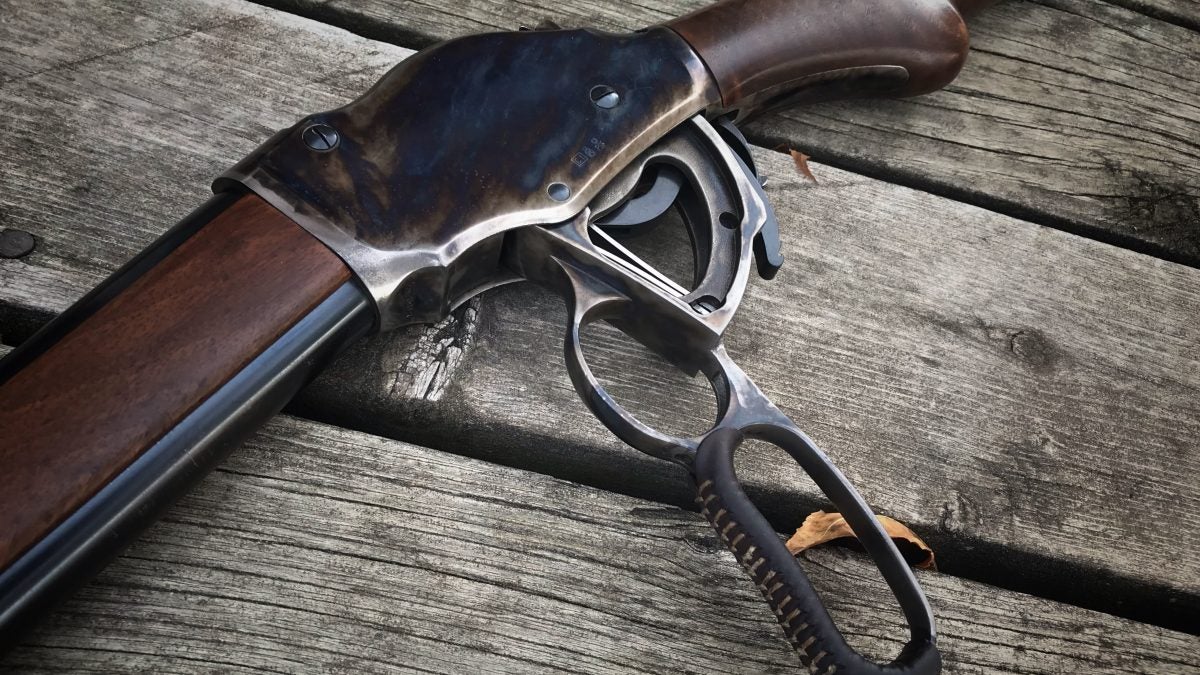 Final Thoughts: Winchester Model 1887 Shotgun
Well, there you have it on the good old Model 1887. It has an iconic following due to being featured in movies like Terminator 2 or video games like Call of Duty Modern Warfare 2. In real life, it had a short production run and seemed to get drowned out in Browning's other much louder music. All in all, it still is quality and functional and I have nothing, but love for the ugly duckling of John Browning's shotguns.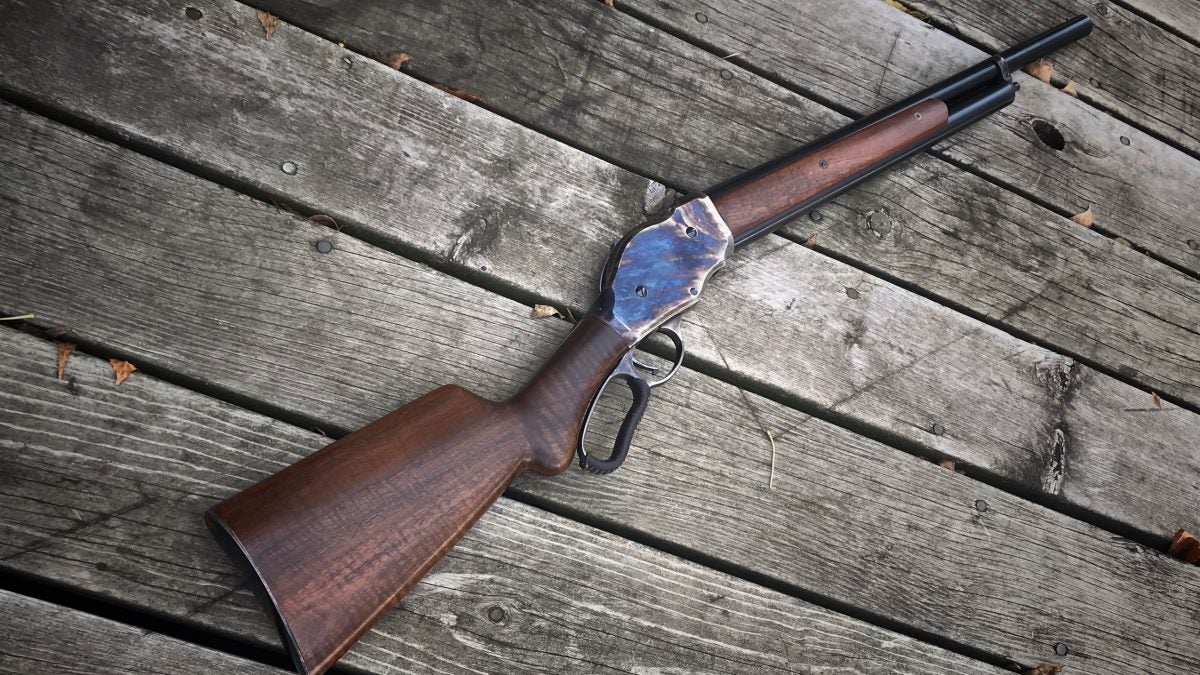 In closing, I hope our Curious Relics segment informed as well as entertained. This all was written in hopes of continued firearm appreciation and preservation. We did not just realize how guns were supposed to look and function. It was a long and tedious process that has shaped the world we live in. So, I put it to you! Is there a firearm out there that you feel does not get much notoriety?  What should our next Curious Relics topic cover? As always, let us know all of your thoughts in the Comments below! We always appreciate your feedback.