AllOutdoor Black Friday Deals: Now through Black Friday & Cyber Monday
Luke Cuenco 11.08.21

Welcome to the AllOutdoor Black Friday deal celebration! Thanksgiving is a time for reflection, good company, great food, and of course a time to be thankful. As outdoorsmen, hunters, and firearms enthusiasts, we all share a common passion that is uniquely special to the United States of America. Thanksgiving is a yearly reminder that despite all that we have going on in this country of ours, that things can be and are quite well most of the time and it can also be a great boost to your mood if you seriously take the time to count your blessings. So while you're browsing through these deals we've lined up for you, be sure to remind yourself that there is no other country on the planet where there is as much freedom and access to the great outdoors as there is here, and let's use that energy to bring back home a nice buck!
Be sure to check back right here at AllOutdoor.com for the latest deals as this article will be updated frequently as new deals are found. 
AllOutdoor Black Friday Deals: Now through Black Friday & Cyber Monday
Cyber Monday Sale – 11/29/21 at 12:01 a.m.
Purchase a Banish suppressor and receive a Banish 22K (valued at $499)!*
LIMITED QUANTITIES AVAILABLE – WHILE SUPPLIES LAST
CHOOSE FROM:
★ P365 & P320 Slides and Barrels (including Pro-Cut Slides)
★ P320 Grip Modules
★ Men's and Women's Hats and Apparel
★ P320 Weapon Lights
★ Factory Refurbished and Certified Pre-Owned Riflescopes
★ IWB and OWB Holsters
★ P320 & P365 Mobile Hard Cases
★ SPEC1 Cleaning Products
★ And much more
 Enter Code "cybermonday2021" to receive15% off any first aid kit through Friday.
Our sale continues for Cyber Monday with 40% BCM® Apparel! Hurry, and check these great deals before they're gone. Apparel discounts will be applied once they have been added to your cart.
Today is the final day to SAVE on all Doorbuster Deals! SAVE up to 40% off select items or receive 20% off everything else sitewide. Free shipping is also included on all orders. Get your orders in before midnight.
Use Discount code CYBER25 for 25% OFF ALL ITEMS. This is the largest discount we have ever offered. Take advantage of this opportunity while it lasts.
While supplies last. Non-Retroactive. Cannot be combined with other promotions. Open to Retail & Guardian (MIL/LE) Customers only. Sale Ends Monday, November 29, at 11:59 PM.
Coupon code is for 10% off 9MM, 223 & 7.62×39 ammunition. Offer is valid for limited time. One use per customer. Cannot be combined with other offers. Apply coupon code "BFCM10" at checkout. Discount only valid for orders placed between 11/26/2021 – 11/29/2021
25% OFF EVERYTHING* on the Site! Ends TONIGHT! *sale excludes complete firearms
Deals on AR-15 Lowers, Free Shipping on Firearms, and over $500 off Panzer Arms BP12 Gen2 Semi-Auto 12-Gauge bullpup shotgun!
FREE GROUND SHIPPING ON ORDERS OVER $35 (U.S ONLY)
Set your sights on our biggest sale of the year. All MI-manufactured products are 20% OFF, including rifles, complete uppers, and accessories. But hurry, this deal ends tonight!
Preorder the T.D.C.001 or 002 Knife and also take advantage of the great Cyber Monday Deals at Tyrant Designs CNC
Use Code FS211125 at checkout – Deal Expires 11/29/21 at Midnight EST
Take Advantage of $5 Off each full-price grip on Cyber Monday only! 
Use this link to sign up for Otis Technology's Newsletter and receive a discount code for 10% off
Discounts on Geissele triggers, SOLGW AR-15 Lowers, and Ballistic Advantage Barrels
Get these deals now through Christmas! Tons of great Ruger gear and accessories
Up to 40% off Select featured items like Lowers, uppers and Magazines
Our Black Friday sale starts now! We are bringing you even greater deals on select products. Hurry, and check them out now!
We wanted to make our customized firearms, parts, and accessories a part of your Thanksgiving tradition. Upgrade your EDC with these Black Friday specials before they're gone. 
$75 Off Glock Pistols USE CODE: GLK75
$150 Off PX4 Compact Carry USE CODE: PX4150
$50 OFF Springfield Armory Hellcat® USE CODE: HCAT50
Free Shipping when you spend $150 on parts and accessories USE CODE: FREESHIP150
Black Friday Savings Start Now! 25% OFF EVERYTHING* on the Site! Use Code: BFCM25 at Checkout
Complete Uppers $449.95!
This upper includes the following components.  It comes assembled and test fired, ready to mount to your lower
DO NOT COMBINE WITH ANY OTHER CODES OR DISCOUNTS
Rail
12.5″ 7 Side Keymod Factory Seconds.  Keymod has lost favor in the market, and these are old production with some dents and dings, but still perfectly serviceable for a budget build.
Upper
The KE-15 forged flat top complete upper receiver is precision machined from 7075-T6 forgings to MilSpec standards, made to fit all M16/M4 rifles and carbines. Featuring USGI type T marked top, making it easy to remount any of your tactical accessories. Milspec type III hard anodized and ready to be assembled with your choice of components.
Choose from standard with forward assist, or slick side without forward assist.
Barrel
5.56mm, 1:9 twist, 16″ long, 41V50 steel, weighs 1.8 lbs., button rifled, stress relieved, chrome line bore and chamber, phosphate finish, .750″ gas block with drilled gas port. Assembled with M4 feed ramp extension, designed for carbine length gas system, 1/2 x 28 muzzle thread.
Bolt Group
Semi-Auto/ Full Auto M16 bolt carrier group made by Young Manufacturing Inc. using MILSPEC 8620 quality steel on in-house CNC machines. All carriers are then heat-treated, and Black Nitride coated
– Standard MIL-SPEC carrier with additional care taken during machining process
– Sharp edges and rough finishes eliminated. Will NOT shred fingers and operates smoothly
– Standard Cam Pin
– Standard Gas Key
Charging Handle
– Billet machined out of 7075 T-6 aluminum
– Mil 8625 Type III, Class 2 hard anodized
– Includes a heavier spring for increased durability and longevity
– Large latch for easy manipulation in times of stress.
Deals on bullets, apparel, and other reloading supplies from Dillion Precision!
Deals on night vision gear including IR Lasers, Magnifiers, and More from Kosher Surplus
Get discounts on some of the most popular outerwear and cold weather gear at Arc'teryx
*Free* Remora IWB/Pocket Holster with $24.95 or more purchase
Up to 50% off select magazines and get special deals with all other items from the Noveske store. 
Thursday 11-25 Only at Blue Force Gear!
ONE DAY ONLYGift Cards for spending over $100 on the website. Spend $100 get a $25 gift card. Spend $200 get a $50 gift card, **Physical codes will be mailed along with their order. Select items 70% OFF Last Call Page
Take advantage of CheapAmmo.com's Black Friday ammunition flash sale! 
Get 40% off of Vortex's lineup of Apparel in including all performance and comfort hoodies. (discount applied in cart)
Black-Friday from Moultrie, Summit & Code Blue

Items will go live on Black Friday
Cyber-Monday at Moultrie, Summit, Code Blue & Knight & Hale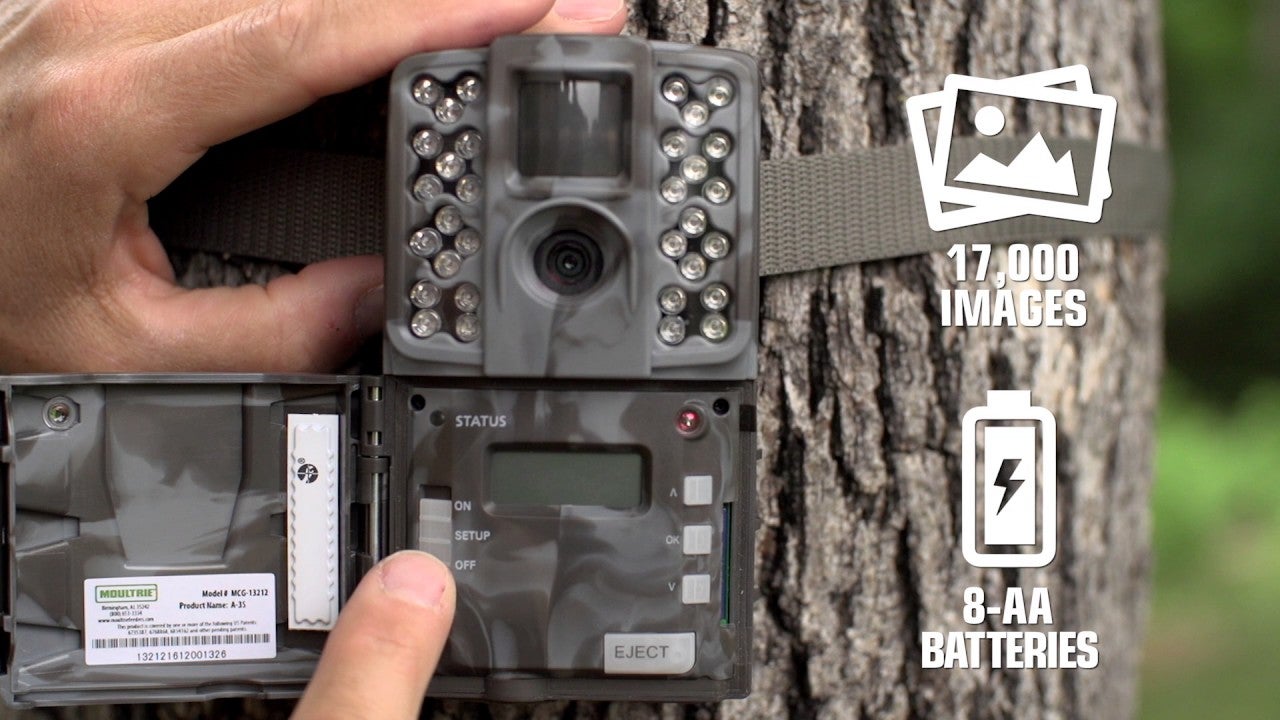 Items will go live on Cyber Monday
Holiday Bundle Deals ON Black Friday!
SUMMIT HOLIDAY BUNDLE
SU82118 Dual Axis™ Hang-On Treestand
SU83124 30′ Safety Line
$249.99 (20% off regular price with bundle)
MOULTRIE HOLIDAY BUNDLE
MFG-15012 Deer Feeder 325 Elite II
MFA-15014 Feed Screen
MFHP12406 6V Rechargeable Safety Battery
MFHP12349 6V Deluxe Solar Panel
$279.99 (Savings of $129.97- 31% off)
CODE BLUE + D/CODE HOLIDAY BUNDLE
OA1307 24 oz. Unscented Field Spray
OA1308 12 oz. Body Wash and Shampoo
OA1317 2.25 oz. Antiperspirant Stick
OA1345 16 oz. Laundry Detergent
$12.99 (Savings of $18.97 – 60% off)
SIGNATURE HUNTING HOLIDAY BUNDLE
MCG-13431 Moultrie AM-900i Kit
MFG-13220 Moultrie Deer Feeder Standard
SU85300 Summit Heated Handwarmer
OA1311 12 oz. Unscented Field Spray & 32 oz. Refill
$169.99 (Savings of $122.97 – 42% off)
All items above are WHILE SUPPLIES LASTS.
20% off all gear and apparel from the 5.11 both in-store and online!  (excluded doorbuster deals)
Use code "BFCM20" to save 20% now through the end of November at the IsoTunes store.
Get 20% off All MI Products all weekend long. All MI-manufactured products will be 20% off starting Thanksgiving Day through Cyber Monday! Check back on Thursday morning when the deal goes live or start a wishlist today.
From now 11/22 through 12/5 you can find BIG SAVINGS on REDACTED Receivers and more! Start that winter build with a performance receiver set!
Save up to 35% on LifeStraw purchases. Score the original LifeStraw personal water filter for just $12.99.
Shooter's Choice & Otis Technology Brand Ambassador, Nikki Boxler will host our first ever Shooter's Choice Exclusive, Black Friday Sale.
Save up to 100% with coupon codes announced exclusively by Nikki, on Black Friday via social media.
While supplies last. Non-Retroactive. Cannot be combined with other promotions. Open to Retail & Guardian (MIL/LE) Customers only.
"When making your holiday list, don't forget to include that friend or family member who enjoys the shooting sports just as much as you do," shared George Trulock, president of Trulock Chokes. "Not sure which choke to get? Reach out to our customer service at TrulockChokes.Com and we are happy to help."
The holidays are upon us, which means it's time to knock a few gifts off those wish lists. Enjoy 30% off sitewide to start stockpiling that coveted gear your family and friends need. 
Fresh shop Taurus deals include Powertec M5 flashlights, paper targets, and apparel. 
Exclusive Black Friday deals on Christensen rifles – All pricing valid now through November 30th! 
Save on Completed Uppers, RIA Shotguns, CCI Blazer Brass Ammunition, PSAK-47 GF3 Rifles, and much more! 
Take advantage of this $200 off deal for Thanksgiving and Choose from one of three camouflage patterns to suit your needs – all the same price!
Our Black Friday sale starts now! We are bringing you even greater deals on select products. Hurry, and check them out now!
First of all, STOP and check out these Limited Custom Z320's Cerakoted in ZEV ShadowCam. Our friends at Triarc coated these and they're limited to 25 XCarry's and 25 XCompact's so act fast! All the perfect storm features you've come to know with a Cerakote job you'll love.
Deals on Holosun 509T, 407K-X2, and LS321 Lasers now through the beginning of December – Also save up to 40% on Dark star gear and get in card discounts on select brands. – Never get involved in a land war in Asia! 
Get your Black Friday shopping started NOW with these early deals and the lowest prices on rarely discounted SIG gear and accessories.
MPA Thanksgiving Grenade Sale!
The MPA Thanksgiving Sale kicks off on Thursday, Nov. 25, 2021, at 12:01 am EST and will run through 11:59 pm EST Monday, Nov. 29, 2021.
MasterPiece Arms (MPA)

, manufacturer of precision Pistol, BA Rifles and Chassis Systems, is giving its customers another reason to be thankful this holiday season by announcing a special MasterPiece Arms Grenade Sale in time for the Thanksgiving weekend. The sale will feature MPA chassis, chassis and rifle accessories, as well as DS9 pistols. It all starts at 12:01 am EST on Thursday, Nov. 25, 2021, and will conclude at 11:59 pm EST Monday, Nov. 29, 2021.

MPA Grenades are chassis, rifles, DS9 pistols, or other products that pass MPA's inspection in every way except cosmetically. Whether it be a small ding in the paint, a run-in with a laser that was having a slightly off day, or some other minor cosmetic blemish, these MPA products will still function with the same flawless perfection you expect from MPA, but with their own special flair.

The blemishes are all considered mild and, in most cases, are difficult to identify without very close inspection. The small grenades lasered on them mark them as the unique MasterPieces that they are and are covered by MPA's full lifetime warranty for the original owner.
10% off Sitewide and 25% off Apparel use code FRIDAY2021
Get discounts on bestsellers, free shipping on orders over $50, and a free sticker with every order placed now through December 1st.
Pick up a new shotgun with Sportsmans Outdoor Superstore Shotgun Sale! up to $150 off of select shotguns! 
DSA SA58 FAL Belgium Style 21″ Heavy Barrel FALO Front End Assembly – Includes Barrel, Gas Block, Handguards, Bipod, Muzzle Device & Carry Handle
Free shipping to anywhere within the United States! 
Over $100 off EOTECH XPS2-0 Holographic weapon sights, $30 Sylvan Arms AR-15 Folding Stock Adapters, and much more at Primary Arms
Great deals on Lasers, Lights, Cameras, Holsters, Optics, Gun Packages, Law Enforcement Camers and Viridian Gear! 
The Black Friday Sale continues at Nighthawk Custom. Now is the best time to save 20% on items all across our store. Find the perfect Christmas gift for the ones you love. Get the best prices on leather, parts and accessories, hoodies, hats and so much more. This sale ends Dec. 1, so act now while supplies last.
MidwayUSA Cyber Week Sale Starts Today! Free Shipping on orders over $49 use code CYBERFS4921 at checkout
MidwayUSA is pleased to announce the kickoff of their 2021 Cyber Week Sale. Starting today, Monday November 22 through Monday November 29, Customers can expect deep discounts on popular Shooting, Hunting and Outdoor products. This year, the MidwayUSA Cyber Week Sale features great deals on select hunting clothing, shooting gear, ammunition, optics and more from brands like MidwayUSA, Magpul, IMI, Leupold, and Vortex just to name a few. Select products will also be eligible for FREE SHIPPING!

"2021 has been a crazy year for product availability. Delayed shipments and high demand have caused some products to be really hard to find," said Jeff Larkin, VP of Marketing. "Our team has worked really hard to get some really great stuff at fantastic Cyber Week prices. This could be our best promotion yet!"

In addition to the Cyber Week Sale, this year's MidwayUSA Cyber Week Sweepstakes is better than ever. Visit www.midwayUSA.com/sweepstakes and enter for your chance to win an AR-STONER EV2 Upper, CCI Primers, RCBS Rebel Master, RCBS MatchMaster, Caldwell Lead Sled, Bubba fishing gear, Hornady Hunting Ammo, YETI LoadOut GoBox, and more! Total ARV of prize pack: $4,310.70!

Want updates on the go? Sign Up for Eblast Alerts online (www.midwayusa.com) for great deals delivered right to your inbox, or "Like" MidwayUSA on Facebook (www.facebook.com/OfficialMidwayUSA).
Starting now get between 10-25% off across the entire Wilson Combat site plus FREE SHIPPING on orders over $200. 
Use Natchez Shooter Supplies' Holster Finder to find the perfect holster for you and your gun.
We've revealed a few Black Friday offers early. Gear up while supplies last and get ready for more offers coming soon.
Get a special 20% discount on CATs Targets, Horus Trucker Hats, HoVR Weather Meters, and Optics Bundles at Horos Targeting Innovation (Deals go live close to Black Friday)
Get Early Access to great deals on Treestands now through November 25th while supplies last and take advantage of FREE shipping on all treestands (discount applied in shopping cart).
Huge Black Friday/Cyber Monday Deals From Ice Mule Coolers
IceMule Coolers
The Maven C.1 Binocular is a unique gift idea that is great for wildlife hunters, watchers, bird watchers, hikers, and shooters. Get up to 25% off the Maven C.1 between Thanksgiving and Cyber Monday. 
Grab some fresh gear for the range or for the field with 5.11 Tacitcal's Black Friday Sale taking place from Tuesday, November 23rd through Black Friday, November 29th. 
An early heads up for Black Friday and Cyber Monday, Check out the Waterfowl Gift Guide from SITKA and take advantage of 20% select styles of hunting gear for Black Friday and Cyber Monday
 This sale has something for everyone on your list, from Glock, Sig, and S&W pistols to Henry, Marlin, and Ruger scope mounts to AR and AK tactical rifle sights! Hurry, the sale ends 11/30/21.
In order to qualify for a free Warlock 22, customers must spend at least $599 (before tax) on SilencerCo suppressors and accessories. To receive the free Octane 9 or 45, they are required to spend $799 (before tax). The qualifying purchase must include at least one serialized item. There is no limit on free suppressors, however, you can only register up to five free suppressors per submission.
Get $10 off of Blue Alpha Gear Standard 1.75″ Belts as well as 2″ Duty Belts! Use Coupon Code "BA-RIG-10" at checkout! Offer Expires 11/18/2021
Nearly $60 off and free shipping on Voodoo Witch Doctor Rifles
More deals on Stoger Shotguns, Vortex Optics, Ruger, EAA, and Gemtech at KY Gun Co
Take advantage of these early Vortex Optics deals from Palmetto State Armory using the coupon codes above at checkout! 
Hoplite Armor is the world's leader in Body Armor design and their NEW Rifle Rated Level III+ Femoral Plates are now moving through production. Estimated arrival at their warehouse in roughly 4 weeks.
In order to make sure you get your items before Christmas, you have received early access to our Black Friday Sale! Offered to email subscribers only, click the "SHOP NOW" button below to take 20% OFF holsters* and apparel!​​​​​​​ The discount will be automatically applied in cart.
Extend the hunt with ATN's lineup of Day/Night riflescopes and Thermal Imaging Scopes with Free Accessories offered with every X-Sight LTV Purchase
Starting today, In-Stock high-quality Rifles, revolutionary AR Pistols, Complete AR Uppers, Upper/Lower Receiver Sets and our SigSauer collaboration handguns are 10% off with Free Shipping
Great deals on everything from the Vedder Rapidtuck to the polymer Prodraw now through Black Friday and Cyber Monday using code BF20
15% off Apparel and 10% off all other regular-priced items with more great deals coming for Cyber Monday! 
Buy 25 Holsters Get 5 Free during the Rounded Black Friday Sale by Concealment Express
Looking to stock your store or department up with holsters and need a few extras? Give your Concealment Express Rep a Call or email [email protected] to find out more. 
Huge Discounts on Costa, Oakley, and Ray-Ban Sunglasses at Sportsman Outdoor Superstore!
Get up to $95 off select Oakley sunglasses, up to $128 off of select costa sunglasses, and up to $90 off Ray-Ban's at the Sportsman Outdoor Superstore!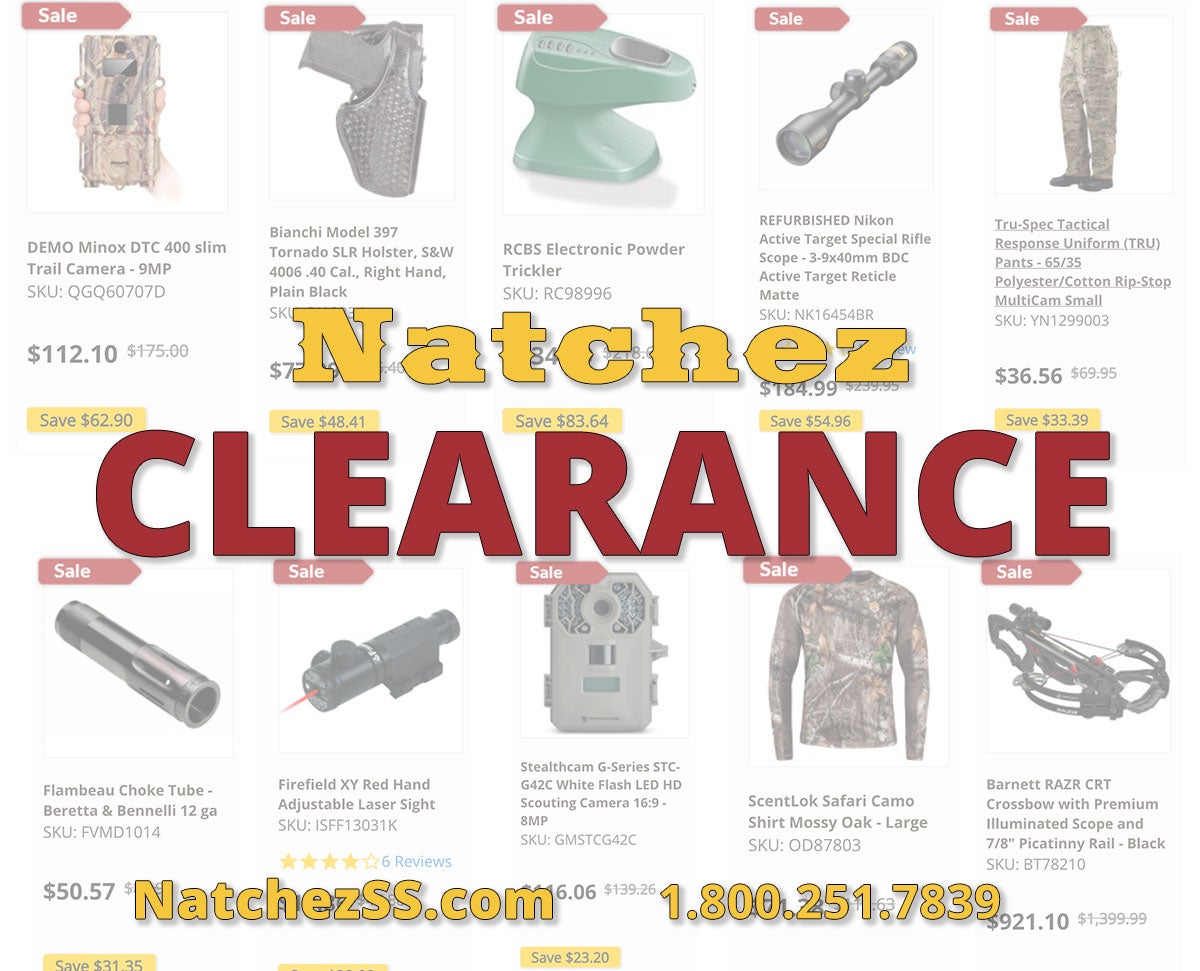 Stock up on ammo, reloading components, and much more at Natchez Shooters Supplies!
There's no better place to put together a new AR or stock up on ammunition and components than Brownells!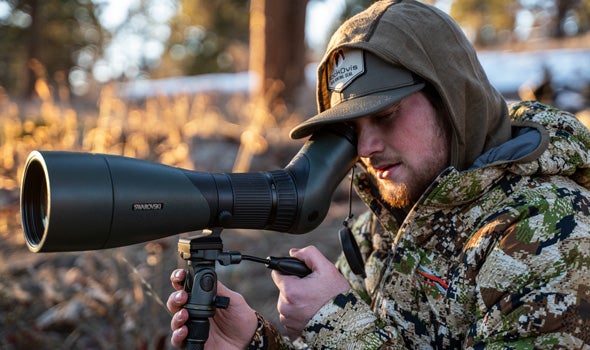 BlackOvis.com brings you the finest gear from what we deem as the top hunting and outdoor brands in the industry. We carry the latest and greatest on BlackOvis, which means when products are older and new versions have come out, we're given the okay to discount them as prices well below retail!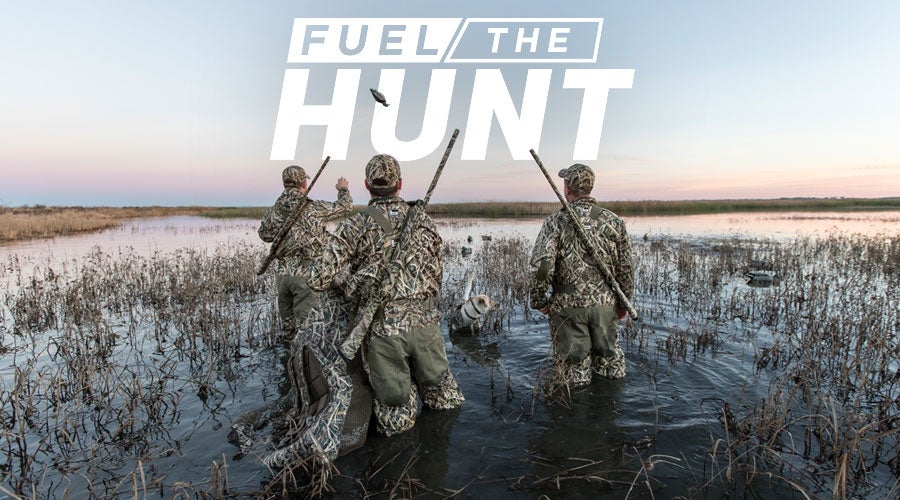 From Duck Loads & Decoys to Waders & Blinds, Sportsman's Guide has you covered.

Check out Airgun Depot's "Bargain Bunker" for great deals for early holiday gifts and fun and even great deals on Hunting Grade Airguns
Great deals on Binoculars, Trail Cameras, hunting jackets and pants, crossbows, and trigger sticks at Bass Pro!